Los Angeles Preps:

Apple Valley
January, 4, 2012
1/04/12
3:27
PM PT
By
Dan Arritt
| ESPNLosAngeles.com
BIG VIII LEAGUE

Where they stand: Each team played a league game in mid-December. They resume play tonight with the following schedule: J.W. North @ Corona Centennial; Corona Santiago @ Norco; Corona @ Riverside King; Roosevelt @ Riverside Poly.

Last year's finish: Centennial (14-0); Roosevelt (12-2); Corona (8-6); J.W. North (7-7); Santiago (6-8); Poly (5-9); King (3-11); Norco (1-13).

Players to watch: Aaron Peck (J.W. North), 6-4, Sr., F; Dorian Butler (J.W. North), 6-5, Jr., F; Marcus Baugh (J.W. North), 6-5, Jr., F; Deshon Taylor (J.W. North), 6-0, So., G; Sam Finley (Centennial), 6-2, Jr., G; Sedrick Barefield (Centennial), 6-0, Fr., G; Dorion Barnett (Santiago), 6-3, Jr., F; Alex Blumenfeld (Santiago), 6-0, Sr., G; Marcos Hazelwood (Corona), 6-1, Sr., F; Jeremiah Abdelmeesh (Norco), 6-2, Sr., F; Kendall Brown (Roosevelt), 6-4, Sr., G; Jalen Young (Roosevelt), 6-5, Sr., G; Shawn Joseph (Roosevelt), 6-3, Sr., G; Noah Prouse (Poly), 6-6, Sr., F; Jeff Gonzalez (Poly), 6-6, Sr., F; Brandon Pippenger (King), 6-8, Sr., C; Nikko Turner (King), 5-8, Sr., G; Mark Wilson (King), 6-0, Sr., G.

Predicted order of finish: J.W. North, King, Poly, Centennial, Corona, Roosevelt, Santiago, Norco.

MOJAVE RIVER LEAGUE

Where they stand: Already tightly bunched after a handful of MRL games in mid-December, league play resumes tonight with Oak Hills @ Hesperia and Apple Valley @ Sultana. Serrano plays Friday @ Hesperia.

Last year's finish: Sultana (10-2); Oak Hills (9-3); Hesperia (5-7); Serrano (6-7); Apple Valley (1-11).

Players to watch Daaron Flagg (Sultana), 6-4, Sr., G; Robmar Porter (Sultana), 6-4, Sr., F; Brian Enriquez (Sultana), 6-2, So., G; Chrishtian Buttler (Sultana), 5-9, Sr., G, Denzel McCloney (Serrano), 6-0, Sr., G; Timmall Thomas (Serrano), 5-10, Jr., G; Daniel Davis (Oak Hills), 6-4, Sr., F; J.T. Roach (Apple Valley), 6-3, Jr., F.

Predicted order of finish: Sultana, Oak Hills, Serrano, Apple Valley, Hesperia.

MT. BALDY LEAGUE

Where they stand: Half the teams got a head start on league play before the holidays. They all play Friday night, with Don Lugo @ Colony, Chino @ Chaffey and Garey @ Montclair.

Last year's finish: Colony (11-1); Montclair (10-2); Ontario (8-5); Don Lugo (7-5); Garey (4-8); Chino (1-11); Chaffey (1-11).

Players to watch: Miles Poullard (Colony), 6-2, Sr., G; Everett Turner (Colony), 6-0, Jr., G; Devyn Sampson (Montclair), 6-3, Sr., G; Bobby Talamantes (Montclair), 5-9, Sr., G; Jody Smith (Montclair), 6-1, Jr., G; Marciano Rogers (Ontario), 6-3, Sr., G; Devonte Turner (Ontario), 6-3, Sr., G; Eric Ortiz (Ontario), 6-1, Sr., G; Josh Thompson (Don Lugo), 6-4, Sr., G; Jon Garnica (Chino), 6-1, Sr., G.

Predicted order of finish: Colony, Montclair, Ontario, Don Lugo, Chino, Garey, Chaffey.

Up next: Baseline, Mountain Pass and Southwestern leagues.
October, 17, 2011
10/17/11
6:05
PM PT
By
Dan Arritt
| ESPNLosAngeles.com
Su'a Cravens of Vista Murrieta is the best football player in the Inland Empire, really?
When it comes to game-changing abilities on both sides of the ball, it's a no contest. Though just a junior, Cravens looks like a college player on the football field, from his physical characteristics to his instincts to his advanced athletic abilities. Cravens pretty much
single handedly
defeated Chaparral, 27-10, in a Southwestern League opener Friday night. He scored on a 17-yard catch and run on third and 16 to give the Broncos a 14-10 lead in the third quarter, caused and recovered a fumble at the Vista Murrieta seven-yard line with the Broncos still clinging to a four-point lead with about four minutes remaining in the game and then intercepted a pass on Chaparral's next possession and returned it 27 yards for a game-sealing touchdown. He could probably boot long field goals too, but the Broncos are pretty well set in that department (see below).
Which teams in the I.E. combined to set a state record last weekend?
Big Bear and Desert Hot Springs needed eight overtimes to settle their De Anza League game Friday night in the desert. Big Bear finally won, 56-50, when
Lucas Jenkins
scored on a nine-yard run after Desert Hot Springs failed to get points on its previous possession. The score was tied, 22-22, after four quarters. The previous state record for overtimes was seven in 1991, when Perris defeated Palm Springs, 70-62. The national record is 12 overtime periods. It just so happens Big Bear was also involved in one of the state's longest softball games. The Bears needed 30 innings over two days to defeat San Jacinto, 3-2, in 2001.
What was the next-best game in the I.E. last weekend?
Serrano and Apple Valley needed just one overtime in their Mojave River League game, but it was a classic matchup of undefeated High Desert teams. Serrano, the two-time defending league champion, scored on a 39-year field goal by
Leo Farias
with 7.5 seconds remaining in the fourth quarter to tie the score, 17-17. Apple Valley, which was seeking its first victory over the Diamondbacks since 2006, had to settle for a 46-yard field goal by
Jonathan Gonzales
on the first overtime possession. Serrano then handed the ball to
Adarius Hogan
on five consecutive snaps and he scored on a one-yard run on the final carry for the game-winning touchdown.
September, 26, 2011
9/26/11
6:27
PM PT
By
Dan Arritt
| ESPNLosAngeles.com
Outside of the Baseline League, which league race is the toughest to predict?
The Mojave River League looks about as wide open as, well, the Mojave River. Apple Valley, Sultana and Oak Hills are sporting 3-0 records, and Serrano probably has a slight edge on those three, despite owning a 2-2 record. That's because Serrano has played a much stiffer nonleague schedule so far, highlighted by a 10-point loss to Upland two weeks ago. Upland then turned around and battered Norco, 54-27.

Is the Big VIII League looking more like the Big II at this point?
That would be correct. Corona Centennial is running on all cylinders after trouncing Chaparral last weekend, and J.W. North thinks its 2001 again. Other than that, Norco took a big step backward with its loss to Upland, Roosevelt is sputtering like an '85 Yugo and Riverside Poly couldn't even beat a team from the Mountain Pass League last weekend. The Big VIII's combined record is 11-13, while the Baseline is 15-9.

What's the most surprising 4-0 team?
Yucaipa is well known for its baseball and cross-country programs, but most of the top football players in area come down the hill and play for Redlands East Valley. However, the Thunderbirds defeated San Gorgonio, 42-31, on Friday night to run their record to 4-0 for the first time since 1997. Clayton Leach-Mead, a junior quarterback, has been the linchpin on offense for the Thunderbirds, passing for 370 yards and five touchdowns and rushing for 699 and seven scores. Defensively, senior inside linebacker Nate Pascale has five sacks, just one short of his total last season.

Which team has surpassed Roosevelt as the biggest disappointment in the I.E.?
Roosevelt got a much-needed victory last week, so now it's Redlands that seems to be falling apart at the seams. The Terriers have lost three straight games to fall to 1-3 and it won't get any easier as they play Rancho Cucamonga (4-0) at Los Osos High this week. With quarterback Mike Stallone returning this season, as well as talented running back Darryl Miller, Redlands was expected to make a run at REV for the Citrus Belt League title. At this rate, however, the once-mighty Terriers might have a hard time just getting into the playoffs.

Biggest gamble of last weekend?
Carter was trailing Lakeside, 7-0, in the fourth quarter Friday night and was just stopped on third down to bring out the punt team. A bad snap sent the punter, Clayton Atlas, into the end zone to retrieve the bouncing ball. Even though Atlas was not tackled and never went to the turf, one of the referees signaled a safety on the play. After the referees huddled, it was determined that the whistle was inadvertently blown and the kick would be replayed. On the second chance, Atlas kept the ball on a fake punt and ran 33 yards for a first down. The next play, Gaylon Maxie ran 48 yards for a touchdown and the Lions decided, 'Why not go for two points?' They won that gamble as well, taking an 8-7 lead in a game they eventually won, 14-7.
May, 11, 2011
5/11/11
2:49
PM PT
By
Dan Arritt
| ESPNLosAngeles.com
Thanks to a timely upset by the Norco softball team Tuesday, the Big VIII League will feature a winner-takes-all game Thursday between Corona Santiago and visiting Riverside Poly.
Poly (16-6, 11-2) had a chance to clinch at least a share of the league title Tuesday at Norco but lost, 1-0. The Sharks (22-5, 11-2) defeated Poly, 5-4, on April 26.
Santiago entered this week
ranked
No. 5 in Southern Section Division 1 and Poly was No. 8.
Another league-deciding game Thursday in the I.E. is Hesperia Oak Hills (10-1) at Apple Valley (9-2) in a Mojave River League game. If Apple Valley wins, it would be the league's No. 1 representative heading into next week's playoffs due to winning two of three against Oak Hills this season.
Here's a rundown of most other league races.
BASELINE
Etiwanda (11-3) clinched at least a share of the league title and the league's top seeding, but Los Osos (10-4) can still earn share of the championship with a win Thursday against visiting Rancho Cucamonga and an Etiwanda loss at Alta Loma.
CITRUS BELT
Redlands clinched the outright league title with 9-0 victory Tuesday at Fontana.
DE ANZA
Yucca Valley is the outright league champion.
DESERT SKY
Barstow is the outright league champion.
DESERT VALLEY
La Quinta clinched its fifth consecutive league title Tuesday with a 4-1 victory against second-place Indio.
MOUNTAIN PASS
Beaumont is the outright league champion.
MOUNTAIN VALLEY
Citrus Valley is the outright league champion.
SAN ANDREAS
Colton and Cajon are tied at 11-1 heading into final two games today and Friday, but the teams don't play each other and split their regular-season series. Cajon does have the tougher schedule this week.
SIERRA
Chino Hills is the outright league champion.
SOUTHWESTERN
Vista Murrieta clinched at least a share of the league title and the No. 1 seeding, but Chaparral can still earn a share of the league title with a win Thursday at Murrieta Valley (6-8) and a Vista Murrieta loss against visiting Temecula Valley (6-8).
SUNBELT
Lakeside and Heritage enter their final games Thursday with 12-2 records, but Lakeside owns the tiebreaker over Heritage and can clinch the league's No. 1 seed with a win at Lake Elsinore Temescal Canyon.
SUNKIST
Kaiser is the outright league champion.
October, 14, 2010
10/14/10
8:00
AM PT
By
Dan Arritt
| ESPNLosAngeles.com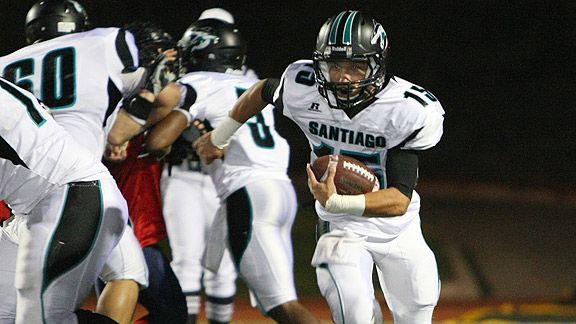 Courtesy of Devin Berry
Corona Santiago sophomore quarterback Michael Darr (No. 15) will try to keep the Sharks in the hunt for a Big VIII League title when they host Norco on Friday night.
No rest for the weary in the Big VIII League.
While a number of schools are just entering league play this week, the Big VIII is preparing for Round 3.
"This is the new black-and-blue league," said Riverside King coach
Ken Mushinskie
.
On the slate Friday are two particularly good ones. Norco (1-1 in league) plays at Corona Santiago (1-1) and King (1-1) travels to Corona (2-0).
All four teams need a victory to keep pace with Corona Centennial (2-0) and stay in the hunt for one of the league's four automatic playoff berths. Eastvale Roosevelt is also 1-1.
"We're in a must-win," Norco coach
Todd Gerhart
said.
Both game are scheduled to begin at 7 p.m.
Three more to see: