Los Angeles Preps:

Arcadia
November, 27, 2011
11/27/11
10:50
PM PT
Long Beach Poly fell out of the region's top spot for the first time this season following its second-round loss to Santa Margarita. Last week's second- and third-ranked teams -- St. John Bosco and Charter Oak, respectively -- also stumbled. Now, three of the region's top four squads come from the City Section. Marine League champion and top-seeded San Pedro is the only remaining undefeated team in the south Los Angeles County top 10 rankings heading into the third round of the playoffs:

1. (4) San Pedro (12-0)
The top-seeded Pirates eliminated the two-time defending City Section Division I champs Friday, securing another matchup with fifth-seeded Carson. The Marine League champs defeated the Colts 21-0 on Oct. 28. Last week: Beat Crenshaw, 31-7. Next: semifinals vs. Carson, Friday.

2. (1) Long Beach Poly (10-2)*
The lack of consistency from the quarterback positions was a season-long concern for coach Raul Lara. That turned into a nightmare Friday when the Jackrabbits were intercepted five times. The good news: Gerard Wicks returns next season. Last week: Lost to Santa Margarita, 49-16.

3. (5) Narbonne (9-3)
Junior quarterback Troy Williams had six total touchdowns, and the emerging Tray Boone had two more to propel the Gauchos to their third straight 50-point performance. They now face perhaps the city's top defense. Last week: Beat West Adams, 59-20. Next: semifinals vs. Dorsey, Friday.

4. (6) Dorsey (11-1)
The fast and talented Dons defense had six takeaways Friday, and USC-bound receiver Jaydon Mickens had four total touchdowns to go along with six receptions and 82 yards. Last week: Beat Birmingham, 45-13. Next: semifinals at Narbonne, Friday.

5. (2) St. John Bosco (8-4)*
Bosco twice cut its deficit to four on Friday but the defense couldn't come up with stops. Still, the Braves made their first playoff appearance since 2006, so they've got nothing to hang their heads about. Last week: Lost to San Clemente, 42-24.


November, 18, 2011
11/18/11
9:30
AM PT
It's win or go home now. Here are Friday night's top first-round playoff games in south Los Angeles County:
Pac-5: Huntington Beach (8-2) vs. No. 16 Loyola (8-2) at L.A. Valley College, 7 p.m.
— The Loyola Cubs have some momentum after coming back from a 15-point deficit in the Serra League finale against Crespi. Loyola tailback Wyatt Bradford could eclipse the 1,000-yard mark, and senior quarterback Nick Cotton is coming off his best game of the season (17 of 28 for a season-high 208 yards and four touchdowns). The impressive thing about the Cubs is that if opposing teams want to grind it out, they will too.
Inland: Corona Santiago (7-3) at No. 19 Charter Oak (9-1), 7 p.m.
— The Sierra League champion Charter Oak Chargers might be the league's only hope for a playoff win, given that third-place Damien plays at Vista Murrieta and runner-up Chino Hills heads to Rancho Cucamonga. An attractive matchup against undefeated Upland looms in the second round, but senior quarterback Travis Santiago (2,629 passing yards and 21 touchdowns) will have to steer his group clear of overlooking Corona Santiago.
Southeast: Bonita (6-4) at Arcadia (8-2), 7 p.m.
— The defending Southeast Division runner-up Bonita Bearcats capped the regular season with four consecutive wins, so they've got a bit of swagger heading into this one. It's not the same team coach Eric Podley had last year but running backs Cameron Griffin and Reggie Turner and receiver Garrett Horine were capable weapons during the season. And speaking of weapons, Arcadia has its share in quarterback Myles Carr, the top-rated signal caller in the area according to ESPNU Recruiting, and Washington-bound receiver Taylor Lagace.
Mid-Valley: Pomona (6-4) at Monrovia (7-3), 7 p.m.
— Will defending Mid-Valley Division champion Monrovia take its first step toward a repeat? Highly touted defensive tackle Ellis McCarthy, rising linebacker prospect George Frazier and the rest of the Wildcats defense appears to have found its groove in Rio Hondo League play, allowing under six points per game on average. Monrovia might be on upset alert, though: Three of Pomona's four losses were by a combined 10 points, and the Red Devils gave top-seeded Covina all it could handle.
Blair Angulo covers preps for ESPN Los Angeles. Follow him on Twitter.
November, 13, 2011
11/13/11
4:19
PM PT
Defending champion West Covina is in prime position for a repeat after receiving the division's top seeding Sunday. The Bulldogs (9-1) didn't go undefeated because, really, they wanted to test themselves against Loyola, a Pac-5 playoff team. Coach
Mike Maggiore
hopes that loss pays dividends. Here's a breakdown of the division:
The seeds:
No. 1 West Covina, No. 2 Santa Fe, No. 3 Burbank Burroughs, No. 4 La Mirada.
Best first-round matchup:
Bonita (6-4) at Arcadia (8-2) -- Tailback
Cameron Griffin
is running the ball well for Bonita. Arcadia has the weapons -- namely
Myles Carr
and
Taylor Lagace
to be a scary team.
Toughest road:
La Mirada (6-4) -- If the La Mirada Matadores make it past Crescenta Valley -- and that's a big if -- they'll have to fend off either Bonita or Arcadia in the second round. That's the epitome of a grueling draw.
Potential shocker:
Muir (6-4) at No. 2 Santa Fe (6-4), first round -- It might not be that big of a shocker, given that Muir has the star power with
Kevon Seymour
, rated as one of the top athletes in the area, and running back
Tairen Owens
, a Washington commit.
Darkhorse:
Bonita (6-4) -- The Bearcats have won four straight and gave Hacienda League foe West Covina all it could handle in last year's championship game. Griffin is averaging 125 yards rushing over the last four games.
Final analysis:
The division breaks down quite simply -- there's West Covina and there's everybody else. Talented teams abound, but no one is as physical as Maggiore's bunch. Tailback/safety
Chris Solomon
, the reigning division player of the year, could very well take the honor again this season.
Championship prediction:
West Covina vs. Burroughs – Solomon isn't the only capable runner in West Covina's backfield.
Jimmy Frazier
has rushed for over 1,000 yards and
Aaron Salgado
is also approaching the four-digit mark. Unless Burroughs' running back
Zander Anding
can pull off another 300-yard game, there's too much power here for the Bulldogs not to make it two straight titles. Final score: West Covina 33, Burroughs 27.
Link to Southeast Division playoff bracket on CalPreps.com
September, 28, 2011
9/28/11
1:08
PM PT
As part of our running feature, here are five of this week's must-see games involving teams from south Los Angeles County:
No. 18 St. John Bosco at La Habra, Thursday, 7 p.m.
— Players usually want to forget recent failures, so the humbled St. John Bosco Braves (3-1) could benefit from their short rest following last week's loss to Loyola at L.A. Valley College. A likely bullet point in Braves coach Jason Negro's motivational speech: La Habra (2-2) has already given a pair of Trinity League teams -- Servite and Orange Lutheran -- all they could handle.
No. 3 Mission Viejo at No. 22 Carson, Friday, 7:30 p.m.
— For those not keeping tally, the Carson Colts (1-2) meet a ranked opponent for the fourth consecutive week. Nationally-ranked Mission Viejo promises to be the toughest test yet. Sure, Carson is in danger of losing its third straight, but how could other City Section teams not admire the ambition? Quarterback Kevin McMahon has to find USC-bound receiver Darreus Rogers often.
No. 15 Loyola at No. 21 Upland, Friday, 7 p.m.
— Until last Friday, the Loyola Cubs (4-0) were solid candidates for most improved. But, after what coach Mike Christensen's bunch did to St. John Bosco, consider that an understatement. Boise State-bound Chaz Anderson, a difference maker on both sides of the ball, has the Cubs believing in Serra League glory following a poor 3-7 mark in 2010. They can accumulate more believers by winning at Upland (4-0).
Serra at Narbonne, Friday, 7 p.m.
— As the games go by, Serra sophomore Jalen Greene's passing numbers keep getting better -- from 91 yards to 175 to 180 -- despite the absence of top playmaker Raymond Ford (ankle). The progression at key positions is important for Serra (3-1). The Narbonne Gauchos (1-2) will be plenty motivated after coming up just short the last two weeks at Long Beach Poly and Tesoro.
Arcadia at Muir, 7 p.m.
— Clearly, schedule makers had no intention of saving the best for last. This Pacific League opener promises to have the intensity of a title game. The Muir Mustangs (2-1) look to bounce back after being overwhelmed by Rancho Cucamonga last week; the Arcadia Apaches (2-1) hope to capitalize on another opportunity after knocking off rival and defending Mid-Valley Division champ Monrovia two weeks ago.
Blair Angulo covers preps for ESPN Los Angeles. Follow him on Twitter.
September, 14, 2011
9/14/11
6:17
PM PT
The third week of high school football brings a solid collection of matchups, including another intersectional battle involving No. 2-ranked Long Beach Poly. As part of our running feature, here are this week's five must-see games in south Los Angeles County, in no particular order:
Narbonne vs. No. 2 Long Beach Poly at Veterans Stadium, Friday, 7 p.m.
-- The Jackrabbits (2-0) took care of one Marine League team last week and now turn their attention to another. Narbonne (1-0), a serious contender in the City Section, tests its rising quarterback prospect, junior Troy Williams, against a Poly defense that seems to get better by the quarter. Defending Moore League champion Poly held off the Gauchos with
a last-minute defensive stand last year
.
[+] Enlarge
Blair Angulo For ESPNLA.comMonrovia's De'Shawn Ramirez practiced with Arcadia for a brief time this summer.
Monrovia at Arcadia, Friday, 7 p.m.
-- Defending Mid-Valley Division champion Monrovia (1-0) kicked off its title defense with a victory behind the strong play of George Frazier and De'Shawn Ramirez. Ramirez, coincidentally,
practiced with Arcadia early in the summer
while his status at Monrovia was being sorted out. He was reinstated and, now, figures to play a key role Friday against his brief practice mates. The Wildcats beat Arcadia (0-1), 34-7, last year.
No. 15 Rancho Cucamonga at Muir, Friday, 7 p.m.
-- Talented Muir defensive back Kevon Seymour could get tested by Rancho Cucamonga quarterback Dimitri Morales, who has 500 passing yards and six touchdowns through two games. On offense, the Muir Mustangs (2-0) are led by tailback Tairen Owens, a Washington commit who has totaled 215 all-purpose yards. Rancho Cucamonga (2-0) could be on upset alert, especially if Seymour forces Morales and Co. to become one-dimensional.
No. 19 Lakewood vs. Mayfair at Bellflower High, Friday, 7 p.m.
-- Another chapter will be written in this fierce rivalry. The Lancers (1-1) have won the last four battles for the "Milk Bucket," retaining the trophy last year with a surprisingly close 24-14 victory. The Monsoons (1-1) look to regroup following a dizzying 56-21 loss to Los Alamitos and you can bet those wounds would heal quickly if they were to capture the bucket Friday.
Mira Costa at Serra, Friday, 7 p.m.
-- Both teams got back on track in Week 1 after tripping in their respective openers. The Mira Costa Mustangs (1-1) blanked Inglewood, 17-0; the Serra Cavaliers (1-1) did the same to Redondo Union, 21-0. And, even though it's not as lucrative as it may have been in recent years, this game has the potential to be the topic of choice across South Bay breakfast tables on Saturday morning. Can't make it out? The game will stream live on
FOXSportsWest.com
as part of the website's
Prep Zone platform
.
Don't agree with this list of top games? Does another game deserve more notoriety? Leave a comment on this post or contact ESPNLosAngeles.com preps writer Blair Angulo directly on his Twitter page. Follow @ESPNLAPreps for live in-game updates, final scores and news.
August, 18, 2011
8/18/11
6:20
PM PT
With the start of the high school football season less than two weeks away, we give you a list of the top 15 returning quarterbacks in south Los Angeles County, sorted by last year's passing totals.
Andrew Elffers
, a junior at Maranatha in Pasadena, headlines the list. Arcadia's
Myles Carr
, No. 13 on this list of leaders, is the top-rated senior quarterback in the southern part of the county,
according to ESPNU recruiting rankings
.
Rank / Name (Year, School) / Yards / Touchdowns-interceptions
1. Andrew Elffers (Junior, Maranatha): 3,328 yards, 37-10
2.
Billy Livingston
(Senior, Covina): 2,838 yards, 25-8
3.
Hank Trumbull
(Senior, Chadwick): 2,829 yards, 31-19
4. Troy Williams (Junior, Narbonne): 2,597 yards, 23-9
5.
Travis Santiago
(Senior, Charter Oak): 2,418 yards, 21-10
6. Hayden Rettig (Junior, L.A. Cathedral): 2,217 yards, 17-20
7.
Christian Smith
(Senior, St. Bernard): 2,171 yards, 24-3
8.
Rio Ruiz
(Senior, Bishop Amat): 2,000 yards, 19-7
9. Steven Rivera (Senior, Arroyo): 1,963 yards, 21-4
10. Dallas Lopez (Senior, Downey): 1,940 yards, 16-4
11. Jihad Vercher (Junior, Salesian): 1,937 yards, 26-5
12. Manuel Santa Cruz (Senior, El Monte): 1,924 yards, 14-19
13.
Myles Carr
(Senior, Arcadia): 1,872 yards, 26-4
14. Justin Lewis (Junior, L.A. Jordan): 1,868 yards, 16-17
15. Garren Edwards (Senior, View Park): 1,858 yards, 23-7
Here is Elffers' nearly eight-minute long sophomore highlight tape:
May, 31, 2011
5/31/11
8:43
PM PT
By
Tim Haddock
| ESPNLosAngeles.com
ARCADIA –
Jake Gallaway
sparked a two-run rally with a lead-off triple in the fourth inning and led Etiwanda to a 3-2 win over Arcadia in the CIF Southern Section Division 2 semifinals at Arcadia High School on Tuesday.
Gallaway went 3-for-4 and scored twice. Etiwanda advances to its first CIF championship game and will face Mission Viejo, an 11-7 winner over Santa Barbara in the other semifinal, at Dodger Stadium on Thursday at 7:30 p.m.
Ryan Hunter
drove in Gallaway with a one-out single in the fourth inning to break a scoreless tie. Pinch-runner
Max Rodriguez
came around to score later in the inning on a groundout by
Chris Oropesa
and give Etiwanda a 2-0 lead.
[+] Enlarge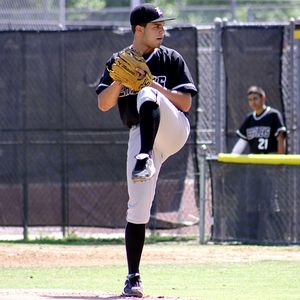 Tim Haddock/ESPNLA.comAndy Cerroni pitched well enough to earn the victory in Etiwanda's 3-2 semifinal win over Arcadia.
Arcadia bounced back to score a run in the bottom of the fourth inning, but ran out of inning.
Gary Huang
drove in
Haram Park
with a single to right field. But Huang tried to advance to second and was caught in a pickle. Instead of having runners on first and third with two outs, Arcadia ended the rally with Huang getting thrown out at second.
Etiwanda added to its lead in the fifth inning when Gallaway started a two-out rally with a single. After Galloway was balked to second,
Justin Broussard
followed with an RBI single to give Etiwanda a 3-1 lead.
Etiwanda starter
Andy Cerroni
was cruising through the first four innings. He gave up only three hits and walked one.
Arcadia's
George Papavisilou
led off the fifth inning with a double and reached third on a sacrifice. That was the end of the day for Cerroni as he gave way to lefty reliever
Jason Broussard
who balked in Papavisiou to score before striking out the next two batters to end the inning.
Arcadia starter
KJ Edson
went 6 1/3 innings and struck out five. He was hit in the leg on a comebacker off the bat of Justin Broussard and taken out of the game in the seventh inning. He gave up all three runs on eight hits and walked none.
Justin Broussard was 2-for-4, drove in a run and stole a base. Hunter was 2-for-4, drove in a run and scored a run.
May, 17, 2011
5/17/11
4:43
PM PT
SOUTHERN SECTION BASEBALL PLAYOFFS
The seeded teams in south Los Angeles County:
Div. 1: None
Div. 2: No. 2 Arcadia
Div. 3: No. 1 Bonita, No. 3 Alhambra
Div. 4: No. 2 Bishop Amat, No. 3 Torrance
Div. 5: No. 2 L.A. Cathedral
Div. 6: No. 2 Pasadena Poly
Div. 7: No. 1 Santa Monica New Roads, No. 2 Rolling Hills Prep, No. 3 Lynwood Firebaugh
The best wild-card games in south Los Angeles County on Tuesday
:
Division 1
: Capistrano Valley (19-11) at Long Beach Poly (23-7). This has the potential to get wild, depending on which way the wind is blowing Tuesday. Capistrano Valley has eight regulars hitting over .330, led by junior Cristian Salina's .453. The Jackrabbits reached double figures in runs six times this season. Poly finished the regular season by winning 13 of 15. Winner of this one plays at Esperanza on Friday.
Division 2
: Rancho Verde (13-13-1) at South Hills (20-4). The big objective for the Huskies: Forget about not receiving a bye into the first round. South Hills finished tied atop the Sierra League standings, won 20 of its 24 games and, somehow, has a wild-card game to play. Luis Inzunza (6-5, 2.14) figures to get the nod for Rancho Verde. Winner of this one plays at Arroyo Grande on Thursday.
Division 3
: Ocean View (16-10) at Diamond Bar (15-11). Ocean View's triple threat of Timmy Robinson (.462), Blake Walker (.410) and Robert Fogarty (.392) will likely have the difficult task of facing Diamond Bar lefty Kenny Mathews (5-4, 1.24), who is committed to Cal State Fullerton. Winner of this one plays at Colton on Friday.
Division 4
: Grace Brethren (11-15-1) at Northview (12-13). The Vikings won their last two games to secure third place in the Valle Vista League. Grace Brethren has lost seven of its last 11. Winner of this one plays at Sorona on Thursday.
Division 5
: El Monte (9-10) at Gladstone (16-6). The Gladiators' late, furious charge wasn't enough to bag them the Montview League crown, but a six-game winning streak heading into the postseason is a bright side. Casey Lopez (.380) and Daniel Farfan (4-3, 2.35) are El Monte's top hitter and pitcher, respectively. Winner of this one plays at Nipomo on Friday.
On Wednesday, we'll preview of the top first-round games.
November, 30, 2010
11/30/10
7:01
PM PT
Ammar Moussa, Arcadia, Sr.
Moussa led the Arcadia boys cross country team to its first state title Saturday, running the five-kilometer course at Fresno's Woodward Park in 14:43 -- the fastest ever for a Division I race. It was the second straight individual championship for the reigning Gatorade Boys Cross Country Runner of the Year. Moussa edged San Diego Patrick Henry's Ryan Urie by two seconds.

Savannah Pio, Mira Costa, Sr.
Pio won the Division II individual state championship with a time of 17:27 in Fresno, leading Mira Costa to a second-place finish behind champ Saugus. Mira Costa advanced to the Nike Cross Nationals in Portland, Ore.
October, 26, 2010
10/26/10
5:16
PM PT
Ammar Moussa, Arcadia, Sr.

Moussa tied the course record at the Mt. SAC Invitational Team Sweepstakes on Saturday, running the 2.91 miles in 14:24 to guide the Arcadia boys' cross country team to a first-place finish. It was just the latest in a long list of accomplishments for the senior. Moussa won the state title last year and was named Gatorade Boys Cross Country Runner of the Year. Teammate Sergio Gonzalez (14:44) came in second while Arcadia's other three runners also finished in the top 20, showing exactly why the Apaches are ranked No. 2 nationally. The group is slated to return to the scene for the preliminaries on Nov. 13.
Anne Cheng, Torrance, So.
Cheng
claimed the Ocean League individual girls' golf championship
by edging teammate Luciane Lee in a three-hole playoff Wednesday at Lakewood Country Club. The teammates each shot a 1-under-par 73 in the final round, but Cheng birdied the final hole to take the title. Torrance earned five of the league's seven individual berths for the upcoming CIF-SS Northern Regional.
October, 25, 2010
10/25/10
10:08
AM PT
1. The Arcadia boys' cross country team, ranked No. 2 nationally,
ran away with the Team Sweepstakes title
at the Mt. SAC Cross Country Invitational on Saturday.
Ammar Moussa
tied the course record with a time of 14:24 in the 2.91-mile trek. Arcadia's team time of 75:16 broke the previous course record by more than a minute.
2. St. John Bosco has a good thing growing with quarterback
Raymond Medina
. The junior may not have the out-of-this-world stats yet (11 touchdowns in seven games), but he possesses the tools (strong arm, quick feet, pocket presence, size) to break out next season. He and go-to receiver
Bryce Treggs
, a fellow 2012 class member, are already a major force. Treggs was a recipient in 10 of Medina's 19 completions -- two for scores -- in Friday night's 32-24 loss to Servite.
3. Things should get more difficult for Bonita (7-0) in the next few weeks with games against West Covina (6-1), Rowland (4-4) and Diamond Ranch (4-3). The winner of Friday's game at West Covina gains control of the Hacienda League, but it also gives the Bearcats a chance that they're for real. Aside from an eye-opening 22-point win in Week 1 against Sierra League leader Claremont (6-1), Bonita has beaten up on teams with a combined record of 18-26. Not exactly your cream of the crop. Meanwhile, Diamond Ranch's three losses were to teams that have gone 16-5; West Covina's lone loss was to Covina, which is 7-1.
4. Any more Long Beach Poly (5-2) doubters out there? In retrospect, the Jackrabbits must be feeling pretty good about their 32-7 Week 1 loss to St. Bonaventure, which is coming off a 52-0 dismantling of Thousand Oaks on Friday. The No. 8 Seraphs are 6-1 (only defeat was by a point to Oaks Christian). Poly's other loss was to No. 3 Mission Viejo (7-0). The positive spin? The 37 points the Diablos put up against Poly are a season-low (Mission Viejo has averaged 47 points in its six other wins).
5. The scoreboard was on hyperactive mode at Maranatha High on Friday. Cerritos Valley Christian eventually emerged from the points-fest that included five overtime periods and lasted nearly five hours,
leaving Pasadena with a 70-64 victory
. The teams combined to score 54 points after regulation.