Los Angeles Preps:

Armando Gomez
May, 22, 2012
5/22/12
8:42
PM PT
By
Tim Haddock
| ESPNLosAngeles.com


SAN FERNANDO – Armando Gomez decided to gamble a bit in the first round of the City Section Division I baseball playoffs against Granada Hills.

The coach of the San Fernando baseball team, the reigning City Section champion, went with his No. 2 starter, Kevin Martinez, opting to save his ace, Alonzo Garcia, for the second round.

The gamble paid off as Martinez pitched a six-hit shutout and San Fernando eliminated Granada Hills, 3-0, at San Fernando High School on Tuesday.

"He's quieted the critics now," Gomez said. "I don't want to get to Thursday and not have our No. 1. Kevin's been great in big games. It didn't bug him at all."
March, 30, 2012
3/30/12
7:21
PM PT
By
Tim Haddock
| ESPNLosAngeles.com
The San Fernando baseball team is off to Las Vegas next week for the annual Durango Classic. Awaiting the reigning CIF City Section champions will be Sierra Vista, a team many consider the second best in the state of Nevada behind Bishop Gorman.

San Fernando coach Armando Gomez plans on starting Alonzo Garcia against Sierra Vista. Garcia, a sophomore, has emerged as the ace of the staff. Gomez doesn't exactly have a designated No. 2 starter yet. Rather, he has been using a pitching staff by committee to fill in the gaps between Garcia's starts.

Three pitchers combined to shut out Van Nuys Grant, 11-0, on Friday. Carlos Robles started the game and went three innings. Ruben Armenta came in for the next two and Miguel Hernandez pitched the seventh inning.

Isaac Dominguez provided the offense going 3-for-5 with two triples and drove in four runs. Garcia, who also plays the outfield, had a two-run double in his only at-bat.

Gomez says he hopes his team plays Chatsworth at some point during the Durango Classic. Monroe, Verdugo Hills and Sun Valley Poly are teams from the San Fernando Valley that are also entered in the tournament.

San Fernando (11-3) has won all four of its Valley Mission League games. Gomez said his team could easily be 13-1 overall.

"The three losses we've had, we probably should have won two of them," Gomez said. The Tigers lost to Paraclete, 6-5, in the second game of the season. They lost 2-1 to Agoura on March 24. The only blowout was a 9-0 loss to Buena on Feb. 29.


June, 10, 2011
6/10/11
6:56
PM PT
By
Tim Haddock
| ESPNLosAngeles.com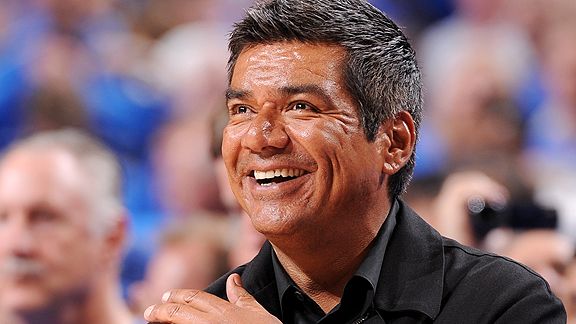 Andrew D. Bernstein/NBAE via Getty ImagesComedian George Lopez attended San Fernando High and played baseball. He's proud his alma mater recently won its first City Section title in the sport since 1991.
To raise money to buy CIF championship rings, the San Fernando baseball team started selling T-shirts. That's before comedian
George Lopez
stepped in.
Lopez, who graduated from San Fernando High School in 1979 and played on the baseball team, told coach
Armando Gomez
he wanted to buy the players their rings. That amounts to about 30 rings, for players and coaches, to the tune of $400 apiece or $12,000 total.
The only stipulation, Gomez said, was that Lopez wanted a ring for himself.
"I was so grateful for the generosity he's shown toward us," Gomez said. "I told him, 'You can have whatever you want.' "
San Fernando won the CIF City Section championship by beating Chatsworth, 8-6, at Dodger Stadium last Saturday. It was the first City title for San Fernando since 1991. Gomez said the 1991 team doesn't have a championship banner at the school. He wants to be able to buy two banners, one for the 2011 team and one for the 1991 team.
The T-shirts his team is still selling to raise money for equipment and supplies recognizes the 2011 championship and the 20
th
anniversary of the 1991 championship.