Los Angeles Preps:

Artesia
February, 13, 2012
2/13/12
1:40
PM PT
By
Tim Haddock
| ESPNLosAngeles.com
The CIF boys basketball playoffs begin Wednesday. The teams from the L.A. North region in the Southern Section Division 1AA playoffs will have a tough time getting past the quarterfinals.

However, in Division 3A and 3AA, the L.A. North teams should dominate.

In the City Section, Woodland Hills Taft is the overwhelming favorite. But the three other teams from the San Fernando Valley might not make it out of the first round in the City Section Division I playoffs.

Here is a look at the best first-round games in the Southern Section and City Section playoffs:
February, 22, 2011
2/22/11
10:28
PM PT
By
Sean Ceglinsky
| ESPNLosAngeles.com
ENCINO -- This one was practically over before it even started.

The Crespi High boys' basketball team jumped out to a particularly comfortable 14-point advantage over visiting Lakewood Artesia by the end of the first quarter during Tuesday's Southern Section Division 3A quarterfinal playoff game.

The lead ballooned to 22 points by halftime, 27 in the third quarter and approached the 30-point plateau over the course of the final eight minutes of play.

In the fourth quarter, seemingly the only thing left to do for the Celts was to send their starters to the bench for some rest and let the reserves run out the rest of the clock, which they did, of course, en route to an impressive 70-42 victory

"We came out and dominated, we needed a win like this, we made a statement and let everyone know that we're for real,'' said Crespi's London Perrantes.

The second-seeded Celts (23-7) are indeed for real.

Count Artesia (14-14) as a believer.

"We came into this game tonight knowing that Crespi was tough team, there's a reason why they were the No. 2 seed,'' Artesia coach Greg Taylor said. "We needed a lot of things to go our way if we were going to have a chance to win and that didn't happen.''


February, 17, 2011
2/17/11
7:31
PM PT
By
Sean Ceglinsky
| ESPNLosAngeles.com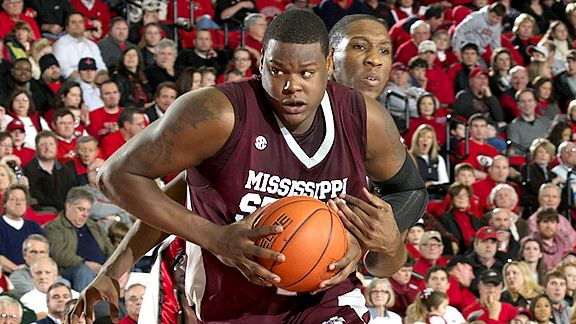 Dale Zanine/US PresswireRenardo Sidney was a standout at Fairfax and is now trying to raise his game at Mississippi State.

So much potential.

So far from realizing it. At least up to now.

That basically sums up the basketball career of Renardo Sidney. At one point, the former Los Angeles Fairfax High product had one of the more promising futures of any Southland player in recent memory.

Sidney, however, has experienced many trials and tribulations along the way, seemingly too many to count. It has been one thing after another for the player who was a USC commit in 2009. And little has changed since his arrival at Mississippi State.

Over the course of the past two seasons with the Bulldogs, Sidney has been suspended on a number of occasions for a number of different reasons. In fact, the sophomore got into an altercation in the stands with teammate Elgin Bailey during a December game at the Diamond Head Classic in Hawaii and the incident made national headlines.

When taking some of those facts into consideration, it is difficult imagining there being a time when it actually appeared as if Sidney could no wrong. But yes, things were heading in the right direction for him. Truth be told, it was not that long ago either.

"Talent wise, Renardo was one of the best around, he was amazing,'' said Fairfax coach Harvey Kitani. As a senior for the Lions, ESPNU ranked Sidney as the country's No. 3 power forward, and the No. 7 prospect overall. His name was mentioned in the same sentence as future NBA players such as John Wall, Derrick Favors and DeMarcus Cousins.

"Renardo had a wealth of talent, he was on top of his game back then,'' Kitani added. "With his size and athleticism, with his intelligence and understanding of the game, he had a tendency to make things look effortless. He did things other guys couldn't do.''


February, 17, 2011
2/17/11
2:10
PM PT
By
Dan Arritt
| ESPNLosAngeles.com
Looking back on Wednesday's first-round games in the Southern Section boys' basketball playoffs, the brackets were full of winners and losers and a few Inland Empire teams that created sub-categories. Here's a quick list.

Poorest showing by a league – The Southwestern League lost three of five games Wednesday night but the biggest news came from one of the victories. Murrieta Valley, seeded fifth in Division 1AA, survived on a banked-in three-pointer at the overtime buzzer to defeat visiting Corona, 50-48. The Nighthawks' best player, Justin Gudger, injured his ankle late in the first quarter and did not return. Great Oak, Chaparral and Vista Murrieta lost their playoff openers. Temecula Valley advanced in Division 2AA.

Poorest showing by a team(s) – This is stretching the boundaries a bit but since Glendora is the only non-I.E. team in the Baseline League, the collapse of the Tartans deserves mention here. Glendora, seeded fourth in Division 2A, lost in overtime, 72-65, against Eastside High of Lancaster, which tied for third in the mighty Golden League. Closer to home, sixth-seeded San Bernardino was also knocked out sooner than expected in Division 2A, coming up short against visiting Manhattan Beach Mira Costa, 62-54. The Cardinals had just finished celebrating their first league title in 18 years, while Mira Costa was coming off five consecutive losses.

Thanks for nothing award – Moreno Valley Canyon Springs scored a huge upset against Moreno Valley Rancho Verde to earn a share of the Inland Valley League title. The Southern Section didn't do the Cougars any favors, matching them against fourth-seeded Compton in Division 2AA. Despite hosting the game, Canyon Springs was no match for the Dons and lost, 64-50, and the IVL went 1-3. In Division 3A, Palm Desert was seeded seventh but drew visiting Lakewood Artesia, the once-proud basketball factory that traditionally plays it best basketball this time of year. You guessed it, Artesia won, 47-45.

Here's the full roundup of games from the top six divisions that involve I.E. teams: