March, 26, 2012
3/26/12
4:27
PM PT
By
Dan Arritt
| ESPNLosAngeles.com
1. Etiwanda, 30-3: The Eagles finished with their third 30-win season in the last seven and should be in good shape for the next couple years with the return of sophomore point guard Jordan McLaughlin, who averaged a team-high 17.8 points. Etiwanda was taken out by Long Beach Poly in the Division 1AA semifinals for the second straight season, then fell to Loyola in a Southern California Regional second rounder.

2. Eisenhower, 20-8: The Eagles established their run-and-gun identity as the season moved along, and had one of the top players in the I.E. to facilitate that style in shooting guard Marvelle Harris, whose play helped him earn a scholarship from Fresno State in the process. Eisenhower's season ended with a close loss to Long Beach Poly in the quarterfinals.

3. Elsinore, 28-5: The Tigers came up short of their first section final appearance since 1974, losing by nine points to Mayfair in the Division 2A semifinals. They came back to beat Thousand Oaks in the program's first SoCal Regional appearance before losing to Inglewood in the second round of Division 2. E.J. Twyman played up to expectations entering his senior year, averaging 26.9 points.

4. Colony, 22-10: Two straight losses to end the season didn't dampen an otherwise strong run by the Titans. Their season was highlighted by a 73-71 victory against second-seeded Compton in a Division 2A quarterfinal. Colony then lost a back-and-forth game against Righetti to prevent the program from advancing to the championship game for the second time in four seasons.

5. Murrieta Valley, 25-3: Righetti took out the third-seeded Nighthawks the round before they beat Colony, ending an otherwise strong season. They won three tournaments prior to Southwestern League play, then defended that title. Darius Butler scored in double figures in every game en route to averaging a team-high 19.6 points, while Reid Shackelford proved to be one of the I.E.'s most improved players, averaging 16.8.


February, 16, 2012
2/16/12
4:30
PM PT
By
Dan Arritt
| ESPNLosAngeles.com
With the best Inland Empire boys' basketball teams placed in the top four divisions of the Southern Section playoffs, here's a rundown of what to look for beginning with Friday's first-round games.

DIVISION 1AA

Background: The Inland Empire is well known in this division. The region has sent a representative to the championship game the last three years. Long Beach Poly beat Corona Centennial last season, Mater Dei toppled Etiwanda the year before and Riverside King upset Mater Dei in 2009.

Best Shot: If third-seeded Etiwanda is to continue that trend, the Eagles will likely need to find a way to beat second-seeded Long Beach Poly. They lost to the Jackrabbits in the Division 1AA semifinals last season and again nine days later in the second round of the SoCal Regional playoffs. There are few high school coaches who squeeze more out of their players than Dave Kleckner at Etiwanda, however.

Best first-round game: Highland at Silverado. A good old- fashioned high desert showdown as 11th-seeded Silverado brings a 16-game winning streak into the postseason. The Hawks will need to find a way to slow Highland senior guard Joseph Prince, who is averaging 23.4 points. Prince, who played the last two seasons at Glenbrook North High in Northbrook, Ill., scored a season-high 37 points in the regular-season finale last week against Lancaster.

Darkhorse: Rancho Verde didn't land on the same side of the bracket as top-seeded Mater Dei, so that can already be considered a victory. In the last three seasons, the Mustangs lost all four postseason meetings against Mater Dei, with three losses in the section playoffs and another in the SoCal Regionals. Rancho Verde is seeded 10th and drew a good challenge in the opener against visiting Montclair. A possible second-round game against seventh-seeded Eisenhower looms.

DIVISION 1A

Background: A team from the I.E. has qualified for the semifinals in this division the last three seasons, Redlands East Valley a year ago, Colony in 2010 and Chino Hills in 2009. In the last final appearance by an I.E. team, Riverside King beat Etiwanda in the 2008 championship game at Honda Center.

Best Shot: The I.E.'s streak of semifinalists could be in serious jeopardy. The highest-seeded teams in this division are No. 7 Chino Hills and No. 10 Vista Murrieta, and they would meet in the second round should they win their openers. The good thing is, one I.E. team would be guaranteed a trip to the quarterfinals.

Best first-round game: Corona at Arroyo Valley. Both these teams have held their own against good competition this season. Corona tied for fifth in the highly competitive Big VIII League and Arroyo Valley finished runner up in the San Andreas League, losing both games to league champion Cajon by a combined six points.

Darkhorse: Vista Murrieta has shown it can reach up and bite a good team if they're not paying attention. The Broncos beat Murrieta Valley by 13 points in a Southwestern League game last month and the Nighthawks are seeded third in Division 2A. Davin Guinn, a 6-5 senior forward for Vista Murrieta, is one of the top players in the division. He matched his season high with 32 points in the rematch against Murrieta Valley last week.


February, 5, 2012
2/05/12
10:53
PM PT
By
Dan Arritt
| ESPNLosAngeles.com
Most of the top teams in the I.E. held their ground last week, with several clinching outright league titles, or at least a share, heading into the final week of the regular season.

1. (1) Etiwanda, 24-1: Sam Flemming scored with 15 seconds remaining to lift the Eagles to a 70-69 victory Tuesday at Upland, keeping them perfect in Baseline League play. Etiwanda came back to win its 21ststraight game Friday night and clinch the outright league title at Los Osos. Next: Tuesday @ Alta Loma.

2. (2) Eisenhower, 16-7: The Eagles clinched their third consecutive outright Citrus Belt League title with victories last week against visiting A.B. Miller (79-49) and at Redlands East Valley (61-34). Eisenhower wasn't able to keep up with Fairfax on Saturday afternoon at the Nike Extravaganza at Mater Dei and lost, 73-67. Next: Wednesday @ Redlands.

3. (4) Elsinore, 22-3: The Tigers are well on their way to a fourth straight Sunbelt League title after defeating Temescal Canyon (64-57) and Perris (57-55) last week. Elsinore has won 29 consecutive league games. Next: Wednesday @ Heritage.

4. (5) Murrieta Valley, 21-2: The Nighthawks maintained their one-game lead on Vista Murrieta in the Southwestern League with wins last week at Great Oak (46-35) and Murrieta Mesa (60-39). Reid Shackelford sank five of seven three-pointers against Murrieta Mesa. Next: Tuesday vs. Vista Murrieta.

5. (3) J.W. North, 19-5: Last week began with another hiccup in Big VIII League play, an 11-point loss at Riverside Poly, but the Huskies came back with wins against visiting Roosevelt (64-49) and at Corona Santiago (53-48) to clinch at least a share of the league title with two games remaining. Next: Monday @ Riverside King.


January, 24, 2012
1/24/12
7:18
PM PT
By
Sean Ceglinsky
| ESPNLosAngeles.com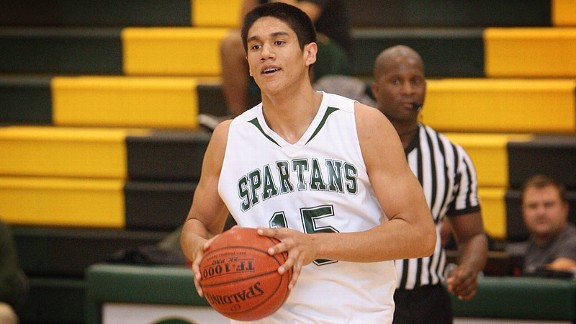 Courtesy of Justin RadDamien's Chris Reyes is accustomed to teams taken him lightly, and he's just fine with that.
LA VERNE -- When discussions take place about some of the Southland's premier post players, the name
Chris Reyes
is not always included in the conversation.
The lack of recognition, however, does not bother the 6-foot-6, 205-pound senior from Damien. The perceived snub has served as plenty of motivation this season. Accordingly, Reyes is playing as well, if not better than most his peers in the greater Los Angeles area.
"Chris may not be ranked as high as the other guys, but he is just as good in my book,'' Damien coach
Matt Dunn
said. "He affects the game in so many ways, on both ends of the floor. Honestly, I think when people underestimate him, it's a mistake. I've seen Chris make opponents pay for taking him lightly in the past. He plays with this uncanny fire.''
As Reyes has gone, so have the Spartans (18-1 overall), No. 17 in the ESPNLosAngeles.com top 20 rankings. They have a test Wednesday in a showdown with visiting Chino Hills Ayala. The winner will be in the driver's seat in the Sierra League standings.
The St. Mary's-bound Reyes is shooting 62 percent from the field and is averaging a double-double per game with 18 points and 12 rebounds. Never one to back down from a challenge, he has also blocked an average of five shots on a nightly basis.
"I'd like to be be compared to the best big guys around. Do I think about it all the time? No, not really,'' Reyes said. "Honestly, I kind of like being unknown.''
He is far from an unknown, rest assured. Thing is: La Verne Lutheran's
Grant Jerrett
, North Hollywood Harvard-Westlake's
Zena Edosomwan
, Woodland Hills Taft's
Anthony January
and Gardena Serra's
Daddy Ugbede
typically grab most of the headlines.
January, 10, 2012
1/10/12
4:04
PM PT
By
Dan Arritt
| ESPNLosAngeles.com
CITRUS BELT LEAGUE
League openers:
Wednesday night – Fontana @ Redlands; Yucaipa @ Eisenhower; A.B. Miller @ Redlands East Valley.
Last year's finish
: Eisenhower (10-0); Redlands East Valley (8-2), Redlands (6-4); Yucaipa (4-6); A.B. Miller (2-8); Fontana (0-10).
Players to watch:
Marvelle Harris (Eisenhower), 6-3, Sr. G; Terrance Sims (Eisenhower), 5-10, Sr., G; Toriano Harris (Eisenhower), 6-1, Sr., G; Evan Pea'Ches (Redlands), 6-7, Sr., F; Jamal Ellis (Redlands East Valley), 5-11, Sr., G; Daylin Billingsley (Yucaipa), 6-6, Sr., F; Adam Stanford (A.B. Miller), 6-3, Jr., F.
Predicted order of finish:
Eisenhower, Redlands, Redlands East Valley, Yucaipa, Fontana, A.B. Miller.
SIERRA LEAGUE
League openers:
Wednesday night – Ayala @ Chino Hills; Damien @ Claremont; Charter Oak @ South Hills.
Last year's finish
: Damien (9-1); Chino Hills (7-3); Ayala (7-3); Claremont (5-5); South Hills (1-9); Charter Oak (1-9).
Players to watch:
Chris Reyes (Damien), 6-7, Sr., F; Clayton White (Damien), 6-0, Sr., G; Jared Dizon (Damien), 6-3, Jr., G; Josh Ramirez (Ayala), 6-4, Sr., G; Jared Ponce (Ayala), 6-2, Sr., G; Matt Ponce (Ayala), 5-10, Sr., G; Tyler Ponce (Ayala), 6-2, Sr., G; Mike Navar (Chino Hills), 6-7, Sr., C; Deion Page (Chino Hills), 6-1, Sr., G; Deandre Page (Chino Hills), 6-1, Sr., G; Bishop Mency (Chino Hills), 6-4, So., F; Kyle Maloof (Claremont), 6-1, Sr., G; Korey Serna (South Hills), 6-9, Sr., C; Kody Brown (Charter Oak), 6-7, Sr., F.
Predicted order of finish:
Damien, Chino Hills, Ayala, Claremont, South Hills, Charter Oak.
SUNKIST LEAGUE
League openers:
Wednesday night – Jurupa Valley @ Summit, Patriot @ Bloomington; Norte Vista @ Kaiser.
Last year's finish
: Summit (10-0); Patriot (8-2); Jurupa Valley (5-5); Bloomington (3-7); Kaiser (2-8); Norte Vista (0-10).
Players to watch:
Devon Alexander (Summit), 6-1, Sr., G; Darrick Arnold (Summit), 6-3, Sr., F; Isaiah Taylor (Summit), 6-1, Sr., G; Thomas Folsom (Patriot), 6-10, Sr., C; Stephon Bryant (Jurupa Valley), 6-2, Jr., F; Sam Parks (Jurupa Valley), 6-1, So., F; Steven Avila (Jurupa Valley), 5-10, Jr., G; John Moss (Bloomington), 5-10, Sr., G
Predicted order of finish:
Summit, Jurupa Valley, Kaiser, Patriot, Bloomington, Norte Vista.
Previously:
Baseline, Mountain Pass, Southwestern and Sunbelt leagues
Big VIII, Mojave River and Mt. Baldy leagues
Desert Valley, Inland Valley and San Andreas leagues
November, 13, 2011
11/13/11
1:01
PM PT
By
Dan Arritt
| ESPNLosAngeles.com
CIF-SS playoffs:
Central Division
This group might not carry the hoopla of the Inland Division, but it certainly has some quality teams and superb athletes. Rancho Verde hasn't lost a regular-season game since 2007, yet hasn't won a section title in that stretch either. Not so for Palm Springs and Colony. Palm Springs won the Eastern Division title in 2009, and the Titans won Central Division titles in 2006 and 2007. Here's a breakdown of the division:
The seeds
: No. 1 Rancho Verde, No. 2 Palm Springs, No. 3 La Sierra, No. 4 Colony.
Best first-round matchup
: Palm Desert (5-4) at Carter (9-1) -- Carter had a chance to clinch the program's first outright San Andreas League title Thursday night against Cajon but lost, 24-7. That missed opportunity could spill over to the playoffs. Carter will have its hands full trying to stop Palm Desert running back
Tim Santa Maria
, who rushed for 333 yards in 33 carries and scored four touchdowns in a 38-35 loss Friday against La Quinta, dropping the Aztecs into third place in the Desert Valley League and setting up this matchup.
Toughest road
: Palm Springs (10-0) -- The Indians' unblemished record might be a bit misleading because they really haven't played any quality opponents this season, though they did blow out everyone except Palm Desert in the season opener. They open against a Rialto team that has a big-time victory against Cajon this season, one that likely cost the Cowboys a top four seeding. Waiting in the wings would be a matchup against Chino or Arlington, two other programs that could pose a problem with their potent run games.
Potential shocker
: Valley View at Colony, first round -- Valley View had a bye in Week 10 to give them extra time to prepare for the playoffs and provide running back
Michael Harrison
a chance to rest up for the heavy workload he's likely to encounter. Harrison, who has rushed for 1,373 and 16 touchdowns this season, is the type of power runner that has given Colony fits this season. The Titans have already allowed 100-yard rushing performances to
Xavier Browne
of Chino,
Devon Samuels
of Chaffey,
Jamel Hart
of South Hills,
Jordan Robinson
of Ayala and
Corey Victoria
of Glendora.
Darkhorse
: Cajon (9-1) -- As mentioned above, Cajon would likely be one of the top three seeds if not for its loss against Rialto three weeks ago. The Cowboys have the athletes to make a run at any team in this division, and seem to have found a quality replacement for quarterback
Edwin Martinez
, who went down with a knee injury two weeks ago.
De Juan Brooks
stepped up from the junior varsity and threw for 241 yards and three touchdowns in the victory against Carter, locking up a share of the San Andreas League title.
Final analysis
: This division is Rancho Verde's to lose but that's exactly what the Mustangs did last season, cruising to the championship game before getting stunned by Colton, the third-place team from the San Andreas League. They certainly didn't catch any breaks in the brackets, getting stuck on the same side as Cajon and Colony, both of which feature Division 1-bound athletes who can change the course of a game.
Championship prediction
: Palm Springs vs. Rancho Verde – These two programs appear to be in a class by themselves, though neither has really proved themselves against quality opponents during the regular season. Look for both teams to build momentum during some challenging early games and meet head on for the section title. Rancho Verde 27, Palm Springs 21.
Link to the Central Division bracket on CalPreps.com
October, 3, 2011
10/03/11
4:59
PM PT
By
Tim Haddock
| ESPNLosAngeles.com
The Ventura football team ran its record to 5-0 with a convincing 27-0 win over Camarillo in one of the longest rivalries in Ventura County. The two teams met for the 30th time on Friday night. The game didn't quite live up to expectations, though. Camarillo receiver Jake Maulhardt was coming off a state-record performance against Canyon. He caught 28 passes to set the new state mark with 347 receiving yards and scored three touchdowns. Against Ventura, he caught only eight passes for 72 yards. Still a good night, but it pales in comparison to the previous game. Ventura receiver Hunter Winans outplayed Maulhardt with seven catches for 107 yards and a touchdown. He has 30 catches for 438 yards and two touchdowns in five games. Nobody expected Ventura to shut out Camarillo, which came into the game averaging 23 points. Ventura moved up to No. 7 in the latest CIF-Southern Section Western Division polls The Cougars were ranked 10th last week. St. Paul from the Mission League is ranked No. 1 in the Western Division, followed by Mission League rival Chaminade at No. 2.
The Paraclete football team set a school record with 86 points against Pasadena Marshall. The Spirits won the game, 86-0, playing second and third stringers in the second half. There is a CIF rule to use a running clock when a team is up by more than 30 points, but the Paraclete coaches said Marshall refused to use a running clock. "We asked for it after the first half," the Paraclete coaches said on Twitter. "We have nothing but respect for Coach [James] Zall and his squad. He's building something special." Paraclete was up 37-0 after the first quarter and 65-0 at halftime. The Spirits gained 547 yards of total offense and Anton Hutcherson scored three touchdowns. The Spirits forced five turnovers and held Marshall to minus-9 yards of offense.
Arleta's Dejon Coleman recorded his first seven-touchdown game and third six-touchdown game of the season in a 68-0 win over Monroe in the East Valley League opener. What is more impressive is that he scored his six rushing touchdowns in only nine carries in the game. He scored on runs of 73, 60, 35, 72, 47 and 19 yards and gained 320 yards in nine carries. For those keeping score at home, that's 35.5 yards per carry. He also scored on a 72-yard kickoff return in the second half. That gives him 20 touchdowns in four games.
Canyon receiver Drew Wolitarsky caught two touchdown passes in his team's 56-6 win over Beverly Hills. He set the school record with 26 career receiving touchdowns on Friday night. For good measure, he scored a touchdown on a 66-yard punt return in the second quarter. Wolitarsky caught five passes for 101 yards and had scoring catches of 33 and 29 yards from quarterback Jonathan Jerozal. Wolitarsky has caught 24 passes for 491 yards and six touchdowns in four games. He is averaging 20.4 yards per catch and 122.8 receiving yards per game.
The Downey girls' volleyball team was the surprise winner in the 28-team Royal Classic over the weekend in Simi Valley. Downey beat Ayala, 25-22, in the championship match and knocked off reigning Royal Classic champion Notre Dame Academy, 25-23, 29-27, in the semifinals. Host Royal lost in the quarterfinals of the gold division playoffs to Downey, 25-23, 25-22. El Camino Real won the silver division championship, 25-23, 25-18, over Granada Hills.
January, 21, 2011
1/21/11
10:58
PM PT
CHINO HILLS -- With his offensive game lagging, Chris Reyes let his ears take over Friday night. He didn't stray from his plan, didn't try to force the issue.

He just listened.

Damien basketball coach Matt Dunn had more than a few words for his star forward, who responded with more than a few points. Reyes scored 18 of his game-high 22 points in the second half, guiding Damien to a 59-55 overtime victory over Ayala. He added 15 rebounds and seven blocks for the Sierra League-leading Spartans (18-1, 4-0).

"He did what he's capable of," Dunn said. "He's a great player. ... We challenged him a little bit."

Ayala (12-7, 2-2) provided obstacles of its own, taking a two-point lead on a clutch jumper from Mathew Ponce with 25 seconds left in regulation. Reyes grabbed an offensive rebound on the other end and tied it with a short hook shot. He had seven points in the four-minute overtime period.

"Guys just got me the ball," said Reyes, one of the state's top-rated forwards.

Reyes grew up with many of Ayala's players -- something Dunn believed affected him in the early going.

"Sometimes when you play against your friends, it's really hard," Dunn added. "I thought that was a big part of the first half. He didn't get his motor going."

It was a tightly contested battle throughout. Damien appeared flustered by Ayala's suffocating 1-3-1 zone, but the Bulldogs had troubles of their own. Gian Demano carried the Spartans in the beginning, scoring eight of his team's first 10 points. The senior guard finished with 13, earning high praise from Dunn for his demeanor late in the game.

Reyes' dirty work inside, combined with Kevin Mansour's three-pointer and J.P. Chakbazof's two free throws sealed the deal. Ayala has a tough turnaround -- the Bulldogs face Diamond Ranch in the California Elite Showcase at the University of La Verne on Saturday.

Andrew Ortiz did what he could to keep Ayala in it, scoring a team-high 19 points. Josh Ramirez netted eight of the Bulldogs' first 13 points, but with Reyes playing shutdown defense, he wasn't heard from again until overtime.

"I was going strong," Reyes said. "Coach told me to move around. He was getting mad at me."

Good thing for Damien -- Reyes listened.
September, 11, 2010
9/11/10
2:26
PM PT
By
Dan Arritt
| ESPNLosAngeles.com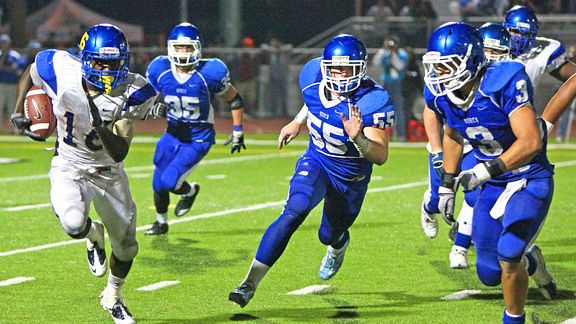 Rob Helfman
Norco High School defenders Scott Starr (3), Chance Baker (55) and Jeramy Russell (35) pursue Crenshaw's dynamic De'Anthony Thomas in Norco's 25-21 victory.
Just what did Friday night prove?
For one thing, the Inland Empire is already playing a role in the Division I state bowl selection.
Crenshaw of Los Angeles probably feels like its on the outside looking in after losing a shocker at Norco, 25-21, dropping last season's Open Division finalist to 0-2.
Chaparral of Temecula also saw its bowl chances diminished after losing its season opener to visiting Oceanside, 21-14, a team that was walloped by 24 points against Servite a week earlier. The Pumas were edged out by Oceanside for the Division I state bowl berth last season.
Chaparral, which began last week ranked No. 7 by ESPNLosAngeles.com, still must snap its chinstrap and find a way through No. 1 Servite and No. 9 Corona Centennial before opening Southwestern League play against No. 8 Vista Murrieta.