February, 16, 2012
2/16/12
12:44
PM PT
By
Tim Haddock
| ESPNLosAngeles.com
Burroughs Ridgecrest upset No. 16 Cathedral in the first round of the CIF Southern Section Division 3A playoffs.

After a 55-53 win over Cathedral, Burroughs Ridgecrest gets to play second-seeded St. John Bosco.

Azusa beat No. 15 Tahquitz, 62-60, in the only other upset in the first round of the Division 3A playoffs.

Third-seeded Oak Park routed Littlerock, 63-24.
November, 13, 2011
11/13/11
4:05
PM PT
The Covina Colts received the top seeding Sunday, a mere formality considering that they'd been the division's top-ranked squad for quite some time. Valle Vista League winner Covina (9-1) opened the season with a six-point loss to rival and defending Southeast Division champion West Covina but rolled the rest of the way. Coach
Darryl Thomas
has his group in good position. Here's a breakdown of the division:
The seeds:
No. 1 Covina, No. 2 Arroyo, No. 3 San Dimas, No. 4 Monrovia.
Best first-round matchup:
Pomona (6-4) at Monrovia (7-3) -- Pomona, which lost to the top seed by only two points, could very well leave Monrovia with a victory if the Wildcats don't play inspired.
Toughest road:
Monrovia (7-3) -- It appears as if defending Mid-Valley champion Monrovia will have to go through top-seeded Covina in the third round. That's a lofty task.
Potential shocker:
Maranatha (8-2) at San Gabriel (6-4), first round -- The possibility for an upset is there any time an elite-level quarterback is involved. The Maranatha Minutemen have that in junior
Andrew Elffers
.
Darkhorse:
Azusa (7-3) -- The Montview League champion Aztecs have won seven straight and have already seen their potential second-round opponent, San Dimas.
Final analysis:
It's hard to imagine anyone beating the Colts, especially if quarterback
Billy Livingston
stays healthy. They will likely have to go through defending champion Monrovia but the Wildcats, despite the presence of top lineman
Ellis McCarthy
, have been very beatable in 2011. Second-seeded Arroyo, behind record-setting signal caller
Steven Rivera
, should have no problem advancing out of the lower bracket.
Championship prediction:
Arroyo vs. Covina -- The Colts will sneak past Monrovia in one semifinal and ride that momentum. Arroyo's high-powered attack will find difficulty against Covina's tough defensive front. Final score: 31-20, Covina.
Link to the Mid-Valley Division bracket on CalPreps.com
November, 9, 2011
11/09/11
6:01
PM PT
League championships are up for grabs across the region this week. Here are Thursday night's top five games in south Los Angeles County:

Cabrillo vs. No. 5 Long Beach Poly at Veterans Stadium, Thursday, 7 p.m. -- As the Jackrabbits take the final turn toward a second consecutive Moore League title, it's only fitting that ESPN High School will recognize the defending national champion Long Beach Poly girls' track team during halftime Thursday. Football coach Raul Lara, meanwhile, can only hope that his team -- specifically the defense -- sprints through the finish line. A win would give Poly (8-1, 5-0) sole possession of first place and likely secure a high seeding in the Pac-5 Division bracket. Upset-minded Cabrillo (7-2, 4-1) has the division's leading passer, senior Derek Stewart (2,116 yards, 19 touchdowns).

Diamond Ranch at West Covina, Thursday, 7 p.m. -- When West Covina coach Mike Maggiore had his team take on Loyola earlier this season, it was with games like this in mind. West Covina (8-1, 5-0) will stay home this time but the hungry Diamond Ranch Panthers (5-4, 4-1) will try everything to unseat the defending Hacienda League champions. The Bulldogs, ranked No. 1 in the Southeast Division, can go perfect in league play for the second straight year.

La Puente vs. Azusa at Citrus College, Thursday, 7 p.m. -- The Mid-Valley Division poll that the CIF-Southern Section released before the season didn't include the La Puente Warriors (9-0, 6-0). Well, look at the Warriors now. They have a chance to finish with an unblemished mark and their first Montview League title since 2007. It won't be an easy task against Azusa (6-3, 6-0), the three-time defending league titlist.

El Monte at Arroyo, Thursday, 7 p.m. -- El Monte, coming off a thrilling win against crosstown rival South El Monte, has plenty of momentum. The Lions (7-2, 4-0) scored two touchdowns in the final 43 seconds to remain in contention to win its first league championship since 1979. Two-time defending champ Arroyo (8-1, 4-0) is potent behind quarterback Steven Rivera (2,512 passing yards, 33 total touchdowns).

Schurr at San Gabriel, Thursday, 7 pm. -- The San Gabriel Matadors (5-4, 4-0) can win the Almont League outright with a victory against visiting Schurr (3-6, 3-1). A Schurr win, combined with an Alhambra win at Bell Gardens, would create a three-way tie atop the standings.
November, 1, 2011
11/01/11
4:28
PM PT
The top five performances in south Los Angeles County for Week 8: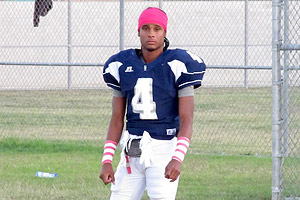 Blair Angulo for ESPN.comRobert Lewis of South East continued his big season for the Jaguars.
RB Robert Lewis (South East)
: Lewis rushed for 306 yards and scored three touchdowns Friday, leading the Jaguars to a 38-7 win at Bell. Lewis has 1,264 yards for undefeated S.E.
RB Anterio Bateman (Serra)
: The highly regarded junior has shouldered a heavy load for the Cavaliers. Bateman rushed for 213 yards in 19 carries in Friday's victory over St. Paul.
WR Bryce Treggs (St. John Bosco)
: The electric Treggs hauled in six passes for 155 yards and two touchdowns, but it wasn't enough as Bosco fell at home to top-ranked Servite, 35-27.
RB Devin Barnes (St. Bernard)
: Barnes made the most of his 11 carries, rushing for 147 yards and four touchdowns in a 63-26 rout of Verbum Dei. St. Bernard is a perfect 8-0.
RB Desmond Reed (Azusa)
: Reed had his second straight four-touchdown performance, leading the Aztecs to their 24th consecutive Montview League victory. He ran for 135 yards.
Blair Angulo covers preps for ESPN Los Angeles. Following him on Twitter.
October, 17, 2011
10/17/11
7:43
PM PT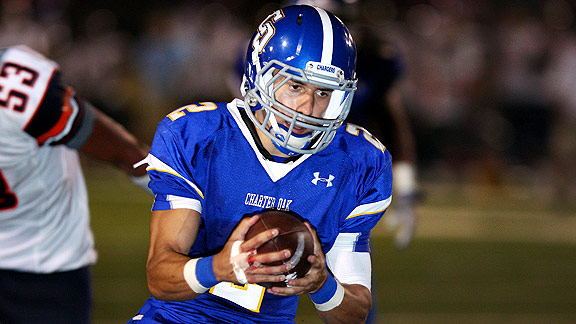 Courtesy of Jeff SerpaCharter Oak quarterback Travis Santiago continued his stellar season with a big game vs. South Hills.
With league action underway across the Southland, we introduce our weekly helmet stickers, given to five football players from south Los Angeles County schools who had standout performances. The honorees for Week 6:
QB Travis Santiago (Charter Oak)
: The senior threw for 325 yards, ran for 54 more and had five total touchdowns in a 63-28 win against South Hills in the Sierra League opener.
RB Brandon Edmond (Mira Costa)
: He had 390 rushing yards in 27 carries and the Mustangs needed every last bit of it to open Bay League play with a come-from-behind victory.
QB Billy Livingston (Covina)
: What injured shoulder? Livingston completed 16 of 23 passes for 357 yards and four touchdowns, leading Covina to its sixth straight win in his return.
QB Kenny Potter (San Pedro)
: Threw four early touchdown passes in a blowout before sitting out the entire second half. The senior finished with 145 yards for the undefeated Pirates.
RB Desmond Reed, (Azusa)
: Reed sat out the first quarter for disciplinary reasons but still finished with 168 yards rushing and four touchdowns in Azusa's 45-10 win against Duarte.
November, 22, 2010
11/22/10
11:22
AM PT
1. The announcement of Long Beach Poly's
26-10 loss to Mater Dei
created an uproar at the Lakewood High bleachers on Friday night. It was hard to tell if fans there were happier that Moore League rival Poly had lost in the first round, or that Lakewood would be moving on. Clearly, the rivalry has grown into something special. You couldn't walk up and down the Lakewood sideline without hearing fans asking others for updates on Poly-Mater Dei. "Poly's losing at the half," one fan said to another. The response: "Let's head over to that one."
2. Those concerned, or more interested, with what was going on at Veterans Stadium might have missed the intricacies of Lakewood's
dominant win against visiting San Clemente
. Coach
Thadd MacNeal
knows his offense gets most of the publicity. Quarterback
Tyler Schultz
's consistency,
Allie Long
's shiftiness and
Rashad Wadood
's versatility warrant the notoriety. But MacNeal mentioned something that was particularly astounding: Lakewood's defense doesn't get any of the headlines. Ever. Following a win at St. John Bosco back in September, MacNeal said he believed he had the defense to compete for a Pac-5 title. So how does a defensive unit anchored by four-star defensive tackle
Todd Barr
go overlooked? Big Red was good all season, surrendering more than 14 points just twice.
3. Poly wasn't the only Pac-5 team to flounder and fall flat on Friday. Bishop Amat was also eliminated at home, losing to Tesoro 31-21. Remember, Amat had won nine straight before losing the Serra League finale to Alemany. The Lancers will be back next year, perhaps better than they were this season. Two important pieces are in place -- unless quarterback
Rio Ruiz
makes a full-time switch to baseball. Tailback
Jalen Moore
is the other cornerstone. He might be the best back in the San Gabriel Valley next fall.
4. The Mid-Valley Division's top seed is out. Previously-unbeaten Azusa, which allowed just 30 points
all
season, was upset at home by Sun Valley Village Christian, 31-24. The Aztecs sealed their fate by allowing two fourth-quarter touchdowns and failing on a fake punt late. Elsewhere in the Mid-Valley, San Dimas scored a last-minute touchdown to knock off No. 3-seeded Arroyo. Covina, ranked No. 10 in last week's L.A. South rankings, moved on with an easy 42-14 win over La Canada.
5. With the exclusion of Pac-5 Division flops Bishop Amat and Long Beach Poly, the eight other teams in last week's L.A. South top 10 rankings fared extremely well. Serra, the region's top-ranked team according to ESPNLA.com, blew past Beverly Hills, 48-7. In the City Section, top-seeded Carson beat Sylmar, 42-6, No. 2 Crenshaw cruised to a 44-0 win against Granada Hills and No. 4 Dorsey disposed of Gardena, 37-7. Compton Dominguez escaped with a 28-25 win over St. Francis.
November, 14, 2010
11/14/10
4:45
PM PT
Seeded teams: 1. Azusa (10-0, Montview 1); 2. Monrovia (8-2, Rio Hondo 1); 3. Arroyo (9-1, Mission Valley 1); 4. Covina (9-1, Valle Vista 1)

At-large selections: Gladstone, La Canada, San Dimas, Village Christian

Best first-round game: San Dimas (6-4) at No. 3 Arroyo (9-1) -- A rather untested Arroyo team takes on the defending Mid-Valley Division champions. San Dimas is used to these games; Arroyo fell in the first round last year.

Best potential second-round game: Rosemead (7-3) at No. 1 Azusa (10-0) –- The Aztecs have allowed just 30 points all year -- and no, that was not a misprint. But can Azusa do the same to Rosemead, which averaged 27.8 points per game during the regular season?

Prediction: No. 4 Covina's cardiac kids has been playing things close the whole year, as six of the Colts' 10 games have been decided by eight points or fewer. Don't expect things to change in the postseason. Covina outlasts Azusa in the semifinal, then sinks a late field goal to edge out No. 2 Monrovia in the title game.