Los Angeles Preps:

Baseline League
May, 22, 2012
5/22/12
8:44
PM PT
Senior pitcher Wyatt Wood tossed his first complete game of the season Tuesday afternoon to help Glendora upset fourth-seeded Cypress, 5-2, in the second round of the CIF-Southern Section Division 2 baseball playoffs.

Wood, who has dealt with control issues in his first true year as a pitcher, gave up a two-run homer in the first inning but was spectacular the rest of the way. He responded with a two-run blast of his own in the bottom half of the inning.

"What he did was special," Glendora head coach Dan Henley said.

Glendora (18-9), which finished in a tie for first place in the Baseline League, will face Trabuco Hills on Friday. Cypress (25-7) became the latest team to fall in an upset -- top-seeded Harvard-Westlake also stumbled, losing 3-1 to Placentia Valencia.

"We knew we'd have to play all facets of the game to be competitive," Henley said. "We're a young team and I'd hate to use the term 'rebuilding' but this was a game our kids were looking forward to. ... [Wood] picked a great time to shine."
May, 17, 2012
5/17/12
6:42
PM PT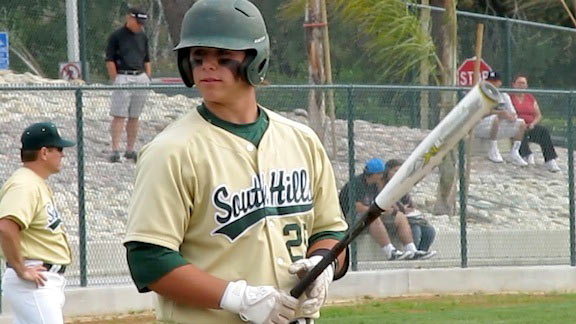 Blair Angulo/For ESPNLA.comTy France pitched a complete game and knoncked in three runs for South Hills on Thursday.
WEST COVINA -- An electric right arm. A compact swing. A keenness for high-stress situations.
Senior
Ty France
of South Hills put all of his skills on display Thursday afternoon, leading the Huskies to a 4-0 victory against visiting Upland in the first round of the CIF-Southern Section Division 2 baseball playoffs. France, a San Diego State signee, struck out 11 in a complete-game effort and also drove in three runs.
By the way France looked, you'd never guess it was only his second start of the season.
"I didn't expect him to go seven innings and shut them out. It's just a great effort on his part," South Hills head coach
Kevin Smith
said. "He's a bulldog. I wish I had 15 of him."
France has been on varsity for four years, experiencing sudden success as a freshman on a South Hills squad that captured the section title. He's a known commodity in the San Gabriel Valley, a slick-fielding shortstop who doubles as his team's closer. Smith, though, wanted his best curveball thrower on the mound against an Upland lineup that scored 22 runs in the wild-card round earlier in the week.
"I love pitching," France said. "I love getting out there and controlling the game."
France did that and more, scattering six hits and walking only two, one of them intentional. He helped his own cause at the plate with a pair of two-out RBI singles, putting South Hills (18-7) up early. UCLA signee
Daniel Robertson
had half of Upland's hits in his final high school game.
"Getting those two early runs helped a lot," France said.
January, 10, 2012
1/10/12
10:04
PM PT
GLENDORA --
Jordan McLaughlin
has grown a couple of inches since last year. His arms are more defined. He's not faster but, rather, quicker. He can dunk with two hands now.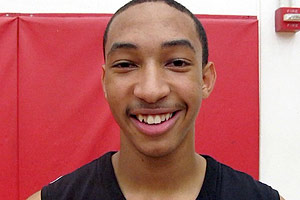 Blair Angulo/ESPN.comJordan McLaughlin has emerged as a top-flight PG and one of Cali's top recruits.
And the scary thing is, the sophomore figures to keep growing, keep adding muscle, keep sharpening his tools.
McLaughlin put on a versatile display Tuesday night, scoring a game-high 21 points in Etiwanda's 56-35 victory against Glendora in the Baseline League opener. He sank six 3-pointers, including three in a row that set the tone early. Later, the 5-foot-11 point guard put an exclamation point on it with a thunderous breakaway two-handed slam.
"Right now he's being overlooked," Etiwanda coach
Dave Kleckner
said. "People aren't aware of him, people don't know about him, but it's early. I'm sure once his name gets out there by the end of this year, I think people will be a lot more familiar with his name."
Etiwanda improved to 16-1, its only loss coming more than five weeks ago against highly regarded La Verne Lutheran. The Eagles used their suffocating defense to fluster Glendora (12-5), holding the home team to only five points in an ugly second quarter.
Glendora junior
Nick Colletta
, one of the region's top perimeter shooters, did not make a field goal, getting his five points at the charity stripe. Colletta missed seven weeks of full-contact play earlier this season, but longtime coach
Mike Leduc
didn't want to use that as an excuse.
"Tonight we didn't show up," Leduc said. "When that happens, we're going to have a tough time."
Sam Flemming
added 11 points for the Eagles, who are favored to claim their sixth consecutive league title. Glendora gets another shot at the defending champs on Jan. 27 at Etiwanda.
McLaughlin opened the game by nailing three long-range jump shots.
Brandon Townes
and
Dominique Walker
also hit from behind the arc, forcing the Tartans to extend their zone scheme and freeing up the paint. From there, McLaughlin captained a deliberate tempo.
"He did have some minutes where he had to be the floor general as a freshman," Kleckner said. "I think it was great for his development. Now in his sophomore year he just looks so natural at that position."
McLaughlin also was a beneficiary of the NBA lockout when former Etiwanda and UCLA standout
Darren Collison
, now the starting point guard for the Indiana Pacers, used his old gym to work on his game. McLaughlin took some pointers on foot speed and refined his jumper.
"I've grown a lot," McLaughlin said with a smirk, "and I hope to grow more."
Blair Angulo covers preps for ESPN Los Angeles. Follow him on Twitter.
November, 25, 2011
11/25/11
11:51
PM PT


UPLAND -- With his team uniting for the postgame huddle near midfield, Kenny Lawler looked up over his left shoulder, and uttered a rhetorical question.

"You guys see a 40 up on the scoreboard?" Lawler asked.

The answer: Yes, because Upland, No. 8 in the ESPN Los Angeles prep football rankings, blew past No. 17-ranked Charter Oak, 51-13, Friday night to advance to the Inland Division semifinals. The other answer: No, because Charter Oak -- which like Upland was averaging exactly 44 points heading into the game -- didn't hold up its end of the deal. The No. 3-seeded Highlanders will face No. 2-seeded Vista Murrieta, which handled Riverside J.W. North, 58-14.

"Charter Oak was putting points up on everybody," Upland coach Tim Salter said. "That got us excited."

Upland (12-0) got balanced production on offense, led by Lawler's 195 receiving yards and three touchdowns. Tailback Donta Abron Jr. rushed for 191 yards and four touchdowns in 32 carries and quarterback Nate Romine passed for 291 yards in only 15 attempts.

"We have a lot of talent across the board," Abron Jr. said. "Other teams don't know what we're going to throw at them."

The explosiveness was supposed to go both ways but, instead, a running clock was used at the start of the fourth quarter. Really, it was an unexpected one-sided affair. The Upland defense came up with a safety midway through the third quarter and, on the very next play from scrimmage, Romine threw it up to Lawler for a 48-yard touchdown and comfortable 30-6 lead.

Knockout punch delivered.

"They had a better football team than us," Charter Oak coach Lou Farrar said.


October, 23, 2011
10/23/11
11:50
PM PT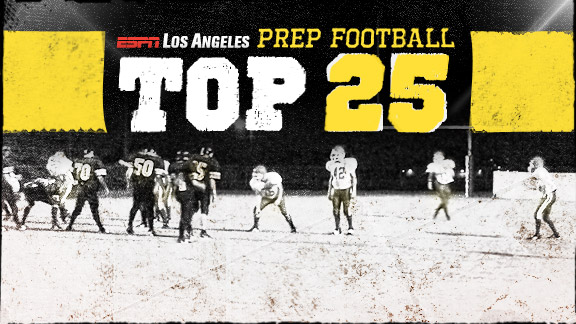 ESPN.com Illustration
Orange Lutheran took another hard fall in our weekly top 25 rankings after its loss to Santa Margarita, further complicating its bid for a Pac-5 Division playoff spot. Upland gained control of the Baseline League with its clutch victory over Rancho Cucamonga, and Bishop Amat rejoined the Serra League race by beating Crespi on the road. The rankings heading into Week 8:
1. Servite (6-1)
No issues against the league bottom-dwellers as the Friars earned their 16th consecutive Trinity League victory. Senior quarterback Cody Pittman was effective on the ground and through the air. Last week: Beat JSerra, 42-14. Next: at St. John Bosco, Friday.
2. Westlake (7-0)
A slow start Friday was just a minor glitch for Warriors quarterback Justin Moore, who passed for 225 yards and three touchdowns. Junior Dashon Hunt added 118 yards rushing in 14 carries. Last week: Beat Moorpark, 34-13. Next: vs. Newbury Park, Friday.
3. St. Bonaventure (6-1)
It's becoming a weekly thing for the powerful tandem of Shaun Wick and Zack Green, who combined to score six of the team's eight touchdowns Friday. The Seraphs gave up only 12 yards rushing. Last week: Beat Agoura, 56-0. Next: vs. Thousand Oaks, Friday.
4. Corona Centennial (6-1)
The defense bent but didn't break, forcing four turnovers despite surrendering 438 yards of total offense Friday. The high-powered Huskies capitalized behind Hayden Gavett's 248 total yards and four scores. Last week: Beat Norco, 45-18. Next: at Corona, Friday.
5. Long Beach Poly (6-1)
A bye week might have come at the wrong time for a Jackrabbits offense that seemed to be finding its groove recently. Players, meanwhile, probably weren't complaining about the extra rest heading into the final Moore League games. Last week: Idle. Next: at Millikan, Friday.
6. Santa Margarita (6-1)
A solid bounce-back win Friday for the Eagles, who were coming off an upset loss in the Trinity League opener. Johnny Stanton had 235 total yards and scored twice in the final five minutes. Last week: Beat Orange Lutheran, 31-10. Next: vs. JSerra at Saddleback College, Friday.
7. Redlands East Valley (7-0)
The Wildcats needed overtime to survive their crosstown rivals' upset bid Friday. They raised the Smudge Pot trophy after quarterback Austin Decoud scored the game-winner on a 16-yard run. Last week: Beat Redlands, 21-14. Next: at Eisenhower, Friday.
8. Mission Viejo (5-2)
You can argue that the schedule worked out well for the battle-tested Diablos. They are well rested heading into Friday's crucial matchup, which will likely decide the South Coast League champion. Last week: Idle. Next: vs. San Clemente, Friday.
9. San Clemente (8-0)
The Tritons erased an early deficit against rival Dana Hills on Friday, relying on running back Mike Elespuru and Utah-bound quarterback Travis Wilson. Elespuru rushed for 146 yards and Wilson passed for 205. Last week: Beat Dana Hills, 35-10. Next: at Mission Viejo, Friday.
10. Vista Murrieta (7-0)
The dominant defense forced nine punts Friday, holding Temecula Valley to just 64 total yards. On the other side, Aaron Piecukonis was effective running the ball. Last week: Beat Temecula Valley, 41-3. Next: at Great Oak, Friday.
February, 17, 2011
2/17/11
2:10
PM PT
By
Dan Arritt
| ESPNLosAngeles.com
Looking back on Wednesday's first-round games in the Southern Section boys' basketball playoffs, the brackets were full of winners and losers and a few Inland Empire teams that created sub-categories. Here's a quick list.

Poorest showing by a league – The Southwestern League lost three of five games Wednesday night but the biggest news came from one of the victories. Murrieta Valley, seeded fifth in Division 1AA, survived on a banked-in three-pointer at the overtime buzzer to defeat visiting Corona, 50-48. The Nighthawks' best player, Justin Gudger, injured his ankle late in the first quarter and did not return. Great Oak, Chaparral and Vista Murrieta lost their playoff openers. Temecula Valley advanced in Division 2AA.

Poorest showing by a team(s) – This is stretching the boundaries a bit but since Glendora is the only non-I.E. team in the Baseline League, the collapse of the Tartans deserves mention here. Glendora, seeded fourth in Division 2A, lost in overtime, 72-65, against Eastside High of Lancaster, which tied for third in the mighty Golden League. Closer to home, sixth-seeded San Bernardino was also knocked out sooner than expected in Division 2A, coming up short against visiting Manhattan Beach Mira Costa, 62-54. The Cardinals had just finished celebrating their first league title in 18 years, while Mira Costa was coming off five consecutive losses.

Thanks for nothing award – Moreno Valley Canyon Springs scored a huge upset against Moreno Valley Rancho Verde to earn a share of the Inland Valley League title. The Southern Section didn't do the Cougars any favors, matching them against fourth-seeded Compton in Division 2AA. Despite hosting the game, Canyon Springs was no match for the Dons and lost, 64-50, and the IVL went 1-3. In Division 3A, Palm Desert was seeded seventh but drew visiting Lakewood Artesia, the once-proud basketball factory that traditionally plays it best basketball this time of year. You guessed it, Artesia won, 47-45.

Here's the full roundup of games from the top six divisions that involve I.E. teams:


February, 1, 2011
2/01/11
9:41
PM PT
GLENDORA -- Whatever you do, don't call it a bounce back. No, Etiwanda coach Dave Kleckner insisted that his team had long dismissed Saturday's loss, its first of the season.

Instead, refer to Etiwanda's 53-42 win at Glendora on Tuesday as a return to normalcy. This is what the Eagles (23-1, 7-0), ranked No. 6 in ESPNLA.com's latest rankings, expected all along. Saturday wasn't a bump on the road -- more like a traffic sign or lane marking. With the win, Etiwanda clinched a share of the Baseline League title and can take it outright Friday against Upland.

"It had nothing to do with our game on Saturday, that's over with and we're focused now on winning a league title," Kleckner said. "Heading into the season our goal was to be undefeated league champions and we've still got three games to go to accomplish that."

With USC-bound Byron Wesley on its side, Etiwanda might very well finish with the lone blemish -- a 70-64 loss to Loyola at the Fairfax State Preview Classic. Sensing that he needed to take control, Wesley had a team-high 19 points Tuesday. Eleven came after halftime and virtually offset the 20 super sophomore Nick Colletta dropped for Glendora (19-5, 4-3).

Etiwanda actually trailed, 24-22, at the half before revving its defensive intensity in the third quarter.


November, 22, 2010
11/22/10
4:09
PM PT
By
Dan Arritt
| ESPNLosAngeles.com
1. The Baseline League went 3-0 in Inland Division play Friday night, while the Citrus Belt League was 0-3. The biggest upset victory in the division belonged to Etiwanda, the third-place team from the Baseline, which defeated CBL champion Redlands East Valley, 21-16. The Eagles have been forced to outscore teams this season because its defense had allowed an average of 35.6 points coming into the playoffs. The defense came through against REV, however, returning a fourth-quarter fumble 100 yards for a touchdown, stretching its lead to 21-10.

2. What a day for Ifo Ekpre-Olomu of Chino Hills. He began Friday by committing to play for Oregon, then went out that night and scored four touchdowns in a 70-42 victory against Corona in an Inland Division first-round game. Ekpre-Olomu had two touchdown runs of six yards, another for 53 and a 100-yard kickoff return for a score. As lopsided as the final score appears, the Huskies led only, 49-42, heading into the fourth quarter.

3. A more impressive fourth-quarter surge was delivered Friday night by Riverside La Sierra in a 54-49 loss to Palm Springs in a Central Division first-round game. The Eagles scored 32 points in the final quarter, turning a laugher into a nail-biter. "I started the night 57 years old and I ended it 83," Palm Springs coach Steve Fabian told the Desert Sun after the game. Fabian decided to rest star running back Nephi Garcia after taking a 37-point lead and nearly regretted it.


November, 18, 2010
11/18/10
10:56
AM PT
By
Dan Arritt
| ESPNLosAngeles.com
Nobody expected Temecula Chaparral or Upland to win Southern Section titles last season either.

But then the Pumas got on a roll after finishing second in the Southwestern League and slipped by one quality opponent after another in the Inland Division playoffs, winning their first section title with a 13-7 victory against Southwestern League champ Vista Murrieta.

Over at Upland, the Highlanders squeaked into the Central Division playoffs as a wild card out of the Baseline League, then capped their championship run with a 19-7 victory against Baseline champion Rancho Cucamonga Los Osos.

Upland, now a member of the Inland Division, will host Chaparral in the opening round of playoffs Friday at 7 p.m. and, once again, both teams will enter the postseason having not fulfilled preseason expectations of winning league titles.

No worries.

The second season is here.

One of these teams is guaranteed to see their playoff hopes end in the first round, however. The other will move onto the second round and probably have their next opponent wondering: Here we go again?

Chaparral (4-6) showed as much life last Thursday in a 27-20 victory against Murrieta Valley as it has all season. Then again, the Pumas were faced with the possibility of missing the playoffs if they lost.

Antoine Arnold, considered one of the top receivers in the Inland Empire, had the best game of his injury-filled season, catching six passes for 169 yards and two touchdowns.


November, 1, 2010
11/01/10
8:09
PM PT
By
Dan Arritt
| ESPNLosAngeles.com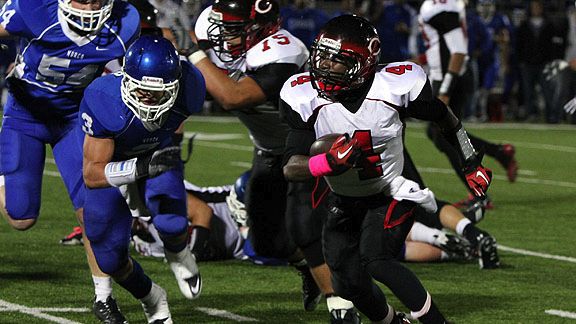 Courtesy of Paul Moureaux
Barrington Collins had five touchdowns in Centennial's 45-0 win over Norco.
1. Corona Centennial has a lot of people wondering just how good the Huskies are after they trampled Norco, 45-0, in a Big VIII League game Friday night at Norco. The Huskies came in
ranked No. 4
in the Southland by ESPNLA, but a closer looks indicates they might be a little under-rated. Centennial blew out Mater Dei, 44-13, in Week 2. Servite, ranked No. 1, escaped with a 21-14 victory over the Monarchs on Friday. And if that's not enough of an indicator, Centennial defeated Temecula Chaparral, 45-12, on Sept. 24. A week later, the Friars defeated the Pumas, 28-7, and Chaparral was without two of its best players. Another comparison will come this weekend when the Huskies travel to Corona. Mission Viejo, ranked No. 3, beat the Panthers, 56-34, on Sept. 16.
2. What happened to Riverside King? The Wolves were looking really good after defeating Corona Santiago and Corona on back-to-back weeks last month. All they had to do was defeat Riverside Poly and Riverside North and they were a lock for an automatic playoff berth out of the Big VIII League. But a not-so-funny thing happened on the way to the postseason, King was upset by Poly on Friday night, 45-39, dropping the Wolves into fifth place. The loss didn't completely blow their chances for an automatic playoff bid, however, as Corona (5-3, 3-2) still has Corona Centennial and Norco on its schedule, while King (4-4, 2-3) has Eastvale Roosevelt and North. If the Panthers lose their final two games, as they should, and King splits its final two, the Wolves win the tiebreaker based on their head-to-head result with Corona.
October, 18, 2010
10/18/10
8:00
AM PT
By
Dan Arritt
| ESPNLosAngeles.com
1. After the season started with three consecutive losses, it was pretty clear Etiwanda wasn't as bad as its record indicated. After all, the Eagles averaged 32 points in the losses. Defensively, they were still adjusting to the absence of junior linebacker
Chandler Scott
, who led the Baseline League in tackles as a sophomore but suffered a season-ending knee injury before the start of the season. Etiwanda is now riding a three-game winning streak after knocking off Glendora, 39-27, in a Baseline League opener Thursday night at Ontario Colony High. The Eagles' high-octane offense was on display in the second quarter when they put up 27 points to erase a 14-point deficit.
Larry Cutbirth
continues to look like one of the Southland's top quarterbacks in the class of 2012, throwing three more touchdowns to give him 17 on the season.
2. Gutsy call of the week belongs to Rancho Cucamonga coach
Nick Baiz
, who elected to go for two points during overtime in a Baseline League opener Friday night against host Rancho Cucamonga Los Osos. The roll of the dice paid off when quarterback
Dimitri Morales
found
J.T. Huggins
in the end zone for a two-point pass that sealed the 29-28 victory. Oregon State took the same chance Saturday night against Washington and the gamble
didn't pay off so well
.
3. The Smudge Pot is all but obsolete these days, but the annual Smudge Pot game between Redlands and Redlands East Valley is alive and well. REV won the Citrus Belt League opener, 24-22, on Friday night at the University of Redlands, getting the final points on a 24-yard field goal by
Cody Madsen
as time expired. REV has now won four straight against its cross-town foe. The Terriers had taken their final lead on a 71-yard touchdown run by quarterback
Mike Stallone
on fourth and one with 6:33 remaining, followed by a successful two-point conversion.