Los Angeles Preps:

Beau Boyster
December, 20, 2011
12/20/11
5:55
PM PT
Here's an all-encompassing look at the top performers in south Los Angeles County for the 2011 prep football season.

MOST VALUABLE PLAYER

Troy Williams, Narbonne, Junior -– Williams was superb in managing Narbonne's no-huddle spread attack. He did it with his arm (3,247 passing yards, 34 touchdowns), he did it with his legs (587 yards, 11 scores), and he made the right decisions with the football. The junior quarterback guided the Gauchos to the City Section Division I title.

OFFENSIVE MVP

Robert Lewis, South East, Senior -– Opposing coaches schemed to stop Lewis but the electrifying tailback still averaged 10 yards per carry and amassed 2,023 yards and 30 touchdowns for the City Section Division II champs. Coach Derwin Henderson pegged him as the city's best all-around talent. Lewis has verbally committed to Southern Methodist.

DEFENSIVE MVP

Ellis McCarthy, Monrovia, Senior -– The mind-boggling numbers aren't quite there because the big guy faced double- and triple-teams on a weekly basis. Coach Ryan Maddox built his defense around the 305-pound defensive tackle and it paid off with Monrovia capturing its second straight Mid-Valley Division championship. McCarthy has offers from all over, including Cal, USC, Florida, Oregon and Washington.

SPECIAL TEAMS MVP

Jack Schneider, Charter Oak, Junior -– With 89 total points, Schneider was the region's top scorer among kickers. In 12 games he made 65 extra points for the Sierra League champions.

COACH OF THE YEAR

Manual Douglas, Narbonne –- By the end of the season, Douglas had his Gauchos playing as well as any team in the area. Narbonne finished 11-3 and reached its third City Section title game in the last four years. Douglas scheduled tough with games at Long Beach Poly and Tesoro, and the strategy paid dividends.

FIRST TEAM OFFENSE

QB – Steven Rivera, Arroyo, Sr. –- Rivera capped his stellar four-year stay at Arroyo by passing for 3,408 yards and 38 touchdowns, leading the Knights to the Mission Valley League title.

RB – Tray Boone, Narbonne, Sr. –- The shifty back rushed for six touchdowns in the City Section Division I title game to finish with 1,400 yards and 22 touchdowns. He did all of this in an offense that primarily throws the ball.

RB – Marquise Bias, Monrovia, Sr. -– The powerful Bias pounded his way to 260 yards and three touchdowns in the Mid-Valley Division title game, and finished with more than 1,500 yards for the season.

WR – Bryce Treggs, St. John Bosco, Sr. –- The Cal commit made Trinity League defenses look foolish, hauling in 11 touchdowns to go along with 1,377 receiving yards.

WR – Darreus Rogers, Carson, Sr. –- Rogers, a USC commit, was the City Section's leading receiver with 1,251 yards. He had a monster performance in the title game but it wasn't enough for the Colts.

WR – Alex Villalobos, San Gabriel, Sr. -– The slot-type Villalobos was the state leader with 2,001 receiving yards. He added 21 touchdowns for the Mid-Valley Division runner-up Matadors.

OL - Beau Leati, Narbonne, Sr. -- City Section coaches selected Leati as the lineman of the year and for good reason. He anchored a line that opened gaping holes for Boone and protected Williams.

OL – Lacy Westbrook, Dominguez, Sr. -– The UCLA commit was out when the Dons started the season with two losses, but his added a major spark to their ground attack.

OL – Beau Boyster, St. John Bosco, Sr. -– The Braves averaged more than 400 yards of offense per game and the Arizona commit was in the middle of it, with his protection of strong-armed Rene Medina.

OL – Gerrad Kough, Pomona, Sr. -– The Colorado commit spearheaded a Pomona running game that averaged more than 215 yards per game.

OL – George Castro, West Covina, Sr. -– West Covina was 25th in the state in rushing yards per game (332) and Castro was a big reason why.

PK – Mason Bryant, Monrovia, Jr. -– Bryant did it all for the back-to-back champion Wildcats as a receiver, defensive back and kicker, totaling 117 total points.

P - Conrad Ukropina, Loyola, Sr. –- Six of Ukropina's 25 punts were downed inside the 20-yard line, and he averaged 43 yards per punt, the best in the Pac-5 Division.

SECOND TEAM

QB – Travis Santiago, Charter Oak, Sr.
RB – Jimmy Frazier, West Covina, Sr.
RB – Kurt Scoby, Charter Oak, So.
WR – Richard Smith, Long Beach Poly, Sr.
WR - Antoine Anderson, Narbonne, Sr.
WR – Hunter Duran, Arroyo, Sr.
OL – Chase Eldredge, Palos Verdes, Sr.
OL – Chad Wheeler, Santa Monica, Sr.
OL – Justin Johnson, Dorsey, Sr.
OL – Alec Zenner, San Dimas, Sr.
OL – Nico Falah, St. John Bosco, Jr.
PK - Ret Tilman, Culver City, Sr.
P – Hayden Hunt, Long Beach Poly, Sr.

FIRST TEAM DEFENSE

DL – Demetric McKinney, West Adams, Sr. -– McKinney recorded a state-leading 26 sacks in only 12 games.

DL – Jeremiah Allison, Dorsey, Sr. -– Allison will be used as a linebacker in college but he was fierce coming off the three-point stance for Dorsey. Allison had 14 sacks for the Coliseum League champions, giving him 34 over his last two seasons.

DL – Jesse Ojeda, San Dimas, Sr. -– He only measures 5-feet, 7-inches but Ojeda was a force for the Saints, getting to the quarterback 17 times.

LB – Brett Walsh, Monrovia, Jr. -– Walsh was second in the entire Southern Section with 192 tackles, thriving behind McCarthy's havoc up front. He added eight sacks, and figures to garner attention during the offseason.

LB – Sergio Gonzalez, Ganesha, Jr. -– The outside linebacker led the Mid-Valley Division with 17 sacks.

LB – Nuoye Clemmons III, West Adams, Sr. -– Clemmons ranked second in the City Section with 146 tackles.

LB – Salamo Fiso, Long Beach Poly, Sr. -– The Arizona State commit spearheaded a strong Jackrabbits defense with 117 tackles.

DB – Kevin Page, Dorsey, Sr. -– Page intercepted six passes, including a big one on the road to clinch a victory at Alemany.

DB – Tyrone Taylor, Torrance, Sr. -– The Cal State Fullerton baseball signee had 190 tackles from the safety position.

DB – Shane Baumann, St. John Bosco, Sr. -– Baumann was in the middle of every defensive play, it seemed. He ranked fifth in the Pac-5 Division with 126 tackles and also had five interceptions.

DB – Mark Wright, Rolling Hills Prep, Sr. –- Wright had 10 interceptions in nine games, good for a tie for second place in the state.

SECOND TEAM

DL – Alonzo Williams, Long Beach Poly, Sr.
DL – Robbie Haines, Arcadia, Sr.
DL – Daniel Rios, Rosemead, Jr.
LB – Keishawn Haley, Culver City, Jr.
LB – Matt Rowe, Long Beach Poly, Sr.
LB – Jabari Ruffin, Downey, Sr.
LB – Thomas Brown, Gardena Serra, Sr.
DB – Trayvon Watson, West Adams, Sr.
DB – Gabriel Marks, Venice, Sr.
DB – Naijel Hale, Lakewood, So.
DB – Chris Solomon, West Covina, Sr.
September, 11, 2011
9/11/11
10:26
PM PT
By
Sean Ceglinsky
| ESPNLosAngeles.com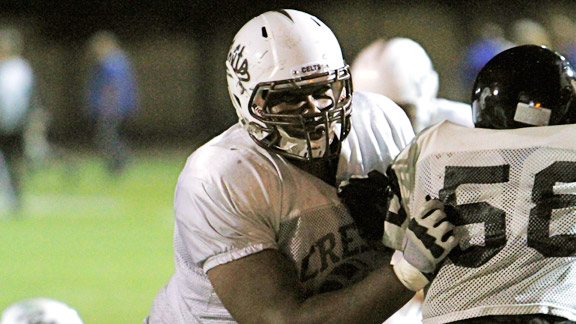 Crespi HS athleticsCrespi lineman Jordan Simmons is one of many talented players the Southland has to offer this season.
With Week 1 of the prep football season officially in the books, we thought it best to take some time and talk about some of the premier players the Southland has to offer. Make no mistake, the talent pool around these parts is as deep as it has ever been.
For all intents and purposes, the list compiled below could very well serve as an early season all-star team, for the offensive side of the ball, that is. As for next week, expect an in-depth review of the top defensive players from the greater Los Angeles area.
So, without further adieu, let's get things started.
Quarterback: Temecula Chaparral's
Matt Morin
. Some might argue that San Clemente's Travis Wilson or Arroyo Grande's Brent Vanderveen are more deserving of recognition. Rightfully so, considering both are top-notch prospects. We'll stick with Morin, for the time being. The 6-foot-2 left-handed gunslinger makes things appear easy, more often than not, even in the most extenuating circumstances. The Pumas figure to go as far as the San Diego State-bound senior will take them this season. It will be interesting to see if he makes us look good with his selection at this position. Who knows, maybe we do know what we're doing around here. Only time will tell.
Running back: South Gate South East's
Robert Lewis
. This one was a no-brainer. He possesses tremendous speed and elusiveness. Lewis is a threat to score each time he touches the ball, out of the backfield, or in the passing game. And while Lewis is occasionally knocked for being somewhat undersized, at 5-10, 160 pounds, he has proven to be as tough as they come when called upon to pick up tough yardage in between the tackles. The senior, heading to Southern Methodist University (SMU), gained close to 2,000 all-purposes yards a season ago and scored 18 touchdowns. It is reasonable to expect a similar effort this time around.
Receiver: Inglewood's
Derrick Woods
. The 5-11, 185-plus pound senior is one of the most sought-after unsigned recruits in the country. He has scholarship offers on the table from a number of different schools, most notably powerhouse programs such as Alabama, Florida and Michigan. Here at home, Woods is hot commodity as well. Seemingly all of the Pac-12 Conference colleges have expressed varied levels of interest in him, none as much as nearby UCLA and USC. Where he ends up is anyone's guess. This much is certain: Woods is one to watch.
Receiver: Lakewood's
Darius Powe
. Eerily similar to the aforementioned Woods, Powe is another high-profile prospect who has not made a decision about his immediate future. Boise State, Nebraska and Miami are a few of the many programs who have offered him. His physical presence appears to be the biggest selling point to his potential suitors. At 6-2 and close to 200 pounds, the senior typically creates matchup problems when he's on the field. It doesn't matter if Powe lines up outside or in the slot, he gives opposing cornerbacks and safeties fits from start to finish.
Receiver: Carson's
Darreus Rogers
. He entered the all-important spring and summertime camp circuits slightly underneath the recruiting radar. But by the time September rolled around, Rogers was about as highly touted as any individual on the West Coast. One problem: College coaches and scouts, alike, appeared to be on the outside looking in given the fact the 6-1, 195-pound senior had already committed to USC. In two games this season, Rogers has gained more than 200 yards receiving each time. Rogers is in a class of his own in the Los Angeles City Section.
Tight end: Orange Lutheran's
Christo Kourtzidis
. Cliché or not, this kid is a man among boys once he steps out on the field. The 6-4, 240-pounder sticks out like a sore thumb once he puts on his cleats, shoulder pads and helmet. Kourtzidis has the quickness to get off the line fast, well before most of his opponents. He has the speed to stretch the field vertically, as well. Downfield, Kourtzidis possesses above average hands. In space, he makes people miss. Not to be outdone, in the running game, the Florida State-bound senior is a more than capable blocker.
Guard: Encino Crespi's
Jordan Simmons
. Name one of the country's top college, and chances are, the program has offered the 6-5, 325-pound senior a scholarship. At last check, Simmons had more than 30 schools interested in his services. Auburn and Florida are players. Georgia and Notre Dame are in the mix. Count Ohio State and USC as fans of Simmons. The decision about his final destination, however, does not figure to made until after the season.
Guard: Anaheim Servite's
Travis Averill
. Skill position players typically earn the most attention for a Friars team that has had its share of talented prospects in the not so distant past. Averill has proven to be the one capable of breaking the mold. The 6-4, 275-pound senior, bound for Boise State, does many things well. He uses his hands and feet rather well in the passing game. When Servite runs the ball, Averill is powerful enough to move the pile with relative ease.
Center: Bellflower St. John Bosco's
Beau Boyster
. By some accounts, no single player is as valuable to his respective team as the guy who snaps the ball to the quarterback. Boyster is all that. And then some. The 6-4, 285-pound senior, heading to Arizona, will likely be an integral part to the success of the Braves this season. Keep in mind, expectations are sky high for this group. We are talking about a team that appears poised for a prolonged postseason run.
Tackle: San Clemente's
Kyle Murphy
. The 6-6, 270-pound senior is pleasant to be around off the field, a likeable kid. Once the ball is snapped, no one is nastier. Murphy has a mean streak, to be sure. Perhaps his on-the-field demeanor is what separates him from most of his peers. Whatever the case, the future is bright. Murphy has a number of offers -- too many to count. Auburn, Florida, Notre Dame and Michigan are interested. UCLA and USC are a couple of other options for him.
Tackle: Santa Margarita's
Max Tuerk
. Out on the edge, his sole responsibility is to protect the signal caller. Truth be told, few Southland individuals do it better than the 6-5, 285-pound senior. USC coach Lane Kiffin and his staff know this all too well. Accordingly, they intently pursued Tuerk until he gave them a commitment in late May. All signs point to him making an immediate impact at the next level. In the meantime, it's full steam ahead for Tuerk and the Eagles.
Sean Ceglinsky covers preps for ESPNLosAngeles.com. Follow him on
Twitter
.
August, 25, 2011
8/25/11
4:02
PM PT
Really, St. John Bosco's 2010 season might not have been as bad as it looked on paper. The mediocre 5-5 record didn't tell the whole story and neither did the Braves' failure to make the postseason. Cracking the Trinity League top three is no easy task, after all.
Still, general consensus was that the Braves were really good but, maybe, just not good enough. They were athletic and explosive but, perhaps, unable to get over the proverbial hump due to unripened talent. Those same excuses won't do in 2011 because Bosco is expected to be even better, slightly more athletic and ... ready.
Many of the same faces -- including must-see receiver
Bryce Treggs
-- return this fall. Mix in a handful of impact transfers and you've got what looks to be a recipe for redemption.
Here is a closer look at the Braves:
Team
: St. John Bosco.
Coach
: Jason Negro, second season.
2010 Record
: 5-5, did not make playoffs.
Returning starters
: 11 total. Six on offense, five on defense.
Key players on offense
: WR Bryce Treggs (California commit), WR Justin Johnson, OL Beau Boyster (Arizona commit), QB Rene Medina
Key players on defense
: DB Dalis Bruce, DB Royce Moore, DB Shane Bauman
Difference maker
: Treggs, the nation's No. 21-ranked receiver according to ESPNU, might be the most explosive player in the area. He's shifty and elusive, and has the capacity to line up in the slot or on the outside. The Cal commit made 56 receptions for 1,010 yards and 12 touchdowns to go along with 37 tackles and four interceptions last season.
Newcomers
: DB Dalis Bruce (transfer from Danville Monte Vista), RB DaVonte Young (transfer from Irvine and Tustin)
Not to be missed
: vs. Servite, Friday, Oct. 28. The Braves played Servite tough last season at Cerritos College, at one point holding a lead before losing to the eventual state runner-up by eight. Mighty Friars beware: a change of scenery might be exactly what Bosco needs to pull off the upset.
Final analysis
: With a number of quality players returning, it'd be completely shocking if St. John Bosco didn't at least crack the Trinity League top three this fall. Sure, the Braves were an ugly 1-4 in one of the country's most difficult leagues last year, but, in the eternal optimist's view, their largest margin of defeat was 11 points (to Mater Dei). If Medina shows even slight improvement at quarterback, and Negro gets similar production from Treggs and Co., it could be a special season in Bellflower.
Blair Angulo covers preps for ESPNLosAngeles.com. Follow him on Twitter.
May, 2, 2011
5/02/11
8:25
PM PT
1. Long Beach Poly had a field day at the Penn Relays in Philadelphia, returning to California with championships in both the boys' and girls' 4x800 relays. The Poly girls also easily won the 4x100 and 4x400 events, while the boys came in second in the 4x400, behind champion Gardena Serra. Poly's 4x800 group registered the fastest time in the country and third-fastest all-time at 7:31.69.
Myles Andrews
anchored in 1:49.54.
2. Maybe reaching
the top of the state rankings
wasn't so good for the Bishop Amat baseball team. The Lancers lost twice last week -- 2-1 to Bonita on Monday and 13-9 to Torrance on Saturday in the Redondo Tournament final -- to fall out of the No. 1 spot in the CIF-Southern Section Division 4 poll. Amat (21-4) had won 22 straight before stumbling against Bonita (19-4), the top-ranked team in Division 3, at Mt. SAC.
3. Things aren't much different on the softball diamond, as Bonita and Bishop Amat are arguably the best teams in Los Angeles County. Bonita (18-4), hitting .399 as a team, fell twice last week and slipped to No. 2 in the Division 2 poll; Amat (20-2), hitting .372 and averaging over six runs per game, is top-ranked in Division 3 and riding a nine-game winning streak.
4. The Mira Costa boys' volleyball team's position amongst the elite varies depending on whom you ask. The Mustangs helped their case Saturday, capturing their second consecutive Redondo Classic title behind wins against 10th-ranked San Clemente in the final and fifth-ranked Westlake in the semifinals.
Weston Carico
, who has been filling in for injured
Jake Miller
(leg), was
named tournament MVP
. Mira Costa wraps up the regular season with games at eighth-ranked Redondo Union and Palos Verdes this week.
5. St. John Bosco offensive lineman
Beau Boyster
gave a nonbinding verbal commitment to Arizona
on Saturday. The 6-foot-4, 285-pound Boyster is part of a stellar group of returnees that includes receiver
Bryce Treggs
and quarterback
Raymond Medina
. Boyster also has offers from Nevada and San Jose State.