Los Angeles Preps:

Beaumont
June, 2, 2012
6/02/12
4:16
PM PT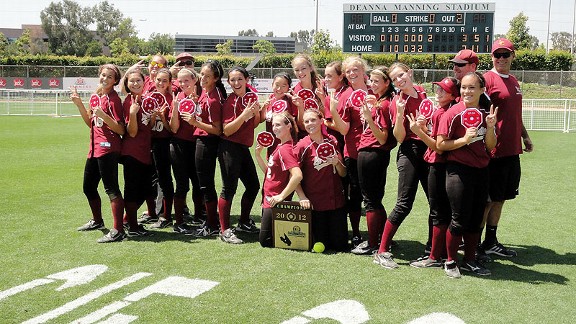 Martin Henderson/For ESPNLA.comLa Canada won its second consecutive CIF-SS Division 5 softball championship over Beaumont.
IRVINE -- After winning a Southern Section title in 2011 by one run, La Canada's victory Saturday in the rematch was a walk in the park.
Behind pitcher Lauren Cox and an offense that capitalized on its opportunities, top-seeded La Canada scored a 7-3 victory against second-seeded Beaumont on Saturday at Barber Park .
Cox (24-3) struck out 10 and carried a two-hitter into the seventh inning, when she gave up three, including a two-run homer to Khassady Valdivia.
She hit one batter.
It's the third title for La Canada (26-4-1), which won in 1995 as well as 2011. Beaumont, which lost last year's title game to the Spartans, 1-0, finished 26-5.
Beaumont's rally was too little too late, even though there was a stretch in which four out of five batters hit the ball deep into the outfield.
The consistency in the La Canada lineup provided far more offense than it did in last year's 1-0 victory over Beaumont in the title game. The top six batters in the lineup had scored or had at least one run batted in, and the top eight batters either scored or had a hit.
Catherine Horner
scored three runs,
Kelsey Drange
had three hits, three RBIs and scored a run; and
Jessica Ogden
had two hits, a run and two RBIs.
March, 26, 2012
3/26/12
4:27
PM PT
By
Dan Arritt
| ESPNLosAngeles.com
1. Etiwanda, 30-3: The Eagles finished with their third 30-win season in the last seven and should be in good shape for the next couple years with the return of sophomore point guard Jordan McLaughlin, who averaged a team-high 17.8 points. Etiwanda was taken out by Long Beach Poly in the Division 1AA semifinals for the second straight season, then fell to Loyola in a Southern California Regional second rounder.

2. Eisenhower, 20-8: The Eagles established their run-and-gun identity as the season moved along, and had one of the top players in the I.E. to facilitate that style in shooting guard Marvelle Harris, whose play helped him earn a scholarship from Fresno State in the process. Eisenhower's season ended with a close loss to Long Beach Poly in the quarterfinals.

3. Elsinore, 28-5: The Tigers came up short of their first section final appearance since 1974, losing by nine points to Mayfair in the Division 2A semifinals. They came back to beat Thousand Oaks in the program's first SoCal Regional appearance before losing to Inglewood in the second round of Division 2. E.J. Twyman played up to expectations entering his senior year, averaging 26.9 points.

4. Colony, 22-10: Two straight losses to end the season didn't dampen an otherwise strong run by the Titans. Their season was highlighted by a 73-71 victory against second-seeded Compton in a Division 2A quarterfinal. Colony then lost a back-and-forth game against Righetti to prevent the program from advancing to the championship game for the second time in four seasons.

5. Murrieta Valley, 25-3: Righetti took out the third-seeded Nighthawks the round before they beat Colony, ending an otherwise strong season. They won three tournaments prior to Southwestern League play, then defended that title. Darius Butler scored in double figures in every game en route to averaging a team-high 19.6 points, while Reid Shackelford proved to be one of the I.E.'s most improved players, averaging 16.8.


February, 5, 2012
2/05/12
10:53
PM PT
By
Dan Arritt
| ESPNLosAngeles.com
Most of the top teams in the I.E. held their ground last week, with several clinching outright league titles, or at least a share, heading into the final week of the regular season.

1. (1) Etiwanda, 24-1: Sam Flemming scored with 15 seconds remaining to lift the Eagles to a 70-69 victory Tuesday at Upland, keeping them perfect in Baseline League play. Etiwanda came back to win its 21ststraight game Friday night and clinch the outright league title at Los Osos. Next: Tuesday @ Alta Loma.

2. (2) Eisenhower, 16-7: The Eagles clinched their third consecutive outright Citrus Belt League title with victories last week against visiting A.B. Miller (79-49) and at Redlands East Valley (61-34). Eisenhower wasn't able to keep up with Fairfax on Saturday afternoon at the Nike Extravaganza at Mater Dei and lost, 73-67. Next: Wednesday @ Redlands.

3. (4) Elsinore, 22-3: The Tigers are well on their way to a fourth straight Sunbelt League title after defeating Temescal Canyon (64-57) and Perris (57-55) last week. Elsinore has won 29 consecutive league games. Next: Wednesday @ Heritage.

4. (5) Murrieta Valley, 21-2: The Nighthawks maintained their one-game lead on Vista Murrieta in the Southwestern League with wins last week at Great Oak (46-35) and Murrieta Mesa (60-39). Reid Shackelford sank five of seven three-pointers against Murrieta Mesa. Next: Tuesday vs. Vista Murrieta.

5. (3) J.W. North, 19-5: Last week began with another hiccup in Big VIII League play, an 11-point loss at Riverside Poly, but the Huskies came back with wins against visiting Roosevelt (64-49) and at Corona Santiago (53-48) to clinch at least a share of the league title with two games remaining. Next: Monday @ Riverside King.


January, 9, 2012
1/09/12
9:23
PM PT
By
Dan Arritt
| ESPNLosAngeles.com
BASELINE LEAGUE

League openers: Tonight – Etiwanda @ Glendora; Upland @ Los Osos; Alta Loma @ Rancho Cucamonga.

Last year's finish: Etiwanda (9-1); Glendora (6-4); Upland (6-4); Los Osos (5-5); Rancho Cucamonga (4-6); Alta Loma (0-10).

Players to watch: Jordan McLaughlin (Etiwanda), 5-11, So., G; Sheldon Blackwell (Etiwanda), 6-4, Jr., F; Brandon Townes (Etiwanda), 6-2, Sr., G; Sam Flemming (Etiwanda), 6-0, Sr., F; Nick Colletta (Glendora), 6-5, Jr., F; Kyle Gordon (Glendora), 6-4, Sr., G; Myles Pearson (Upland), 5-10, Sr., G; Ferrell Marshall (Upland), 6-0, Sr., G; Malcolm Drumwright (Rancho Cucamonga), 6-1, Jr., G; Victor Joseph (Rancho Cucmamonga), 6-1, So., G; Adom Jacko (Alta Loma), 6-6, Sr., F; Jonathan Solomon (Los Osos), 6-3, Sr., F.

Predicted order of finish: Etiwanda, Glendora, Rancho Cucamonga, Upland, Los Osos, Alta Loma.

MOUNTAIN PASS LEAGUE

League openers: Tonight – Beaumont @ Citrus Hill; Hemet @ West Valley; Tahquitz @ San Jacinto.

Last year's finish: Citrus Hill (10-0); San Jacinto (8-2); Beaumont (5-5); Tahquitz (4-6); West Valley (2-8); Hemet (1-9).

Players to watch: Anthony Rounds (Citrus Hill), 6-7, Sr., F; Ralph Myles (Citrus Hill), 5-0, Sr., G; Dejon Brown (Beaumont), 6-2, Sr., G.; Andrew Walker (Beaumont), Jr.; Kris Acevedo (Hemet), 6-0, Sr., G; P.J. Murrieta (San Jacinto), 5-10, So., G; Roosevelt Adams (West Valley), 6-4, Sr., F; Robert Edwards (West Valley), 6-4, Jr., F; David Walker (Tahquitz), 6-1, Sr., G.

Predicted order of finish: Citrus Hill, Beaumont, San Jacinto, West Valley, Hemet, Tahquitz.


June, 3, 2011
6/03/11
7:24
AM PT
By
Martin Henderson
| ESPNLosAngeles.com
Top-seeded Oaks Christian, in the finals for the first time since 2005, will face off against South Hills tonight for the Division 3 softball title in the Southern Section Championships at Barber Park in Irvine.

It's the last of three games, with four games scheduled for Saturday including the marquee Anaheim Canyon-Corona Santiago matchup in Division 1.

Oaks Christian had a remarkable run from 2001-2005 in which it won two titles and was runner-up three times. In facing South Hills, the Lions will be facing a team that was beaten in last year's championship game. The Huskies are trying to win their third title, too; they won titles in 1982 and 1997.

Here's a look at today's schedule:

Friday at Barber Park in Irvine

Division 3: South Hills (21-7) vs. No. 1 Oaks Christian (29-5), 7:30 p.m.
Oaks Christian has allowed only one run in the playoffs, a 2-1 victory over fourth-seeded Chino Hills in the semifinals that required freshman reliever Kristin Cullen (8-2) to pitch out of a seventh inning jam and then have her teammates score twice in the bottom of the inning. Kiana Quolas (17-3, 0.42 ERA) handles most of the pitching duties, and she will likely be the the choice to stop the Huskies, who are brimming with confidence; they scored perhaps the most impressive victory of the playoffs, a 16-1 drubbing of second-seeded Bishop Amat. Pitcher Sydney La Follette (17-6, 3.50 ERA; .405, 31 RBIs) has been hot in the playoffs; she's batting .643 with eight RBIs and three homers in the postseason, a healthy complement to junior catcher Britney Rodriguez (.461, 33 RBIs) and school valedictorian Samantha Nieves (.432, 20 RBIs).

Division 5: No. 1 La Canada (25-3) vs. No. 2 Beaumont (25-4), 5:15 p.m.

La Canada carries a 22-game winning streak into the title game as it hopes to win its first title since 1991. The Spartans are led by Georgetown-bound pitcher Lauren O'Leary (24-2, 0.40 ERA). Northwestern-bound Anna Edwards (.465, 30 RBIs) has 11 homers for La Canada, which has outscored opponents 32-3 in the playoffs. Beaumont counters with Alyssa Fuimaono (24-4, 1.74 ERA) as the Cougars seek their first championship.

Division 7: No. 2 Bell-Jeff (22-5) vs. No. 1 Pomona Catholic (23-5), 3 p.m.

Since a 2-1 loss to West Covina on April 6, Pomona Catholic has won 14 in a row (two by forfeit) by a combined score of 234-0 -- including 81-0 in the playoffs. Amber Padilla (18-4, 0.31) has pitched back-to-back perfect games.

Saturday at Barber Park in Irvine
Division 6: Downey Calvary Chapel vs. Perris Citrus Valley, 10 a.m.
Division 4: Fontana Kaiser vs. Goleta Dos Pueblos, 12:30 p.m.
Division 2: Camarillo vs. La Mirada, 3:30 p.m.
Division 1: Anaheim Canyon vs. Corona Santiago, 6 p.m.
May, 30, 2011
5/30/11
3:59
PM PT
By
Dan Arritt
| ESPNLosAngeles.com
SOUTHERN SECTION SOFTBALL SEMIFINALS
TOP CHOICE
Division 1
Corona Santiago at Orange El Modena, Tuesday, 3:15 p.m.
When it comes to entertainment, these teams belong right at the top. Santiago won its
quarterfinal game
Thursday at Huntington Beach Marina on an eighth-inning solo home run by No. 9 hitter
Brenda Lee
. The Vanguards
survived
the second round with a 12-11 victory against second-seeded Etiwanda, throwing out the tying run at the plate to end the game after the runner tried to score from first on ball hit into the gap. El Modena traveled to Valencia the next day and scored twice in the seventh to defeat the Vikings, 5-4. The Vanguards are led by Michigan-bound pitcher
Haylie Wagner
, who is probably most dangerous with a bat in her hands. El Modena needs to figure out a way to keep Santiago lead-off hitter
Lauren Sweet
off the bases. The senior catcher is also a threat to hit the ball out of the park, owning 13 home runs for the third-seeded Sharks this season.
SECOND BEST
Division 3
Chino Hills at Westlake Village Oaks Christian, Tuesday, 3:15 p.m.
These teams met in a quarterfinal last season and Chino Hills walked away with a 5-0 victory behind a four-hitter from sophomore pitcher
Nikki Innamorato
. Now a year older, Innamorato is sporting an 18-5 record for the fourth-seeded Huskies, who have allowed a total of one run in their three previous playoff victories. Chino Hills features five starters hitting .367 or better, led by junior third baseman
Garie Blando
(.430). Oaks Christian is the top-seeded team in the division and the Lions have played like it, shutting out their last five opponents. Senior pitcher
Kiana Quolas
(Coastal Carolina) has been leading the defensive effort, notching 27 consecutive scoreless innings from the circle.
THE REST
May, 16, 2011
5/16/11
9:05
PM PT
By
Dan Arritt
| ESPNLosAngeles.com
SOUTHERN SECTION SOFTBALL PLAYOFFS

Seeded I.E. teams:

Div. 1 – No. 2 Etiwanda, No. 3 Corona Santiago.

Div. 2 – No. 1 Chino Don Lugo, No. 3 Chino.

Div. 3 – No. 4 Chino Hills.

Div. 4 – No. 1 San Bernardino Aquinas.

Div. 5 – No. 2 Beaumont.

Div. 6 – No. 3 Citrus Valley.

Div. 7 – None.

Best wild-card games Tuesday:

Div. 1 – Corona at Temecula Great Oak. Corona finished fifth in the Big VIII League and should match up well against Great Oak, who beat the Panthers, 3-1, on March 14. The Wolfpack won their final four games to solidify the third place in the Southwestern League. Sophomore pitcher Hannah Dewey is 16-6 with a 2.87 ERA, including a seven-hitter in the victory against Corona.

Div. 2 – San Bernardino at Ontario. Sabrina Garcia will likely get the start in the pitcher's circle for San Bernardino. She's 12-7 with a 2.44 ERA and 69 strikeouts in 132 innings. Garcia is also hitting a team-high .343 with 14 RBIs.

Div. 3 – Redondo at Romoland Heritage. The Patriots reached the Division 5 semifinals two seasons ago and senior pitcher Bethany Slick remains their ace. Redondo enters the playoffs on a three-game losing streak but the Sea Hawks come from a very competitive league.

Div. 4 – Palm Springs at Phelan Serrano. Palm Springs pitcher Nicole Clements is 13-9 with a 1.63 ERA and 137 strikeouts in 142 innings. She's also batting a team-high .535 with two home runs and 23 RBIs. Serrano won the Hemet Tahquitz tournament last month, knocking off Palm Desert in the championship game, 10-0.

Div. 5 – Montebello at Victorville Silverado. The Hawks enter the playoffs on a four-game losing streak with cost them a chance at the Desert Sky League. Silverado will likely continue to lean on the pitching arm of Alexis Conant, who is 10-5 with a 4.17 ERA.

Div. 6 – Twentynine Palms at Mojave. Julia Cullinan, a sophomore at Mojave, was second in the Southern Section with a .705 batting average. She also hit 10 home runs and was the team's top pitcher with a 7-4 record. Twentynine Palms enters the playoffs riding a six-game winning streak.

Div. 7 – La Verne Calvary Baptist at Wildomar California Lutheran. Miranda Romero of California Lutheran batted .603 with nine home runs during the regular season.

Check back Wednesday for a preview of the top first-round games.
November, 8, 2010
11/08/10
3:58
PM PT
By
Dan Arritt
| ESPNLosAngeles.com
1. The most exciting finish occurred in the Citrus Belt League. Redlands took a 7-3 lead with just over two minutes remaining Friday night against A.B. Miller of Fontana, but the Rebels took it back on a five-yard touchdown run by quarterback Eric Shufford with 33 ticks left. Down three points again, the Terriers returned the ensuing kickoff to the Miller 11-yard line. With 11 seconds remaining, Redlands quarterback Mike Stallone rolled out looking to throw the ball, but instead ran and was tackled on the one-yard line as time expired. With the 10-7 win, Miller (5-4, 3-1) takes over sole possession of second place and can claim a share of the league title with a victory Thursday against visiting Redlands East Valley (7-2, 4-0).

2. Palm Springs put itself in good position to win its second Desert Valley League title in the last three years with a 16-7 victory against visiting La Quinta. The Indians (8-1, 4-0) just need to beat winless Cathedral City in its final regular season game Friday at Palm Springs High. Nephi Garcia continues to be primary cause of the Indians' success. He scored both touchdowns against La Quinta and kicked a 34-yard field goal, finishing with 101 rushing yards in 15 carries.

3. How tight is the Mountain Pass League race? Four teams begin the final week of the regular season with 3-1 records. The four-way tie was created Friday night when host Perris Citrus Hill knocked off first-place Hemet West Valley, 15-13. Beaumont and San Jacinto also won their games to move into a tie for first. The league race will be settled Friday night when Beaumont plays West Valley at San Gorgonio Middle School and Citrus Hill travels to San Jacinto. One of the losers will likely miss the playoffs.


October, 18, 2010
10/18/10
8:00
AM PT
By
Dan Arritt
| ESPNLosAngeles.com
1. After the season started with three consecutive losses, it was pretty clear Etiwanda wasn't as bad as its record indicated. After all, the Eagles averaged 32 points in the losses. Defensively, they were still adjusting to the absence of junior linebacker
Chandler Scott
, who led the Baseline League in tackles as a sophomore but suffered a season-ending knee injury before the start of the season. Etiwanda is now riding a three-game winning streak after knocking off Glendora, 39-27, in a Baseline League opener Thursday night at Ontario Colony High. The Eagles' high-octane offense was on display in the second quarter when they put up 27 points to erase a 14-point deficit.
Larry Cutbirth
continues to look like one of the Southland's top quarterbacks in the class of 2012, throwing three more touchdowns to give him 17 on the season.
2. Gutsy call of the week belongs to Rancho Cucamonga coach
Nick Baiz
, who elected to go for two points during overtime in a Baseline League opener Friday night against host Rancho Cucamonga Los Osos. The roll of the dice paid off when quarterback
Dimitri Morales
found
J.T. Huggins
in the end zone for a two-point pass that sealed the 29-28 victory. Oregon State took the same chance Saturday night against Washington and the gamble
didn't pay off so well
.
3. The Smudge Pot is all but obsolete these days, but the annual Smudge Pot game between Redlands and Redlands East Valley is alive and well. REV won the Citrus Belt League opener, 24-22, on Friday night at the University of Redlands, getting the final points on a 24-yard field goal by
Cody Madsen
as time expired. REV has now won four straight against its cross-town foe. The Terriers had taken their final lead on a 71-yard touchdown run by quarterback
Mike Stallone
on fourth and one with 6:33 remaining, followed by a successful two-point conversion.
September, 22, 2010
9/22/10
3:38
PM PT
By
Dan Arritt
| ESPNLosAngeles.com
At least one team is celebrating in Romoland.
That would be Heritage High School, which opened three years ago on a 65-acre lot between Perris, Hemet, Lake Elsinore and Murrieta, better known as Romoland.
The Patriots are 3-0 for the first time in their short history, posting an impressive season-opening victory against San Jacinto and then knocking off Riverside Patriot and Beaumont.
If only the Dallas Cowboys and quarterback
Tony Romo
were so fortunate.
Heritage has been leaning on its running game this season and
Scott Benson
has been holding up. Most recently, the senior rushed for 205 yards and four touchdowns Friday night in a 35-14 victory against visiting Beaumont. It was his third straight 100-yard rushing game.
Here are
some highlights
of Benson doing his thing.
Without a doubt, the most impressive victory came in the season opener against San Jacinto, when Heritage rallied from a 10-point fourth-quarter deficit and then blocked a last-minute field-goal attempt to win, 34-31.
The Patriots, who moved to the Sunbelt League this season along with Lake Elsinore Temescal Canyon, will attempt to notch another win in their belt when they travel to Hemet Tahquitz on Friday night.