Los Angeles Preps:

Beckman
December, 13, 2011
12/13/11
6:52
AM PT
1. What can you say about Santa Margarita quarterback
Johnny Stanton
? over the last five weeks, Servite couldn't stop him, Long Beach Poly couldn't stop him, Mission Viejo couldn't stop him, and
San Clemente couldn't stop him
. He may not even be the best quarterback in Orange County -- El Toro's
Conner Manning
certainly looks the part with more than 4,000 yards and 41 touchdowns -- but Stanton is the player of the year in Orange County.
2.
Myron Miller
has been coaching for 42 years, but
Tustin's 35-28 Southwest Division victor
y Saturday afternoon in an upset of third-seeded El Toro was his first outright championship in seven finals appearances. He tied for one while at Ramona in the San Diego Section, but lost in the final at Costa Mesa and three times at Tustin before riding a physical defense and a ball control offense to victory at Angel Stadium.
Edward Tandy's
interception for a touchdown was huge, as were a pair of scores by
Terence Martinez
and
Tyler Siudzinski
. But you really have to admire Miller's commitment to his team; twice on the final five minutes -- in an effort to keep the ball away from El Toro -- he called on his offense to convert fourth down opportunities inside its own 30.
That's
faith in your team. Said Miller: "I'm going to do this until I'm 80." After reaching the finals three times in the last four years, it was good to see him win, finally.
3. What a surprise that Santa Margarita was selected to the Division I Bowl Championship. Santa Margarita had two losses, and the feeling outside the heads of the 10 commissioners who chose the Bowl participants was that undefeated Bakersfield would likely get the nod if not Vista Murrieta (undefeated on the field but with five forfeits), that Santa Margarita's loss to Mater Dei in the Trinity League opener would be a killer. It wasn't, even though commissioners haven't always given strength of schedule the credit it's due. It creates one terrific backstory: Eagles' coach
Harry Welch
has a chance to win his third Bowl game in six years with three different teams. He won with Canyon Country Canyon in 2005 with another two-loss team that upset Concord De La Salle in the Division I Bowl (before they had the Open game), and with San Juan Capistrano St. Margaret's in 2008 in the Small School Bowl. If he succeeds, this is a milestone that likely will never be broken. For what it's worth, Welch has no plans to move on to a fourth team.
December, 2, 2011
12/02/11
1:29
PM PT
No. 6 Santa Margarita (10-2) at No. 2 Mission Viejo (10-2), Friday, 7:30 p.m., Fox Sports West
This Pac-5 semifinal is as good as any championship game. Mission knocked Santa Margarita out of the playoffs last year, 31-28, and went on to the section finals where it lost to Servite. The second-seeded Diablos will try do it again riding the legs of Buzzy Yokoyama; though injured much of the season, Yokoyama (12 TDs, 112 yards/game) has shown in six games that he is a huge threat. He rarely goes down on the first hit, and he will be even more dangerous now that quarterback Alex Bridgford (23 TDs, 15 int., 208 yards/game) seems to be dialed in. That wasn't always the case this season. The pressure is on the Mission defense to control quarterback Johnny Stanton (22 TDs), who ran wild against Servite, who ran wild against Long Beach Poly, and who is fully capable of running wild against Mission. Stanton is averaging 98.7 yards rushing, and though his passing numbers aren't eye-popping (62.4 percent, 8 TDs, 8 int., 161 yards/game) he can still make the big play with talented receivers. Running back Ryan Wolpin (24 TDs, 115 yards/game) is no slouch either. The last two Servite quarterbacks to beat Mission in the playoffs, Cody Fajardo and Cody Pittman, were dual-threat QBs like Stanton. Both head coaches, Bob Johnson (265-91-1) for Mission and Harry Welch (246-54-2) for Santa Margarita, are among the best around.

No. 9 San Clemente (11-1) vs. No. 12 Tesoro (8-4) at Orange Coast College, Friday, 7:30 p.m.
Tesoro beat top-seeded Servite last week, 24-20, so throw out everything the Titans have done this season and focus on what they bring to the table right now. Actually, one might look at their run over the past four weeks. They gave away a 14-7 loss to Mission Viejo, and the following week were flat in a 31-6 loss to San Clemente. Then they beat fourth-seeded Alemany, then Servite. Their emotional health going into this game against San Clemente vs. the last game with San Clemente will be night and day. Matt Adam (8 TDs, 6 int., 83 yards/game) must have a good outing so that Mission cannot gang up on the run game, which features Nate Tago (12 TDs, 103 yards/game) or Blake Rodgers -- who was the difference-maker when he sparked Tesoro's victory from a 20-3 deficit to Servite after replacing the injured Tago. The defense will have its hands full because San Clemente is among the most balanced teams in the playoffs, featuring a strong offensive line led by Kyle Murphy that protects runner Mike Elespuru (13 TDs, 118 yards/game) and Utah-bound quarterback Travis Wilson (21 TDs, 7 int., 158 yards/game). To a lot of people, San Clemente's second-round victory over St. John Bosco, 42-24, was an upset too; the Tritons hadn't won a playoff game since 2005, but three of the four semifinalists -- including Tesoro and San Clemente -- are from the South Coast League instead of the Trinity League. And, if you're looking for motivation, San Clemente might have the edge; this is the team that had their coach, Eric Patton, removed just weeks before the season for his alleged role in a kickback scheme with a now defunct athletic apparel company. Coached by Jon Hamro, the team has been playing for Patton as much as themselves.

El Toro (11-1) at No. 23 La Habra (9-3), Friday, 7 p.m.
This Southwest Division game actually has a Pac-5 kind of intrigue to it in Orange County. El Toro brings a no-huddle offense and a prolific passing attack into the game with junior Conner Manning (35 TDs, 5 int.), who is 88 yards from matching Matt Barkley's single-season county passing record (3,560 yards). La Habra has faced the no-huddle of Servite, and it's faced a terrific passing game in St. John Bosco, but the combination might catch the La Habra off guard early as it gets used to the pace. Then again, El Toro -- which has averaged 43.9 points and hasn't lost since a season-opening 23-21 setback to Huntington Beach -- hasn't seen a defense like La Habra's or a player like linebacker Aaron Porter. There's plenty at stake for La Habra; the Highlanders are trying to win a fifth consecutive title, but they won't get the chance if they don't contain Manning.

Foothill (8-4) at Tustin (9-3), Friday, 7 p.m.
These two rivals play each other annually and use Tustin High as a home field, so this game is huge. This is 50th meeting and at stake is a spot in the Southwest Division finals. Tustin has won the three previous playoff games between the schools (the last in 2000), as well as the last three games, including 27-14 in the season opener. It's the first time these teams have met as deep as the semifinals. Tustin's Tyler Siudzinski (19 TDs, 141 yards/game) rushed for 152 yards in a 35-7 victory over top-seeded Villa Park, and Foothill's Jack Gilchrist (12 TDs, 11 int., 112 yards/game) threw a 32-yard TD pass and scored on a three-yard run in the last 2 1/2 minutes to beat fourth-seeded Cypress, 34-24.

Beckman (10-2) at Estancia (10-2), Friday, 7 p.m.
When they played earlier this season, top-seeded Beckman scored a 12-10 victory but did so without their best offensive threat, Jeff Kim (22 TDs, 138 yards/game). Fourth-seeded Estancia -- which has since won seven in a row -- was down a few players too, although not junior running back Robert Murtha (19 TDs, 165 yards/game). Beckman beat Estancia in the first round last season, 56-22. In the semifinals for the first time in school history, will the pressure to reach the Southern Division finals be too much for Estancia? Beckman is trying to return to the finals after losing last year's title game to Garden Grove in an Instant Classic.

Corona del Mar (10-2) at Laguna Beach (10-2) Friday, 7 p.m.
Second-seeded Corona del Mar has appeared to be on a collision course with Beckman all season, but Laguna Beach is a dangerous opponent that defeated third-seeded Segerstrom, 51-40. Powered by Drake Martinez (27 TDs, 145 yards/game), the Breakers have averaged 47.8 points; their last loss was 63-47 to Costa Mesa. Behind quarterback Brent Lawson (25 TDs, 10 int.), CdM has scored at least 31 points in its last six games, and at least 42 points in its last four.
November, 13, 2011
11/13/11
9:18
PM PT
CIF-SS playoffs
Southern Division

A preview of the championship game may have occurred over the weekend when top-ranked Corona del Mar was beaten by second-ranked Beckman, 42-37, in the finale of the Pacific Coast League. Last year three of the semifinalists were from the PCL, and it wouldn't be a surprise if that happened again.
The seeds:
1. Beckman (8-2), 2. Corona del Mar (8-2), 3. Segerstrom (8-2), 4. Estancia (8-2).
Best first-round matchup:
Woodbridge (5-5) vs. Rancho Alamitos (9-1) at Bolsa Grande HS -- Rancho had to beat the second-best team from its own Garden Grove League, Los Amigos (8-2), last week to win the title, and now have to open with the third-place team from the best league in the division. Woodbridge has a win over third-seeded Segerstrom and a one-point loss to second-seeded Corona del Mar. That's not normal for a third-place team with a .500 record.
Toughest road:
Rancho Alamitos has it pretty tough for a league champion; if the Vaqueros get past Woodbridge, they likely play fourth-seeded Estancia, which had a 56-point margin of victory over Bolsa Grande, a team that Rancho defeated in league, 33-6, and lost by only two points to top-seeded Beckman.
Potential shocker:
Laguna Beach (8-2) vs. Segerstrom (8-2) -- Assuming that both teams advance to this second round game, third-seeded Segerstrom -- which plays the defending champion, Garden Grove (4-6) in the first round -- has to stop a Breakers team led by
Drake Martinez
(134 yards/game, 23 TDs) that has scored 42 points or more eight times, and scored 55 or more five times. Segerstrom hasn't played a team that has a winning record.
Darkhorse:
Woodbridge (5-5) -- The Warriors have performed well against two seeded opponents, defeating third-seeded Segerstrom, 21-14, and losing to second-seeded Corona del Mar, 31-30. It also hung with Beckman for a while before losing, 28-13. The Warriors, led by
Derek Calderon
(136 yards/game, 13 TDs), have seen the best the division has to offer and will be coming through the No. 4 quarter bracket.
Final analysis:
There are some intriguing longshots such as Woodbridge, Laguna Beach, Rancho Alamitos and Los Amigos (8-2), but most of the time football is a reality sport, and the reality is that the PCL is the dominant league, and Beckman and Corona del Mar are best teams from that league.
Championship prediction:
They will be hard-pressed to put on a better show than last year's final, a 31-30 victory by Garden Grove over Beckman. Still, Beckman's 42-37 win over Corona del Mar last week to determine the PCL champion makes for an attractive rematch with lots of potential for down-to-the-wire dramatics. Beckman's
Jeff Kim
(132 yards/game, 16 TDs) and CdM's
Erik Fisher
(111 yards/game, 10 TDs) are worthy adversaries. Still, CdM needed 27 points in the fourth quarter last week to make it close. Beckman 35, Corona del Mar 28.
Link to the Southern Division playoff bracket on CalPreps.com
June, 7, 2011
6/07/11
11:16
AM PT
1. If you're going to lose a game, you might as well do so in epic fashion. That's what happened to Anaheim Canyon in its first Southern Section Softball Championship. The Comanches, who were a third-place team from their league, took a 1-0 lead into the bottom of the seventh inning on the strength of
Cheyanne Tarango's
pitching and a home run by
Taylor Swearingen
. But three walks brought up Corona Santiago's best hitter with the bases loaded and two outs;
Lauren Sweet
hit a grand slam to win the game. It has to rank as one of the best finals ever.
2. Cypress Oxford Academy was vying for its third consecutive title, but the Patriots were
beaten by Pasadena Poly
, 10-0. It was a stark contrast to the softball final. Given the choice, we're guessing Oxford Academy -- which finished 26-3 -- would have preferred to go down in epic fashion, too. They weren't the only losers in the finals. Esperanza, which had earlier in the playoffs beaten second-seeded Mater Dei, scored in the first inning but did no damage afterward in a 7-1 loss to Riverside North
in the Division 1 championship.
June, 2, 2011
6/02/11
8:22
PM PT
By
Sean Ceglinsky
| ESPNLosAngeles.com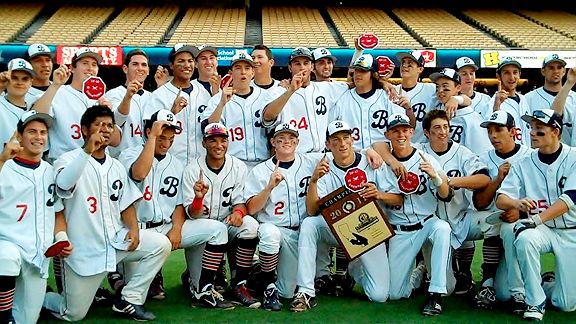 Blair Angulo/ESPNLosAngeles.comThe Irvine Beckman baseball team post for a team photo after winning the Southern Section Division 3 championship.
LOS ANGELES -- Similar to most good, disciplined hitters, Zack Rivera was merely attempting to make some all-important contact. Mission accomplished.
The junior for the Irvine Beckman baseball team belted a two-run homer in the bottom of the first inning of Thursday's Southern Section Division 3 championship game at Dodger Stadium and the blast proved to be the difference in a 4-1 victory over Irvine Woodbridge.
"Bat to ball, that's the only thing I was thinking, find a pitch to drive,'' Rivera said. "When I hit the ball, I knew I got a hold of it. Dodger Stadium is a big park though, and for a minute, I thought the ball was going into foul territory. Everything was in slow motion, then it cleared the fence. It was one of those moments every baseball player thinks about at some point.''
The sequence nearly did not materialize for Beckman (25-6).
Ben Wylly, the starter for Woodbridge (19-12), retired the first two batters that he faced. Justin Hazard, however, reached base on an error to keep the inning alive and set the stage for Rivera. He stepped into the batters box, of course, and drilled the ball down the left-field line, just over 330 sign into the empty seats, to give the Patriots a 2-0 lead heading into the second inning.
"That homerun was one of those no-doubters,'' Beckman coach Kevin Lavalle said. "It was gone, out of Dodger Stadium. It would've been a homer at our field and a homer at Woodbridge's field too. Once we got the lead, there was no way we were going to lose this game.''
Give the Warriors credit, with little or no momentum early on, they did not give up. Woodbridge rallied in the top of the second, in fact. Matt Budgell led off with a single, and promptly, stole second base. He scored on a Sam Lemmon basehit to cut the lead in half, 2-1.
Hazard's hustling style of play led to another run in the bottom half of the third inning. He beat out an infield grounder, sliding head first at first base. Connor Deneen, who led off with a single, ended up scoring on the play to increase the advantage to 3-1.
The lead proved to be more than enough for James Kaprielian. The ace for Beckman went the distance, giving up four hits and striking out seven batters.
"I was a little nervous in the beginning, but after Zack hit that clutch home run, I relaxed, I think we all started to relax,'' Kaprielian said. "Once the third inning rolled around, I shook things off, settled down and started throwing some strikes. I was in the zone.''
Making matters worse for the Warriors was the fact that they lost to Rivera and Beckman, a Pacific Coast League rival, for the fourth time this season.
"I was a worried before the game,'' Lavalle said. "I didn't want to have to break out my speech about how tough it is to beat a team three, or four, times in one year.
"Thankfully, there were no letdowns. Zack did not have a letdown. James did not have a letdown. None of our kids had a letdown out there today. You know, if you can't get up for a title game at Dodger Stadium on June 2, you don't belong in games like this one.''
May, 31, 2011
5/31/11
6:39
AM PT
Here is a look at Southern Section Championship baseball semifinal games on Tuesday that include Orange County teams.

DIVISION 1

Esperanza (22-10) vs. Long Beach Wilson (26-6) at Blair Field, Tuesday, 7 p.m.


The last time Esperanza reached the semifinals was 2007 when it lost to ... Wilson. The Aztecs are coming off a 5-1 upset of second-seeded Mater Dei after outscoring their first two opponents, 30-11. The Century League champion hit only three home runs in its first 29 games, but have hit four during the playoffs. Nick Catalano (.396, 35 runs, 19 RBIs) has three homers and Ryan Cooper (.427, 31 runs, 24 RBIs) has two. Austin Pettibone (8-4, 2.24 ERA) and Scott Mason (5-0, 2.45 ERA) lead the pitching staff. Wilson, which finished second in the Moore League to another semifinalist, Lakewood, is led by Daniel DeWolf).338, 24 runs, 15 RBIs), Stefan Miladanovich (.309, 14 runs, 20 RBIs), as well as pitcher Chase Dejong (10-2, 1.41 ERA), who has been the winner in all three playoff games, and closer Ty Provencher 1.95 ERA), who committed to Long Beach State. Although Wilson plays some of its home games at Blair Field, Esperanza will be the home team. The winner will play at Dodger Stadium on Friday, 7:30 p.m., against the winner of 4 p.m. game between Lakewood and Riverside North.

DIVISION 2

No. 4 Santa Barbara (23-6) at Mission Viejo (21-13), Tuesday, 3:15 p.m.

Santa Barbara is used to scoring a lot of runs. The Gauchos average 6.8 runs per game, and scored seven in its two most recent playoff victories. Five players have at least 20 RBIs in an offense led by Collin Dewell (.391, 39 runs 33 RBIs) and Spencer Fraker (.359, 37 runs, 20 RBIs). Danny Zandona (10-1, 1.29 ERA) leads the Santa Barbara mound corps, which carries a collective 2.33 ERA. He has appeared in all three playoff games. Mission has only one player with as many as 20 RBIs, Austin Saenz (.495, 44 runs, 25 RBIs), but the Diablos are also averaging more than six runs per game. The winner will play Thursday, 7:30 p.m., at Dodger Stadium against the winner of Etiwanda at No. 2 Arcadia.ÿÿ


January, 18, 2011
1/18/11
9:23
PM PT
By
Martin Henderson
| ESPNLosAngeles.com
Jolene Guiliana, Beckman, Sr.

Guiliana scored in one week what some players score in a season. She tallied 40 goals, including nine in a 13-1 victory over Woodbridge in the Pacific Coast League water polo opener. She also scored 18 to help the Patriots win three of four games in the TYR Cup, including five in an 8-6 win over Anaheim Canyon. Beckman won six of seven matches during the week as Guiliana reached 104 goals on the season.

Morgan McIntosh, Calvary Chapel Santa Ana, Sr.

After winning four consecutive wrestling matches by fall to reach the finals, McIntosh won his third Five Counties Championship in a row. McIntosh took the 189-pound title with a 21-8 victory over Jesse Ambriz of Vista Rancho Buena Vista. McIntosh, a two-time state champion, is ranked No. 1 in the state in his class.
December, 11, 2010
12/11/10
11:59
AM PT
By
Martin Henderson
| ESPNLosAngeles.com
Josh Webb has etched himself permanently into Garden Grove lore. His
performance on Friday
in a 31-30 Southern Division victory over Beckman really was the stuff of legend. Twenty years from now when students gather for a reunion, it will be hard to exaggerate the reality. Fortunately, there's
video of Webb's performance
, including the amazing touchdown and conversion that gave the Argonauts their first section championship.
December, 10, 2010
12/10/10
11:37
PM PT
By
Martin Henderson
| ESPNLosAngeles.com
COSTA MESA – Josh Webb came as advertised on Friday, but all the superlatives in the world wouldn't do the triple-threat senior from Garden Grove High justice. Not after that.

Webb's highlight reel performance included three touchdowns and a two-point conversion, the latter with 1 minute 27 seconds left in the game, to give the top-seeded Argonauts a 31-30 Southern Division victory over Beckman at Orange Coast College.

"The journey is complete," said first-year coach Willie Puga, whose team has been on an emotional ride for the past two season. It began with the death of senior linebacker Kevin Telles in the first game of the 2009 season and the commitment to win a championship ring for him, but Garden Grove lost in last year's final after quarterback Sean Young was injured. Puga, and Webb, say the spirit of Telles is still strong with this team.

"We made a promise that we'd get a ring," said receiver Avery Williams, who caught six passes for 98 yards. "We didn't do it last year, but we did it this year. We kept the promise."

Garden Grove (13-1) might play another week. The Argonauts will certainly be in the conversation for being the State Division III Bowl representative from the south.

It wasn't just that Webb put up good numbers – 16 carries for 191 yards and two touchdowns, 10 receptions for 144 yards and a score, three of five passing for 27 yards, and he blocked an extra point – but it the manner in which he did it and under the pressure that was on him.

His game-winning touchdown came from five yards. He went to the outside and then leaped over a defender with a complete flip. He landed squarely on his back, but it jarred the air out of Beckman. "Coach told me to go over the top," Webb said.

He must have said go out on top, too.

Still down by a point, the Argonauts pooh-poohed the idea of a tie and went for two points and the victory. Webb was in motion and was handed the ball in front of quarterback Jovani Duran from the shotgun; Webb swept around the right corner and again took a flying leap – this time rotating over the top of two defenders and landing on both feet in the end zone.

"I have never have done anything like that before," said Webb, who on the previous drive had scrambled 70 yards from one side of the field to the other – the only reason he was caught at the 11 yard line was because he was winded – to set up a game-tying field goal by Duran. That play was the biggest of the night, first-year coach Willie Puga said.

"Amazing, just amazing," said Puga, whose team has been to the finals twice in a row after having not been since 1945. "He's the best player I'll ever coach. We've been working that conversion play all week."

Maybe not exactly like it will appear on film, though. Said Williams of the aerobatics: "We don't do stuff like that in practice."

Williams played his own role, leaping up for a 23 yard reception on the play preceding Webb's final TD.

If Webb – who completed three of five passes for 27 yards – came as advertised, Beckman (8-6) did not. The Patriots hardly looked like an at-large team that entered the playoffs with a 5-5 record. They answered every Garden Grove challenge, except for the last one, when Cameron Biedgoly was sacked by Brian Lozano and then missed on three pass attempts. Beckman had scored on its other three possessions of the second half. Jeff Kim carried 22 times for 137 yards and a touchdown. Biedgoly completed 10 of 16 for 192 yards and two touchdowns, and also ran for a score.

Beckman, which played from behind in the first half, played from ahead in the second. When Biedgoly passed 15 yards to Austin Archer to go ahead 30-23 with 3:46 remaining, it looked like its Cinderella season might endure.

There was too much time on the clock.

Webb was mercurial all right. Despite being well-covered, he made a great over-the-shoulder catch in the end zone for a 25-yard touchdown and 7-0 lead. Once that tightened to 7-6 – he blocked the PAT attempt Zack Rivera's one-yard run – he scored from 77 yards by peeling around the left side and outrunning the secondary. Grove's PAT was wide, and Beckman tied the score 2-1/2 minutes later.

Webb played a major role in that, too. He attempted to intercept a pass in the flat – and came close – but got burned by Andrew Flores instead who ran for a 72-yard gain to the five. Two plays later, Biedgoly scored.

Grove was its own worst enemy in the first half which ended 13-13. The Argonauts committed three turnovers – an interception and two fumbles. The first fumble, by the QB Duran, gave Beckman a 19-yard field and the Patriots cashed in. The latter fumble by Webb came at the Beckman three-yard line that went out of bounds in the side of the end zone with 2:39 left in the half.

But Webb got more chances. And he made up for it. And then some.

"This team has a lot of heart," Webb said. "I couldn't let them down. This had to be our year."
November, 16, 2010
11/16/10
4:36
PM PT
By
Martin Henderson
| ESPNLosAngeles.com
Kaitlin Park, Beckman, Jr.
Chose the opportune time to card the best score of her career, a six-under-par 66 at The Golf Club at Rancho California, to win the WSCGA Southern California Championships by two strokes. Her previous low round had been a 68 at Tustin Ranch Golf Club. Park made some long putts – 25 and 30 feet – to advance to the state championship for the second consecutive year.

Paul Reynolds, Foothill, Sr.
One of the county's best water polo programs moved easily through the first two rounds of the Division 2 playoffs. Reynolds scored 17 of third-seeded Foothill's 29 playoff goals last week. He had 10 in a 13-6 win over University, seven in a 16-9 decision against Montebello. They play second-seeded Corona del Mar in the semifinals Wednesday at Irvine's Woollett Aquatic Center.