Los Angeles Preps:

Beverly Hills
January, 25, 2012
1/25/12
10:38
PM PT
St. John Bosco (16-4) eked out a 72-68 victory at JSerra on Wednesday night to improve to 5-0 in Trinity League play, setting up a highly intriguing matchup with Mater Dei, the region's top-ranked squad, on Friday in Bellflower. Isaac Hamilton led the way with a game-high 26 points.

Loyola (16-3) lost at home to Alemany, 95-81, and is now two games back in the Mission League standings. The Cubs had gotten back into the race with an impressive win against Crespi earlier in the week. Loyola got 24 points from Julian Harrell.

In the Western League, Fairfax (14-7) beat Westchester, 53-46. Brendyn Taylor had 17 points. In the Pacific League, Muir (20-1) beat Burbank, 54-52, thanks to Jelani Mitchell's 17 points.

Windward (14-7) bounced back from a demoralizing Alpha League loss to Pacific Hills, defeating Sierra Canyon 68-67.

In the Ocean League, Culver City beat Beverly Hills, 87-81, behind 33 points from Aamahd Walker and 32 from Keilan Horton.
January, 13, 2012
1/13/12
9:28
PM PT
There's a strong lineup scheduled to play in Saturday's Johnnie Cochran Basketball Classic at LACES, including Gardena Serra (15-1) taking on Los Angeles Price (11-5) in the headliner.

Among the teams competing in the all-day event: Brentwood (12-3), Fresno Central (12-3), Dorsey (14-5), LACES (16-6), Pacific Hills (14-3) and Renaissance Academy (14-2).

The full schedule:

10:00 a.m. - Salesian vs. LACES
11:30 a.m. - Diamond Ranch vs. Beverly Hills
1:00 p.m. - Las Vegas Legacy vs. Dominguez
2:30 p.m. - Las Vegas Durango vs. Dorsey
4:00 p.m. - Renaissance Academy vs. Brentwood
5:30 p.m. - Fresno Central vs. Washington Prep
7:00 p.m. - Ribet Academy vs. Pacific Hills
8:30 p.m. - Gardena Serra vs. Price
November, 7, 2011
11/07/11
9:37
PM PT
By
Tim Haddock
| ESPNLosAngeles.com
Fountain Valley's Lilia Vu won the CIF Southern Section individual girls golf championship with a 2-under 70 at the Talega Golf Club in San Clemente on Monday.

Vu was one of two players to shoot under par in the individual golf championship tournament. Megan Kim of Mira Costa was second with a 1-under 71.

Four players shot even par 72. Brea's Amy Lee was awarded third place in the tournament. Lydia Choi of Beverly Hills, Elizabeth Doty of Palos Verdes and Euna Pak of Northwood also shot even par.

Thirty-seven players advanced to the WSCGA girls golf championship in Murrieta on Thursday.

Golfers of note from L.A. North schools include Katelyn Reynolds of Sherman Oaks Notre Dame (74), Sophia Chen of Thousand Oaks (76) and Arielle Valdez of Sherman Oaks Notre Dame (77).

Jocelyn Chia from Crescenta Valley and Katie Rice from Oxnard made the cut for the WSCGA tournament with 6-over 78s. Hart's Kendell Dusenberry and Sherman Oaks Notre Dame's Kathryn Newton are also in with 7-over 79s. Julie Ward from West Ranch was the last player to make the cut at 8-over 80.
October, 5, 2011
10/05/11
4:58
PM PT
By
Tim Haddock
| ESPNLosAngeles.com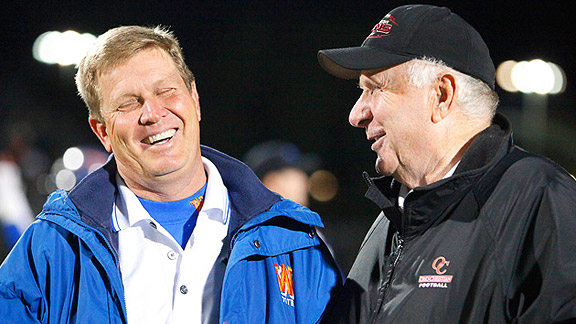 John Lazar/For ESPNLA.comWestlake coach Jim Benkert, left, and Oaks Christian coach Bill Redell have established a competitive rivalry between their teams in Westlake Village.
The Oaks Christian and Westlake football teams met twice last season. Westlake won the first game convincingly, 31-12, during Marmonte League play in Week 4.
But Oaks Christian won the second meeting in dramatic fashion, 29-28, in the CIF-Southern Section Northern Division championship game.
The two teams meet again Thursday night at Westlake High School and the winner will have an undefeated record in the Marmonte League.
Both teams are coming off impressive wins last week. Oaks Christian (3-1), the No. 4 team in the ESPNLA prep football Top 25 rankings, rolled over Calabasas, 56-7, resting most of its starters in the second half.
Westlake (4-0), the No. 9 team in the ESPNLA rankings, scored 10 touchdowns in a 73-28 win over Royal.
Connor Cook
scored five of those touchdowns, two on kickoff returns and three on receptions. He caught four passes for 77 yards and had kickoff returns of 85 and 82 yards for touchdowns.
Oaks Christian coach
Bill Redell
said his team, coaches, cheerleaders and members of the band will march from their school to Westlake for the game.
"It's seven-tenths of a mile," Redell said. "We want to make it a tradition."
The Stanford football team used to walk from campus to its football field for games. But Redell said he got the idea from Westlake coach
Jim Benkert
. Benkert was going to have his team walk from their school to Oaks Christian last year but changed his mind at the last minute.
The two teams are separated by two blocks in Westlake Village. Oaks Christian and Westlake established a competitive rivalry after last year's two meetings.
"It's a healthy rivalry," Redell said. "We have a lot of respect for Westlake."
In the Northern Division championship game, Oaks Christian took the lead in the fourth quarter on a two-point conversion run by
Blair Holliday
. Westlake had enough time to drive down the field on the ensuing possession and set up a 41-yard field-goal attempt.
Westlake kicker
Alex Ball
, one of the best kickers in Southern California, hit the right upright and the football bounced back onto the field, giving Oaks Christian a one-point win.
Ball was 10-for-10 on extra-point attempts and made a 51-yard field goal against Royal last week.
Oaks Christian sophomore quarterback
Brandon Dawkins
has been nearly perfect since taking over the starting role two weeks ago. He has completed 28-of-32 of his passes, 88.5 percent, for 460 yards and seven touchdowns.
"He has been a pleasant surprise," Redell said. "He's gotten a lot better a lot sooner than I thought he would."
Here's a look at some of the other top games of the week in the L.A. North region:
November, 11, 2010
11/11/10
12:27
PM PT


The Big One will finally hit Friday night.

Epicenter: Rancho Cienega Park, the site of the highly anticipated Crenshaw-Dorsey football game. The winner claims the Coliseum League title and a No. 1 seeding for the City Section playoffs. The loser, well, gets to hear about it for another year.

"It's going to be a very intense game," Dorsey receiver Marvin Hall said. "If we execute and do what we have to do, we shouldn't have a problem. But if we let them get going, we should have a rough time."

Really, it applies to both teams. The Dons (9-0) want to prove that their explosive offense is for real, as they seek their first title since 2001. The Cougars (7-2) are no longer a contender for the state bowl bid, but nothing would make up for two early-season losses like a rivalry win.

They've been on a collision course for weeks, with each team following a relatively easy path to get here.

Crenshaw, ranked No. 9 by ESPNLA.com, has outscored its opponents 365-17 since losing at Norco on Sept. 10. The Cougars have posted three consecutive shutouts.

No. 16 Dorsey, meanwhile, has scored 40 or more points in six of its nine games. Washington-bound quarterback Joseph Gray's 28 touchdown passes ranks ninth in the state. Hall, Gray's main target, has averaged nearly 25 yards per reception. He has accumulated seven scholarship offers in the last two months after coming into the season with zero.

The sideline smack talk promises to be lively. UCLA starting tailback Johnathan Franklin, who was on the last Dorsey team to defeat Crenshaw in 2006, will be there.

"Dorsey, 50 to nothing," Franklin said with a wide smile Wednesday following the Bruins' practice. "We're going to win it."

Three more to see:

San Pedro (6-3, 3-1) at Narbonne (5-4, 3-1), Friday, 7 p.m.
The second spot in the Marine League and a guaranteed playoff berth are up for grabs.

Chaminade (8-1, 3-1) at St. Paul (6-3, 2-2), Friday, 7 p.m.
Chaminade hopes to rebound after nearly pulling off the upset against No. 4 Serra last week.

Beverly Hills (6-3, 3-1) at Culver City (5-4, 2-2), Friday, 7 p.m.
Both teams need this one with Inglewood (7-2, 4-0) all but guaranteed the Ocean League title.