Los Angeles Preps:

Big VIII League
August, 29, 2011
8/29/11
5:52
PM PT
710 ESPN's
Pete Fox
caught up recently with Corona Centennial football coach
Matt Logan
, who offered an outlook on his program heading into the 2011 season and assessing the challenges that await his team during the Big VIII League season.
Click here to listen to the entire interview

May, 12, 2011
5/12/11
11:07
PM PT
By
Dan Arritt
| ESPNLosAngeles.com


RIVERSIDE — This wasn't just any post-game dog pile.

The Riverside North baseball team had waited 14 years to celebrate another league championship, and almost let their opportunity slip away Thursday, allowing three runs in the top of the seventh inning against visiting Riverside King before holding on for a 5-4 victory in the Big VIII League finale.

North starting pitcher Jack Johnson talked his way into coming out for the seventh, despite throwing 90 pitches to that point. He allowed a home run to Brandon Camp on the first pitch of the inning and the junior left-hander immediately gave way to senior right-hander Mario Morales.

Following a one-out error and a walk, Shane Mardirosian singled to right field to drive in a run and the remaining runners advanced to second and third on an ill-advised throw home. Morales then balked while preparing to pitch from the wind up, scoring another run and moving the tying run to third base.

However, Morales got cleanup hitter Pat Debonis to hit a hard grounder to the left of third baseman Evan Perez, who made a nice play to field the ball, held Mardirosian at third and then threw out Debonis at first for the second out of the inning. Andrew Alvarez then popped out to first to end the game and trigger North's long-anticipated celebration.

"Two years ago, we started seven freshmen on varsity," North coach Steve Madril said shortly after dodging a bucket of ice. "We knew two years from then we'd have a pretty good team. Luckily, this was the year we were waiting for."

Two years ago, the Huskies finished 4-24, losing their final 14 games. Last season, they finished last out of eight teams in the Big VIII League.

"We took our bruises," said Johnson, who improved to 8-1.

The Wolves also finished 10-4 in league play and will share the league championship with North. However, the Huskies will be the league's No. 1 representative for the Southern Section Division 1 playoffs beginning next week because they won both meetings against King this season.

North gave Johnson a cushion by scoring two runs in the first inning. With one out and runners on second and third, Perez hit a high fly to shallow center. Alvarez, playing shortstop, appeared to have trouble with the sun and the ball fell for a single, scoring the first run. Andrew Saucedo then singled up the middle for the second.

The Huskies added two more runs in the fourth on a throwing error by King starting pitcher Eric Geiger, who rushed a throw to first after fielding a bunt and the ball skipped into foul territory, allowing pinch-runner Isias Avalos to score from second. A sacrifice fly brought home the fourth run of the game.

North stretched its lead to 5-0 on an RBI double by Steven Pena in the fifth inning, a run that turned out to be the difference maker.
November, 1, 2010
11/01/10
8:09
PM PT
By
Dan Arritt
| ESPNLosAngeles.com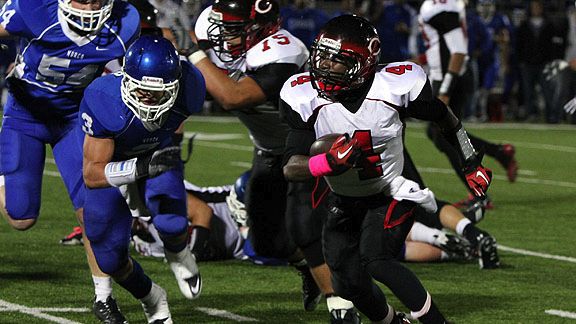 Courtesy of Paul Moureaux
Barrington Collins had five touchdowns in Centennial's 45-0 win over Norco.
1. Corona Centennial has a lot of people wondering just how good the Huskies are after they trampled Norco, 45-0, in a Big VIII League game Friday night at Norco. The Huskies came in
ranked No. 4
in the Southland by ESPNLA, but a closer looks indicates they might be a little under-rated. Centennial blew out Mater Dei, 44-13, in Week 2. Servite, ranked No. 1, escaped with a 21-14 victory over the Monarchs on Friday. And if that's not enough of an indicator, Centennial defeated Temecula Chaparral, 45-12, on Sept. 24. A week later, the Friars defeated the Pumas, 28-7, and Chaparral was without two of its best players. Another comparison will come this weekend when the Huskies travel to Corona. Mission Viejo, ranked No. 3, beat the Panthers, 56-34, on Sept. 16.
2. What happened to Riverside King? The Wolves were looking really good after defeating Corona Santiago and Corona on back-to-back weeks last month. All they had to do was defeat Riverside Poly and Riverside North and they were a lock for an automatic playoff berth out of the Big VIII League. But a not-so-funny thing happened on the way to the postseason, King was upset by Poly on Friday night, 45-39, dropping the Wolves into fifth place. The loss didn't completely blow their chances for an automatic playoff bid, however, as Corona (5-3, 3-2) still has Corona Centennial and Norco on its schedule, while King (4-4, 2-3) has Eastvale Roosevelt and North. If the Panthers lose their final two games, as they should, and King splits its final two, the Wolves win the tiebreaker based on their head-to-head result with Corona.
October, 29, 2010
10/29/10
11:24
PM PT
By
Dan Arritt
| ESPNLosAngeles.com


NORCO -- About the only thing Norco did right Friday night was recover a game-opening onside kick.

But that just seemed to make Corona Centennial angry.

The Huskies proceeded to beat Norco at every facet of the game and take a giant step toward reclaiming the Big VIII League title with a 45-0 victory at Norco High.

Centennial (8-0, 5-0) limited Norco to 116 total yards of offense while creating the largest margin of victory in the Inland Empire's biggest rivalry.

The game was so one-sided, the Huskies pulled starting quarterback Michael Eubank and running back Barrinton Collins late in the third quarter, then took a knee on the Norco two-yard line after recovering a fumble with just under three minutes remaining.

Collins finished with 176 yards rushing in 18 carries and scored five touchdowns. Eubank, who is taking an official recruiting trip to Arizona State this weekend, completed 8 of 10 passes for 155 yards.

The defense might have been the biggest story, as the Huskies forced four turnovers, returning one fumble for a touchdown, and held Norco running back Kelsey Young to a season-low 76 yards rushing.

Centennial wasn't perfect, however. The Huskies lost four fumbles of their own, doubling their turnover total for the season. However, after convincing victories over Mater Dei, Temecula Chaparral and now Norco, the Huskies proved they belong among the elite teams in Southern California, if not at the top.
October, 28, 2010
10/28/10
1:56
PM PT
By
Dan Arritt
| ESPNLosAngeles.com
When you have a chance to beat Corona Centennial, it's important to take advantage of the opportunity.
Norco was in that situation last November, down a point after scoring a touchdown with 27 seconds remaining. Go for the win or the tie? In the mind of Norco coach
Todd Gerhart
, it was a no-brainer. He had a chance to beat the Huskies and wasn't about to let it pass him by.
The Cougars went for two and quarterback
Taylor Viloria
punched it in, giving Norco a 29-28 victory at Centennial and the Big VIII League title.
On Friday, the biggest rivalry in the Inland Empire moves to Norco High. The Cougars (6-1, 3-1) have already been dinged for a Big VIII loss by Eastvale Roosevelt, but a win against Centennial (7-0, 4-0) would drop them right back in the race.
And if the Cougars should be in the position to go for the win or tie down the stretch, you can bet they will make the most of their opportunity.
Kickoff is scheduled for 7 p.m.
Three more to see:
Upland (5-2, 2-0) vs. Rancho Cucamonga (6-1, 2-0) at Rancho Cucamonga Los Osos High, Friday – If you went to Upland or Rancho Cucamonga, or just follow the Baseline League, this game was probably marked on your calendar in July. Rancho Cucamonga won the Central Division title in 2008, the Highlanders took it home last season.
ESPNLA.com
's pick: Upland 24, Rancho Cucamonga 21.
Los Osos (4-3, 1-1) vs. Etiwanda (3-4, 1-1) at Ontario Colony High, Friday – Etiwanda quarterback
Larry Cutbirth
will meet his match against the Grizzlies. Cutbirth, who has thrown for just over 2,000 yards and 21 touchdowns, will meet a defense that has 18 sacks and 10 interceptions. ESPNLA.com's pick: Los Osos 30, Etiwanda 27.
San Jacinto (6-1, 2-0) at Hemet West Valley (4-3, 2-0) – San Jacinto quarterback
Kevin Clark
has been remarkably efficient, completing 65% of his passes with 10 touchdowns and no interceptions. West Valley is a newcomer to the Mountain Pass League this season, but hardly a pushover. ESPNLA.com's pick: San Jacinto 27, West Valley 20.
October, 25, 2010
10/25/10
5:09
PM PT
By
Dan Arritt
| ESPNLosAngeles.com
1. Corona Centennial and Norco took care of business last weekend, setting up their Big VIII League showdown Friday at Norco. Centennial (7-0, 4-0) is ranked No. 1 in the Inland Empire by ESPNLA.com and the Cougars (6-1, 3-1) are No. 2. Norco running back Kelsey Young ran for 179 yards in the second quarter alone in a 35-15 victory against No. 10 Riverside King. Centennial defeated Corona Santiago, 69-13, extending its winless streak against the Huskies to 14 games.

2. Big-game performances don't get much larger than the one delivered bv San Bernardino Cajon junior Damontrae Kazee during a 29-20 victory Friday against Colton (5-2, 3-1). Kazee scored three touchdowns, recovered three fumbles and had an interception to lead the Cowboys (5-2, 4-0) into sole possession of first place in the San Andreas League. Kazee, whose brother, Walter Kazee, is a running back for San Diego State, returned the opening kickoff 99 yards for a touchdown, caught a 30-yard touchdown pass later in the opening quarter and returned a fumble 25 yards for a score in the third to give Cajon a 22-13 lead.


October, 17, 2010
10/17/10
10:00
PM PT
By
Dan Arritt
| ESPNLosAngeles.com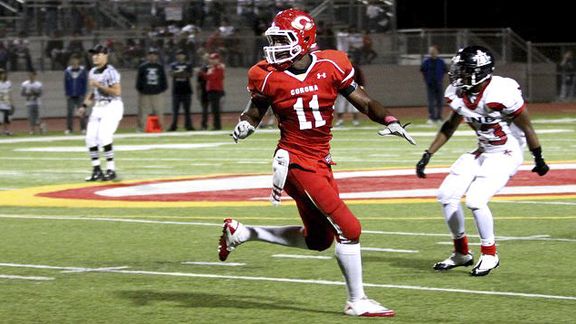 Courtesy of William Zastrow
Corona's DeVante Wilson says he has been a USC fan his entire life.
It was a phone call Corona High defensive end
DeVante Wilson
had envisioned ever since he watched USC running back
Reggie Bush
shatter the Pac-10 Conference record for total yards from scrimmage.
On the other end of the line was USC coach
Lane Kiffin
. He wanted Wilson to be a Trojan. The message arrived on the night of Oct. 8, shortly after Corona defeated Riverside North in a Big VIII League game.
Kiffin told Wilson he liked his speed off the edge. They were impressed with his ability to rush the passer and contain his side of the field.
Wilson wanted to shout at the top of his lungs.
"I felt like a little kid," Wilson said. "I've always been a USC fan."
As much as he wanted to accept the offer, Wilson is intent on enjoying the entire recruiting process. He toured Arizona last month and spent last weekend in Nebraska watching the Cornhuskers lose to Texas.
He plans to make an official trip to USC when the Trojans host Notre Dame over Thanksgiving weekend and announce his college choice shortly after.
October, 14, 2010
10/14/10
8:00
AM PT
By
Dan Arritt
| ESPNLosAngeles.com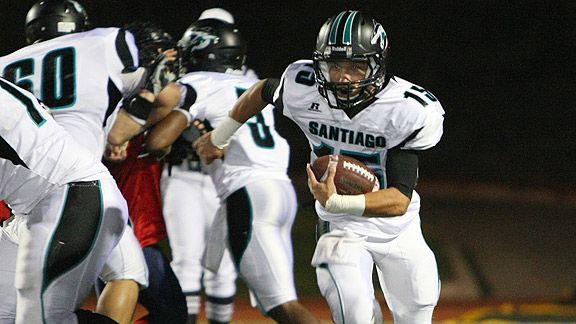 Courtesy of Devin Berry
Corona Santiago sophomore quarterback Michael Darr (No. 15) will try to keep the Sharks in the hunt for a Big VIII League title when they host Norco on Friday night.
No rest for the weary in the Big VIII League.
While a number of schools are just entering league play this week, the Big VIII is preparing for Round 3.
"This is the new black-and-blue league," said Riverside King coach
Ken Mushinskie
.
On the slate Friday are two particularly good ones. Norco (1-1 in league) plays at Corona Santiago (1-1) and King (1-1) travels to Corona (2-0).
All four teams need a victory to keep pace with Corona Centennial (2-0) and stay in the hunt for one of the league's four automatic playoff berths. Eastvale Roosevelt is also 1-1.
"We're in a must-win," Norco coach
Todd Gerhart
said.
Both game are scheduled to begin at 7 p.m.
Three more to see:
October, 11, 2010
10/11/10
8:00
AM PT
By
Dan Arritt
| ESPNLosAngeles.com
1. After an upset-filled weekend in the Big VIII League, only two of the eight teams remain unbeaten in league play. Corona Centennial and Corona are each 2-0, followed by Norco, Eastvale Roosevelt, Corona Santiago and Riverside King at 1-1. With only four teams receiving automatic qualifying berths into the Inland Division playoffs, the four teams tied for third are quickly facing must-win situations this week. The same goes for the eight-team San Andreas League, which is part of the Central Division. Colton and San Bernardino Cajon are 2-0, followed by four teams at 1-1.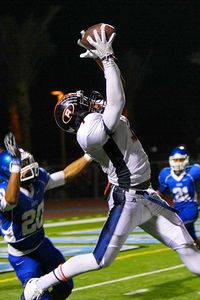 Courtesy of Paul Moureaux
Eastvale Roosevelt receiver Sam Boyd goes up for a catch Friday night during a 24-21 upset against host Norco in a Big VIII League game.
2. Payback was the theme in the Mt. Baldy League. Ontario ended a six-game losing streak against host Ontario Chaffey with a resounding 38-14 victory Thursday night in what is dubbed the annual Cat Bowl.
Joseph Davis
returned the opening kickoff for a touchdown and later caught a 72-yard scoring pass to lead the way for Ontario. The following night, Montclair ended a three-game losing streak to Chino Don Lugo with a 17-13 victory at Don Lugo.
3. Defensive effort of the week goes to Menifee Paloma Valley, which limited high-scoring Bloomington to just 151 total yards in a 38-14 victory Friday night at Bloomington, including only eight yards in the second half. The Bruins came in averaging 266 yards and 30 points a game.
Fahad Al-waiely
, a 5-foot-6, 190-pound linebacker, led Paloma Valley with 11 tackles and linebacker
Caleb Ennis
had seven tackles and 1 ½ sacks.
October, 8, 2010
10/08/10
11:40
PM PT
By
Dan Arritt
| ESPNLosAngeles.com


NORCO -- The Big VIII League strikes again.

Just when the pecking order was beginning to take shape, another team comes along and jumps in the race.

This time it was Eastvale Roosevelt, which showed it belongs in the upper echelon of Big VIII teams after upsetting Norco, 24-21, on Friday night at Norco High.

The Mustangs (4-1), ranked 10th in the Inland Empire by ESPNLA.com, took their final lead on a one-yard keeper by quarterback Aaron Crone with 10 minutes 36 seconds remaining, then stopped the No. 2 Cougars on downs with 4:47 left.

"This is a big win," said tight end Sam Boyd, who set up the final touchdown with a 28-yard reception to the Norco one-yard line. "We needed it after losing to [Corona] Santiago last week."

Santiago turned around and lost to Riverside King, 42-35, on Thursday night. Norco (4-1) travels to Santiago next week.

"We're in a must-win next week, that's for sure," Norco coach Todd Gerhart said.


October, 7, 2010
10/07/10
11:20
PM PT
By
Dan Arritt
| ESPNLosAngeles.com
RIVERSIDE -- Todd Handley couldn't be stopped for Riverside King on Thursday night. Neither could teammate T.J. Hickman.
Together they combined for 367 rushing yards and all six touchdowns as the Wolves knocked off Corona Santiago, 42-35, in a Big VIII League game at King High.
Handley finished with his third 200-yard effort of the season, totaling 223 yards in 28 carries and scoring four touchdowns. Hickman had 129 of his 144 yards and both touchdowns in the second half.
The Wolves (4-2) appeared to have the game in hand after 21 unanswered points in the second half to take a 35-14 lead with 11 minutes remaining in the game.
However, the Sharks didn't fold, scoring three touchdowns in a three-minute span late in the fourth quarter to pull to within seven points. Handley then fumbled for the second time with 1:17 remaining and Santiago took over at its own 38-yard line.
The Sharks,
ranked fifth in the Inland Empire
by ESPNLA.com after wins this season against Chino Hills and Eastvale Roosevelt, drove to within striking distance, but Handley intercepted a pass in the end zone as time expired to seal the victory.
Santiago sophomore quarterback Michael Darr did not start the game because he missed practice all week because of flu, Santiago coach Jeff Steinberg said, but he entered late in the second quarter and led the Sharks on a scoring drive that tied the score, 14-14.
Darr finished 20 for 37 for 274 and two touchdowns.
The Sharks (2-3) were also without one of their best defenders, linebacker Ejro Ederaine, who had to sit out because he was ejected from last week's game against Roosevelt.
*****
The video highlights above include a pair of long runs by Handley and Hickman. Handley also discusses the victory, how his 44-inch vertical leap came in handy and his recruiting situation.
September, 27, 2010
9/27/10
10:00
AM PT
By
Dan Arritt
| ESPNLosAngeles.com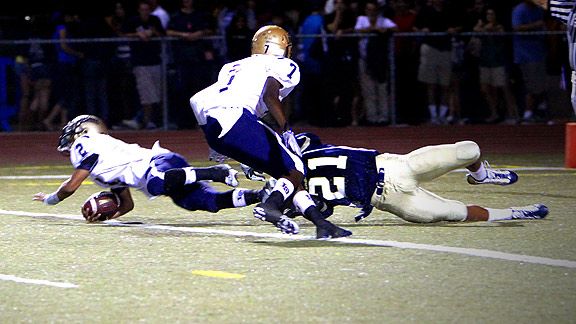 Courtesy of Charlene Bradley
Vista Murrieta sophomore linebacker Sua Cravens (21) takes down Los Osos quarterback Kori Grant for one of his six negative carries in a 30-7 victory by the Broncos.
1. The Big VIII League just finished demonstrating why it clearly has the strongest group of teams in the I.E. In the marquee game Friday night, Corona Centennial looked dominant – again – in a 45-12 victory against host Temecula Chaparral, the defending Southern Section Inland Division champion. Norco, ranked No. 4 in the same division, traveled to No. 3 Upland and easily won, 35-21. Riverside Poly defeated Perris Citrus Hill, ranked No. 8 in the Eastern Division, 32-22, and host Corona knocked off Palm Springs, ranked No. 1 in the Central Division, 35-14. The loss by Palm Springs, which ended an 11-game winning streak, was the most unexpected of the bunch. "They were faster than us, they were quicker than us and they were stronger than us," Palm Springs coach
Steve Fabian
told The Desert Sun. "But we made up for it by not tackling."
2. Corona Centennial and Vista Murrieta came into the season with experienced quarterbacks at the wheel of super-charged offenses. A note to future opponents: They can also play defense. Centennial has allowed just one offensive touchdown in each of its first three games, the last two against Mater Dei and Chaparral. Vista Murrieta has improved with each game, limiting Los Osos of Rancho Cucamonga to minus-2 yards rushing Friday night in a 30-7 victory. The Grizzlies scored their only touchdown on a 90-yard kickoff return and didn't cross the Broncos' 40-yard line until the fourth quarter.