Los Angeles Preps:

Billy Tucker
November, 29, 2011
11/29/11
6:33
PM PT
By
Sean Ceglinsky
| ESPNLosAngeles.com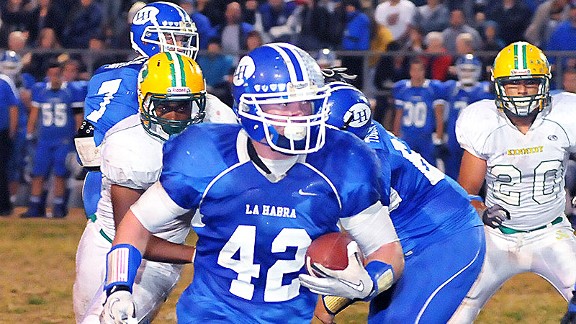 Courtesy of Arnold LeosAaron Porter is a four-year varsity player for La Habra, which has won four section titles in a row.
LA HABRA -- Since his days as a wide-eyed youth, dating to well before age five,
Aaron Porter
has been closely associated with La Habra football.
Years later, little has changed. The senior linebacker is still a fixture in the grand scheme, and has successfully emerged this season as one of the Southland's premier prospects at his position.
The Highlanders, naturally, have followed suit in terms of on-field success.
Porter & Co. head into Friday night's CIF-Southern Section semifinal playoff game against Lake Forest El Toro with plenty of momentum as a result. A victory, in fact, is the only thing separating the Highlanders from an appearance in the Southwest Division championship game and the opportunity to secure a rather remarkable fifth consecutive section title.
"What can I say about Aaron Porter, tell me, how much time do you have? There is plenty to talk about with him, he is a special kid,'' La Habra coach
Frank Mazzotta
said. "He means everything to this team and school. Aaron is a leader through and through.''
To gain a better understanding of where Porter, a potential UCLA commit, is heading, perhaps it is best to take a quick look back at his Highlanders roots.
His father,
Tony Porter
, took a position on the coaching staff at La Habra close to 14 years ago, right around the time Mazzotta was hired. Not surprisingly, son Aaron tagged along for the ride while Dad attended to his defensive coordinator responsibilities.
"We always knew Aaron would end up at La Habra, that's all he knew growing up,'' Tony Porter said. "I like to think that I have seen a lot of good players come and go over the years. Aaron is a student of the game, so I'm sure he remembers all those guys too.''
November, 22, 2011
11/22/11
10:16
PM PT
By
Sean Ceglinsky
| ESPNLosAngeles.com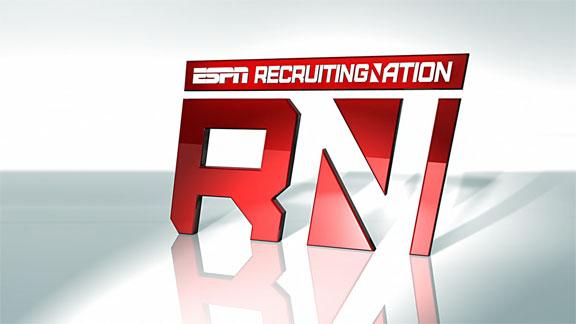 UPLAND --
Kenny Lawler
emerges from the huddle at midfield, and immediately, the receiver hustles over to his position on the outside. The first order of business for the senior from Upland is taking a quick glance through his facemask to see what the defense has in store for him.
A cornerback moves right up in front of Lawler, seemingly with the intent to somehow disrupt the route with bump-and-run coverage. A linebacker takes a step to the immediate left, presumably in an effort to help slow down the burst of speed he possesses. A safety proceeds to roll over to his side of the field as well, in what figures to be an attempt to double-team him over the top.
[+] Enlarge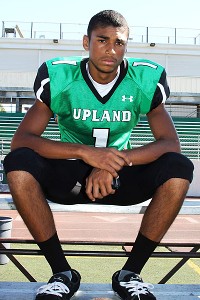 Upland High School Kenny Lawler committed to Arizona State months ago, but is still taking recruiting trips.
No big deal. Lawler has seen plenty of this pre-snap shuffling in the not-so- distant past. Gimmick-type schemes designed around stopping him is something that simply comes along with territory, especially when you are considered as one of the Southland's premier players at the position.
"I don't think anything surprises me anymore. Honestly, nothing does,'' Lawler said.
With the ball set in motion, a stutter step at the line of scrimmage creates much-needed separation. A head-and-shoulders fake by Lawler freezes the would-be tackler at the second level. A sprint toward the end zone follows as he blows by the last line of defense in the secondary.
Lawler is celebrating seconds later, having hauled in another highlight-reel worthy touchdown catch. The opponent looks on, of course, wondering about what could have been.
Odds are, the 6-foot-3 and 185-pound senior will be in a similar situation in Friday's Southern Section Inland Division playoff game against Covina Charter Oak. And if the Highlanders hope to make a postseason run, Lawler must continue to excel in his role of being the difference-maker.
"I know I have a target on my back, I'm cool with that, it's a sign of respect,'' Lawler said. "My goal is to work hard, and when teams try to stop me, that's motivation. Nothing in life is easy. You'll never be able to accomplish anything if there isn't some kind of challenge put in front of you.''
Overcoming obstacles has become commonplace for Lawler considering playing time on the varsity level was difficult to come by in his first two years with the Highlanders. They were loaded with talent during his freshman and sophomore seasons. Nevertheless, Lawler managed to persevere.
When the opportunity to contribute on a more consistent basis presented itself as junior, he made sure to take advantage. And then some. Lawler emerged as the go-to-guy for Upland and finished with 42 catches for 887 yards, a 21 yards-per-catch average. He also had nine touchdowns.
November, 1, 2011
11/01/11
5:54
PM PT
By
Sean Ceglinsky
| ESPNLosAngeles.com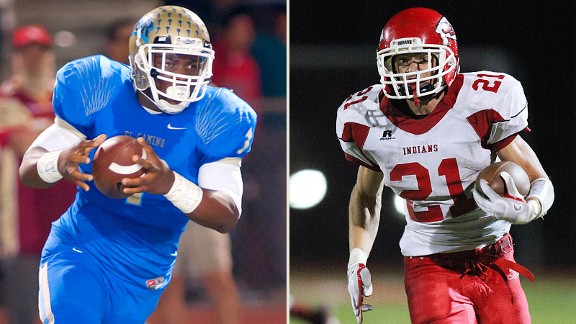 Dustin Jack Photography, Courtesy of Dwight KimRunning back Kawan Rally, left, of El Camino Real, and Zander Anding of Burroughs, are gaining attention with their big numbers.
LOS ANGELES --
Kawan Rally
who?
Zander Anding
what?
If their names sound unfamiliar, fear not. You are not alone.
Make no mistake, both running backs are not nearly as well-known as some of their more high-profile peers from the Southland. Nevertheless, Rally from Woodland Hills El Camino Real and Anding from Burbank Burroughs are a pair of seniors worth remembering.
In terms of statistical performances this season, each is in the midst of an eye-opening effort. Rally and Anding, in fact, are on the verge of stealing the spotlight from their more publicized counterparts at the position.
"People don't talk about me all the time, but that's cool, I go out there and let my play do the talking for me. That's how you get everyone's attention,'' Rally said.
All signs point to his strategy paying off. Eventually.
Rally leads California in rushing, having surpassed the 2,000-yard plateau with 327 yards on the ground and four touchdowns in last week's 49-20 victory over Chatsworth. The 5-foot-10, 220-plus pound tailback has 2,033 yards in 193 carries this season, a 10.5 yards-per-carry average. He also has 27 touchdowns.