Los Angeles Preps:

Bolsa Grande
October, 25, 2011
10/25/11
4:29
PM PT
1. A week after a stunning fourth quarter comeback -- down 28-0 -- Aliso Niguel might have had El Toro right where it wanted. Well, not really. The Wolverines were no match for El Toro, which scored 27 points in less than six minutes in the second quarter en route to a 47-0 Sea View League victory. Jacob Furnari and Conner Manning led the way for El Toro (7-1, 2-0). Furnari had 20 carries for 286 yards -- more than half of the 534 he had gained though the first six games -- and three touchdowns; Manning completed 12 of 20 passes for 209 yards and four touchdowns. Aliso (5-2, 1-1), which was ranked No. 10 in the Southwest Division going into the game, isn't ranked now. El Toro is ranked No. 5, but another Sea View team, Laguna Hills (6-0, 1-0), is No. 4. Don't let the rankings throw you; El Toro is the team to beat. They play in the season finale on Nov. 11.

2. Anything can happen, but it's unlikely, and that means that Huntington Beach should have secured a place in the Pac-5 playoffs with a 35-7 Sunset League victory over Newport Harbor. It's the program's first victory over the Sailors since 1991 -- back when Tony Gonzalez was at the school -- as Michael Chislock ran for two touchdowns and passed for two more; he threw for 356 yards. The Oilers' next two games are against teams expected to finish ahead of them in the standings, Edison and Los Alamitos, before finishing with Fountain Valley.

3. For the same reason, Tesoro's victory over Trabuco Hills (5-3, 0-2) was huge. The Titans (5-2, 1-0) should have punched their ticket into the playoffs with a decisive 26-14 South Coast League victory. They should secure at least third place in the five-team league, contending with No. 9 San Clemente (8-0, 2-0) and No. 8 Mission Viejo (5-2, 1-0). Maybe the biggest statistic of the night was Tesoro holding Trabuco Hills running back Mitchell Simonsen to 14 yards on eight carries; he had been averaging more than 140 yards per game. Also big was the commitment to the ground game by Tesoro; Nate Tago carried 20 times for 134 yards and a score, and Blake Rodgers carried 11 times for 100 with two touchdowns. Matt Adam attempted only 10 passes (three of 10, 27 yards. The constant pounding paid dividends; Tesoro led at halftime, 6-0.


October, 10, 2011
10/10/11
4:48
PM PT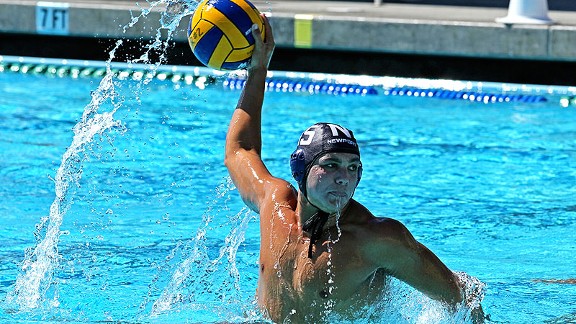 Courtesy of Doug StevensFarrell South helped lead Newport Harbor's boys' water polo team to a tournament title over the weekend.
1. Behind
Farrell South
and
Koby Yokota
, Newport Harbor won its first tournament championship under first-year coach
Robert Lynn
with a 9-7 victory Saturday over rival Corona del Mar in the S&R Sport Southern California Water Polo Tournament. South scored three goals, and Yokota had 11 saves as the Sailors (13-1), No. 2 in the Southern Section Division 1 rankings, turned in a strong defensive effort in the first half to beat Corona del Mar (11-3), the top-ranked team in Division 2. The final four were the usual suspects; Los Alamitos won the third-place game over Coronado, 13-5, behind
Andrew Reynolds'
four goals.
2. Trabuco Hills no longer has
Grant Oshier
on its cross country team, but his graduation didn't leave the cupboard bare. The Mustangs won the Championship Division team title the Clovis Invitational in Fresno, and it wasn't even close. Led by
Jared Hazlett
(15:23), who took eighth-place on the 3-mile Woodward Park course, Trabuco scored 59 points, followed by Long Beach Poly (122), Dana Hills (124) and El Toro (141). Trabuco runners
Naoki Omatsu, Nicholas Plumb, Kevin Marshall
and
Lucas Dorman
finished 11, 12, 14 and 22, respectively. The top local finisher was fourth-place
Kevin Durham
(15:18) of El Toro, 17 seconds behind
C.J. Albertson
of Clovis Buchanan.
Paige Tennison
of Newport Harbor was the only Orange County girl to crack the top 10; her 18:06 was 44 seconds behind the winner. Canyon took second place in the Championship race, and Trabuco fifth. San Clemente won the Division 1 title for extra-large schools.
3. Newport Harbor has one of the best girls' volleyball teams around, but after a brutal week it has nothing to show for it in Sunset League play. The Sailors -- ranked No. 4 in the Southern Section Division 1AA rankings -- were beaten last week by top-ranked Los Alamitos in four games, and then fell Saturday on their home floor to third-ranked Edison, 21-25, 25-23, 25-21, 25-23, behind the play of
Alexa Hasen
and
Cassie Strickland
. The Sunset League in girls' volleyball -- the equivalent of Trinity League football -- will have a major showdown Thursday when Edison plays host to Los Alamitos at 4:30 -- about 2 1/2 hours before the football teams play.
October, 4, 2011
10/04/11
3:53
PM PT
Bolsa Grande knows what it's like to lose football games. The Matadors lost 45 of them from 1993 to 2003. However, they won't be breaking that record any time soon. Over the weekend, Bolsa snapped a 25-game losing streak.

The manner in which they won was surprising. After scoring only 12 points through three games -- getting shut out twice -- the Matadors scored a 53-29 victory over Orange.

Bolsa scored twice on fumble returns, of 55 yards by Justin Nguyuen, and 48 yards by Elias Hernandez, who also rushed for 78 yards and three touchdowns. The Matadors took a 20-7 lead in the first quarter, and outscored Orange in the third quarter, 19-7.

Their previous victory was 10-7 over Rancho Alamitos in 2008, a season in which Bolsa finished 4-6 overall.

The Matadores will try to make it two in a row on Friday at Estancia High when they take on Santa Ana Calvary Chapel. During that 2008 season, Bolsa Grande defeated Calvary Chapel, 21-8, before losing 27 of the next 28 games.