Los Angeles Preps:

Brandon Ashley
December, 20, 2011
12/20/11
10:32
AM PT
By
Sean Ceglinsky
| ESPNLosAngeles.com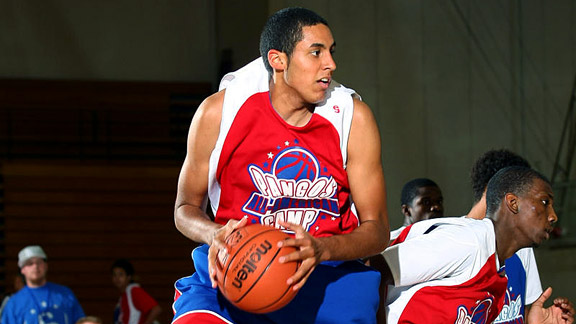 Nick KozaGrant Jerrett of La Verne Lutheran -- and his big, agile frame -- are headed to Arizona.
LA VERNE -- At 6-foot-10 and 220 pounds, and potentially growing,
Grant Jerrett
possesses the size necessary to make an impact each time he steps out on the basketball court. There is more to him than merely an ideal frame for the game though. Much more, in fact.
The senior from La Verne Lutheran is as skilled as they come.
A well-rounded interior game separates Jerrett from most of his peers. A deft touch from the perimeter, especially for a post player, makes him a match-up nightmare for opposing bigs. An unrelenting will to grab seemingly every rebound from counterparts in his general vicinity is a valuable asset. Blocking shots and stepping in passing lanes for steals comes naturally.
[+] Enlarge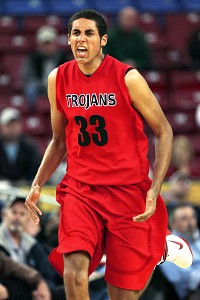 Nick KozaJerrett caught the eye of many Pac-12 schools, including UCLA and USC.
All of the intangibles are there, and given that fact, the Arizona-bound Jerrett is recognized as one of the Southland's premier players. The Trojans, as result, figure to be a force to be reckon from start to finish this season. With Jerrett leading the way, of course.
"Grant gets better with each day, with every practice, every game, every jumper, every rebound. He's a special player,'' La Verne Lutheran coach
Eric Cooper
said. "The best is yet to come. Once he realizes that he can dominate games, everybody better watch out for him.''
Make no mistake, Jerrett has been a well-known commodity for quite some time. He has, after all, been at the forefront of back-to-back CIF State titles for the Trojans.
Jerrett & Co. are expected to be one of the marquee attractions at the Chick-fil-A Classic, a high-profile multiple-day tournament the rest of this week in Decatur, Ga.
There was, however, a time when he wasn't a household name.
Jerrett is in his fourth year as a contributor on the varsity level for La Verne Lutheran. His first season, unfortunately, was cut short when he broke his foot twice.
He took a big step forward during as a sophomore, no pun intended. Jerrett opened plenty of eyes with more than respectable averages 18 points and 10 rebounds per game.
"Everything happens for a reason, I'm just thankful all of those injuries are behind me and I'm healthy now,'' Jerrett said. "I feel stronger than ever, which is a good thing because I know I have a big target on my back nowadays. I'm always up for the challenge though.''
That was blatantly obvious last season as a junior. Jerrett was unstoppable, at times, and averaged 18 points, 10 rebounds and more that three blocks every night.
March, 26, 2011
3/26/11
7:20
PM PT


SACRAMENTO -- Kevin Payne sank the shot of his life and pointed to the sky. That one was for his fallen father. Twenty seconds later, another dagger, and Payne pointed to the stands. That one was for his mother, who was there to console him.

Payne's back-to-back threes propelled La Verne Lutheran to a 64-59 win against Oakland Bishop O'Dowd in the CIF State Boys Division III championship Saturday afternoon, securing the Trojans' second consecutive title.

"This means everything to me," said Payne, whose father, Kevin Payne Sr., died in August. "This is a storybook ending. It feels like a fairy tale right now. From everything we've gone through and me personally, with everything I've gone through, sometimes I felt like quitting, and my [teammates] would not let me do it."

Payne had taken the place of starter Xavier Jones, who left for the hospital after his defibrillator began buzzing in the early minutes. Jones wears a defibrillator to monitor his heart rate.

"I got him out of there quickly," said Lutheran coach Eric Cooper, who in November saved Jones' life by administering CPR after the player had collapsed in practice. "He looked concerned."

The game went on after Jones left Power Balance Pavilion. The teams came out cold to start, shooting a combined 31 percent (eight for 26) in the first quarter. Brandon Ashley had six of the Dragons' eight first-quarter points; Grant Jerrett and Bruce English, with four apiece, combined for Lutheran's eight. They settled down in the second -- Lutheran made eight of 12 shots, O'Dowd five of 10.

The Trojans (26-5) scored the last seven points of the first half to go up 26-21. But O'Dowd emerged from the locker room a different, more inspired team, using a 10-0 run at the start of the third to go in front. The Dragons scored 24 points in the third after getting 21 in the entire first half.

"We showed who we really are," O'Dowd coach Doug Vierra said.

Lutheran, which trailed by as many as eight, responded with a 12-4 run to open the fourth. They regained the lead, 54-51, on a three from Cameron Osorno, whose 16 key points off the bench tied him for the team lead with Jerrett, the top-rated forward in the 2012 class. Ashley had a game-high 26 for O'Dowd (25-7) -- which fell in the Division III state title game for the second straight year -- before fouling out in the final minute.

The Trojans trailed, 59-58, with 1:24 left before Payne's unexpected heroics.

"As soon as I took both of them I knew they were going in," Payne said. "I just had the confidence and I believed. There's an angel watching over all of us."
March, 25, 2011
3/25/11
4:15
PM PT
CIF STATE BOYS DIVISION III

Matchup: La Verne Lutheran (25-5) vs. Oakland Bishop O'Dowd (25-6), Saturday, 2:45 p.m.

How they got here: Lutheran: beat University City, 60-58; Orange Lutheran, 75-58; Harvard-Westlake, 61-45; La Caņada, 57-47 to win the Southern California Regional.

Bishop O'Dowd: beat Foothill Sacramento, 72-49; Sacred Heart Catholic, 74-61; San Marin, 52-49; El Cerrito, 50-32 to win the Northern California Regional.

Key Players: Grant Jerrett, a junior who has committed to Arizona, is Lutheran's top threat at 17.3 points per game. The center has a strong skill set in the paint and can sink jumpers from any spot along the baseline. Guard C.J. Cooper, who will play at Texas El Paso next season, compliments Jerrett well. Brandon Ashley, a top forward prospect in the 2012 class, leads Bishop O'Dowd with a 13.7 points average. Teammate Richard Longrus isn't far behind at 11.8.

What to expect: The intrigue lies in the juicy Jerrett-Ashley matchup. ESPNU rates Jerrett as the top forward in the 2012 class; Ashely comes in at second. Jerrett is the sixth-best prospect; Ashley is the seventh-best. They're both listed at 6 feet 8 and a bit over 200 pounds. With it being such a close call up front, their teammates might make the difference. La Verne Lutheran won the Division V state championship last year. Bishop O'Dowd seeks redemption after falling to Gardena Serra in the Division III title game last year.
December, 28, 2010
12/28/10
4:51
PM PT
By
Dan Arritt
| ESPNLosAngeles.com
Corona Centennial will be up against one of the nation's top juniors when the Huskies tip off today at approximately 5:25 p.m. in the prestigious National Division at the Holiday Classic boys' basketball tournament at Torrey Pines High School.
Brandon Ashley
of Bishop O'Dowd High in Oakland, a 6-foot-9, 220-pound power forward, is being wooed by nearly every major basketball program in the country.
At a home game last week, head coaches from California, Washington and Kansas sat courtside. Ashley led Bishop O'Dowd to the Division III state finals last season, where they lost to Gardena Serra in overtime.
Ashley is
ranked by ESPN
as the 10th best prospect in the class of 2012, and the second-best power forward.
Centennial beat Oakland, 82-74, in its first-round game Monday, getting 35 points from senior point guard
Gelaun Wheelwright
, who signed with Weber State last fall after earlier committing to USC.
Rialto Eisenhower, Murrieta Valley, San Bernardino and Chino Hills Ayala dropped into the loser's bracket with losses Monday in their respective divisions.
Rancho Cucamonga Los Osos knocked off Los Angeles Pacific Hills, 54-45, in the Senator's Division at San Diego Cathedral Catholic and advanced to play Cerritos Gahr today at 3:50 p.m. Complete brackets and results can be found
here
.
Over at the Oaks Christian tournament in Westlake Village, Etiwanda won its first-round game against La Jolla Country Day, 58-42.
The Eagles, the
top-ranked team
in the Inland Empire, advanced to play another I.E. power, Moreno Valley Rancho Verde, today at 4 p.m. in a quarterfinal game.
March, 25, 2010
3/25/10
5:06
PM PT
Stephen Autry promised Gardena Serra coach Dwan Hurt that if the Cavaliers made it to the state finals in Bakersfield, he'd be there to cheer on the team.

Unfortunately, just before the playoffs began, Autry, the father of Serra guard Vaughn Autry, died after complications from leukemia led to heart failure.

Serra is going to Bakersfield, representing Southern California in the Division III title game against Oakland Bishop O'Dowd, and Hurt says he believes Stephen Autry will be there in some form or another.

"He told me he'd be there and I know for sure he'll be there," said Hurt, who had his team dress in black uniforms for the Southern California final as a tribute to Autry. "We're going to see our friend and we're going to try to win it for him."

The Cavaliers (34-2) are also trying to make history. A victory would make the school the first to win state titles in football and basketball in the same school year. Serra won the Divison III football title in December.

"I'm a person who likes to go get it," said forward George Farmer, one of three Cavaliers players who were on the football team. "You saw us go get it in football and we're going to go get it in basketball. It's just the desire and the will to win."

Bishop O'Dowd (30-3) is on a 22-game win streak and is led by 6-foot-8 sophomore forward Brandon Ashley so if Serra is to win its first state title since 1993, the Cavaliers will have to stop him.

O'Dowd lost to Woodland Hills Taft, 53-46, and Price, 62-49, in back-to-back games in late December. Serra lost to Taft, 71-64 on Jan. 30 and defeated Price, 78-75 on Jan. 16.