Los Angeles Preps:

Bruce Rollinson
October, 6, 2011
10/06/11
6:40
PM PT
Before it played Edison and scored a thrilling 22-20 victory over Edison last week, there was a moment of silence for former Mater Dei lineman
Tyler Nicholas Holtz
.
His brothers stood on the sidelines with a U.S. Army detail assigned to stay with them during the time of their loss. What they saw was a team that could have been 4-0 finally win its first game -- on the last play of the game.
[+] Enlarge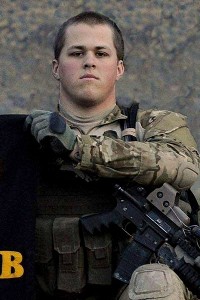 U.S. ArmyTyler Holtz was an offensive and defensive lineman for Mater Dei. He graduated in 2007.
Holtz, of Dana Point, was killed on Sept. 24 in the Wardak province of Afghanistan. He was 22.
A 2007 graduate of Mater Dei, Holtz was an offensive and defensive lineman who joined the United States Army after high school. He became an Army Ranger, and was a team leader when he was killed in a small arms firefight.
The death of Holtz, a member of Company B, 2nd Battalion, 75th Ranger Regiment based in Joint Base Lewis-McChord, Wash., was used as a teaching point during the week, and it clearly meant something to coach
Bruce Rollinson
.
Mater Dei has a history with the military; it annually raises funds or does work through its
Monarchs For Marines foundation
.
Before the game, school president
Pat Barrett
took Mater Dei's winless season in stride. "This is a football game," Barrett said. "The young man who died, that's important."
August, 25, 2011
8/25/11
7:38
PM PT
After reaching the semifinals in the Southern Section Pac-5 playoffs, one was left with the feeling that Mater Dei had a pretty good season. It has been a while since the Monarchs have been to the finals, 2002, but they're a great program with great tradition; Southland football always benefits when Mater Dei is one of the teams to beat.
Incumbent upon success this season is getting the most out of its nonleague games. It has fewer returning starters than No. 17 Orange Lutheran and No. 13 St. John Bosco, and the Trinity League is no place to learn on the job.
Mater Dei's first three opponents — Carson, Corona Centennial and San Clemente — are all highly regarded, and the fourth game is against a solid Edison program.
"We have to come out strong and grow and gain confidence during the preseason," said coach
Bruce Rollinson
, whose program is 206-59-2 and has won five section titles in his two-plus decades at the helm. "The experienced players must carry us early as the young ones grow. And we've got a few young ones.
"The young players must play up to their potential, which we feel is very good, and they have to make contributions."
Here is a closer look at the Monarchs:
Team:
Mater Dei
Coach:
Bruce Rollinson, 22nd year
2010 Record:
8-5, lost to Mission Viejo in semifinals of the Southern Section Pac-5 playoffs.
Returning starters:
10 total. Six on offense, four on defense.
Key players on offense:
TE Josh Cook, RB Freddie Mora, OT Youcheng Cho, WR Thomas Duarte, WR Jameson Field.
Key players on defense:
LB Ricky Ortiz, ILB Joseph Campos, ILB Anthony Topete, CB Jonathan Lockett
Difference maker:
Mora showed flashes of being a terrific runner in the early going last season, then got hurt. If it turns out that he is the runner that Mater Dei needs, and can take some of the pressure off the quarterback, then the Monarchs have a fighting chance.
Newcomers
: QB Ryan McMahon
Not to be missed:
Servite vs. Mater Dei at Angel Stadium, Nov. 4. If everything goes right for both teams — and that's a huge proposition — the bitter rivals could essentially be playing for the league title going into the penultimate week of Trinity League play. After beating Servite for 20 straight years, Mater Dei has lost two in a row. To win a title, it almost certainly can't let the streak reach three.
Coach's comment:
"We can't beat ourselves so we have to be fundamentally sound and execute, and as the season goes on we can expand the package—especially on offense," Rollinson said. "Needless to say, we have to stay healthy."
Final analysis:
The likelihood is that Mater Dei is as good as its quarterback. The Monarchs have had a run of good ones (Matt Leinart, Matt Barkley, Max Wittek) and if McMahon — who had been the freshman and JV starter — is as good as many think he will be, Mater Dei could be in business. But in the Trinity League and the Pac-5, it's a tough business. He'll have to earn everything he gets. So will the teammates around him.
December, 3, 2010
12/03/10
11:47
PM PT
By
Martin Henderson
| ESPNLosAngeles.com
SANTA ANA – Mission Viejo and Mater Dei, who have played such an important role in Orange County football over the past two decades, met for the first time in a playoff game on Friday and delivered terrific drama.

For a half.

But as has been the case all season, you've got to roll for four quarters to keep up with top-seeded Mission Viejo, which overcame an early deficit and scored a 42-21 victory in the Southern Section Pac-5 semifinals at Santa Ana Stadium.

The Diablos (13-0), who have been part of a season-long debate involving Servite as to who is No. 1, have done their part. They will be in the finals next Saturday at Angel Stadium. On the other sideline will be second-seeded Servite (12-0) or third-seeded Alemany (12-0), which play Saturday night at Cerritos College.

The opening moments of the game were fantastic. Mission Viejo needed only three plays to score, with Alex Bridgford passing to Austin Reuland for a 53-yard scoring pass.

Then Mater Dei (8-5) scored in two plays as Freddie Mora scored from 17 yards after Treavon Coley returned the kickoff 52 yards.


November, 12, 2010
11/12/10
11:33
PM PT
By
Martin Henderson
| ESPNLosAngeles.com
MISSION VIEJO – If anyone ever doubted Harry Welch's will, he showed it on his team's first possession Friday against Mater Dei. Facing a fourth-and-one situation at its own 39-yard line, Santa Margarita's offense went for it.

And made it.

It was a statement, a bold one en route to a 17-7 Trinity League victory that gave the resurgent Eagles second place in league. Just a season ago, Santa Margarita (8-2, 4-1) failed to win a league game for the first time in school history, and it had only one league victory the past two seasons.

And then it hired Welch, who won eight Southern Section titles and two state bowl championships with Canyon Country Canyon and St. Margaret's. His simple offense and defense proved successful against all but one team in the Southern Section's toughest league. That one team was Servite (10-0, 5-0), the defending Pac-5 and Division II Bowl champion that has won 21 in a row -- and the Eagles were within a touchdown of that team last week.

On that key fourth-and-one -- the Eagles hadn't even gotten a first down yet -- quarterback Adam Young's second effort on a sneak pushed forward enough to move the chains.

"God gave us four downs, who am I to say only use three," Welch asked rhetorically. "He says you have four, let's go with four."


October, 29, 2010
10/29/10
11:56
PM PT
By
Martin Henderson
| ESPNLosAngeles.com
ANAHEIM – It was a moment that came out of nowhere. Servite's struggling offense that had bogged down time after time when given opportunities to score by its defense, exploded in the second half on one brilliant play.

Malik Felton, pushed into the role of running back a week ago after an injury to Sean DeRosa, shocked Mater Dei and its fans Friday at Angel Stadium with a brilliant 87-yard run that ignited the Friars in a 21-14 Trinity League victory.

Felton finished with 23 carries for 188 yards and two touchdowns, and his stunning sprint – he cut back three times times en route to the end zone – marked the beginning of the end for hopes of an upset for Mater Dei (5-3, 2-1).

There's no telling how many potential recruits Servite (8-0, 3-0) may have won over with its first back-to-back victories over their rival since winning three in a row in 1986-88 – which preceded a 20-year winless streak against the Monarchs.

This victory validated last year's victory, and it will keep the Friars in position to win a sixth consecutive league championship. They will have to beat Santa Margarita (7-1, 3-0) next week at Saddleback College. Santa Margarita defeated St. John Bosco in overtime, 42-41.


October, 22, 2010
10/22/10
12:01
AM PT
By
Martin Henderson
| ESPNLosAngeles.com
SANTA ANA – Max Wittek put up the numbers, but the real heroes of Mater Dei's 28-14 victory over Orange Lutheran were the guys on special teams.

Three touchdowns came after long returns that set up short drives, and Mater Dei – ranked No. 14 in the ESPNLA top 25 – ended a five-game losing streak to its Trinity League nemesis. Now, if rival Servite (6-0, 1-0) can take care of business Friday against St. John Bosco (4-2, 0-1), it will set up a game next week at Angel Stadium with a share of first place at stake.

Wittek passed for three touchdowns and ran for another as the Monarchs (5-2, 2-0) won their fifth consecutive game. Lutheran dropped to 3-4, 0-2.

"They've had our number the past few years," said the USC-bound quarterback. "We came in very determined. Coach instilled it in us. We heard it all week. We were confident"

Wittek completed 14 of 20 passes for 178 yards with two interceptions. But he didn't have to be perfect on a night in which three scoring drives were for 47, 45 and 34 yards courtesy of Tyler Meglan, Victor Blackwell and Glen Raphael, respectively. Meglan returned the opening kickoff 47 yards, Blackwell answered Lutheran's game-tying touchdown (a 92-yard kickoff return by Will Gonzales) with a 48-yard return, and Raphael returned a punt 34 yards.

"They did a great job of getting out of our end of the field and into their end," Wittek said.


October, 3, 2010
10/03/10
9:54
PM PT
By
Sean Ceglinsky
| ESPNLosAngeles.com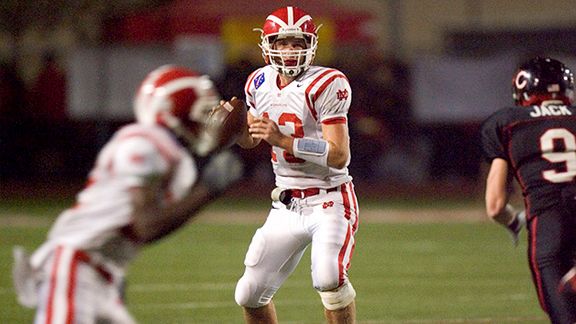 Larry Goren/Special to ESPNLA.com
Max Wittek says he makes it a point to never get too high after something good happens or too low after something bad.
SANTA ANA -- Some football players might shy away from the unenviable task of having to live up to the lofty expectations that come along with being anointed as the starting quarterback at Mater Dei High. Not
Max Wittek
. He has embraced the role.
The fact he's done so without reservation is all the more impressive considering the list of his predecessors, which includes a pair of former Heisman Trophy winners, no less. Most would agree that it takes a special individual to not be overly intimidated about having his name constantly compared to such a storied past of signal callers.
Apparently, Wittek has the makeup to get the job done and doing so in each of his two years on the job thus far is a good indication of that. Not surprisingly, the quarterback tradition is currently alive and well at Mater Dei and the 6-foot-4, 215-pound senior is largely responsible for making the others who came before him proud in that respect.
"Everyone likes to compare Max to the great guys that we've had play here, so really, all the talk is nothing new,'' Monarchs coach
Bruce Rollinson
said. "Stuff like that has been going on for years and years now and will continue happening in the future.''
The cast of quarterback characters Rollinson refers to includes, most recently,
Matt Leinart
,
Colt Brennan
and
Matt Barkley
. Each made his mark while slinging the ball around for Mater Dei over the course of the last decade, or so. During the early 1990s,
Billy Blanton
called the plays from underneath center for a while.
John Huarte
started it all when he was at the helm of the Monarchs' offense back in the mid 1960s.
Huarte and Leinart ended up winning collegiate football's most prized possession, the Heisman Trophy, in 1964 and 2004, respectively. Brennan was finalist for the honor in 2007. If Wittek needs some inspiration, he doesn't have to look very far to find it. One glance at the illustrious list of alumni figures to serve as plenty of motivation.
"I can tell you this much, it takes a special kind of person to play quarterback for us; it's a demanding position,'' Rollinson said. "It's one of those full-time job type of things. You have to be a student first, football player second and there's not much time for anything else. It's a total and complete commitment, always has been, always will be.
"There's certain kids that can't do what we ask, it's plain and simple. They'd rather ride skateboards, go to dances or get home from school and watch Oprah Winfrey. With Max, he's different. He has drive, the initiative, just like Leinart and Barkley did when they were around. Max has passion. He's dedicated, a perfect fit to run our system.''
October, 1, 2010
10/01/10
11:45
PM PT
By
Martin Henderson
| ESPNLosAngeles.com
COSTA MESA – The defense, Mater Dei coach Bruce Rollinson said earlier this week, would have to carry his team this season. On Friday night, the Monarchs put their backs into it. Led by Miguel Sandoval, Joseph Schmidt and two turnovers in the first three minutes that led to quick touchdowns, Mater Dei won for the second week in a row against an ESPNLA.com top 25 opponent.

This time the Monarchs defeated No. 15 Edison, 27-7, in a nonleague contest that was never in doubt. Not after the start that the Mater Dei got.

"They're going to talk about Max Wittek and Victor Blackwell, and deservedly so, but we were rocking on defense,"Rollinson said. "The interception was huge, we had a bunch of sacks, put pressure on Chase (Favreau) the whole night -- he never got comfortable, and I commend him for going, the word is he didn't practice all week (because of a sprained ankle).

"I challenged both fronts, and I challenged the defensive line right before we came out to make something happen and they did. . . . You hold them to seven points, that's a heck of a defensive effort."

There were two sacks, but three other plays in which Favreau -- who transferred from Mater Dei (2-2) to Edison (3-2) -- was tackled for a loss. After the interception, the defense forced a Favreau fumble that also set up a short score, and it limited the potent Edison offense to 120 yards -- 33 came on the final series as it ran out the clock.


October, 1, 2010
10/01/10
9:38
AM PT
By
Martin Henderson
| ESPNLosAngeles.com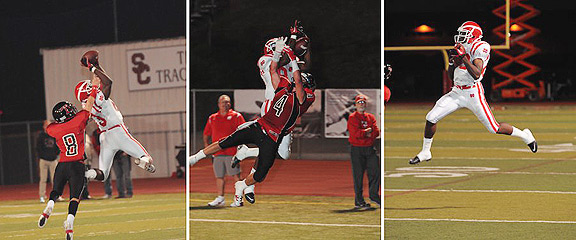 Luis Collazo
Mater Dei receiver Victor Blackwell was incredible in a win over San Clemente last week.
The magic of the three stripes returned to the Mater Dei sidelines a week ago, but if it's a command performance that fans want, it's probably going to take an even greater effort than last week by Monarchs players .
Its annual nonleague game against No. 15 Edison (3-1) tonight at Orange Coast College provides another test for Mater Dei (1-2). It took a monumental step forward last week in a
42-14 upset
of previously unbeaten San Clemente in which receiver
Victor Blackwell
was amazing. He had six catches for 183 yards and two touchdowns, he was faster than a speeding locomotive and he was leaping ... well, just take a look at the photos above. All receivers, if not all players, who turn in description-defying performances this season should henceforth be called Blackwellian. One of the keys this week for the Monarchs is to give the USC-bound Blackwell the opportunity to earn his adjective.
Apart from getting the ball into Blackwell's hands, Mater Dei must also play with the emotion it did a week ago. It all goes back to the Corona Centennial game, a 44-13 loss. Even though Centennial could embarrass a lot of teams by such a score, Mater Dei coach
Bruce Rollinson
called it "a rude wakeup call and reality check as to where our mental preparation was. I felt that mentally we weren't dialed into the game. Physically we were overmatched. If you bring some emotion and some fight – we should have represented the program better."
So that's what Edison has to be wary of. A fired up Monarchs team that is playing for the pride of its past against a very real threat to its present. That cornered animal that San Clemente faced a week ago still has its teeth.
That doesn't mean Edison doesn't come loaded for bear. Defensive linemen
Charles Burks
and
Robert Mase
– playing against Mater Dei's work-in-progress offensive line – are a very real threat to Mater Dei QB
Max Wittek
, and that can impact Blackwell. The Monarchs can't be one-dimensional, either.
Corbin Anderson
(meniscus) is still out, so RB
Josh Valdivia
must still pick up the yards to keep Edison's pass rush honest.
September, 15, 2010
9/15/10
8:53
PM PT
By
Sean Ceglinsky
| ESPNLosAngeles.com
Nonleague football games early in the season don't get much bigger than Friday night's showdown between traditional Southern California powerhouse Santa Ana Mater Dei and Corona Centennial, ranked No. 7 by ESPNLosAngeles.com. Thing is, the game might not live up to all the hype surrounding it if the Monarchs are without Victor Blackwell.

The standout senior receiver injured his left shoulder in a 14-10 loss to Carson on Sept. 4 and his status is unclear. Over the past couple of days, Blackwell was limited in practice. Without the USC commit in the lineup, Mater Dei (0-1) could be in trouble against the Huskies (1-0), who are coming off a 48-8 victory over Lake Balboa Birmingham.

"Victor is injured, yes, but he's made some progress this week,'' Monarchs coach Bruce Rollinson said after practice Wednesday afternoon. "We're not going to rush him back before he's ready and risk further injury, so he'll be a game-time decision for us.''

Blackwell is a game-changer, no doubt about it. As a junior, he finished with 52 receptions for 1,044 yards and 11 touchdowns for Mater Dei. That probably best explains why ESPNU ranks him as the nation's No. 9 player at his position and No. 55 overall.

If Blackwell isn't at full strength, it makes sense for the coaching staff to let him fully recover considering the Monarchs have a series of difficult nonleague games on the horizon before Trinity League play begins on Oct. 14 against Bellflower St. John Bosco.

"My injury happened on one of those freak kind of plays, and believe me, I know that this game against Centennial is big, I want to be out there to help my teammates more than anything,'' Blackwell said. "But, I have to be careful, it's a long season.''

Whether Blackwell plays in Friday's road game, beginning at 7:30 p.m., remains to be seen. One thing is certain: The Monarchs desperately need the 6-foot-1, 190-pound wideout in uniform against the Huskies to keep things close.