Los Angeles Preps:

Burbank
March, 7, 2012
3/07/12
8:38
PM PT
SANTA ANA -- Mater Dei has won back-to-back Division I state championships in girls' basketball, and the Monarchs looked the part in the mid-stages of its first-round victory Tuesday against Burbank.
Mater Dei got 25 points from
Nirra Fields
and rolled to a 77-35 home victory over Burbank in the Southern California Regional Championships.
Burbank hung tough in the first quarter -- it trailed 16-9 -- before getting steamrolled.
[+] Enlarge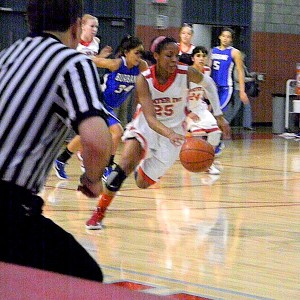 Martin Henderson for ESPNLA.comMater Dei Nirra Fields scored 25 points in the Monarchs' easy victory over Burbank.
Coach
Kevin Kiernan
said that his team's intensity picked up in the second quarter after a letdown following its emotional come-from-behind victory over Brea Olinda in the Southern Section Division 1AA championship.
At halftime, he said the coaching staff got on players about their lack of passion.
"Sometimes, these games are passion
less
," Kiernan said.
There was plenty of passion in the third quarter as Mater Die outscored Burbank, 33-4.
Mater Dei (30-3) opened 39-16 lead at halftime, and following its huge third quarter took a 72-20 lead into the fourth.
Burbank committed 11 turnovers in the third, most of caused by the quick hands of the Monarchs, and didn't score until 45 seconds remained.
The fourth quarter was played with a running clock, and
Damarie Gonzalez
scored seven of her team-high 10 points for Burbank.
Alexas Williamson
scored 20 points for Mater Dei, which will play the winner of the Huntington Beach-San Diego contest.
February, 27, 2012
2/27/12
4:47
PM PT
By
Tim Haddock
| ESPNLosAngeles.com
Sunny Hills (25-6) vs. Royal (23-6): Seventh-seeded Royal plays 11th-seeded Sunny Hills in the semifinals of the Southern Section Division 2AA playoffs on Tuesday night. The bracket makers didn't do such a great job in Division 2AA. Sunny Hills knocked out third-seeded J.W. North, 77-75, in the quarterfinals. Second-seeded Canyon lost in the second round to 16th-seeded Tesoro. The highest-seeded team Royal has played in the postseason is No. 10 Villa Park in the second round. The Highlanders are averaging less than 60 points a game in the playoffs (59.3), but allowing only 44.6 points per game.

Thousand Oaks (21-8) vs. Inglewood (19-10): It could be an all-Marmonte League final in the Southern Section Division 2AA championship game. But even Thousand Oaks coach Richard Endres said he didn't think his team would have a chance to win a CIF championship this year. How they got this far is nothing short of miraculous. He starts five juniors and finished in a tie for third place in the Marmonte League standings. Thousand Oaks was probably a year away from contending for the league championship and a CIF title. But the Lancers have been the hottest team in the playoffs. If there is a team that's hotter than Thousand Oaks, it's Inglewood. The unseeded Sentinels have eliminated three seeded teams in the playoffs, including No. 4 Canyon of Anaheim in the second round. Thousand Oaks travels to Inglewood for their semifinal game on Tuesday night.

Crescenta Valley (26-4) vs. Mission Viejo (26-3): Fourth-seeded Crescenta Valley travels through the Orange Curtain to Mission Viejo for a chance to play in the championship game of the Southern Section Division 1A playoffs. Mission Viejo is the top seed in the Division 1A playoffs, but is coming off an overtime scare in the quarterfinals. Mission Viejo survived with an 81-77 win in the quarterfinals against West Ranch. Crescenta Valley eliminated fifth-seeded El Toro, 61-49, in the quarters. The Falcons are averaging nearly 70 points per game (69.3) in the playoffs.

Girls

Burbank (19-11) vs. Summit (25-3): The Burbank girls are one game away from playing for the Southern Section Division 1A championship. But the Bulldogs must travel to Fontana to face top-seeded Summit to get there. The 13th-seeded Bulldogs are coming off a 58-48 win over Temecula Valley in the quarterfinals. Summit easily eliminated Downey, 62-54, in the quarterfinals. Burbank plays Summit on Tuesday night.

Ventura vs. J.W. North (27-4): The Ventura girls have a long road trip in the semifinals of the Southern Section Division 2AA playoffs on Tuesday. The second-seeded Cougars head out to Riverside to play third-seeded J.W. North. Ventura beat Redondo Union, 51-39, in the quarterfinals. Sam Meyer led the way with 18 points for Ventura. The Huskies eliminated Thousand Oaks, 63-48, in the quarterfinals.
November, 11, 2011
11/11/11
6:38
AM PT
By
Tim Haddock
| ESPNLosAngeles.com
Valencia (5-4) vs. Saugus (6-3), Friday (7:30 p.m.)
This is essentially the Foothill League championship game. Valencia is in search of its third league championship in a row. Saugus won the Foothill League championship in 2008. Canyon is tied with Valencia and Saugus for the lead in the Foothill League standings, each with 3-1 records. Valencia can actually win the title outright if Golden Valley can pull off the greatest upset in school history by beating Canyon tonight. Valencia would have to beat Saugus too. Most likely scenario is Canyon will share the Foothill League championship with the winner of the Valencia-Saugus game.

No. 15 Chaminade (8-1) vs. No. 25 Serra (7-2), Friday (7 p.m.)
This could be a night of out with the old, in with the new. Both Chaminade and Serra have perfect 4-0 records in the Mission League standings. Serra is the reigning Mission League champion and beat Chaminade 35-21 last season. That was of course with Marquis Lee and George Farmer. This time around, Chaminade has the six-game winning streak and the offensive stars with running back Terrell Newby and quarterback Logan Scott. Winner takes the Mission League championship and most likely the No. 1 seeding in the Western Division playoffs.

No. 23 Crespi (7-2) vs. No. 17 Loyola (7-2) at L.A. Valley College, Friday (7 p.m.)
This game means more to Crespi than to Loyola. The Celts need a win to keep their playoff hopes alive. The Cubs are already in the playoffs no matter if they win or lose this game. Still, no team wants to head into playoffs on a losing note. This is a big game in the Serra League with all sorts of playoff implications.

Burroughs (5-4) vs. Burbank (4-5) at Arcadia High School, Friday (7 p.m.)
The "Big Game" is bigger for Burroughs than for Burbank. At stake for the Indians is the Pacific League championship and a favorable seeding in the Southeast Division playoffs. Burbank can play the role of spoiler and still make the playoffs with a win. Burbank is in a tie for fifth place with Muir in the Pacific League standings. The top-four teams in league make the playoffs.

Sierra Canyon (9-0) vs. Calvary Chapel (5-3) at Downey High School, Friday (7 p.m.)
Sierra Canyon can punctuate its first Alpha League championship with a win over Calvary Chapel and cap an undefeated regular season. Calvary Chapel has lost two games in a row and hasn't scored a point in eight quarters. Paraclete and Brentwood shut out Calvary Chapel in consecutive weeks.

Cathedral (3-6) at St. Francis (7-2), Friday (7:30 p.m.)
St. Francis can clinch a playoff spot with a win over a Cathedral team that hasn't won a Mission League game this season. The Knights started out hot, winning their first six games. But St. Francis has lost two of its last three games, both to Mission League opponents. The Knights are coming off a 28-22 win over St. Paul, so things are looking up for St. Francis. Cathedral was shut out by Chaminade, 33-0, last week, and it could have been much worse. Chaminade scored only three points in the second half.
September, 5, 2011
9/05/11
10:58
AM PT
Hart freshman receiver Trent Irwin had quite a debut. He caught five passes for 69 yards and two touchdowns in his team's 35-21 loss to Tesoro. Both of his touchdown catches came in the fourth quarter, when Hart was deseperately trying to rally in the closing minutes. Making those touchdown passes was sophomore quarterback Connor Wingenroth, who also ran for a 71-yard touchdown in the first half to keep the game close. Irwin didn't start and Hart coach Mike Herrington sounded like he might reconsider that decision in future games. "He probably could have had more," Herrington said. "He didn't start the game for us, but he's a player. He's a go-to guy, runs great patterns and catches the ball well. He's going to have a great future." Hart struggled at times against Tesoro, but there were some bright spots. Still, it looks like Hart might be a year away from being a power again in high school football.
West Ranch running back Jeff Coprich has a pair of records that might not be broken for a while, at least in the Foothill League anyway. He rushed for a school record 213 yards in his team's 53-21 win over Nordhoff. Coprich, a transfer from Golden Valley, holds the single-game rushing record for at his old school as well. He rushed for 202 yards against West Ranch on Oct. 22, 2010. Coprich had quite a game against Nordhoff. He scored four touchdowns, two on a pair of 85-yard runs and one on a 70-yard interception return.
The Serra League teams not only went undefeated in the opening week of high school football, three teams posted impressive wins. Sherman Oaks Notre Dame pulled off the stunner of the weekend, beating No. 25 Gardena Serra by 23 points, 35-13. Notre Dame was 2-8 in 2010, so it looks like the rebound is well on its way. Not to be lost are wins by No. 11 Crespi and Loyola. Crespi beat No. 19 Compton Dominguez by 42 points, 48-6, and Loyola won by 14 points, 28-14, over Mira Costa. No. 7 Bishop Amat might have had the least impressive victory, shutting out Garfield, 14-0, as if a shutout is anything but impressive. No. 5 Alemany, the reigning Serra League champs, beat Pasadena, 55-0, and it could have been worse. The game went to a running clock in the third quarter.
It looks like the Westlake football team dodged a couple of bullets against Del Oro in its season opener in Northern California, dubbed the Battle at the Capital. Westlake won the game, 30-27, in overtime on Saturday night, but not before Warriors kicker Alex Ball missed a field goal that would have won the game in regulation, according to a story in the Sacramento Bee. Ball made up for the miss, making a 27-yard field goal to win the game in OT. Del Oro was knocking on the goalline in the overtime period, but turned the ball over on downs after a fourth-and-goal play that ended inside the 1-yard line. Westlake drove down the field and gave Ball another chance to win the game. He didn't squander his second attempt. Westlake has a bit of break. The next game for the Warriors is Sept. 16 at home against Calabasas.
Burroughs senior cross country runner Anthony Monroy set the course record at the 21st Burbank all-city cross country meet at Johnny Carson Park. He won the race over the 2.6-mile course in 12 minutes, 50 seconds, breaking the mark set by Western Nelson of Burroughs, who held the record in 12 minutes, 59 seconds, in 2007. Christina Shamirian of Burbank won the girls race, the first of her high school career, in 16 minutes, 28 seconds.
November, 12, 2010
11/12/10
1:03
AM PT
By
Sean Ceglinsky
| ESPNLosAngeles.com
BURBANK -- It's called "The Big Game" for a reason.

For years now, seemingly too many to count, crosstown rivals Burroughs and Burbank have met on the football field to decide which team is the better overall unit, and thus, own city bragging rights for the next year.

The programs settled their differences once again Thursday night, this time in front of a packed house of more than 7,500 fans. The action, of course, lived up to the hype. It was another classic game in a long line of classics

Cristobal Escobar kicked a 20-yard field as time expired as Burroughs rallied from a 28-point deficit to defeat Burbank, 38-35, and clinch at least a share of the Pacific League championship.

"There was a lot of pressure on me to make that kick, I mean this game means everything to us and to them,'' Escobar said. "It was like things were in slow motion. But once I got my foot on the ball, I knew the kick was good. It was like a dream, we came back to beat our biggest rival. What a game.''

The Indians (6-4, 6-1) trailed by what appeared to be a truly insurmountable deficit, four touchdowns, midway through the second quarter. Giving up to their despised counterparts was never an option though. With the loss, Burbank (7-3, 5-2) missed out on an a chance to pick up a piece of the league title.

If Arcadia (6-3, 5-1) loses to Crescenta Valley (4-5, 2-4) in Friday's regular-season finale Friday, Burroughs will win the title outright.


March, 10, 2010
3/10/10
1:48
PM PT
By
Dan Arritt
| ESPNLosAngeles.com
They gather in the hallways between classes, share stories at lunchtime and fill their side of the gymnasium long before tip-off.

The Murrieta Valley boys' basketball team is the main conversation on campus these days. The Nighthawks have swelled their fan base with a remarkable postseason, winning the program's first Southern Section title in the Division 2AA game Saturday night at Honda Center, then putting away visiting Burbank on Tuesday in the first round of the Southern California Regional Division 2 playoffs.

"They're coming out of the woodwork," Coach Steve Tarabilda said of the growing number of supporters. "You can't walk across the quad without someone talking about basketball."

Against Burbank, the Murrieta Valley fans filled their side of the gymnasium an hour before game time, then occupied half of the visitor's bleachers. They saw the third-seeded Nighthawks fall behind by nine points in the first half, then steady their defense and pull away for a 61-36 victory.

Overcoming adversity has been the mantra for Murrieta Valley this season. In the middle of Southwestern League play, the Nighthawks lost second-leading scorer Austin Quick for the season due to a torn hip muscle, then dropped three of their next five league games to miss out on the championship for the first time in three seasons.

"When Austin Quick went down, it put a damper on the mood," Tarabilda said. "I told the team, 'Oh man, we have to snap out of this.' "

Murrieta Valley has rebounded with tenacious defense and a never-quit attitude. The Nighthawks have trailed in the first half of each of their last four playoff games, but led when it counted.

Now it's on to the second round Thursday, when the Nighthawks will host Pasadena, the Division 2A runner-up.

Tarabilda was still building a game plan for the Bulldogs late Wednesday morning, in between high fives from students and pats on the back from administrators.

Tip off is scheduled for 7 p.m.

Plan to arrive early.
March, 7, 2010
3/07/10
9:39
PM PT
By
Tim Haddock
| ESPNLosAngeles.com
Burbank plays Murrieta Valley in the first round of the CIF Division II state boys basketball championships. Burbank is 23-8 and ended its Southern Section Division 2AA playoff run with a 71-48 loss to Compton in the semifinals.

Murrietta Valley (27-4), the No. 3 seed in the Southern California bracket of the Division II state championships, beat Compton, 50-44, in the championship game of the Southern Section Division 2AA playoffs.