Los Angeles Preps:

Burbank Burroughs
November, 13, 2011
11/13/11
4:19
PM PT
Defending champion West Covina is in prime position for a repeat after receiving the division's top seeding Sunday. The Bulldogs (9-1) didn't go undefeated because, really, they wanted to test themselves against Loyola, a Pac-5 playoff team. Coach
Mike Maggiore
hopes that loss pays dividends. Here's a breakdown of the division:
The seeds:
No. 1 West Covina, No. 2 Santa Fe, No. 3 Burbank Burroughs, No. 4 La Mirada.
Best first-round matchup:
Bonita (6-4) at Arcadia (8-2) -- Tailback
Cameron Griffin
is running the ball well for Bonita. Arcadia has the weapons -- namely
Myles Carr
and
Taylor Lagace
to be a scary team.
Toughest road:
La Mirada (6-4) -- If the La Mirada Matadores make it past Crescenta Valley -- and that's a big if -- they'll have to fend off either Bonita or Arcadia in the second round. That's the epitome of a grueling draw.
Potential shocker:
Muir (6-4) at No. 2 Santa Fe (6-4), first round -- It might not be that big of a shocker, given that Muir has the star power with
Kevon Seymour
, rated as one of the top athletes in the area, and running back
Tairen Owens
, a Washington commit.
Darkhorse:
Bonita (6-4) -- The Bearcats have won four straight and gave Hacienda League foe West Covina all it could handle in last year's championship game. Griffin is averaging 125 yards rushing over the last four games.
Final analysis:
The division breaks down quite simply -- there's West Covina and there's everybody else. Talented teams abound, but no one is as physical as Maggiore's bunch. Tailback/safety
Chris Solomon
, the reigning division player of the year, could very well take the honor again this season.
Championship prediction:
West Covina vs. Burroughs – Solomon isn't the only capable runner in West Covina's backfield.
Jimmy Frazier
has rushed for over 1,000 yards and
Aaron Salgado
is also approaching the four-digit mark. Unless Burroughs' running back
Zander Anding
can pull off another 300-yard game, there's too much power here for the Bulldogs not to make it two straight titles. Final score: West Covina 33, Burroughs 27.
Link to Southeast Division playoff bracket on CalPreps.com
November, 1, 2011
11/01/11
5:54
PM PT
By
Sean Ceglinsky
| ESPNLosAngeles.com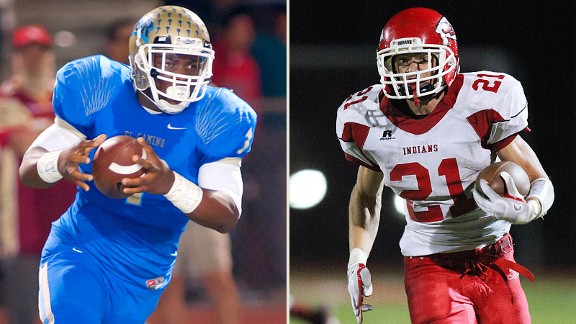 Dustin Jack Photography, Courtesy of Dwight KimRunning back Kawan Rally, left, of El Camino Real, and Zander Anding of Burroughs, are gaining attention with their big numbers.
LOS ANGELES --
Kawan Rally
who?
Zander Anding
what?
If their names sound unfamiliar, fear not. You are not alone.
Make no mistake, both running backs are not nearly as well-known as some of their more high-profile peers from the Southland. Nevertheless, Rally from Woodland Hills El Camino Real and Anding from Burbank Burroughs are a pair of seniors worth remembering.
In terms of statistical performances this season, each is in the midst of an eye-opening effort. Rally and Anding, in fact, are on the verge of stealing the spotlight from their more publicized counterparts at the position.
"People don't talk about me all the time, but that's cool, I go out there and let my play do the talking for me. That's how you get everyone's attention,'' Rally said.
All signs point to his strategy paying off. Eventually.
Rally leads California in rushing, having surpassed the 2,000-yard plateau with 327 yards on the ground and four touchdowns in last week's 49-20 victory over Chatsworth. The 5-foot-10, 220-plus pound tailback has 2,033 yards in 193 carries this season, a 10.5 yards-per-carry average. He also has 27 touchdowns.
October, 25, 2011
10/25/11
4:47
PM PT
By
Sean Ceglinsky
| ESPNLosAngeles.com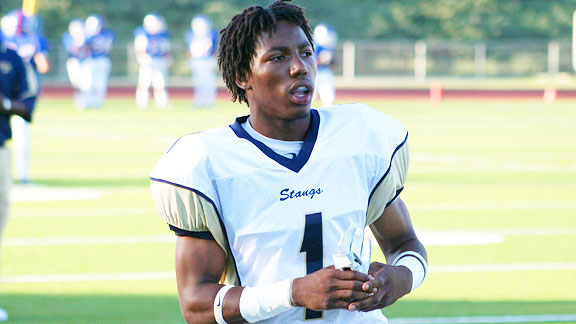 Erik McKinney/WeAreSC.comMuir's Kevon Seymour had a rough unbringing but has always vowed to make a difference.
PASADENA -- Some call the Community Arms housing project dangerous. Others call it treacherous, thus the ominous nickname: the Snake Pits.
Kevon Seymour
simply calls it home.
The highly-touted senior for the Muir High School football team has spent 17 years growing up in the neighborhood, known to be as tough as they come in the greater Los Angeles area. Seymour is fully aware of the, often times, unforgiving streets surrounding him. He possesses a good understanding about the constant threat of gang activity looming outside his door.
Nevertheless, Seymour has avoided hanging out with the wrong crowd. Developing bad habits was never an option. Succumbing to peer pressure was not in the cards. Instead, he has focused his time and energy on doing something better with his life.
"I'm a leader, not a follower,'' Seymour said.
And therein lies the key. He has successful navigated the numerous potential pitfalls in his path, both on and off the field. Given his life experiences, it should come as no surprise to learn Seymour has provided the Mustangs (4-3 overall) with an immeasurable presence this season as they head into Friday night's Pacific League game against Burbank Burroughs.
"Where I come from, they call it the Snake Pits for a reason,'' Seymour said. "There is a lot of fighting, gang violence and crime that goes on around here. I see it all the time. I've had friends who have been in some trouble. I know it happens in other places too. Where I live isn't as bad as some places. But I have seen some crazy things in my life.
"All that stuff isn't me though. I'm smarter than that. I'm also lucky. I have a good family life and there are a lot of people in my community who look after me. They want me to be a success. I'm motivated to make a difference, to do something special.''
Seymour is doing just that: Making a difference.