Los Angeles Preps:

Butch Pauu
November, 13, 2011
11/13/11
2:46
PM PT
CIF-SS playoffs:
Pac-5 Division
There was no mystery as to who the top-seeded team would be. Servite is the two-time defending champion, and the Friars only loss was at nationally ranked Las Vegas Bishop Gorman on a last-minute field goal, 31-28. This is a tough division, and the thinking is that at least seven teams have a legitimate shot of winning the title. There were no at-large berths, but there were six quality teams/programs that
didn't
make it: Crespi, Notre Dame, Los Alamitos, Trabuco Hills, Orange Lutheran and Mater Dei. That should give you an idea of what's in store.
The seeds:
1. Servite (9-1), 2. Mission Viejo (8-2), 3. Long Beach Poly (9-1), 4. Alemany (8-2).
Best first-round matchup:
St. John Bosco (7-3) at Alemany (8-2) -- Bosco finished third in the Trinity League, but its losses were by eight points to both Servite and Santa Margarita. The Braves are loaded with skill players, including receiver
Bryce Treggs
and quarterback
Rene Medina
, and running backs
DaVonte Young
and
Royce Moore
. Alemany lost its two games by a combined two points; that's how close it was to being undefeated. Seven starters are back on defense from last year's semifinal team that lost to Servite, 28-21; the offense is paced by quarterback
Devon Dunn
and a group of terrific receivers led by junior
Steven Mitchell
. There could be a lot of points scored in this game. There will be a lot of points in this game.
Toughest road:
Alemany (8-2) has it pretty tough among the seeded teams. Not only does it have to get past Bosco in the first round, it's likely looking at high-scoring San Clemente (9-1) in the second. That's a heck of a price to pay for winning the Serra League title. As long as San Clemente and quarterback
Travis Wilson
don't have to face Mission Viejo in the finals -- the Tritons have lost 11 in a row to Mission -- they could win the whole thing.
Potential shocker:
Tesoro vs. Edison at Orange Coast College, first round -- Edison won the Sunset League title behind QB
Chase Favreau
, and though it was within a touchdown of Servite and lost to Mater Dei on the last play, it's no lock to advance to a rematch against the Friars. Tesoro gave the game game away to second-seeded Mission Viejo two weeks ago in a 14-7 loss, and though there are 16 underclassmen starting, if this is the week they mature as players, the third-place team from the South Coast League could find itself advancing instead of the Sunset League champion.
Darkhorse:
Unseeded Santa Margarita (8-2) might legitimately be the second-best team in the division behind QB
Johnny Stanton
and RB
Ryan Wolpin
, but was hurt by an uninspired Trinity League loss to Mater Dei. The Eagles closed the season with another loss, 43-42, in overtime to Servite. If they can play with Servite -- and the only difference was a two-point conversion -- they can play with anyone. A second-round game against Long Beach Poly is finals-worthy.
Final analysis:
After the first round, this division is brutal from top to bottom, and for some it's brutal from the outset. Heading into the final week of the season, nine of the 16 teams that were ranked in the Cal-Hi Sports Open Bowl Division top 25 ranking.
Championship prediction:
Until someone in Southern California proves it can beat Servite, it's hard to pick against the Friars. They have won the last two Pac-5 titles, and behind quarterback
Cody Pittman
and linebacker
Butch Pauu
nearly went undefeated despite playing the state's strongest schedule. Make no mistake, Servite
can
be beaten -- but it takes a special performance to do so. The Trinity League finale was a pretty good indication of what it will take, and even that wasn't good enough. Chances are that Santa Margarita gets a second crack with an upset of Mission Viejo in the semifinals. Servite 34, Santa Margarita 28.
Link to the Pac-5 bracket on CalPreps.com
November, 5, 2011
11/05/11
12:02
AM PT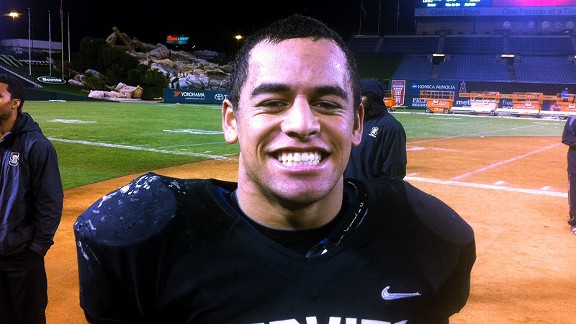 Martin Henderson for ESPNLosAngeles.comButch Pauu was big on defense for Servite and also caught a blocked punt in the end zone for a touchdown.
ANAHEIM -- The annual rivalry between Servite and Mater Dei didn't disappoint those who braved the threat of rain at Angel Stadium on Friday. Never mind that Mater Dei came in with a losing record or Servite came in as the No. 1 team in the ESPNLA top 25. When the cleats hit the turf, the so-called holy war exceeded expectations.
Turning back momentum to come from behind in the third quarter, Servite scored a 35-28 victory over the Monarchs as
Cody Pittman
passed for one touchdown and ran for another, and
Charlie Etiaki
rushed for touchdowns of 72 and 52 yards.
The victory for Servite (8-1, 4-0) was sweet on several levels. It was the Friars' third win in a row over their nemesis after losing 20 consecutive years. More important, it clinched at least a share of a seventh consecutive league title since the hiring of coach
Troy Thomas
, who breathed a heavy sigh after his team won its 18th consecutive Trinity League game.
Servite closes the season next week against Santa Margarita (8-1, 3-1) at Cerritos College.
With its loss, valiant as it was following a 28-0 defeat a week ago against Orange Lutheran, Mater Dei (3-6, 1-3) will miss the playoffs for the first time since 1986 and have a losing record for the first time since 1981. The Monarchs finish next week against a rejuvenated JSerra, which upset No. 22 Orange Lutheran, 31-14, on Thursday night.
Despite the heroics of Pittman, who threw an eight-yard TD pass to
Ainslie
Johnson
to complete the first scoring drive and scored on a one-yard run to tie the score at 21-21 with 3:48 left in the third quarter, it was defense and special teams that may have had the game's decisive moment.
On third and seven,
Butch Pauu
sacked
Ryan McMahon
for a 10-yard loss at the 14 -- one of five for the Friars' defense -- and then
Daniel Tejeda
blocked
Nick O'Toole's
punt; the ball went skyward and Pauu caught it in the back of the end zone for a TD and a 28-21 lead with 1:04 left in the third quarter.
October, 15, 2011
10/15/11
12:18
AM PT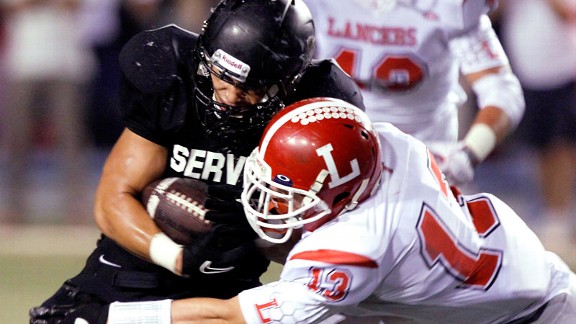 Alex Gallardo for ESPNLA.comMana Pauu picks up some of his hard-earned 77 rushing yards in Servite's victory Friday.
NORWALK -- Six games into the season,
Troy Thomas
finally had a reason to smile. After five games of failing to play "Servite football," the Friars did just that Friday in their Trinity League opener against Orange Lutheran.
The result ESPNLA's top-ranked team scoring a 21-8 victory over the eighth-ranked Lancers at Cerritos College.
Servite (5-1, 1-0), which has won at least a share of six consecutive league titles, defeated Lutheran (5-1, 0-1) for the seventh consecutive season. All eyes are on the Friars, who have won the last two Pac-5 championships. This was their 30th victory in 32 games, but the first since losing two weeks ago in Las Vegas to Bishop Gorman, 31-28, on a last-minute field goal.
"This is a huge win," Thomas, the Servite coach, said. "Any win is huge in this league. OLu is a very talented team watching them on film. They do a lot of great things. To get this one is huge for us, especially after last week. We didn't feel like we played Servite football. Tonight we played Servite football."
Cody Pittman
found wide-open
Ainslie Johnson
for 53- and 82-yard touchdowns, and a junior running back who was on the scout team two weeks ago seemed to galvanize his place in the lineup.
Mana Pauu
rushed 16 times for 77 yards against a tough Lutheran defense, including a four-yard score with three seconds left in the first half that gave Servite a 7-2 lead.
But the star of the night was the Servite defense led by
Butch Pauu
, who had an interception as well as several commanding tackles. The Friars were more physical than they had been all season. They shut out the Lutheran offense until the final minute, when the Lancers drove 98 yards and scored on a 14-yard pass from
Conner Sullivan
to
Brady Roelofs
with 25 seconds remaining.
"That's the way we can play defense," Thomas said afterward. "Finally.
Finally!
"
September, 20, 2011
9/20/11
4:44
PM PT
By
Sean Ceglinsky
| ESPNLosAngeles.com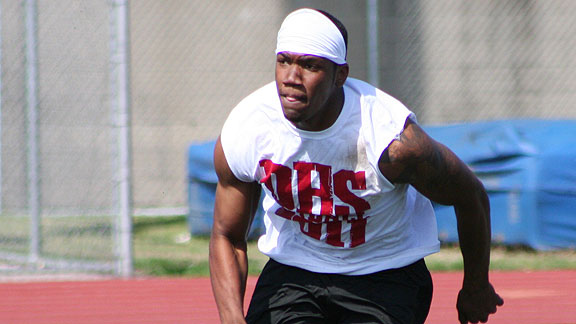 WeAreSC.comJabari Ruffin, who has committed to USC, is ranked the No. 4 prospect overall in California.
Defense, as the old adage states, wins championships. We've all heard it before.
If that's the case, the Southland appears to have more than enough talented players residing on the defensive side of the ball to make a decided difference for their respective teams.
With so many different individuals making crucial plays all over the field in the first two weeks of the season thus far, we figured that it might be a good idea to take an in-depth look at some of the premier prospects residing on the defensive side of the ball in the greater Los Angeles area.
That said, consider this as a who's who list of the more high-profile prospects around.
Defensive line: Monrovia's
Ellis McCarthy
. When it comes to the top recruits from these parts, few are better than the 6-foot-4, 305-pound senior. McCarthy is a force to be reckoned with every time he lines up. He's a run-stopping force. That's not to say the big man can't put pressure on the quarterback. McCarthy does it all, plain and simple. His top choices for college include USC, Cal, Florida, Washington and Oregon.
Defensive line: Westlake's
Justin Solis
. The top players in Ventura County typically do not receive nearly as much recognition as they deserve. Solis, however, is the exception to the rule. The 6-3, 285-pound senior was recruited by a handful of Pac-12 Conference programs. Ultimately, Colorado proved to be the best fit. Boise State, Georgia Tech and Iowa State also offered.
Defensive line: Irvine Woodbridge's
Kyle Kelly
. The 6-3, 225-plus pound senior is a pass-rushing specialist, a load to deal with from the edge. Kelly committed to Arizona despite having offers from Florida and Vanderbilt. Vista Murrieta's Jeremy Castro and Long Beach Poly's Alonzo Williams were also considered for this spot. In the end though, Kelly offers far too much upside.
Linebacker: Downey's
Jabari Ruffin
. ESPNU ranks him as one of Southern California's top recruits. Only San Clemente's Kyle Murphy is ahead of Ruffin. After watching the 6-3, 225-pound senior in action, it's blatantly obvious he is far more advanced than most of his peers. His game is tailor-made for the next level. USC landed a prized prospect when he committed in early March.
Linebacker: La Habra's
Aaron Porter
. Don't run the ball up the middle against this guy. And don't think your running back or tight end is going to break free in the middle of the defense when the 6-1, 230-pound senior is in uniform. Porter, heading to UCLA, is a jack-of-all trades. Opponents best know where he is on the field, at all times. Avoiding his general direction is recommended.
September, 2, 2011
9/02/11
6:40
AM PT
By
Martin Henderson
| ESPNLosAngeles.com
Biggest question about top-ranked Servite this season was the secondary, but
a quick look at the Friars 20-0 shutout
of the San Diego Section's marquee team, Oceanside revealed a couple of things.
Mainly, a couple of big plays.
Daniel Tejeda
forced a fumble, and
Conner Hoffman
intercepted a pass at the 2-yard line.
The fumble, recovered by
Butch Pauu
less than two minutes into the game, set up a field goal. The interception protected a 13-0 lead. The defense also added five sacks against an opponent that had two linemen who are considered three-star recruits.
Although the names are different, the storyline sounds pretty familiar. After beating the team ranked No. 11 in the state by Cal-Hi Sports—and one that has won seven consecutive section titles—next up for Servite is the team ranked No. 16: Bishop Amat.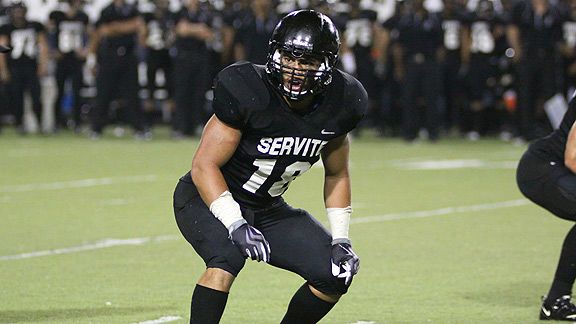 Courtesy of Laurence MartinezServite has had standout players on defense, and this season Butch Pauu figures to step to the forefront.
Can Servite win three consecutive Southern Section Pac-5 titles? History indicates that it's not likely, but since
Troy Thomas
took over a program that had won only three league games in four seasons, the Friars have won a share of six straight league titles, reached at least the semifinals four times, won a State Bowl Championship, and won the state's toughest division in back-to-back years.
The Friars should again be tough on defense even though only four starters return. The last two years Servite had a leader with a bruising physical presence —
Jake Slemmer
in 2009, and
Matt Inman
in 2010. Who will rise into that role this season? The obvious choice is Brigham Young-bound linebacker
Butch Pauu
, who's in his third season as a starter.
Last season's embarrassing 48-8 loss to Concord De La Salle in the Open Bowl Championship series ended a 25-game winning streak and forced the Friars to refocus even though they have won 28 of their last 30 games.
"We've made a step up on both sides of the ball — we had to," said Thomas, who is 96-29 in nine years as a head coach, 62-16 at Servite. "We learned that what we were doing wasn't good enough. Technically, we were not doing a good enough job to play with a De La Salle up front, and that's on me. We've been studying hard and working diligently as a coaching staff. I'm really happy with our offensive line coach (
Jim O'Connell
) and defensive line coach (
A.J. Gass
). They're doing some amazing things with our guys. Technically, we've really improved."
They've improved? That can't be good news for opponents.
Here is a closer look at the Friars:
Team:
Servite
Coach:
Troy Thomas, seventh season
2010 record:
14-1, beat Mission Viejo for Southern Section Pac-5 championship; lost to Concord De La Salle in Open Bowl Championship Series.
Returning starters:
12 total. Eight on offense, four on defense.
Key players on offense:
: RB Sean DeRosa, OL Travis Averill (Boise State), WR Sam Hunt, QB Cody Pittman, TE Ainslie Johnson, OL Michael Meyer, OL Miles Williams.
Key players on defense:
LB Butch Pauu (BYU), DE Jherremya Leuta-Douyere (BYU), DE Conner Einck, FS Domain Mora.
Difference maker:
Pittman was just trying to win the job at QB last season and was considered the weak link, yet he was remarkably efficient; he completed 65 percent of his passes with 13 touchdowns and four interceptions. A running threat and improved passer, he comes into this season with more confidence. Thomas says that "he's as good as we've had," at the position, and considering Cody Fajardo was the QB two years ago, that's saying something.
Newcomers:
TB/MLB Andrew Moore, a sophomore who will find his way onto the field.
Not to be missed:
Santa Margarita vs. Servite at Cerritos College, Nov 11. If the season plays out the way it's projected, the Trinity League title will be decided in Week 10 by the two best teams. The first round of the playoffs will be a step down, for sure.
Coach's comment:
" I don't know how good we're going to be, we're just going against each other," Thomas said. "But I'll tell you this: I really like my team. I like how they practice."
Final analysis:
Servite's trademark under Thomas has been its physical play and its defense. By the time Trinity League play rolls around, the defense should be solid. Servite has only one interest, and that's punching its ticket into the Pac-5 playoffs. Even if it has a handful of losses — owing to the difficult schedule that could be the case — the Friars won't be on anyone's wish list come the postseason. Until someone beats them in the playoffs, they're still the team to beat.
April, 5, 2011
4/05/11
7:28
AM PT
1. Even though Edison left-hander Henry Owens (5-0, 0.42 ERA)—who beat Marina with a two-hit, 11-strikeout performance—is regarded as the county's best pitcher and has 43 strikeouts in 36 innings, he is not the county leader in making opponents whiff. That distinction belongs to Nate Anderson (4-0, 0.61) of Garden Grove with 53 Ks in 34.1 innings.

2. Bob Zamora, who coached Capistrano Valley for the past 34 seasons, won his 600th game on Friday. The milestone came in an 11-4 victory over Dana Hills in a South Coast League game as Gradeigh Sanchez had three hits, scored two runs and drove in three; Capo had a 10-run second inning. Under Zamora's guidance, the Cougars have won 15 league titles and six section championships. They're looking for another big year behind Kyle Matzek (.462), who has scored 14 runs and has 18 RBIs.

3. Los Alamitos, trailing by four runs, got a single, double and two-run homer from Allison Brown to help the Griffins come from behind to beat Mater Dei, 5-4, in the Corona Santiago Spring Fling softball tournament. Pinch-hitter Alicia Walker got the game-winning RBI in the top of the fifth inning.


October, 14, 2010
10/14/10
9:00
AM PT
By
Martin Henderson
| ESPNLosAngeles.com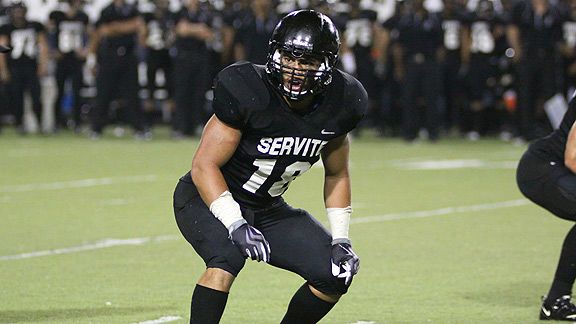 Courtesy of Laurence Martinez
The Trinity League is tougher than ever, and that has top-ranked Servite and linebacker Butch Pauu (18) looking over their shoulder.
In the four years of its existence, the Trinity League is responsible for two Pac-5 and two State Bowl championships, but Thursday ushers in a new era for the Southern Section's marquee league.
It's better than ever.
Mater Dei (3-2) plays host to St. John Bosco (4-1) at Santa Ana Stadium to begin the league's fifth year, and Bosco won't be the pushover it has been. Orange Lutheran (3-2) plays host to Santa Margarita (4-1) at Orange Coast College, and the visiting Eagles won't have any resemblance to the team that failed to win a league game for the first time in its history a year ago. Servite (5-0) – which has won or shared five straight league titles, including the league's first outright championship a year ago – visits JSerra (5-0) at Saddleback College to face a program that last week defeated a team by the same margin as highly regarded Bishop Amat.
First-year coaches
Harry Welch
at Santa Margarita (he has won two state bowl titles with different teams) and
Jason Negro
at Bosco (he guided Trabuco Hills to its section finals in two of the past three years) have elevated those programs already and seem to be the biggest reasons for the new landscape. There are no more also-rans in the league. Now, everyone is an also-running.
"It's always had elite teams in the league, and it had the appearance at times that it was top heavy – the Big Three," said Negro, whose squad is led by senior running back
Martin Brown
and several juniors. "It's more of a complete league now, from 1 to 6 you've got teams capable of winning this league. It's a shame there are only going to be three teams selected for the playoffs out of this. . . . There's going to be somebody not in the playoffs who could win one or two playoff games."
September, 24, 2010
9/24/10
11:53
PM PT
By
Martin Henderson
| ESPNLosAngeles.com
NORWALK -- With three minutes left in the first half of Servite's 16-9 nonleague victory Friday over Edison, Servite fans began chanting "Defense! Defense!" They might have saved themselves a syllable had they chanted "Butch! Butch!" The two are synonymous.

Butch Pauu, who's last name is pronounced "Pow! Oooh!" – it's the same sound one hears in a stadium when he makes contact with a ball carrier and the crowd responds – had himself a game. He had already had himself a season – he intercepted a pass last week against La Habra and returned it for a touchdown – after calling his shot in practice.

"I was defending it with another player, and he came to me and said, 'I got it, you don't need to put the defensive end on the shovel," coach Troy Thomas recalled. "I said that's his read, that's how we're going to play it. Then he had two opportunities at the shovel pass. One he had a tackle for a loss and the other he intercepts. I guess he did have it. He is a player. He is really playing well."

Pauu continued his reign of terror on opposing offenses Friday, and in those moments that Servite fans were exhorting their defense to make a stand, the junior linebacker had been marking his territory. In the nine plays that Edison ran, Pauu had three tackles in which Edison ball-carriers were held to 1, 0 and 0 yards, the latter on a pass that preceded the chants. On another play, Troy Baljeu caught a pass over the middle for a seven-yard gain but Pauu dropped him like a lead balloon.


September, 23, 2010
9/23/10
6:53
AM PT
By
Martin Henderson
| ESPNLosAngeles.com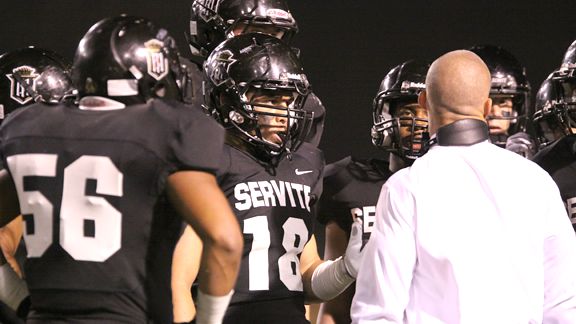 Courtesy of Laurence Martinez
Butch Pauu (18) and the Servite defense listen to coach and defensive coordinator Troy Thomas during the Friars' 23-0 victory over La Habra. Pauu returned an interception for a touchdown for the Friars, whose first-team defense has yet to allow a point.
The last time Edison and Servite faced each other, it was in a downpour with the Pac-5 title on the line, and Servite emerged from the marsh at Angel Stadium with a 16-6 victory over the previously unbeaten Chargers. The next week, Servite won the Division II State Bowl championship.
It was a different story when the teams met during the regular season on a dry field. Edison scored a 23-9 victory and the Servite offense failed to score a touchdown. Don't expect that to happen this year.
Servite (3-0), ranked No. 1 by ESPNLA, and No. 13 Edison (3-0) continue their annual rivalry on Friday at Cerritos College.
Edison has only one starter back on offense and on defense, and only one of those – defensive end
Charles Burks
– is playing the same position. But Edison looks like it's on the cusp of being very good with junior quarterback
Chase Favreau
. He's got a great arm and is a good runner, and top-ranked Servite knows well that's a potent combination – the Friars utilized
Cody Fajardo
that way last season and
Cody Pittman
that way this season.
Edison comes into the game as Orange County's third-leading scoring offense with 44.7 points, and Servite enters as the second-leading defense (4.7 points). That Chargers offense hasn't seen anything like Servite's defense yet. Then again, Servite's defense hasn't seen anything like Edison's offense.
September, 3, 2010
9/03/10
12:45
AM PT
By
Martin Henderson
| ESPNLosAngeles.com
Jody Thomas
is a dreamer. He gets told each week by Servite defensive line coaches
Chris Barrett
and
Mike Pitre
to picture himself having success. Imagine himself making big plays. You know, "Be the ball." But really, who could imagine the 5-foot-10, 225-pound tackle intercepting two passes, returning a fumble for a touchdown and sacking the quarterback?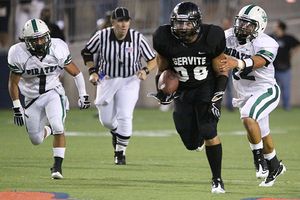 Courtesy of Laurence Martinez
Jody Thomas returns an interception during Servite's 31-7 win over Oceanside.
Yet that's what Thomas did Thursday as he set the tone for a Servite defense that led the way in a 31-7 victory over Oceanside to begin the 2010 prep season. The game matched Servite, ranked No. 1 in the ESPNLA top 25 and the reigning Division II State Bowl champion, against Oceanside, ranked No. 2 in San Diego and the reigning Division I State Bowl champion.
Oceanside is in rebuilding mode, but with six consecutive section titles, 16 consecutive appearances in the semifinals, and a 39-game unbeaten streak, the program guided by
John Carroll
– who was defensive coordinator on Servite's 1982 and 1983 championship teams – isn't exactly poverty stricken in the talent department.
Servite's defense was rebuilding, too. Rebuilding its defensive line, where Thomas is the only returning starter, and that was because he was a replacement for injured star
Kirifi Taula
(Arizona). Flanked by brothers
Jarrett
and
Jherramya Leuta-Douyere
and
Connor Einck
, they had an outstanding game collectively, relegating the defense's anchor, linebacker
Matt Inman
, to spectator.