Los Angeles Preps:

Buzzy Yokoyama
October, 28, 2011
10/28/11
11:26
PM PT
By
Martin Henderson
| ESPNLosAngeles.com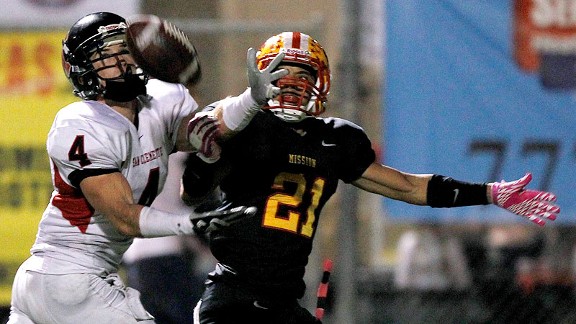 Alex Gallardo for ESPNLosAngeles.comMission Viejo cornerback Anthony Pierce breaks up a pass intended for San Clemente wide receiver Christian Tober during the second half. Mission Viejo won 29-21.
MISSION VIEJO -- San Clemente had threatened in previous years to beat Mission Viejo, but the Tritons had never had the kind of advantages that they took into Friday night's showdown.
But if ever a team is snake-bit against another, it almost assuredly is San Clemente against Mission Viejo.
ESPNLA No. 8 Mission Viejo answered the challenge in resounding fashion by shutting down No. 9 San Clemente and scoring a 29-21 South Coast League victory before about 4,000.
The score was closer than the game. Mission opened a 23-0 lead at halftime -- after
Doug Ruggles
returned a fumble 37 yards -- and fought off the yawns in the second against an opponent that had averaged 37.6 points.
The defense, led by
Ryan Harris
and
Anthony Pierce
, limited San Clemente to 80 yards rushing though the Tritons had averaged 251; San Clemente's
Mike Elespuru
carried 19 times for only 48 yards.
October, 6, 2011
10/06/11
4:11
PM PT
By
Dan Arritt
| ESPNLosAngeles.com
Is this the week that Redlands East Valley jumps into the mix with a huge upset against an out-of-county foe? Can J.W. North become just the second team to ever win a Big VIII league game against Corona Centennial? Will some key additions for Corona Santiago help the Sharks get over the hump against Norco? These are just a few of the questions awaiting Week 5.

A-Game

(ESPNLA top 25 rankings included)

No. 23 J.W. North (4-0, 1-0) at No. 6 Centennial (3-1, 1-0), Friday ( 7 p.m.) – Forget that little matchup over in Redlands, this game actually means something to the Inland Empire landscape. J.W. North shocked the Southland in Week 2 when the Huskies went for two in the final minute to topple Alemany, 36-35, the same night Centennial came from behind in the second half to beat Mater Dei, 28-20. Neither team has trailed since. Centennial quarterback Hayden Gavett has settled in as a first-year starter, and running back Romello Goodman is doing his best Barrington Collins imitation, picking up where last season's main ball carrier left off. Centennial hasn't faced a team as athletic as J.W. North. Justin Gheorghe is just the third Inland Empire quarterback to surpass 1,000 yards passing this season, and he has a sensational deep threat in 6-foot-3 senior receiver Aaron Peck, who is averaging just over 26 yards a catch with five touchdowns this season.

Calpreps.com computerized projection: Corona Centennial 42, J.W. North 26

ESPNLA: Corona Centennial 48, J.W. North 38

B-List

No. 2 Mission Viejo (4-1) vs. No. 21 Redlands East Valley (4-0) at University of Redlands, Friday (7:30 p.m.) – One of the surprise teams out of the gate has been Redlands East Valley, not so much that the Wildcats are still undefeated at this point, but how they got there. Three shutouts in four games and 12 points allowed overall will earn some attention, and a lot of folks in Mission Viejo are approaching this game with some concern. The Wildcats have a second-year quarterback in Austin Decoud, their leading rusher from last season in Jesse Riley, and four returning starters on the offensive line. They're just as stacked with experience on defense, especially up front with junior defensive lineman Kylie Fitts recording 4 1/2 sacks through three games, and senior strong safety Trevor Douglass having a hand in four of the team's 12 takeaways. Mission Viejo quarterback Alex Bridgford hasn't been flashy but he has been efficient, passing for at least 200 yards every game this season. The running game hasn't been slowed too much by the loss of Buzzy Yokoyama, out since Week 1 because of a foot injury.

Calpreps.com: Mission Viejo 17, Redlands East Valley 14

ESPNLA: Mission Viejo 28, Redlands East Valley 14


September, 2, 2011
9/02/11
11:43
PM PT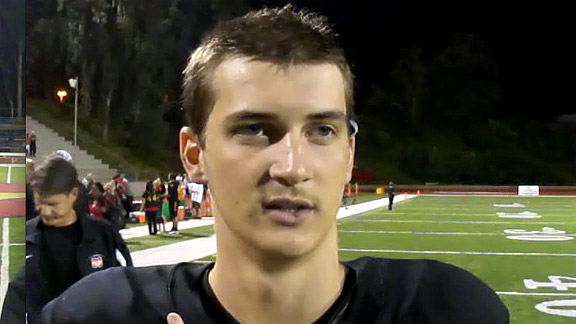 Martin Henderson for ESPNLA.comMission Viejo quarterback Alex Bridgford had only 10 completions but accounted for 260 yards and four touchdowns through the air.
MISSION VIEJO -- For Mission Viejo, its season-opening victory over Bakersfield Centennial was a lot of hit and miss, and in the end, a lot of fingers crossed.
The 35-6 nonleague victory in the Mission Viejo Classic was pretty complete, even though the central figures said there was a lot of room for improvement. But Diablos players walked off the field hoping for the best from
Buzzy Yokoyama
, who started at running back and got a sack from the nickel position on defense.
Yokoyama went to the hospital with a possible foot or ankle injury.
"We're really knocking on wood, praying, for any kid," coach
Bob Johnson
said. "He was a real contributor to us in a fast way and good way. he's a wonderful kid.. We haven't had him but for a few months, but he's fit in like a glove, like he's been here for four years. For anybody I feel bad their senior year like that, who's done a lot."
A senior transfer from Newport Harbor who missed three games last year because of a knee injury, Yokoyama carried five times for 35 yards, including a 26-yard run — his final carry of the night. That was part of a five-play, 72-yard drive capped by
Jahleel Pinner's
six-yard run for a 28-6 lead with 6:31 left in the third quarter.
Pinner carried 13 times for 57 yards and also caught a short pass that he took in for a 15-yard score and a 7-0 lead.
August, 30, 2011
8/30/11
3:37
PM PT
Any of the top three teams in these preseason rankings could have been No. 1.
On the surface, Mission Viejo might be the best of the lot with a returning quarterback in
Alex Bridgford
and the return of a strong running game that includes
Jahleel Pinner
that is made stronger by the arrival of senior transfer
Buzzy Yokoyama
from Newport Harbor. They'll be running behind a strong offensive line, and a formidable defense will be there to complement the effort.
Yet in the last two seasons, they have been undone by Servite in the Southern Section Pac-5 semifinals in 2009, and the finals in 2010. What do they need to do to get over the hump?
"We're not going to change a thing," said
Bob Johnson
, who has a 267-89-1 record in 26 seasons of coaching, including 126-16-1 at Mission Viejo. "If we get to the finals again, no excuses. They beat us both years. We'll come back and try again."
Here is a closer look at the Diablos:
Coach:
Bob Johnson, 13th season
2010 Record:
13-1, lost to Servite in the Southern Section Pac-5 championship.
Returning starters:
11 total. Six on offense, five on defense.
Key players on offense:
QB Alex Bridgford, OL Austin Maass (San Diego State), RB Jahleel Pinner (USC), OL Colby Cyburt, TE Austin Reuland, C Kevin Carroll.
Key players on defense:
LB Ryan Harris, DL Colin Dzubnar, LB Daniel Marks, MLB Wes Hardman, CB Anthony Pierce, FS Max Redfield, SS Doug Ruggles.
Difference maker
: Pinner was a handful when he was a sophomore fullback, but now he is a senior who has dropped from 238 pounds to 218 and is stronger and faster. As a tailback, he's going to be tough to bring down. If opponents can't stop the running game, it's game over.
Newcomers:
RB/DB Buzzy Yokoyama, a transfer from Newport Harbor.
Not to be missed:
Mission Viejo at Ramsey (N.J.) Don Bosco Prep, Sept. 10. Not only is it an East vs. West matchup, but it's two of the top programs in the nation. Many have Don Bosco ranked No. 1 in the nation, and the national sentiment regarding Mission is very high, too. A win on the road by the Diablos might have everyone rethinking their rankings.
Coach's comment:
"I like the team. I like it a lot," Johnson said. "I don't know if they have more than one loss in the last three years. I like them. It's always fun to have a quarterback returning. I like everyone around here. We have to stay healthy. A couple of key injuries could be really tough."
Final analysis:
Mission Viejo is going to score a lot of points. It has a terrific nonleague schedule; besides Bosco, it plays Long Beach Poly, Carson, La Quinta and Redlands East Valley. There are also two terrific league matchups against San Clemente and Tesoro. But it all comes down to the playoffs. Mission's going to be there, but they haven't been able to make the plays to get past Servite. This might be the year.
November, 1, 2010
11/01/10
11:01
AM PT
By
Martin Henderson
| ESPNLosAngeles.com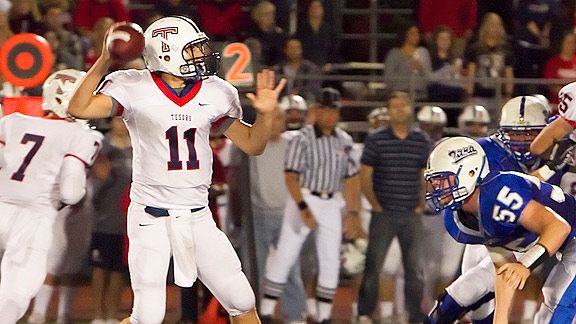 Courtesy of Tony Tribolet
Matt Adam (11) passed for three touchdowns as Tesoro dominated Dana Hills, 38-3.
1. The most surprising result of the weekend had to be the outstanding and dominant performance by Tesoro in a 38-3 South Coast League victory over Dana Hills (3-6, 0-3). The Titans (7-1, 2-0) dominated Dana in a way that neither Mission Viejo (a 52-26 winner) nor San Clemente (42-28) could. The result makes this week's showdown with MV (8-0, 2-0) all the more interesting. Given the mostly lackluster schedule and the milquetoast performances in recent weeks by Tesoro, the thinking here was that Coach
Brian Barnes'
team was toast. Instead, they hinted that they were getting into playoff shape as the defense shut down dynamic
Trent Mason
, and
Matt Adam
passed for three touchdowns (two to
Kyle Woolbright
) and four different players found the end zone.
2. Servite seems to be a different animal with
Malik Felton
as the tailback. His ability to take it to the house – witness his game- and head-turning 87-yard TD run on Friday -- has added a dimension to the Friars that had been lacking. However, the most important thing that may have come from Servite's 21-14 victory over Trinity League rival Mater Dei was the performance by junior quarterback
Cody Pittman
on a fourth quarter touchdown drive. The kid whose task was to replace
Cody Fajardo
showed poise, completed all four of his passes, and ran three times for 36 yards, including a big 24-yard gain that preceded Felton's six-yard scoring run. Every week he gets closer to being the guy who can lead this team to a championship, and he also gains the confidence of teammates as he succeeds in new situations. And, lest we forget, for all the concerns about him and the team's lack of offensive punch, he's 8-0 as a starter.
September, 9, 2010
9/09/10
11:57
PM PT
By
Martin Henderson
| ESPNLosAngeles.com
When running back Cedric Whitaker left Newport Harbor after the spring without so much as a goodbye, he left the Sailors in a predicament. Their response? Give the ball to Buzzy.

Buzzy Yokoyama – it's his real name – made his varsity debut at running back on Thursday in a 17-6 victory over Trabuco Hills. The experiment seemed to go pretty well. Yokoyama's first night in the petri dish yielded 113 yards in 18 carries, and he also returned a kickoff 75 yards in the final minute of the first half that turned momentum back in favor of the Sailors and eventually led to a field goal as time expired for a 10-6 lead. Not bad for a converted wide receiver.

Jeff Brinkley, beginning his 25th season as coach at Newport, was hoping that his team could develop a running game to go with a quarterback the program has a lot of confidence in, Austin Rios. The running game showed potential.


September, 9, 2010
9/09/10
11:30
PM PT
By
Martin Henderson
| ESPNLosAngeles.com
It was not an extraordinary effort by Newport Harbor on Thursday when the Sailors opened their season with a 17-6 nonleague victory at home against Trabuco Hills.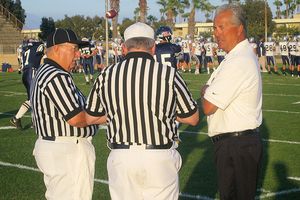 Martin Henderson/For ESPNLA.com
Jeff Brinkley, right, began his 25th season as coach of Newport Harbor on Thursday night.
However, Newport showed extraordinary timing.
It was a night of moments as the Sailors got their first-game jitters out of the way and beat a squad that last week had posted a shutout under first-year coach
Scott Orloff
.
What kinds of moments did the Sailors have?
Stunning moments. Like when Trabuco (1-1) lined up to kick a 36-yard field goal to take a six-point lead, only to have 6-foot-4 lineman
J.B. Salem
bust through the wall of blockers and block the ball, which bounced off the ground nicely and nestled easily into the grasp of
Asa Lohr
– who sprinted 73 yards for a touchdown to give Newport a 7-3 lead.
Stunning moments. Like when Trabuco's
Oleg Parent
kicked a 32-yard field goal with 33 seconds left in the half to make it a one-point game, 7-6, but
Buzzy Yokoyama
returned the kickoff 75 yards to the 20. Newport's
Christian Ochoa
kicked a 21-yard field goal as time expired for a 10-6 lead.