Los Angeles Preps:

C.J. Cooper
March, 25, 2011
3/25/11
4:15
PM PT
CIF STATE BOYS DIVISION III

Matchup: La Verne Lutheran (25-5) vs. Oakland Bishop O'Dowd (25-6), Saturday, 2:45 p.m.

How they got here: Lutheran: beat University City, 60-58; Orange Lutheran, 75-58; Harvard-Westlake, 61-45; La Caņada, 57-47 to win the Southern California Regional.

Bishop O'Dowd: beat Foothill Sacramento, 72-49; Sacred Heart Catholic, 74-61; San Marin, 52-49; El Cerrito, 50-32 to win the Northern California Regional.

Key Players: Grant Jerrett, a junior who has committed to Arizona, is Lutheran's top threat at 17.3 points per game. The center has a strong skill set in the paint and can sink jumpers from any spot along the baseline. Guard C.J. Cooper, who will play at Texas El Paso next season, compliments Jerrett well. Brandon Ashley, a top forward prospect in the 2012 class, leads Bishop O'Dowd with a 13.7 points average. Teammate Richard Longrus isn't far behind at 11.8.

What to expect: The intrigue lies in the juicy Jerrett-Ashley matchup. ESPNU rates Jerrett as the top forward in the 2012 class; Ashely comes in at second. Jerrett is the sixth-best prospect; Ashley is the seventh-best. They're both listed at 6 feet 8 and a bit over 200 pounds. With it being such a close call up front, their teammates might make the difference. La Verne Lutheran won the Division V state championship last year. Bishop O'Dowd seeks redemption after falling to Gardena Serra in the Division III title game last year.
March, 19, 2011
3/19/11
3:43
PM PT
LOS ANGELES -- La Verne Lutheran coach
Eric Cooper
will be the first to tell you about his team's bumpy season. And, fortunately for him, it's not over.
The 11th-seeded Trojans used a strong second half to upset top-seeded La Caņada, 57-47, Saturday afternoon at Galen Center to advance to next week's CIF State Division III boys' basketball championship in Sacramento. Lutheran outscored La Caņada 35-22 in the second half behind 14 points from forward
Grant Jerrett
. He finished with 22.
"This was one of the three toughest teams we've faced this year," Cooper said. "You had to think or they could embarrass you."
Lutheran (25-5) turned the ball over leading by four with less than two minutes remaining. The Spartans (30-4) had a three-on-one the other way with a chance to cut the deficit, but
C.J. Cooper
anticipated a pass under the basket. The Trojans got an easy bucket at the other end.
"If we got that," La Caņada's
Mason Holle
said, "it could have been a different game."
The momentum had shifted long before that, when Lutheran broke out a box-and-1 zone defense to contain
Michael McGlashan
. McGlashan and
Matt Faber
combined for 22 points in the first half as the Spartans led 25-22 heading into the locker room. Together, they were 10-for-16 shooting. McGlashan had only seven points in the second half.
"When coach [Cooper] puts a challenge on my plate," Lutheran guard
Bruce English
said, "I tend to take it serious."
English was the "one" in box-and-one. He answered the call offensively, too, scoring 10 of his 13 points in the second half. Lutheran beat the third-seeded, second-seeded and top-seeded teams to advance out of the Southern California regional. The fact that La Caņada fans packed both sides of the court made it more daunting. It felt like a true road game for the Trojans -- even if their nickname was painted onto the floor at Galen Center.
"We brought a whole community to its feet," La Caņada coach
Tom Hofman
said. "For two weeks, that's all they were talking about -- La Caņada basketball."
And for good reason. The Spartans (30-4) had defeated Los Angeles Price for the CIF-Southern Section Division 3AA championship two weeks previous. But on Saturday, Lutheran looked like a team on a mission.
"I don't really believe in the seeding system," Cooper said. "All it did was make us prepare to be a road team. We had to win on the road against some very good, talented teams. All that does is helps us."
Blair Angulo covers preps and UCLA for ESPNLosAngeles.com. Follow him on Twitter.
March, 16, 2011
3/16/11
5:01
PM PT
By
Sean Ceglinsky
| ESPNLosAngeles.com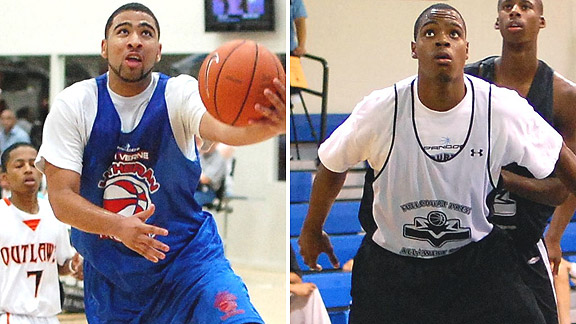 Courtesy of Dave KeeferKevin Payne, left, lost his father to a car accident in September, and Xavier Jones, right, suffered a heart attack in November and had to be revived by coaches through CPR. Both look to lead La Verne Lutheran to a berth in the state finals.
LA VERNE -- In most cases, a tragedy, particularly a loss of life, tends to have a profound impact on the psyche of a high school sports program.
Sometimes the extenuating circumstances can cause strife so severe the players and coaches, often times, find it difficult to overcome.
The La Verne Lutheran boys' basketball team has been a resilient bunch. It's a group that has recently dealt with three deaths to persons closely associated to the program and a close call with regard to another, a teammate no less.
Through it all, the players and coaches have persevered and are now on the verge of reaching a goal that many observers thought unattainable a couple of months ago.
A victory over La Canada (30-3) in Saturday's Southern California Regional playoffs at USC's Galen Center will secure the Trojans (25-5) an improbable Division III title and enable them to advance to the state finals on March 25 and 26 at Arco Arena in Sacramento.
"We have had some ups and downs so far, but our kids have stuck it out and fought through adversity,'' La Verne Lutheran coach
Eric Cooper Sr
. said.
Perhaps
Kevin Payne
and
Xavier Jones
have been involved in the most traumatic experiences, given that each senior lost a close family member.
Payne's father,
Kevin Payne Sr
., was killed in an automobile accident in early September. The grief left a lasting impression on the entire program.
February, 15, 2011
2/15/11
9:28
PM PT
By
Sean Ceglinsky
| ESPNLosAngeles.com
The CIF-Southern Section and City Section playoffs are all set to get started later this, week which can mean only one thing: The Southland's top teams are on the verge of squaring off, tournament style, with the hopes of eventually bringing home some championship hardware to their respective schools.

We figured it was best to unveil another installment of the ESPNLosAngeles.com top 20 rankings before things get underway. It will be interesting, no doubt, to see how things unfold and just how many of the following programs live up to the lofty postseason expectations bestowed upon them.

In terms of making an appearance in the final poll before the playoffs, consideration was given to larger schools Compton, Elsinore, Murrieta Valley, Pasadena and Washington. The same could be same about little guys Mission Hills Alemany, Bellflower St. John Bosco and Westlake Village Oaks Christian. In the end, however, there is only room for 20 teams. So, let's get down to business.

1. (1) Long Beach Poly (24-1): Ryan Anderson and the Jackrabbits have been the top-ranked team from start to finish thus far. No need to switch things up at this stage of the game.

2. (2) Mater Dei (24-2): If anyone is capable of defeating Long Beach Poly in a loaded Division 1AA bracket, perhaps it is the Monarchs. Doing so, however, is an entirely different story.

3. (4) Taft (23-2): The talented Toreadors are the odds-on favorite to win the City Section title. Anything less than a championship would be one of the biggest surprises of the season.

4. (3) Corona Centennial (23-3): The premier program out in the Inland Empire has shown little, or no, signs of slowing down. A deep run during postseason play is a distinct possibility.

5. (5) Loyola (20-5): Talk about playing your best basketball at the most opportune time, no one wants to face the Cubs in Division 1A. The real question is, did they peak a bit too early?

6. (6) Etiwanda (25-2): The Eagles have plenty of explaining to do after inexplicably losing two of their final five regular-season games. That said, we are patiently waiting for an answer.

7. (7) Orange Lutheran (21-6): Among the teams looming as potential threats in Division 4AA are Windward, Alemany and St. John Bosco. The Lancers figure to be tested early and often.

8. (8) Westchester (23-6): After taking a brief glance at the City Section bracket, the Comets appear to be on a collision course with Taft in the finals. Looking ahead could prove costly though.

9. (9) Harvard-Westlake (22-4): With Daniene Cain and Zena Edosomwan providing an imposing presence down low in the paint, the Wolverines will be tough to beat in Division 3A.

10. (11) Peninsula (25-1): Lone loss came last year, on Dec. 3, a six-point setback to Westchester. Fast forward to present day and the Panthers are in the midst of a 21-game winning streak.


January, 21, 2011
1/21/11
12:59
PM PT
By
Sean Ceglinsky
| ESPNLosAngeles.com
For those interested in watching some high school boys' basketball played at the highest of levels, we have just the thing for you on Saturday.
The University of La Verne will be the sight of the inaugural California Elite Showcase and the one-day event is shaping up as one of those must-see type of events. Here is an inside look at the programs, as well as a few of the more high-profile players, that are expected to be in attendance for the festivities.
Diamond Ranch vs. Ayala @ 2 p.m.:
When it comes to Ayala, pick your poison:
Jared Ponce
,
Matthew Ponce
or
Tyler Ponce
. Game in and game out, the triplets play a major role for the Bulldogs. If the Panthers hope to prevail, they had better be mindful of where the Ponce brothers are at all times.
Eisenhower vs. Richmond Salesian @ 3:30 p.m.:
Plain and simple, stop
Dominic Artis
and you stop Salesian. Problem is, the 5-foot-10 junior point guard is a handful to deal with. Suppose that best explains why Artis is being recruited by schools such as Georgia Tech, New Mexico and Stanford.
San Diego Hoover vs. Corona Roosevelt @ 5 p.m.:
A battled tested bunch already this season, Roosevelt has yet another tough task ahead in the form of
Angelo Chol
. ESPNU ranks the 6-9 unsigned senior as the No. 12 center in the nation and the No. 65 prospect overall. Chol will get the ball early and often.
La Verne Lutheran vs. Price @ 6:30 p.m.:
We have talked about Price's
Norvel Pelle
and
Askia Booker
plenty thus far. That said, it is time to shed some light on the Trojans' trio of NCAA Division I-bound recruits. Keep an eye on the senior tandem of
C.J. Cooper
and
Bruce English
, who are heading to Texas El Paso (UTEP) and Loyola Marymount (LMU), respectively. Another individual to watch is junior
Grant Jerrett
, who gave a verbal commitment to Arizona in November.
San Diego Lincoln vs. Sacramento @ 8 p.m.:
This match-up had the potential to be the quintessential show-stopper, thus the prime-time slot much later in the evening. Then, seemingly out of nowhere, Arizona-bound
Josiah Turner
decided leave Sacramento a couple weeks ago for Quality Education Academy in North Carolina. Pac-10 Conference followers fear not, UCLA-bound
Norman Powell
will be uniform for Lincoln and sticking around for the nightcap will be well worth it.
Sean Ceglinsky covers preps for ESPNLosAngeles.com. Follow him on
Twitter
.
March, 17, 2010
3/17/10
11:50
AM PT
By
Dan Arritt
| ESPNLosAngeles.com
A number of successful high school basketball programs in Southern California wear the small-school tag. La Verne Lutheran lives it.
"If you blink, you'll miss us," said its boys' basketball coach,
Eric Cooper
.
But college recruiters know Lutheran is located just off the Foothill Freeway, in the shadow of the San Gabriel Mountains. The play of the Trojans over the last three seasons–the length of time the 150-student school has fielded a varsity basketball program–has certainly put them on the map of general high school basketball fans as well.
(The infrastructure that went in to building the program is detailed
in this story
from earlier this season).
Lutheran looks to take another step into the limelight Saturday at 3 p.m., when it plays Los Angeles Windward in the Southern California Regional Division 5 championships at Colony High in Ontario. The winner advances to the state final March 26-27 in Bakersfield.
Don't be surprised if this game ends up as close as their last meeting March 4 in the Southern Section Division 5AA final at Colony. In that game,
Bruce English
sank a 15-footer at the buzzer to lift second-seeded Lutheran to a
62-61 victory
against the top-seeded Wildcats. Seconds earlier, Windward standout
Wesley Saunders
had scored off a drive to give his team a one-point lead.
What makes the Trojans such a strong small school is the depth of their starting five.
C.J. Cooper
, the nephew of Eric, is a 5-foot-11 junior point guard who is being recruited by San Diego State and Montana State.
Grant Jerrett
is a 6-8 sophomore forward who has scholarship offers from UCLA, USC, Washington, Arizona and Nevada-Las Vegas.
Xavier Jones
is also a 6-8 junior forward with exceptional shot-blocking abilities.
English, a junior guard, and freshman guard
Eric Cooper
, the coaches' son, are also key parts of the team.
The only senior, 6-7 forward
Jordan Salley
, has been sidelined all season after injuring his knee last June. He has signed with Montana State.
In addition to its victory against Windward, the Trojans have a number of other results that solidify their standing as one of the top teams in Southern California.
They defeated defending Division 2 state champion Eisenhower of Rialto and City Section power Los Angeles Dorsey earlier this season at the Pasadena Rose City Classic. They've also knocked off Division 2 Southern California Regional finalist Compton and Central Section Division 1 champion Clovis East.
"Nine of our opponents were in section finals," Cooper said.
Definitely a small school with big-time results.