Los Angeles Preps:

C.J. Dozier
February, 1, 2012
2/01/12
3:35
PM PT
By
Dan Arritt
| ESPNLosAngeles.com
Upland wide receiver Kenny Lawler, the last major unsigned recruit from the Inland Empire, made it official Wednesday afternoon, announcing he will sign with California.

Lawler took a last-minute recruiting trip over the weekend to California after visiting Oregon State and Washington State the two prior weekends. Heading into Wednesday's national signing day, he was reportedly down to California and Oregon State.

The Bears return leading receiver Keenan Allen, but second-leading receiver Marvin Jones has exhausted his eligibility. A spot opened up for Lawler in Cal's recruiting class after Oaks Christian wide receiver Jordan Payton, who had committed to the Golden Bears in early January, switched to Washington last week before ultimately signing with UCLA.

Lawler said on Fox Sports Prime Ticket that a major factor in his decision was California hiring one of his longtime coaches, Charlie Collins, as a staff member.

"I know he's going to have my back up there," Lawler said.

The 6-3, 185-pound senior committed to Arizona State shortly after last year's national signing day, the first school to offer him a scholarship. He stuck by the commitment until late November, shortly after the Wildcats fired coach Dennis Erickson.

Lawler caught 53 passes for 1,267 yards and 12 touchdowns last season, including nine scores in the final four games. His size and reach allows him to out-jump most defensive backs.

Lawler is one of four Upland players to sign a letter of intent Wednesday. Running back Donte Abron, Jr., defensive back Marques Mosley and fullback Christian Powell signed with Colorado earlier in the day.

Here's a full list of signings from Wednesday:


January, 31, 2012
1/31/12
3:34
PM PT
By
Dan Arritt
| ESPNLosAngeles.com
Less than 24 hours before national signing day and high school football recruits from the Inland Empire continue to sway on their decisions, or learn that a previous offer is no longer on the table.
UCLA and Colorado are two schools in the middle of some down-to-the-wire movement involving I.E. recruits.
Christian Powell
, the
third-ranked
fullback recruit in the nation, committed to UCLA earlier this month but switched to Colorado on Monday night, reports several outlets, including
Greg Biggins
of ESPN Recruiting Nation.
He would be the third player from Upland to be part of the Buffaloes' recruiting class, joining running back
Donte Abron, Jr
., and wide receiver/defensive back
Marques Mosley
. Powell, at 6 feet, 250 pounds, also played defensive line for the Highlanders, recording 15 sacks last season, but is expected to play fullback in coach
Eric Bienemy
's offense.
Corona Santiago offensive lineman
Isaiah Folasa
, also once a UCLA commit under former coach
Rick Neuheisel
, will reportedly sign with New Mexico State on Wednesday, according to Santiago coach
Jeff Steinberg
.
Folasa took a recruiting trip to Colorado the weekend of Jan. 21, but the Buffaloes were unable to accept his commitment because they had ran out of available scholarships for this class, Biggins reported. In addition to the Upland trio, Arlington defensive lineman
Samson Kafovalu
and Citrus Hill running back
Davien Payne
have also pledged to Colorado.
Here's the latest list of recruits from the I.E.
January, 19, 2012
1/19/12
12:39
PM PT
By
Dan Arritt
| ESPNLosAngeles.com
The late-season coaching change at Arizona State continues to have an impact on recruiting in the Inland Empire.
It was
reported
last month that Chaparral linebacker
C.J. Dozier
and Upland wide receiver
Kenny Lawler
had de-committed from the Sun Devils after
Dennis Erickson
was fired Nov. 28 and replaced two weeks later by
Todd Graham
, who is beginning his fourth head coaching job since 2006.
Dozier, a 6-foot-2, 210-pound senior who averaged 5.3 tackles a game last season, took an official visit to Arizona last weekend and committed to the Wildcats, even opting to enroll at the school for this spring semester,
according to
the Tucson Citizen. Dozier had made a non-binding verbal commitment to Arizona State in July, prior to taking any official visits.
Lawler, who caught 53 passes for 1,267 yards and 12 touchdowns last season, is the last marquee recruit from the I.E. still undecided on his college choice. He had committed to the Sun Devils back in February, the first offer he received.
The Sun Devils appear to have retained one of their early I.E. commitments, Corona Centennial defensive lineman
Milo Jordan
, who reportedly re-committed after taking an official visit to Arizona State last weekend. However, the 6-2, 265-pound senior still has an official visit scheduled to UCLA this weekend.
Arizona State has done well recruiting in the Corona-Norco area in the past. On last season's roster, six players were listed from Centennial and six from Norco.
Here's an updated list of recruits from the I.E, both committed and uncommitted.
COMITTED RECRUITS
QB
Matt Morin, Chaparral (San Diego State)
Austin Decoud, Redlands East Valley (Idaho)
RB
Donta Abron, Jr., Upland (Colorado)
Davien Payne, Citrus Hill (Colorado)
ATHLETE
Damontae Kazee, Cajon (San Diego State)
Jamaal Williams, Summit (BYU)
December, 26, 2011
12/26/11
3:42
PM PT
By
Dan Arritt
| ESPNLosAngeles.com
The coaching change at Arizona State claimed another Inland Empire recruit last week.

Chaparral outside linebacker C.J. Dozier has de-committed from the Sun Devils, according to the recruiting publication, Scout.com.

Dozier, a 6-foot-2, 210-pound senior who averaged 5.3 tackles a game last season, made a non-binding verbal commitment to Arizona State in July, prior to taking any official visits.

After four consecutive losing seasons, Dennis Erickson was fired as coach of the Sun Devils on Nov. 28. Two weeks later, the school hired former Pittsburgh coach Todd Graham, his fourth head coaching job since 2006.

Shortly after Erickson was fired, Upland wide receiver Kenny Lawler also de-committed from the Sun Devils. The 6-3, 185-pound senior made a soft commitment to Arizona State back in February.

"I'm very excited to be a Sun Devil," Lawler told ESPN at the time. "They're my first offer and I just decided to go ahead and take it. It's a soft commit, I'm still going to keep my options open and if other schools come calling, I'll still check them out but as of now, it looks good that ASU will be my school."

According to Scout.com, Dozier is still considering Arizona State, but UCLA, Oregon, Washington, Nebraska, Arizona, Cal and San Diego State are also in the mix. National signing day is Feb.1.

Lawler, who caught 53 passes for 1,267 yards and 12 touchdowns last season, lists UCLA, Cal, Michigan State and Nebraska as his top choices.
December, 22, 2011
12/22/11
9:46
PM PT
By
Dan Arritt
| ESPNLosAngeles.com
Now that the high football season has ended, the recruiting period is in full swing. The Inland Empire, which has stockpiled a number of collegiate conferences over the years, has its share of blue-chip recruits again this season. Here's a list of seniors who have made non-binding verbal commitments to schools in advance of the national signing day in early February, followed by a list of those who are still undecided.

COMMITTED RECRUITS

QB -- Matt Morin, Chaparral (San Diego State); Austin Decoud, Redlands East Valley (Idaho).

RB -- Donta Abron, Jr., Upland (Colorado); Davien Payne, Citrus Hill (Colorado).

ATHLETE -- Damontae Kazee, Cajon (San Diego State); Bryan Harper, Colony (Washington); Jamaal Williams, Summit (BYU).

OL -- Lio Lafaele, Corona Centennial (Utah); Dylan LaFrenz, Los Osos (Arizona State); Isaiah Folasa, Corona Santiago (UCLA); Kyle Hart, Ridgecrest Burroughs (San Jose State).

DL -- Jeremy Castro, Vista Murrieta (Oregon); Teddy Queen, Chaparral (San Diego State); Samson Kafovalu, Arlington (Colorado).

LB -- Scott Starr, Norco (USC); C.J. Dozier, Chaparral (Arizona State); Darnell Murray, Citrus Hill (UTEP).

DB -- Donte Deayon, Summit (Boise State); Corbin McCarthy, Norco (Duke); Marques Mosley, Upland (Colorado).

UNDECIDED

ATHLETE -- Reshawn Hooker, A.B. Miller (Boise State, UCLA).

WR -- Kenny Lawler, Upland (UCLA, Oregon State, California, Michigan State).

DL -- Milo Jordan, Corona Centennial (USC, UCLA, Arizona State, Nebraska, Washington); Christian Powell, Upland (Washington, Nebraska, Texas A&M).

LB -- Joe Robinson, Chaparral (Nebraska, Arizona); Robert Wagner, Colony (Arizona, San Diego State); Nolan Peralta, Elsinore (Fresno State, San Jose State).
November, 22, 2011
11/22/11
9:41
PM PT
By
Dan Arritt
| ESPNLosAngeles.com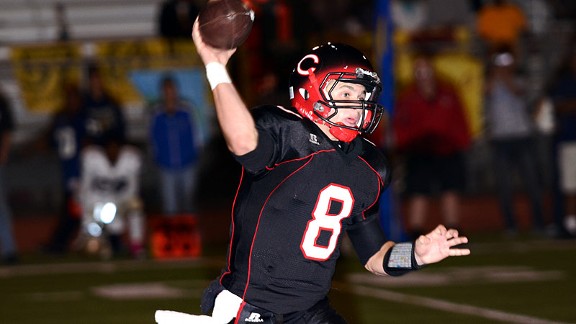 Courtesy of Joe WheatCentennial quarterback Hayden Gavett will be one of many players Chaparral will need to slow to have a chance.
Redlands may have provided a blueprint on how to score against Corona Centennial but other than Mother Nature, nobody has designed a way to stop its offense in recent years.
The latest coach to inherit that challenge is
Ryan Tukua
of Chaparral, whose Pumas are preparing to play the top-seeded Huskies in an Inland Division second-round game Friday night at Centennial.
While watching tape of the Huskies' 49-35 victory last week against Redlands, he nearly blistered his thumb hitting the pause button.
"Centennial did not get stopped one time on offense," Tukua said. "It seemed like they'd score within two minutes of getting the ball."
Of course, the Pumas (7-4) have a few things going for them; a solid defense, a defensive coordinator,
Stan Hunt
, who recently coached at Centennial (10-1) and a history of knocking the Huskies off their perch.
The teams first met five years ago, in the same round and the same spot of the Inland Division bracket. Centennial, undefeated and the top-seeded team at the time, had no answer for Chaparral running back
Talmadge Jackson
, who rushed for 313 yards and four touchdowns in the 42-28 upset.
Centennial eliminated the Pumas from the playoffs the next two seasons but Chaparral earned some payback in 2009. After upsetting top-seeded Redlands East Valley in the second round (the same spot of the bracket as this season), the Pumas beat Centennial in an overtime thriller, 43-35. They completed their magnificent playoff run with a 13-7 victory against Southwestern League rival Vista Murrieta in the championship game.
That was the last time the Pumas had anything to celebrate against Centennial, however. The teams have met in nonleague play the last two seasons, with Centennial winning by a combined score of 94-26.
October, 12, 2011
10/12/11
7:42
PM PT
By
Dan Arritt
| ESPNLosAngeles.com
League play kicks off this week for the remainder of the I.E., and the Southwestern League doesn't waste any time, opening up with two excellent matchups. Meanwhile, the Big VIII League will feature its only remaining undefeated teams in a cross-town showdown, and the Baseline League opens up with a potential high-scoring affair.

A-Game

(Inland Empire top 10 rankings included)

No. 13 Vista Murrieta (5-0) at Chaparral (2-3), Friday (7:30 p.m.) – These programs don't own a long history but what they have experienced is pretty energized. Vista Murrieta is 5-3 in the series but Chaparral owns the biggest win, a 13-7 victory against the Broncos in the 2009 Inland Division final. Four of the meetings have been settled by three points or fewer, with two stretching into overtime. The player to watch for Vista Murrieta is junior Su'a Cravens, a strong safety by trade but a major part of the offense this season as well. Out of necessity, Cravens has been playing running back for the Broncos, giving them a great weapon as a runner or receiver. Chaparral will need San Diego State-bound quarterback Matt Morin to be consistently sharp, something he has struggled with this season. The Pumas have their own stellar strong safety in Arizona State-bound senior C.J. Dozier.

Calpreps.com computerized projection: Vista Murrieta 34, Chaparral 6

ESPNLA: Vista Murrieta 26, Chaparral 20

B-List

No. 14 Upland (5-0) vs. Etiwanda (3-2) at Colony HS, Friday (7 p.m.) – Two of the top three teams in the Baseline League square off in the league opener. Both teams have offenses that should keep the scoreboard operator busy. Upland is led by running back Donta Abron and wide receiver Kenny Lawler, who have immense big-play ability. The Eagles will count on quarterback Larry Cutbirth to match Upland point for point. Look for the game to turn on the game's first non-scoring change of possession, whether it's a turnover, missed field goal or simply a punt.

Calpreps: Upland 42, Etiwanda 28

ESPNLA: Upland 56, Etiwanda 35


September, 21, 2011
9/21/11
6:22
PM PT
By
Dan Arritt
| ESPNLosAngeles.com
The first four teams in the Inland Empire top 10 face off against formidable opponents this week, none more intriguing then Norco hosting Upland on Friday night. J.W. North put itself on the map last week with a huge upset against Alemany. Will there be another J.W. North-like performance in the I.E. this week? Here's the best of the best.
A-Game
(I.E. rankings included)
[+] Enlarge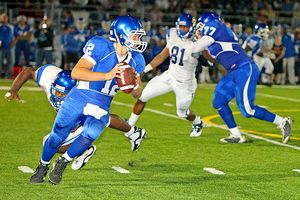 Courtesy of Rob HelfmanNorco sophomore quarterback Coltin Gerhart hopes to repeat the big game he had against Upland last season.
No. 7 Upland (3-0) at No. 3 Norco (2-0), Friday (7 p.m.)
– Norco sophomore quarterback
Coltin Gerhart
had a break-out performance in this meeting last season. As a freshman, he rushed for 80 yards and two second-half touchdowns to lift the Cougars to a
35-21
victory at Upland. Gerhart, the brother of Minnesota Vikings running back
Toby Gerhart
, is coming off the best performance of his high school career, rushing for 227 yards and three touchdowns in a 42-36 victory against No. 10 Etiwanda. Norco's defensive backs will have their hands full covering
Kenny Lawler
, one of the top receivers in the Southland. Look for the
Arizona State-commit
to be the difference.
Calpreps.com computerized projection: Norco 34, Upland 24.
ESPNLA: Upland 31, Norco 27.
B-List
Chaparral (0-2) at No. 1 Corona Centennial (1-1), Friday (7:30 p.m.)
– The Huskies appear to be back on track after defeating Mater Dei last Friday,
28-20
. They cut down on their penalties, didn't commit any turnovers other than a bad snap on the punt team and rallied back from a 13-point late third-quarter deficit. Chaparral may have found itself in the second half of a 31-19 loss to Oceanside two weeks ago. The Pumas had a bye last week to either work out more kinks or resume their bad habits. They remain dangerous, however, with
San Diego State-bound
quarterback
Matt Morin
leading the offense and
Arizona State-bound
strong safety
C.J. Dozier
heading the D.
Calpreps.com: Centennial 38, Chaparral 19.
ESPNLA: Centennial 31, Chaparral 21.
No. 2 Rancho Cucamonga (3-0) at Charter Oak (3-0), Friday (7 p.m.)
– The Cougars take a step up in competition for the fourth consecutive week, and another one-sided victory might actually get the attention of the coaches who vote for the
SS-Inland Division poll
, who have kept Rancho Cucamonga lodged at No. 5 since the start of the season. But the Cougars can't worry about that, they need to keep their focus on stopping Charter Oak sophomore running back
Kurt Scoby
, who's proving to be one of the region's best, averaging 138 rushing yards a game.
Calpreps.com: Rancho Cucamonga 31, Charter Oak 14.
ESPNLA: Rancho Cucamonga 45, Charter Oak 21.
August, 31, 2011
8/31/11
7:27
PM PT
By
Dan Arritt
| ESPNLosAngeles.com
Through out this season, ESPNLA plans to highlight the Inland Empire's top matchups of the week, whether it's two undefeated teams going head to head in league play, a beefy offensive line against a swarming defensive front, or an offseason transfer meeting up against his former team. And what's a good preview without a prediction?
Here's what to look for this weekend.
A-GAME
Fontana Summit vs. Etiwanda at Fontana A.B. Miller HS, Friday (7 p.m.)
-- One of the top passers in the Southern Section last season goes up against one of the best ball hawks.
Larry Cutbirth
of Etiwanda threw for 2,996 yards and 32 touchdowns last season, both stats among the top 10 in the state's biggest section. He'll have to contend with Boise State-bound senior corner
Donte Deayon
, who hauled in 10 interceptions as a junior, which tied for second in the section. The game was expected to mark the long-awaited return of Etiwanda senior linebacker
Chandler Scott
, who sat out last season because of a knee injury after leading the Baseline League in tackles as a sophomore, but he suffered another knee injury over the summer and is expected to miss the first two games.
Prediction: Summit 26, Etiwanda 21.
B-LIST
San Bernardino Cajon at Temecula Chaparral, Friday (7 p.m.)
-- Chaparral would very much like to spring from the blocks and start the season on a positive note for new coach
Ryan Tukua
. The matchup to watch here is also quarterback vs. cornerback.
Matt Morin
returns behind center for Chaparral and the San Diego State-bound left-hander will be trying to beat a Cajon secondary that includes
Damontae Kazee
, who has committed to Washington but has a brother,
Walter
, who plays running back for San Diego State. Kazee is also Cajon's biggest offensive threat at receiver, and he'll face a defense led by Chaparral strong safety
C.J. Dozier
, who has committed to Arizona State.
Prediction: Chaparral 20, Cajon 17.
Pomona Diamond Ranch at Chino, Friday (7 p.m.)
-- If nothing else, this game should be interesting to watch from a coaching perspective. Chino's balanced offense will stare down a defense coached by former Riverside North, USC and NFL defensive end
Chris Claiborne
, in his first season as defensive coordinator at Diamond Ranch. He'll have to find a way to stop Chino quarterback
Sean Molles
, who threw for 2,343 yards and 29 touchdowns last season, and running back
Xavier Browne
, who totaled 1,275 yards and 20 touchdowns. Claiborne was defensive coordinator the last two seasons at Corona High, where he developed defensive end
DeVante Wilson
, now at USC.
Prediction: Chino 28, Diamond Ranch 10.
La Quinta at Rancho Cucamonga Los Osos, Friday (7 p.m.)
--
Taylor Pope
might have to be a one-man band for La Quinta. The senior quarterback is the lone returning all-Desert Valley League selection from last season's team, and one of the key pieces on defense and special teams for the Blackhawks. Los Osos missed the playoffs last season for the first time since 2004 and returns just eight starters, but the Grizzlies have one of the area's better offensive guards to lean on in 6-4, 280-pound senior
Dylan La Frenz
.
Prediction: La Quinta 14, Los Osos 13.