May, 9, 2012
5/09/12
7:30
PM PT
The receiver position was a loaded one last fall, with St. John Bosco's Bryce Treggs (Cal), Inglewood's Derrick Woods (Oklahoma), Oaks Christian's Jordan Payton (UCLA) and Lakewood's Darius Powe (Cal) leading the way.

Another deep class appears to be taking shape as we head into the summer, with Rancho Verde's Demorea Stringfellow, Alemany's Steven Mitchell, Santa Monica's Sebastian Larue and Oaks Christian's Francis Owusu pacing the group.

Lakewood's X'avier Shepherd might be close to joining the region's elite. He has scholarship offers from five Pac-12 schools -- UCLA, Utah, Arizona, Oregon State and Colorado -- as well as Fresno State.

Shepherd averaged over 15 yards per catch and hauled in six touchdowns last season despite sharing the ball with two seniors: Powe and Malik Gilmore (Oregon State).

"Both of them have had a very big impact on my game," Shepherd said. "They've given me a lot of information on the recruiting process and have never steered me wrong before, so I'm sure that everything will work out smoothly."
April, 25, 2012
4/25/12
10:58
PM PT
Dorsey defensive back Daquawn Brown received a scholarship offer from childhood favorite UCLA this week, the latest indication that recruitment for the rising senior is heating up.

Oklahoma dropped by Dorsey on Tuesday. USC and Nebraska did the same on Wednesday. Brown has college coaches intrigued and looks to add to a list of offers that already includes Arizona State, Cal, San Jose State and Washington State.

"It's catching up to me," Brown said of his recruitment. "To be noticed by my favorite, ideal schools is an honor."

Brown said he will commit to the most "genuine" school, meaning the one that has his best interests, both athletically and academically, in mind. Brown has sought the advice of former Dorsey standouts Jeremiah Allison (Washington State) and Jaydon Mickens (Washington), as well as Oregon phenom De'Anthony Thomas, an inner-city legend who attended rival Crenshaw.

"We all grew up together, playing for the same teams in Pop Warner," Brown said. "They're all helping me."

Don't expect the 5-foot-11 Brown to make a college decision soon. He hopes to take all five official campus visits to get a feel for what each school has to offer, and he anticipates that a choice will likely come near signing day in February.
April, 11, 2012
4/11/12
9:14
PM PT
Los Angeles Price forward Khalil Johnson has committed to Cal and is set to sign with the Golden Bears this spring, according to a source.

Johnson, a versatile forward with a smooth lefty stroke, also considered Arizona State. The 6-foot-7 Johnson was a key contributor on a Price team that reached the CIF State Division IV championship last month. The Knights, though, lost to Salesian.

Price has produced its share of talent in recent years. Skylar Spencer, one of the area's top big men, is headed to San Diego State. Allen Crabbe, Cal's leading scorer as a sophomore last season, was the Pac-10 freshman of the year in 2011.
April, 10, 2012
4/10/12
6:05
PM PT
St. John Bosco rising senior offensive lineman Nico Falah continues to be one of the area's most sought after football recruits. He received a scholarship offer from Cal on Tuesday afternoon, adding to a collection that now includes all of the Pac-12 schools except Stanford.

Falah is a national-level prospect, having been offered by the likes of Boise State, Florida and Notre Dame.

He said he doesn't anticipate making a decision until late in the process, after he takes all five of his visits. The 6-foot-4 Falah plans to attend a spring camp in Berkeley on April 21 and visit the Bay Area campuses that same weekend.
March, 22, 2012
3/22/12
5:54
PM PT
By
Sean Ceglinsky
| ESPNLosAngeles.com
LOS ANGELES -- There was no shortage of high-profile post players in the Southland this season. The position, in fact, was seemingly the deepest it has been in recent years.
Attempting to determine who the best of the bunch was could prove to be a difficult task given the long list of candidates. A case can certainly be made for
Skylar Spencer
, considering the 6-foot-9, 220-pound senior from Los Angeles Price senior is the last man standing.
[+] Enlarge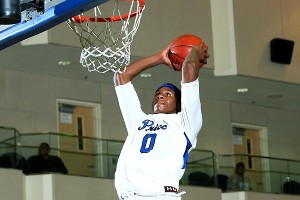 Courtesy of Nick KozaSkyler Spencer has been consistent in his play and that is a big reason Price finds itself in the state title game.
While most of his highly regarded peers sit at home on Friday afternoon and wonder about what could have been, Spencer will suit up for the Knights (26-8 overall) and likely be the difference between winning and losing in the CIF state championship game against Richmond Salesian (33-2). The opening tip is at 1:30 p.m. in Sacramento at Power Balance Arena.
"I wouldn't trade Skylar for anybody out here,'' Price coach
Michael Lynch
said. "He's our captain, our leader on the team, we've been on his back so many times this year.''
If given the chance, many would choose
Grant Jerrett
from La Verne Lutheran as the premier player in the greater Los Angeles area. The senior and Arizona commit, after all, was recently named the Gatorade State Boys' Basketball Player of the Year.
North Hollywood Harvard-Westlake's
Zena Edosomwan
deserves consideration with regard to being mentioned in the same sentence as some of the Southland's best bigs. Also worth mentioning is Woodland Hills Taft's
Anthony January
. Gardena Serra's
Daddy Ugbede
and La Verne Damien's
Chris Reyes
round out the well-rounded group.
Spencer can't be overlooked if winning is a criteria used in the conversation. The Knights were among the top programs in the ESPNLosAngeles Top 20 rankings this season with Spencer leading the way. Remember, Price played one of the more competitive schedules around.
"We did not back down from anyone, we'll play anyone, anytime, anywhere,'' Spencer said. "To be the best, you have to play the best. That's the way you have to think.''
February, 1, 2012
2/01/12
8:28
PM PT
By
Tim Haddock
| ESPNLosAngeles.com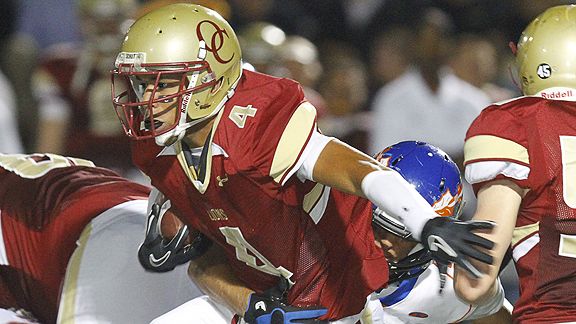 John Lazar/Special to ESPNLosAngeles.comOaks Christian's Jordan Payton went from committing to USC to Cal to Washington and signing with UCLA.
In the span of 48 hours, Oaks Christian wide receiver
Jordan Payton
switched commitments from Cal to Washington to UCLA. Before that, as a junior, he verbally committed to USC.
He told a third of the schools in the Pac-12 Conference that he was going to play football for them.
He is one of the top recruits in the country, a talented receiver who can also play defensive back. He is tall, 6 feet 3, and fast, ranked 15
th
in the nation at wide receiver by Scout.com and Rivals.com. He was the 29th-ranked wide receiver in the nation by ESPNU. He would have been a valuable piece to any college offense.
But he might have become a victim of a relentless recruiting process that demands high school players make decisions before they are ready.
"It's crazy, but the people have to understand this process is crazy," Payton told the Los Angeles Times on Wednrsday. "You're giving an 18-year-old kid a decision of a lifetime. I wanted to make sure I made the right decision."
That decision left some coaching staffs and fans in the Pac 12 a bit upset.
By the end of signing day, Payton's Twitter account had been disabled. He wasn't taking phone calls for interviews and only talking to a few close friends and family once he committed to UCLA. ESPNLosAngeles made several attempts throughout the day to reach Payton to no avail.
February, 1, 2012
2/01/12
10:49
AM PT
By
Tim Haddock
| ESPNLosAngeles.com


ENCINO -- Wide receiver Chris Harper is going to Cal in the fall. He caught 37 passes for 846 yards and 13 touchdowns in his senior season at Crespi.

UCLA made a late push for Harper, but he said his commitment to Cal was never in doubt.

"I went up there during the summer," Harper said. "I like the campus and I liked the interaction with the coaches. I just fell in love with the campus as soon as I got there."

Cal lost several commitments, including Oaks Christians wide receiver Jordan Payton to Washington, in recent weeks. Harper said going to Washington or another school never entered his mind.

"I was fully committed since they offered me," Harper said. "It was a done deal from there."
January, 31, 2012
1/31/12
2:17
PM PT
By
Sean Ceglinsky
| ESPNLosAngeles.com
Wide receiver
Jordan Payton
from Westlake Village (Calif.) Oaks Christian committed to Washington on Tuesday, making his choice known during a live announcement on ESPNU.
Among the many others thought to be in the running for a pledge from the senior were Cal and UCLA.
The 6-foot-2, 200-pounder initially committed to USC. Payton changed his mind recently and appeared heading to Cal. In the end, however, the Huskies proved to be the best fit for Payton, considered one of the Southland's premier players.
"I like everything about Washington, I had a visit, it went well and I think I can go there and play right away if I do what the coaches tell me,'' Payton said. "I wanted to make my college pick today and have a clear mind about the future."
Payton had scholarship offers on the table from some of the country's powerhouse programs. Florida, Notre Dame, Michigan and Oklahoma had courted him for quite some time. Arkansas and Penn State were believed to be players at one point as well.
"Jordan is the type of player that is going to make an immediate impact once he reaches the next level,'' Oaks Christian coach
Bill Redell
said. "He was able to do plenty of special things for us here. We're talking about a kid with a bright future ahead of him.''
Staying close to home and playing in the Pac-12 Conference proved to be too good of an opportunity to pass up, apparently. Payton will have the chance to make things official on Wednesday morning during national signing day.
"There was a lot of indecision at first. It was hard for me to choose a school. I learned plenty of things along the way though,'' Payton said. "The whole recruiting process has been crazy. It's not one of those things for everybody. Only a few select people go through some of the things I did. Bottom line is, I'm a Husky. I couldn't be more happy.''
Sean Ceglinsky covers preps for ESPNLosAngeles.com. Follow him on
Twitter
.
January, 30, 2012
1/30/12
5:06
PM PT
Two-star defensive back Raymond Ford of Gardena Serra has narrowed his list to three, according to a source at the school. The former UCLA commit will pick between Cal, Colorado and Nebraska, and will sign his letter of intent at Serra's signing ceremony on Wednesday.

Ford committed to UCLA last summer but reopened his recruitment after Rick Neuheisel was fired. He took official visits to Southern Methodist, Nebraska, Utah, Washington State and, most recently, Cal.

Ford wasn't completely healthy his senior season, but he played on both sides of the ball for the Cavaliers.
January, 7, 2012
1/07/12
12:28
PM PT
Monrovia defensive tackle
Ellis McCarthy
, the fifth-ranked player in the state, verbally committed to Cal on Saturday at the U.S Army All-American Bowl in San Antonio, Texas.
He is ranked No. 43 among all national prospects, according to ESPNU Recruiting. McCarthy led Monrovia to its second consecutive CIF-Southern Section Mid-Valley Division championship last season. The 6-foot-5, 311-pound McCarthy considered USC and Oregon.
"I like the program a lot," McCarthy said during an in-game interview. "I built a relationship with the team. ... We'll try to get a BCS bowl berth or make it to the Rose Bowl."
Oaks Christian receiver
Jordan Payton
, a former USC pledge, also committed to Cal during the game.
"We're going to do great things up there," Payton said.
Payton joins local receivers
Bryce Treggs
(Bellflower/St. John Bosco) and
Darius Powe
(Lakewood) among those committed to play their collegiate ball in Berkeley.
National signing day is Wednesday, Feb. 1.
Blair Angulo covers preps for ESPN Los Angeles. Follow him on Twitter.
January, 4, 2012
1/04/12
3:26
PM PT
Los Angeles Dorsey athlete
Jaydon Mickens
was named the most valuable player of the inaugural U.S. Marine Corps Semper Fidelis All-American Bowl on Tuesday night. Mickens led the West squad to a 17-14 win against the East at Chase Field in Phoenix, Ariz.
Mickens
had some company from local standouts. The south Los Angeles County region had four other representatives in the all-star game: linebacker
Jeremiah Allison
(Dorsey), receivers
Malik Gilmore
(Lakewood) and
Bryce Treggs
(St. John Bosco), and punter
Conrad Ukropina
(Loyola).
Mickens caught the game-tying touchdown in the first half and also added an electrifying 33-yard run. The former USC commit was explosive as kick returner, too.
Treggs
, a Cal commit, and
Gilmore
, an Oregon State commit, had a pair of catches for the East team. Treggs added a 37-yard kickoff return to set up his team near midfield with less than five minutes left but the West came up with a game-clinching turnover.
Ukropina, a Stanford commit, had a 64-yard punt.
Blair Angulo covers preps for ESPN Los Angeles. Follow him on Twitter.
December, 30, 2011
12/30/11
2:17
PM PT
Here's a list of the south Los Angeles County senior football players participating in All-American bowl games.

THE U.S. MARINE CORPS SEMPER FIDELIS ALL-AMERICAN BOWL GAME
Chase Field in Phoenix, Ariz.
Tuesday, Jan. 3 at 3 p.m. PT

LB Jeremiah Allison (Dorsey)
WR Malik Gilmore (Lakewood/verbal to Oregon State)
WR Jaydon Mickens (Dorsey)
WR Bryce Treggs (St. John Bosco/verbal to Cal)
K/P Conrad Ukropina (Loyola)

UNDER ARMOUR ALL-AMERICAN GAME
Tropicana Field in St. Petersburg, Fla.
Thursday, Jan. 5 at 4:30 p.m. PT
TV: ESPN

WR Darius Powe (Lakewood/verbal to Cal)

U.S. ARMY ALL-AMERICAN BOWL
The Alamodome in San Antonio, Texas
Saturday, Jan. 7 at 10 a.m. PT
TV: NBC

DB Brandon Beaver (Dominguez)
DT Ellis McCarthy (Monrovia)
LB Jabari Ruffin (Downey/verbal to USC)
DB Kevon Seymour (Muir)
WR Derrick Woods (Inglewood/verbal to Oklahoma)
December, 10, 2011
12/10/11
1:10
PM PT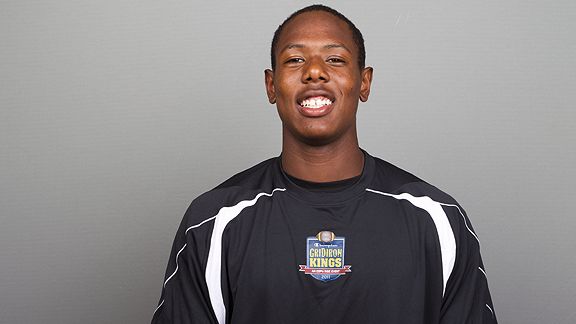 Miller SafritDarius Powe was one of the top uncommitted players in SoCal before deciding on Cal.
Lakewood receiver
Darius Powe
committed to California while on his official visit to Berkeley, he
announced on his Twitter account Saturday
.
Powe had offers from the likes of Boise State, Miami (Fla.), Michigan, Nebraska, UCLA and Washington, among others. He was the area's top uncommitted skill player before Saturday.
Powe had 560 receiving yards and nine touchdowns this season, doubling as a key defensive back for the Lancers (7-4).
He joins local receiver
Bryce Treggs
(Bellflower, Calif./St. John Bosco) on Cal's list of committed players.