Los Angeles Preps:

Cameron Osorno
February, 4, 2012
2/04/12
10:56
PM PT
SANTA ANA -- If crowd murmurs were any indication, the showdown between defending state champions exceeded expectations Saturday night. Mater Dei fans hoping for yet another Monarchs blowout were in for a reality check.
The tension built but it subsided quickly.
Top-ranked Mater Dei beat La Verne Lutheran, 71-66, to successfully defend its home court in the 17th annual Nike Extravaganza, but the margin was too close for the red-clad fans. The Monarchs had won their previous eight games by an average of 30 points but trailed the Trojans early in the fourth quarter.
Mater Dei (22-2), the defending CIF Division I state champion, used one of its patented runs to pull away. Senior guard
Eli Stalzer
sank a jumper, forward
Stanley Johnson
had a monstrous breakaway dunk and
Jordan Strawberry
nailed a runner to create some space. The final minute turned into a free-throw shooting contest, but the Monarchs passed that test.
Ninth-ranked La Verne Lutheran (18-6), a two-time defending state titlist, showed the crowd why it has been successful in recent years. Junior guard
Eric Cooper
had a game-high 21 points and wing
Cameron Osorno
added 12.
Senior forward
Grant Jerrett
gave Lutheran a brief two-point lead early in the fourth quarter, but he was never heard from again. Mater Dei denied the post, forcing low-percentage shots from the perimeter. Jerrett, an Arizona signee and arguably the Southland's best prep player, had only seven points and six boards.
"We had to box out this big 6-foot-10 dude over here," said
Xavier Johnson
, who led Mater Dei with 19 points and 15 rebounds.
Katin Reinhardt
had 17 points, and
Stanley Johnson
pitched in with 10 and 11 boards.
Blair Angulo covers preps for ESPN Los Angeles. Follow him on Twitter.
January, 31, 2012
1/31/12
11:37
PM PT
LA VERNE -- The old windowless gym on the campus of Lutheran High makes for great echoes, and a thunderous dunk by
Grant Jerrett
easily reverberated across its walls Tuesday night.
Then, a loud thud. Deep gasps followed, and the building went hush.
[+] Enlarge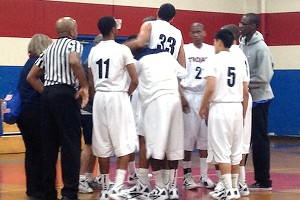 Blair Angulo/For ESPNLA.com Grant Jerrett (33) of La Verne Lutheran is helped off the court Tuesday by teammates after hurting his left ankle.
Jerrett was flat on his back, clutching a left ankle that, recently, has been given him issues. He had tweaked the ankle yet again, rolling it on an opposing player's foot on his way down from an explosive and, what turned out to be, unlucky dunk.
"It's pretty bad," Jerrett said. "It's something I've been dealing with and I've been trying to strengthen the ankle. I don't know. I have to deal with it, I guess."
To make matters even gloomier it was senior night at Lutheran, and Jerrett spent it on the bench with a towel over his head and his elevated left ankle resting on a chair. The Trojans, ranked No. 9 by ESPN Los Angeles, faced little trouble without the top-rated senior in the Southland, routing Ribet Academy, 89-60. The ankle injury, though, is a major concern for the back-to-back state champions.
Jerrett estimates that he'll only be sidelined a day or two, but his status for Saturday's matchup at top-ranked Mater Dei is up in the air, according to Lutheran coach
Eric Cooper
.
"The playoffs are the most important thing," Cooper said. "There's no need for him to play Saturday. He'll want to play, but we'll see."
Fellow seniors
Cameron Osorno
and
Brandon Shaw
were recognized at halftime, with their parents joining them at half-court as Cooper spoke on a microphone. Jerrett, meanwhile, remained seated as his parents walked across the floor to embrace him on the bench.
March, 26, 2011
3/26/11
7:20
PM PT


SACRAMENTO -- Kevin Payne sank the shot of his life and pointed to the sky. That one was for his fallen father. Twenty seconds later, another dagger, and Payne pointed to the stands. That one was for his mother, who was there to console him.

Payne's back-to-back threes propelled La Verne Lutheran to a 64-59 win against Oakland Bishop O'Dowd in the CIF State Boys Division III championship Saturday afternoon, securing the Trojans' second consecutive title.

"This means everything to me," said Payne, whose father, Kevin Payne Sr., died in August. "This is a storybook ending. It feels like a fairy tale right now. From everything we've gone through and me personally, with everything I've gone through, sometimes I felt like quitting, and my [teammates] would not let me do it."

Payne had taken the place of starter Xavier Jones, who left for the hospital after his defibrillator began buzzing in the early minutes. Jones wears a defibrillator to monitor his heart rate.

"I got him out of there quickly," said Lutheran coach Eric Cooper, who in November saved Jones' life by administering CPR after the player had collapsed in practice. "He looked concerned."

The game went on after Jones left Power Balance Pavilion. The teams came out cold to start, shooting a combined 31 percent (eight for 26) in the first quarter. Brandon Ashley had six of the Dragons' eight first-quarter points; Grant Jerrett and Bruce English, with four apiece, combined for Lutheran's eight. They settled down in the second -- Lutheran made eight of 12 shots, O'Dowd five of 10.

The Trojans (26-5) scored the last seven points of the first half to go up 26-21. But O'Dowd emerged from the locker room a different, more inspired team, using a 10-0 run at the start of the third to go in front. The Dragons scored 24 points in the third after getting 21 in the entire first half.

"We showed who we really are," O'Dowd coach Doug Vierra said.

Lutheran, which trailed by as many as eight, responded with a 12-4 run to open the fourth. They regained the lead, 54-51, on a three from Cameron Osorno, whose 16 key points off the bench tied him for the team lead with Jerrett, the top-rated forward in the 2012 class. Ashley had a game-high 26 for O'Dowd (25-7) -- which fell in the Division III state title game for the second straight year -- before fouling out in the final minute.

The Trojans trailed, 59-58, with 1:24 left before Payne's unexpected heroics.

"As soon as I took both of them I knew they were going in," Payne said. "I just had the confidence and I believed. There's an angel watching over all of us."
February, 25, 2011
2/25/11
11:50
PM PT
GLENDORA --
Askia Booker
had to maintain his poise. What teammates see, teammates do -- that's what he has learned as Price's leader.
He couldn't show any sign of weakness, especially after La Verne Lutheran had stormed back with a furious 23-4 run. The Colorado-bound guard sank four free throws in the final two minutes to help top-seeded Price hold off No. 4-seeded Lutheran, 63-58, Friday night at Citrus College. Price advanced to next week's CIF-Southern Section Division 3AA championship game.
"I'm the leader of this team, so I can't let my teammates see that I'm down," said Booker, who scored 15 of his team-high 20 points in the second half.
Price (22-6) had built a 21-point lead midway through the third quarter. It seemed like the Knights were going to top their 15-point win over Lutheran (21-5) from
earlier this season
. The snooze fest was on.
But Lutheran junior forward
Grant Jerrett
woke up the crowd with one left hook after another. He scored 18 of his game-high 26 points following the break.
"He was huge," Lutheran coach
Eric Cooper
said. "When he plays like that, there's no question marks about what we can do. He got rid of the fear, the fear of what's going to happen if [Price's]
Norvel (Pelle)
blocks his shot. He just played basketball."
You couldn't blame Jerrett for being a little hesitant against Pelle, a senior who will play at St. John's next season. Pelle had dominated the previous matchup, scoring 20 points and earning California Elite Showcase MVP honors. But Jerrett, who is committed to Arizona, held him to only 10 points Friday.
Cameron Osorno
had 15 for Lutheran,
Kenny Green
had 13 for Price.
Lutheran wasn't completely healthy when the teams met Jan. 22 at the full-day event held at University of La Verne. Lynch acknowledged it and knew things would be tougher the second time around.
It took an entire half for the tough to come out. Something clicked -- perhaps Jerrett and Co. realized that Lutheran, like Price, won a state title last year. Jerrett's driving lay in made it 55-53 Price with 2:10 to go.
The Trojans had the momentum until Booker was fouled on consecutive possessions. All eyes on him, all net on his attempts.
"He's a senior, he's going to the University of Colorado," Price coach
Michael Lynch
said. "He's supposed to knock those down."
That's what leaders do.