Los Angeles Preps:

Carlos Mendoza
December, 7, 2011
12/07/11
10:16
PM PT
By
Tim Haddock
| ESPNLosAngeles.com


The sequels are never quite as good as the originals. There are exceptions: "The Empire Strikes Back" and "The Godfather II" come to mind.

The CIF-Southern Section Northern Division championship game between Oaks Christian and Westlake is a rematch of last year's title game. It will be hard to exceed the hype, drama and outcome of the original.

The cast of players for Westlake has changed dramatically. Quarterback Justin Moore took over for Nick Isham, who started for Lousiana Tech this season as a freshman. Running back Dashon Hunt has taken over admirably for Tavior Mowry. Connor Cook has emerged as a big-play receiver in place of the reliable Nelson Spruce from last year's Westlake team.

The Oaks Christian roster has some familiar names, including Arizona State-bound linebacker Carlos Mendoza, highly recruited receiver Jordan Payton and a double-threat at corner back and running back in Ishmael Adams.

These two teams know each other well. This championship game on Friday night at Oaks Christian will be the fourth meeting in the past two seasons.

Westlake (13-0) comes in as the overwhelming favorite and the No. 1-ranked team in the ESPN Los Angeles prep football Top 25. Several outlets have Westlake ranked as the No. 1 team in the state. The Warriors are 39-2 over the past three seasons and won the Northern Division championship in 2009.

Oaks Christian (11-2) is the reigning Northern Division champion, ranked fifth by ESPN Los Angeles and is making its ninth straight CIF championship game appearance. The Lions moved up to the Northern Division last year after competing in the Northwest Division. Oaks Christian is 6-2 in CIF championship games and playing for its seventh CIF football championship in the past nine years.


December, 3, 2011
12/03/11
12:59
AM PT
By
Tim Haddock
| ESPNLosAngeles.com


VENTURA – Oaks Christian quarterback Brandon Dawkins said his team was flustered, a little surprised and came out cocky against St. Bonaventure in the semifinals of the CIF Southern Section Northern Division playoffs on Friday night.

The Seraphs jumped out to a 10-point lead in the first half, but Oaks Christian scored two touchdowns in the first six minutes of the third quarter and eliminated St. Bonaventure from the playoffs, 27-24, at Ventura High School.

Dawkins passed for 195 yards and a touchdown. He rushed for 74 yards and scored two more on the ground. Dawkins peppered St. Bonaventure with an array of screens and quick-outs to chew up the clock and engineered two long drives that produced key touchdowns against a stingy St. Bonaventure defense.

Oaks Christian coach Bill Redell agreed with Dawkins that his team didn't play well in the first half of the game.

"I don't have an answer for it," Redell said. "We have been playing well in the playoffs. We didn't play like we should have."
November, 14, 2011
11/14/11
8:34
PM PT
By
Tim Haddock
| ESPNLosAngeles.com
Coaches react and respond to the CIF-Southern Section and City Section football playoff brackets released over the weekend.
Alemany coach Dean Herrington agreed there are no easy roads through the Pac-5 Division playoffs. Alemany is the No. 4 seed and plays St. John Bosco in the first round. "We're at home. It's going to be a big, big test. It's going to be a tough one for us," Herrington said. St. John Bosco finished in third place in the Trinity League, behind Servite, the No. 1 seed in the Pac-5 Division playoffs, and Santa Margarita. The Braves won their Trinity League finale, 48-28, over Orange Lutheran. Senior running Royce Moore rushed for 179 yards and four touchdowns. Junior DaVonte Young has 829 yards rushing and six touchdowns on the season. "They run the ball great," Herrington said. "We gotta slow down their run game." Alemany is coming off a 21-14 win over Sherman Oaks Notre Dame in the Serra League final. Herrington had to play his starters a little longer than he wanted, but he said his players are healthy and ready for playoffs. The Warriors are in the same half of the bracket as San Clemente, Lakewood and top-seeded Servite. "They all worry you," Herrington said. "San Clemente's only lost one game. Lakewood, they're a solid team. Survive and advance is all you can do. We're definitely not looking ahead, that's for sure."
At first glance, Oaks Christian's first-round opponent, Mira Costa, doesn't look all that tough. The Mustangs have a losing record at 4-6 and finished in third place in a weak Bay League. But Oaks Christian Bill Redell is not taking Mira Costa lightly. "I would say, they're a 4-6 team, but they've had a lot of injuries. They're getting players back," Redell said. "They're a really good team, big. If they all come back, I categorize them physically with Bellevue. It's not a cakewalk." Oaks Christian lost to Bellevue, the defending Washington state Division 3A champion, to open the season. Oaks Christian won the Northern Division championship last year and the Lions are looking to make a CIF playoff final for the ninth time in school history. Redell said his half of the bracket is fair. "I'm glad we're not having to play any Marmonte League teams until the semis," he said. St. Bonaventure, the No. 3 seed in the Northern Division playoffs, is the only other Marmonte League team in the bottom half of the bracket. Oaks Christian beat St. Bonaventure, 36-24, during Marmonte League play. Another bit of good news for Oaks Christian: Running back and linebacker Carlos Mendoza, an Arizona State commit, is expected to play after missing the last two games because of a shoulder injury.
November, 13, 2011
11/13/11
1:31
PM PT
By
Tim Haddock
| ESPNLosAngeles.com
CIF-SS playoffs:
Northern Division
Top-seeded Westlake completed an undefeated run through the Marmonte League and is 10-0 heading into the Northern Division playoffs. Led by a pair of juniors, quarterback
Justin Moore
and running back
Dashon Hunt
, this might be the beginning of another dynasty-type run for the Warriors. Westlake opens the Northern Division playoffs against Eastside, the fourth-place team from the Golden Valley. As expected, Hart earned the only at-large bid in the Northern Division playoffs. The fourth-place team from the Foothill League finished with a 7-3 record. The Indians were 3-2 in league with losses to Canyon and Saugus. They did beat Valencia, which won a share of the Foothill League championship with Canyon and is the No. 4 seed in the Northern Division playoffs. Hart is another team with some talented underclassman, including freshman receiver
Trent Irwin
. Simi Valley ended up as the odd-team out. The Pioneers lost to Moorpark in the Marmonte League season finale and dropped into a fourth-place tie with Thousand Oaks and Moorpark. Simi Valley (6-4) ended up with a winning record, but lost the coin flips to determine the final two playoff spots from the Marmonte League. Here's a breakdown of the division:
The seeds:
No. 1 Westlake, No. 2 St. Bonaventure, No. 3 Oaks Christian, No. 4 Valencia.
Best first-round matchup:
Thousand Oaks (6-4) at Quartz Hill (8-2) -- Thousand Oaks lost three of its last four games and needed a coin flip to earn a spot in the Northern Division playoffs. But this is a team playing with a ton of emotion after the death of Thousand Oaks backup quarterback
Griffen Kramer
two weeks ago. Thousand Oaks was tested almost on a weekly basis playing in the tough Marmonte League. Quartz Hill won the Golden League championship and was tied for first place with Highland with 6-1 records. The Rebels are a bit of an unknown commodity. They won seven of their last eight games, the only loss, 21-20, to Knight three weeks ago. Quartz Hill has a pair of 1,000-yard rushers in
Osirius Burke
(1,549 yards and 24 touchdowns) and
Mario Lodge
(1,248 yards and 10 touchdowns). Thousand Oaks has a talented two-way player
Nathan DeBeikes
who leads the team in rushing with 948 yards and seven touchdowns and in sacks with six.
Toughest road:
Valencia (6-4) -- The Vikings have perhaps the best defense in the Northern Division playoffs. They posted three shutouts and held nine of their 10 opponents to 20 points or less. Opposing teams are scoring an average of 10.7 points per game. The Valencia offense has been unpredictable at best. The Vikings had trouble scoring during the first give games of the season, with only 13.6 points per game on their way to a 2-3 non-league record. Once the Foothill League season started, Valencia turned it on offensively, scoring at least 31 points in four of its five games. They beat Saugus, 35-0, in the Foothill League championship game. If Valencia's offensive woes return, the Vikings might not make it out of the first round.
Potential shocker:
Hart (7-3) vs. Palos Verdes (8-2), first round -- Hart has already pulled off a surprise win over Valencia in the Foothill League. The Indians snapped Valencia's 13-game league winning streak, 19-14, and was in position to challenge for the Foothill League title. The Indians have the talent and the coaching staff to pull of another upset. What they lack is playoff experience, with a sophomore at quarterback in
Connor Wingenroth
and a handful of underclassmen receivers. Palos Verdes won the championship in a weak Bay League. The Sea Kings' toughest test came in the first week of the season, a 21-10 loss to Moorpark.
Darkhorse:
Oaks Christian (8-2) -- It's hard to call the reigning Northern Division champs the dark horse, but Oaks Christian is not the favorite to repeat. The Lions have not been playing their best football for the last three weeks. They narrowly beat Thousand Oaks and Moorpark before routing Newbury Park to finish in second place in the Marmonte League. Oaks Christian likely will have to play Westlake, which beat the Lions, 43-21, and a vengeful St. Bonaventure team if its wants a second Northern Division championship in a row. Oaks Christian beat St. Bonaventure, 36-24, the night the lights went out on La Tienda Drive. The return of Arizona State-bound running back and linebacker
Carlos Mendoza
, who has missed the last two games because of an injured shoulder, will help.
Final analysis:
The Marmonte League is well-represented in the Northern Division bracket, with five teams, and it could have easily been six. The Northern Division semifinals could likely be an all-Marmonte League affair. Westlake has destroyed almost every team it has faced and should have no problem reaching the semifinals with Eastside and Palos Verdes or Hart in its way. Oaks Christian has an easy road to the semis as well, against Mira Costa in the first round and the winner of the Saugus-Highland game in the quarterfinals. St. Bonaventure might be the toughest No. 3 seed in the whole Southern Section playoffs. The Seraphs play an upstart Redondo team in the first round. The winner of the Canyon-Palmdale game will await St. Bonaventure in the quarters. Either Thousand Oaks or Moorpark will have to pull off a playoff surprise if it is to be an all-Marmonte League final four. Thousand Oaks has the easier road, against Quartz Hill in the first round and the winner of the Valencia-Moorpark in the quarters. Moorpark will have to pull off a stunner in the first round. The Musketeers ended the Marmonte League season on a high note, shutting out Simi Valley, 20-0, and essentially knocking the Pioneers out of the playoffs. They will need another stellar defensive performance to eliminate Valencia in the first round. In case you're wondering, Moorpark beat Thousand Oaks on a last-second field goal, 27-24, in the Marmonte Leage opener.
Championship prediction:
Westlake vs.Oaks Christian -- A rematch of last year's Northern Division championship game would be fitting. Westlake lost the game, 29-28, when Warriors kicker
Alex Ball
's 41-yard field-goal attempt hit the upright and bounced back onto the field. Ball would like another shot at winning the Northern Division championship. Westlake coach
Jim Benkert
would like another shot at beating his old mentor, Oaks Christian coach
Bill Redell
, for a Northern Divison championship. The Westlake team would like a chance to play in a CIF state bowl game with a Northern Division championship. Redell would like to prove to everyone that last year's Northern Division championship was not a fluke. If the two teams play again though, Westlake will have the upper hand.
Link to the Northern Division bracket on CalPreps.com
November, 3, 2011
11/03/11
1:01
PM PT
By
Tim Haddock
| ESPNLosAngeles.com
Agoura (1-7) vs. No. 2 Westlake (8-0), Friday (7 p.m.) – Westlake running back Dashon Hunt has been tough to stop in recent games. He is averaging 94 yards rushing and has scored six touchdowns in the past three games. He gained 99 yards and scored two touchdowns in Westlake's 49-3 win over Newbury Park last week. One of his touchdowns came on a 42-yard punt return. He also returned an interception for a touchdown against Simi Valley three weeks ago. Agoura is coming off its first win of the season, 24-17, over Calabasas. The Chargers go from playing one of the worst teams in the Marmonte League to one of the best teams in the state. It could be a long night for Agoura.

No. 3 St. Bonaventure (7-1) vs. Calabasas (1-7), Friday (7 p.m.) – The Seraphs have surrendered only 31 points in their past five Marmonte League games, including shutouts over Agoura and Simi Valley. Shaun Wick and Zack Green combined for 256 yards and scored four touchdowns in a 50-8 win over Thousand Oaks last week. Calabasas has lost all seven of its Marmonte League games. It could be a long night for Calabasas.

Moorpark (5-3) vs. No. 11 Oaks Christian (6-2), Friday (7 p.m.) – Oaks Christian running back Ishmael Adams is expected to make his first start in three games after spraining his ankle in practice. He missed the past two games. While the return of Adams is good news, Oaks Christian might be without Arizona State-bound linebacker and running back Carlos Mendoza. He injured his shoulder in the 38-7 win over Simi Valley last week. Redell said he might roll the dice and rest Mendoza the next two weeks until the playoffs start. Wide receiver Jordan Payton is also nursing an injured ankle, but Redell said he looked pretty good on his 80-yard touchdown run against Simi. Moorpark needs a win to stay in the hunt for the playoffs. The Musketeers, 4-3 in Marmonte League play, are in a three-way tie for fourth place in league with Thousand Oaks and Simi Valley. Only the top five teams in league are guaranteed playoff spots.

No. 17 Bishop Amat (6-3) vs. Sherman Oaks Notre Dame (5-3), Friday (7 p.m.) – Notre Dame is slowly seeing its season slip away. After a promising 5-0 start, the Knights have lost three games in a row, including its two Serra League games. They had a bye last week and two weeks to prepare for Bishop Amat. But Notre Dame lost to Loyola, 27-14, in its last game. Bishop Amat is seeing its season spiral away too. The Lancers have lost two of their past three games and are 1-2 in league. Bishop Amat is coming off a 14-3 loss to Loyola last week.

No. 18 Chaminade (7-1) vs. Cathedral (3-5) , Friday (7 p.m.) – Chaminade is on a roll with a five-game winning streak including three straight Mission League games. The Eagles have outscored their Mission League opponents 117-19. They beat St. Francis, 31-13 last week. Cathedral has lost all three of its Mission League games and were shut out by Gardena Serra and St. Paul. The Phantoms lost to Harvard-Westlake, 34-26, last week.

Paraclete (7-1) vs. Sierra Canyon (8-0) at Granada Hills High School, Saturday (7 p.m.) – Paraclete is the reigning Southern Section East Valley Division champion and has won seven games in a row since losing, 7-6, to Serrano on opening night. Sierra Canyon is undefeated and coming off a 42-8 win over Brentwood. Paraclete is the No. 2 team in the East Valley Division poll after a 49-0 shutout over Calvary Chapel. Sierra Canyon is the top-ranked team in the East Valley Division. This game is about as big as it gets for small schools.
October, 23, 2011
10/23/11
11:24
PM PT
By
Tim Haddock
| ESPNLosAngeles.com
Crespi, St. Francis and Canyon lost last week. Crespi was the only team to stay in the L.A. North top 10. The Celts lost a crucial Serra League game, 28-14, to Bishop Amat. St. Francis lost its first game of the season, 44-30, to Gardena Serra.
But Canyon might have suffered the most embarassing setback, losing 34-7 to Foothill League rival Valencia. Canyon lost its first game of the season and let a golden opportunity to unseat Valencia as the Foothill League champ slip away.
Westlake and Ventura won to stay undefeated. Sierra Canyon enters the top 10 with an undefeated 7-0 record. Valencia comes in at No. 10, despite a 4-3 record.
Here's a look at the L.A. North top 10:
(1) Westlake (7-0) – The Warriors easily took care of Moorpark, erasing a 7-0 first-quarter deficit and rolling to a 34-13 Marmonte League win. Quarterback Justin Moore threw three touchdown passes and running back Dashon Hunt rushed for 117 yards and a touchdown.
(3) Alemany (5-2) – The Warriors from Mission Hills had a bye last week. But at least they didn't lose. They've had two weeks to prepare for a Serra League showdown with Crespi on Friday night.
(4) Chaminade (6-1) – The Eagles showed Harvard-Westlake no mercy in a 55-0 shutout. They were up 49-0 at halftime and the game ended with a running clock. Running back Terrell Newby scored three touchdowns and had 120 rushing yards.
(2) Crespi (4-2) – The Celts committed four turnovers and lost their first Serra League game of the season to Bishop Amat, 28-14. The Lancers scored two touchdowns in the third quarter to break a 7-7 tie at halftime.
(6) St. Bonaventure (6-1) – The Seraphs crushed Agoura, 56-0. Shaun Wick scored three touchdowns for St. Bonaventure, one on a 58-yard punt return. He scored his other two touchdowns on runs of 41 and 47 yards.
October, 7, 2011
10/07/11
12:11
AM PT
By
Tim Haddock
| ESPNLosAngeles.com


WESTLAKE VILLAGE -- The Oaks Christian football players walked from their campus to Westlake High School for their game Thursday night.

But it was the Westlake football team that ran all over Oaks Christian in a Marmonte League game.

Westlake racked up 444 rushing yards in a convincing 43-21 win over its crosstown rivals, handing Oaks Christian its first league loss, and remained undefeated.

Quarterback Justin Moore gained 226 yards in 14 carries and scored the first touchdown for Westlake in the first quarter.

Running back Jarrius Bishop rushed for 104 yards in 20 carries and scored a touchdown on a one-yard run just before halftime to give Westlake a 27-14 lead.

Kicker Alex Ball made five field goals, including a 47-yarder in the third quarter.

Westlake coach Jim Benkert said after the game he needed to come up with a game plan to neutralize the Oaks Christian secondary. The defensive backs for Oaks Christian gave Westlake fits in summer passing leagues, Benkert said.

"They have a lot of great athletes in that secondary," Benkert said. "We really had to look elsewhere. I don't think I've gone to a running game like that in my career."


September, 29, 2011
9/29/11
1:23
PM PT
By
Tim Haddock
| ESPNLosAngeles.com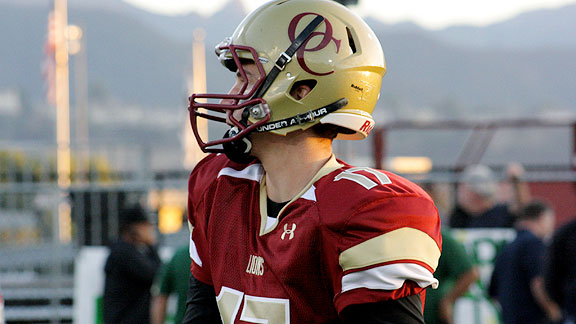 Tim Haddock for ESPNLA.comLuke Falk started two games for Oaks Christian but has decided to return to Utah.
Luke Falk
, the highly touted junior quarterback at Oaks Christian, has left the school and returned to his home in Logan, Utah, with his family.
Oaks Christian coach
Bill Redell
said Falk and his family returned to Utah for "personal reasons" and had "family issues."
Falk started the first two games for Oaks Christian. The Lions lost their season opener to Bellevue (Wash.), but Falk threw for 317 yards and two touchdowns.
Falk started the second game for Oaks Christian against Agoura, but was replaced in the first quarter by sophomore
Brandon Dawkins
. Oaks Christian won the game against Agoura, 50-11.
"We needed to take a look at Dawkins," Redell said. "He looked real good against Agoura."
Dawkins started the third game of the season for Oaks Christian, passing for one touchdown and rushing in another, in a 36-24 win over St. Bonaventure. Falk was the back-up and Redell said he intended to play him in the second half. But Oaks Christian was up 20-3 at halftime and Redell decided to stay with Dawkins the rest of the game.
"If he was the starting QB, he would have stayed," Redell said. "I think he would be here. It didn't work out. He's a great kid. Against Bellevue, he did some good things."
Dawkins will be the starter on Friday night against Calabasas. Redell said he doesn't have a back-up quarterback for the next game and if something happens to Dawkins, he will use a wildcat-type offense with running backs
Ishmael Adams
and
Carlos Mendoza
.
According to a story in the
Salt Lake Tribune
, Falk will return to Logan High School, but won't be able to play on the football team until his senior season.
September, 24, 2011
9/24/11
12:09
AM PT
By
Tim Haddock
| ESPNLosAngeles.com


WESTLAKE VILLAGE -- The Oaks Christian football team has a pair of super sophomores who had breakout performances against a tough St. Bonaventure team on Friday night.

In more ways than one, quarterback Brandon Dawkins and receiver Chris Davis played lights out.

Dawkins and Davis each scored a touchdown in Oaks Christian's 36-24 win over St. Bonaventure to help the Lions take early control of the race for the Marmonte League title. Dawkins gave the Lions a 13-3 lead in the second quarter with a 1-yard touchdown run.

Davis caught a 60-yard touchdown pass from Dawkins to put the game out of reach in the fourth quarter.

But the game wasn't without drama. Oaks Christian (2-1), the No. 8 team in the ESPLNA prep football rankings, was ahead, 20-3, at halftime before St. Bonaventure mounted a second-half comeback. It was much like the game between the two teams last year when Oaks Christian had a 19-0 lead before St. Bonaventure rallied to tie the score and send the game into overtime.

St. Bonaventure (2-1), the No. 6 team in the ESPNLA rankings, scored two touchdowns in the fourth quarter to cut the Oaks Christian lead to three points, 27-24. After forcing Oaks Christian to punt with a little less than seven minutes to play in the game, the stadium lights went out.

While the ball was in the air after the punt, the lights in the stadium dimmed. The ball ended up on the St. Bonaventure 1-yard line. After a 15-minute delay to restore the lights, the game resumed. St. Bonaventure started its drive from its own 1-yard line.

When asked if he knew why the lights went out, Oaks Christian coach Bill Redell said, "I have no idea."

After the game, St. Bonaventure coach Todd Therrien had only one thing to say, "No comment."


August, 27, 2011
8/27/11
6:42
PM PT
By
Tim Haddock
| ESPNLosAngeles.com


Oaks Christian is coming off a championship season, winning the CIF Southern Section Northern Division title over Marmonte League rival Westlake. The Lions kept most of their defense in tact from a year ago, led by Arizona State-bound linebacker Carlos Mendoza and cornerback Ishmael Adams.

After winning a championship last season, Oaks Christian might be headed for a letdown. But coach Bill Redell points to the tradition that has quickly been established at the school in little more than a decade.

It has become expected the Oaks Christian football teams will win CIF championships. This team has a CIF state bowl game in its sights. Keeping the winning tradition alive at Oaks Christian is the main motivation for this team though.

Here's a closer look at the Lions:

Team: Oaks Christian.

Coach: Bill Redell, 12th year.

2010 Record: 12-2, won CIF Southern Section Northern Division championship, 29-28, over Westlake.

Returning starters: 14 total. Eight on defense, six on offense.

Key players on offense: RB Ishamel Adams, RB Carlos Mendoza, WR Jordan Payton, QB Luke Falk, QB Brandon Dawkins, OL Robert McGee, OL Marcus Piechowski.

Key players on defense: DB Ishmael Adams, LB Carlos Mendoza, DB Jordan Payton, LB Cameron Judge, LB Cole Taylor, DL Marcus Piechowski, DL Marcus Jones.

Difference maker: Jordan Payton. The senior wide receiver will shoulder the load on the offensive side of the ball. He caught 61 passes for 840 yards and nine touchdowns as a junior. Only Blair Holliday, now playing at Duke, had better numbers than Payton last season. Payton will also see considerable time at defensive back. He was committed to USC, but had second thoughts. According the Redell, Michigan is the leader in the clubhouse on the recruiting trail for Payton.

Newcomers: QB Luke Falk, WR Zack Hernandez, WR Zack Bornstein.

Not to be missed: Oaks Christian vs. Bellevue, Wash., Sept 3 at Mission Viejo High. Oaks Christian and the rest of the Marmonte League teams have only one preseason game. Oaks Christian scheduled one of the toughest teams in the country in Bellevue, the reigning 3A state champions from Washington. Bellevue enters the 2011 season as the top-ranked team in Washington and No. 42 team in the country as ranked by ESPN Rise.

Coach's comment: "There's great tradition here that the kids feel they need to continue. In fact we have a T-shirt that says Tradition Never Graduates. I think they want to keep up the tradition of a winning program."

Final analysis: Oaks Christian has been quarterback prep for the past few years. The school has produced Jimmy Clausen, Nick Montana and continued the tradition of sending quarterbacks to major college programs when last year's starter Richie Harrington made it on the Oregon State football team. Bill Redell said the starting quarterback job at Oaks Christian is still up for grabs between junior Luke Falk, a transfer from Utah, and sophomore Brandon Dawkins. The defense, led by linebacker Carlos Mendoza, who is headed to Arizona State, might be the strength of this team. Eight players return on defense, including Ishmael Adams at corner back, one of the top college prospects in the country. Oaks Christian made the jump from the Southern Section Northwest Division to the Northern Division and won a CIF championship. The Lions were slow out of the gate in 2010, going 2-2 to start before winning 10 games in a row including four in the playoffs. Oaks Christian will most certainly be shooting for another Northern Division championship and perhaps a berth in a CIF state bowl game.
October, 26, 2010
10/26/10
1:28
PM PT
By
Tim Haddock
| ESPNLosAngeles.com
Carlos Mendoza, Oaks Christian, Jr.

He scored a touchdown on a fumble recovery and recorded a safety in his team's 65-0 shut out over Simi Valley. His touchdown and safety came in the first quarter as Oaks Christian jumped out to a 30-0 lead. Mendoza also split time with the offense and carried the ball six times for 37 yards.
Taylor Kline, Woodland Hills Taft, Sr.

She was the most valuable player of the Gabrielino High Invitational Volleyball Tournament after leading her team to the Gold Division championship. Taft went undefeated in pool play, beating St. Matthias, Pioneer and San Gabriel before the elimination rounds. Taft beat Rio Hondo Prep in the semifinals before facing Carson in the championship match. Taft won the championship by taking Carson, 25-22.