Los Angeles Preps:

Carnell Spencer
August, 15, 2011
8/15/11
11:32
PM PT
By
Dan Arritt
| ESPNLosAngeles.com
MT. BALDY LEAGUE

Last season's results: Chino (11-1, 6-0); Ontario Colony (7-4, 5-1); Montclair (5-6, 3-3); Pomona Garey (5-6, 2-4); Ontario (4-6, 2-4); Chino Don Lugo (3-7, 2-4); Ontario Chaffey (2-8, 1-5).

Players to watch: Hard to imagine it was just two years ago that Chino finished 0-10. The Cowboys rebounded last season in their first year in the Mt. Baldy League and appear even more stacked this season. Chino returns six first-team all-league players, led by senior quarterback Sean Molles, a three-year starter who passed for 2,343 yards and 29 touchdowns last season. He had at least one touchdown pass in every game and was intercepted just six times. Chino should also be well balanced with the return of the league's leading running back, senior Xavier Browne, who totaled 1,275 rushing yards and 20 touchdowns as a junior. Matt Pantell is a returning two-way lineman for the Cowboys, and Ronnie Velarde, Anthony Adamo and Isaiah Brenes provide valuable experience on defense. Colony's chances of dethroning Chino increased twofold with the addition of offseason transfer Bryan Harper, who played quarterback and defensive back during his injury-shortened junior year at Fontana Carter. Harper, ranked the 94th-best recruit in the state by Rivals.com, has committed to Washington as a cornerback. He played just four games last season before breaking a collarbone but still led Carter with 427 passing yards and four touchdowns. As a sophomore, he threw for 1,302 yards and combined for 15 touchdowns through the air and on the ground. Harper will have the league's top returning receiver in his sights, senior Chaz Nelson, who also had three interceptions as a defensive back. Also returning on defense is first-team all-league linebacker Eddie Martinez, who led the Titans with 86 tackles, and linebacker/tight end Robert Wagner, another first-team all-leaguer. Don Lugo might have the Inland Empire's best-kept secret in linebacker Milton Williams III, a 6-1, 210-pound senior. With his 4.7 speed and 30.5-inch vertical leap, Williams is drawing interest from USC and a handful of other Pac-12 schools. Chaffey hopes to improve on last season's results with the return of running back Carnell Spencer, who averaged 119 yards in his last four games, and leading tackler Matthew Boice, a junior linebacker.

Projected order of finish: Chino, Colony, Don Lugo, Chaffey, Garey, Montclair, Ontario.

Key games: Sept. 1 – Colony @ West Covina South Hills; Sept. 9 – Fontana Carter @ Chaffey; Sept. 16 – Chino @ Oak Park; Sept. 23 – Azusa @ Don Lugo; Sept. 30 – Chino @ Don Lugo; Oct. 7 – Don Lugo @ Colony; Oct. 21 – Colony @ Chaffey; Oct. 28 – Chino @ Colony; Nov. 4 – Chaffey @ Don Lugo.

Alumni in the NFL: Sedrick Ellis, New Orleans Saints (Chino '03); Greg Salas, St. Louis Rams (Chino '06); Jarron Gilbert, New York Jets (Chino '05); R.J. Stanford, Carolina Panthers (Chino '06).

Fast fact: Ontario said good-bye to coach Steve Randall in the offseason. In just five years, Randall compiled more wins than any other coach in school history, but couldn't pass up an assistant coaching offer at Citrus College in Glendora. Randall was replaced by Ronald Stocking, Jr., who spent the last two seasons as linebackers coach at Mira Loma Alta Loma High and prior to that was an assistant coach at Colony for five years.

On the clock: San Andreas League.
September, 8, 2010
9/08/10
9:29
PM PT
By
Dan Arritt
| ESPNLosAngeles.com
One of the most memorable games of 2009 was the Week 1 intersectional clash between Norco and Crenshaw of Los Angeles.
Are you ready for Round 2?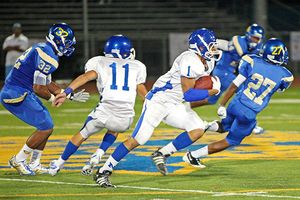 Courtesy of Rob Helfman
Norco running back Kelsey Young had 245 yards against Crenshaw last season.
If the rematch Friday night is anything like the original meeting, fans should plan to arrive early and stay until the final horn.
A year ago, Crenshaw stopped the visiting Cougars on a crucial fourth down late in the fourth quarter and then held on for a 47-44 victory.
This time, the backdrop switches from L.A. to the Inland Empire, but many of the characters return.
Norco running back
Kelsey Young
, who accounted for 245 of his team's 487 rushing yards last season, is back – having accepted a scholarship offer from Stanford in the meantime.
September, 6, 2010
9/06/10
10:16
PM PT
By
Dan Arritt
| ESPNLosAngeles.com
1. Temecula Chaparral (Southwestern League), 0-0
The Pumas open their season Friday night against visiting Oceanside, the two-time defending Division I state bowl champion which is coming off a 31-7 drubbing at the hands of Servite last Thursday, ending its 39-game winning streak.

2. Vista Murrieta (Southwestern League), 0-0
The Broncos also had the luxury of scouting their first opponent in person last week. Etiwanda, which is scheduled to travel to Vista Murrieta on Friday, allowed 42 points in a seven-point loss Thurday against Summit High of Fontana. Summit doesn't have a bonafide quarterback, but Vista Murrieta surely does in three-year starter Derrick Brown.

3. Corona Centennial (Big VIII League), 0-0
Centennial has been chomping at the bit to get started this season and first up is an intersectional game at Birmingham High of Lake Balboa, which is coming off a 16-7 victory Friday against West Adams of Los Angeles, its first victory in a season opener since 2001.

4. Norco (Big VIII League), 0-0
One of the more intriguing intersectional matchups of the season will happen Friday when Norco hosts Crenshaw of Los Angeles. Crenshaw is led by running back De'Anthony Thomas, who has verbally committed to USC. Norco will lean on running back Kelsey Young, who has pledged to Stanford.

5. Riverside Arlington (Inland Valley League), 0-0
Arlington will open its season Friday against host El Camino of Oceanside, which scored on a blocked punt, a fumble return and a kickoff return in a 36-7 victory Saturday against Gardena. The Wildcats best defender is ophomore linebacker Justin Williams, who had three sacks against Gardena and scored on the fumble return.