Los Angeles Preps:

Cathedral
May, 22, 2012
5/22/12
9:05
AM PT
Cathedral quarterback Hayden Rettig, the 16th-ranked player in the state for next year's class, has committed to Louisiana State, he said via text message.

The 6-foot-3, 200-pound Rettig was spectacular to start last season before suffering a torn anterior cruciate ligament in his right knee, which forced him to sit out the remainder of his junior season. He had passed for 508 yards and six touchdowns in Cathedral's opener, and another 294 yards the following week.

Rettig, the younger brother of Boston College quarterback Chase Rettig, also holds scholarship offers from Arizona, Arizona State, Boston College, Purdue and Vanderbilt. He is scheduled to go on an unofficial visit to Baton Rouge this weekend.

Rettig is the nation's 12th-ranked quarterback, according to ESPN Recruiting.
May, 19, 2012
5/19/12
9:41
PM PT
Mira Costa captured its seventh CIF-Southern Section boys' volleyball title Saturday night by upsetting top-seeded Loyola in the Division 1 final at Cypress College. The Mustangs won an exciting five-set match, 25-18, 25-22, 25-27, 21-25, 15-12.

Loyola (33-2) never faced a two-set deficit all year and nearly completed the comeback.

"We wanted to give them trouble," Mira Costa coach Mike Ninnis told Fox Sports Preps Zone Live. "Things worked out for us."

Third-seeded Mira Costa (32-4) had lost to Loyola twice during the regular season, but won the one that mattered. Loyola, which swept through every set in the playoffs, dodged two match points in the third set.

In the Division 2 final, Oak Park defeated Corona del Mar in four sets to win its first section title. South Torrance beat Warren in four sets to claim the Division 3 title, and Los Angeles Cathedral ousted defending champion Santa Monica in five sets to win Division 4. Chadwick swept Viewpoint in Division 5.
May, 14, 2012
5/14/12
1:45
PM PT
SOUTHERN SECTION BASEBALL PLAYOFFS

The seeded teams in south Los Angeles County:

Div. 1: No. 4 Long Beach Poly (24-6)
Div. 2: None
Div. 3: No. 1 Bonita (26-2), No. 3 Alhambra (20-3)
Div. 4: No. 2 La Salle (18-7-1), No. 4 Bishop Amat (19-9)
Div. 5: No. 2 L.A. Cathedral (21-5), No. 4 Gardena Serra (20-4)
Div. 6: No. 4 Pasadena Poly (16-5)
Div. 7: No. 2 Santa Monica New Roads (14-5)

Wild-card games will be held Tuesday and first-round games on Friday.
February, 16, 2012
2/16/12
12:44
PM PT
By
Tim Haddock
| ESPNLosAngeles.com
Burroughs Ridgecrest upset No. 16 Cathedral in the first round of the CIF Southern Section Division 3A playoffs.

After a 55-53 win over Cathedral, Burroughs Ridgecrest gets to play second-seeded St. John Bosco.

Azusa beat No. 15 Tahquitz, 62-60, in the only other upset in the first round of the Division 3A playoffs.

Third-seeded Oak Park routed Littlerock, 63-24.
February, 7, 2012
2/07/12
9:54
PM PT
With national signing day behind us, we take an early look at 13 rising senior football recruits from south Los Angeles County to keep tabs on for the 2012 prep season:

QB Troy Williams, Harbor City Narbonne -- At this point, any given prospect list is incomplete without Williams, the dual-threat signal caller who already holds offers from UCLA, Arizona State, Nevada, Southern Methodist and Washington. He was the CIF Los Angeles City Section player of the year last season, guiding Narbonne to the Division I championship by passing for 3,247 yards and 34 touchdowns, and running for 11 more scores. Depending on how the summer goes, Williams can become a national-level prospect.

QB Hayden Rettig, Los Angeles Cathedral - The 6-foot-3, 200-pound Rettig had a spectacular start to the 2011 season, passing for 508 yards and six touchdowns in Cathedral's opener, and another 294 yards the next week. But that was it for the highly touted quarterback, who suffered a torn anterior cruciate ligament in his right knee and was forced to sit out the remainder of his junior season. Rettig, the younger brother of Boston College quarterback Chase Rettig, holds offers from Arizona, Arizona State, Boston College, Purdue and Vanderbilt, but will have to prove that his right knee has fully recovered.

WR John Ross, Long Beach Jordan -- The 5-foot-10 Ross was named the Moore League co-player of the year last season after accumulating 994 receiving yards and returning six kickoffs for touchdowns. On defense he intercepted five passes, returning two for scores. Ross has offers from UCLA and Washington, but many more are expected to follow suit.

ATH Sebastian Larue, Santa Monica -- On film, Larue looks like the Bryce Treggs of the 2013 class. Fast and shifty -- the 5-foot-11 receiver/cornerback/returner boasts a 4.42 time in the 40-yard dash -- Larue is lethal in open space. He had 17 total touchdowns as a junior, and already has offers from Arizona, Arizona State, Boise State, Idaho and nearby UCLA.

RB DaVonte Young, Bellflower St. John Bosco -- Young rushed for at least 100 yards in five games last season and, really, would have had more had he not shared carries with departing senior Royce Moore. With Bosco losing standout receivers Bryce Treggs (Cal), Justin Johnson (Fresno State) and Dalis Bruce (Eastern Washington) to graduation, Young will be counted on to supply the offensive firepower.

RB Anterio Bateman, Gardena Serra -- Bateman, an early ESPNU 150 watch list member, figures to be Serra's top weapon next season. An ankle injury forced him to miss action late in 2011, yet he still surpassed the 900-yard plateau and averaged more than nine yards per carry. Health will be key for a successful campaign this fall.

OL Nico Falah, Bellflower St. John Bosco -- The Braves averaged more than 400 yards of offense per game and the 6-foot-4 Falah was in the middle of it. He has scholarship offers from UCLA, Oregon State, Utah State and San Jose State, but it surely won't end there. The Trinity League will be loaded with a bevy of premier offensive lineman next season, and Falah is among that group.

QB Brandon Cox, Pasadena -- Cox passed for nearly 2,700 yards and 26 touchdowns, and rushed for over 500 yards -- stellar stats that helped him punch a ticket to the prestigious U.S. Army All-American underclassmen combine in San Antonio. He has reportedly garnered interest from the likes of Auburn and Oregon, as well as other Pac-12 schools.

RB Gerard Wicks, Long Beach Poly -- Wicks shares the carries with Manusamoa Luuga, so his numbers may not be as flashy as those of other running backs. He could emerge as the go-to guy for the Jackrabbits, especially with the departures of Arizona State-bound receivers Richard Smith and Josiah Blandin. UCLA appears to be the early front-runner in Wicks' recruitment.

DT R.J. Coleman, Mira Costa -- Last season Coleman had the task of filling the void left by the graduation of J.R. Tavai (USC) and he didn't disappoint. The 6-foot-4, 300-pound Coleman is on the ESPNU 150 early watch list, and promises to be one of the top players in the South Bay.

LB George Frazier, Monrovia -- Much of the publicity surrounding Monrovia's back-to-back CIF championship run centered on mammoth defensive tackle Ellis McCarthy (UCLA), but Frazier deserves his share of credit. The ESPNU 150 early watch list member was the perfect complement to McCarthy's havoc up front, making play after play for the Wildcats. Frazier is an intriguing prospect who should garner plenty of attention.

DB David Price, Long Beach Poly -- The 6-foot-1 safety is expected to spearhead a solid Poly defense that loses lineman Alonzo Williams (Texas A&M) and linebackers Salamo Fiso (ASU) and Matthew Rowe (ASU) to graduation. Price, an ESPNU 150 early watch list member, holds an offer from Southern Methodist.

WR A.J. Richardson, Harbor City Narbonne -- As the favorite target of Troy Williams, Richardson should get his share of opportunities every week. Gauchos coach Manual Douglas also finds other ways to get the ball in Richardson's hands -- and for good reason. He averaged more than 15 yards per reception last season.
January, 19, 2012
1/19/12
12:28
PM PT
Compton (11-7) handed Long Beach Jordan (12-6) its first Moore League loss with a 72-63 overtime win Wednesday night. Victor Robbins overcame leg cramps to lead the Tarbabes with 19 points. Long Beach Poly (14-1) returned from a successful trip to Seattle and manhandled Long Beach Wilson to the tune of 79-33. Roschon Prince had 20 points.

In Western League action, Fairfax (12-6) improved to 4-1 in league with an 80-55 home win over LACES, while Westchester (11-4) blew out Venice, 63-32.

CIF-Southern Section Division 3AAA top-ranked Damien (17-1) took sole possession of first place in the Sierra League with a 63-55 victory against Chino Hills (12-7). Chris Reyes had 24 points, including 12 straight in a clutch fourth quarter. Sharpshooting wing Jared Dizon added 21.

In a battle for first place in the Hacienda League, Bonita (15-4) beat Walnut, 55-40.

Gardena Serra (17-2) remained atop the Del Rey League by defeating Bishop Amat, 52-21. The Cavaliers held the Lancers to just nine points in the first half. Elsewhere in league, Bishop Montgomery (16-3) earned a 72-48 win at Cathedral.
November, 11, 2011
11/11/11
6:38
AM PT
By
Tim Haddock
| ESPNLosAngeles.com
Valencia (5-4) vs. Saugus (6-3), Friday (7:30 p.m.)
This is essentially the Foothill League championship game. Valencia is in search of its third league championship in a row. Saugus won the Foothill League championship in 2008. Canyon is tied with Valencia and Saugus for the lead in the Foothill League standings, each with 3-1 records. Valencia can actually win the title outright if Golden Valley can pull off the greatest upset in school history by beating Canyon tonight. Valencia would have to beat Saugus too. Most likely scenario is Canyon will share the Foothill League championship with the winner of the Valencia-Saugus game.

No. 15 Chaminade (8-1) vs. No. 25 Serra (7-2), Friday (7 p.m.)
This could be a night of out with the old, in with the new. Both Chaminade and Serra have perfect 4-0 records in the Mission League standings. Serra is the reigning Mission League champion and beat Chaminade 35-21 last season. That was of course with Marquis Lee and George Farmer. This time around, Chaminade has the six-game winning streak and the offensive stars with running back Terrell Newby and quarterback Logan Scott. Winner takes the Mission League championship and most likely the No. 1 seeding in the Western Division playoffs.

No. 23 Crespi (7-2) vs. No. 17 Loyola (7-2) at L.A. Valley College, Friday (7 p.m.)
This game means more to Crespi than to Loyola. The Celts need a win to keep their playoff hopes alive. The Cubs are already in the playoffs no matter if they win or lose this game. Still, no team wants to head into playoffs on a losing note. This is a big game in the Serra League with all sorts of playoff implications.

Burroughs (5-4) vs. Burbank (4-5) at Arcadia High School, Friday (7 p.m.)
The "Big Game" is bigger for Burroughs than for Burbank. At stake for the Indians is the Pacific League championship and a favorable seeding in the Southeast Division playoffs. Burbank can play the role of spoiler and still make the playoffs with a win. Burbank is in a tie for fifth place with Muir in the Pacific League standings. The top-four teams in league make the playoffs.

Sierra Canyon (9-0) vs. Calvary Chapel (5-3) at Downey High School, Friday (7 p.m.)
Sierra Canyon can punctuate its first Alpha League championship with a win over Calvary Chapel and cap an undefeated regular season. Calvary Chapel has lost two games in a row and hasn't scored a point in eight quarters. Paraclete and Brentwood shut out Calvary Chapel in consecutive weeks.

Cathedral (3-6) at St. Francis (7-2), Friday (7:30 p.m.)
St. Francis can clinch a playoff spot with a win over a Cathedral team that hasn't won a Mission League game this season. The Knights started out hot, winning their first six games. But St. Francis has lost two of its last three games, both to Mission League opponents. The Knights are coming off a 28-22 win over St. Paul, so things are looking up for St. Francis. Cathedral was shut out by Chaminade, 33-0, last week, and it could have been much worse. Chaminade scored only three points in the second half.
November, 3, 2011
11/03/11
1:01
PM PT
By
Tim Haddock
| ESPNLosAngeles.com
Agoura (1-7) vs. No. 2 Westlake (8-0), Friday (7 p.m.) – Westlake running back Dashon Hunt has been tough to stop in recent games. He is averaging 94 yards rushing and has scored six touchdowns in the past three games. He gained 99 yards and scored two touchdowns in Westlake's 49-3 win over Newbury Park last week. One of his touchdowns came on a 42-yard punt return. He also returned an interception for a touchdown against Simi Valley three weeks ago. Agoura is coming off its first win of the season, 24-17, over Calabasas. The Chargers go from playing one of the worst teams in the Marmonte League to one of the best teams in the state. It could be a long night for Agoura.

No. 3 St. Bonaventure (7-1) vs. Calabasas (1-7), Friday (7 p.m.) – The Seraphs have surrendered only 31 points in their past five Marmonte League games, including shutouts over Agoura and Simi Valley. Shaun Wick and Zack Green combined for 256 yards and scored four touchdowns in a 50-8 win over Thousand Oaks last week. Calabasas has lost all seven of its Marmonte League games. It could be a long night for Calabasas.

Moorpark (5-3) vs. No. 11 Oaks Christian (6-2), Friday (7 p.m.) – Oaks Christian running back Ishmael Adams is expected to make his first start in three games after spraining his ankle in practice. He missed the past two games. While the return of Adams is good news, Oaks Christian might be without Arizona State-bound linebacker and running back Carlos Mendoza. He injured his shoulder in the 38-7 win over Simi Valley last week. Redell said he might roll the dice and rest Mendoza the next two weeks until the playoffs start. Wide receiver Jordan Payton is also nursing an injured ankle, but Redell said he looked pretty good on his 80-yard touchdown run against Simi. Moorpark needs a win to stay in the hunt for the playoffs. The Musketeers, 4-3 in Marmonte League play, are in a three-way tie for fourth place in league with Thousand Oaks and Simi Valley. Only the top five teams in league are guaranteed playoff spots.

No. 17 Bishop Amat (6-3) vs. Sherman Oaks Notre Dame (5-3), Friday (7 p.m.) – Notre Dame is slowly seeing its season slip away. After a promising 5-0 start, the Knights have lost three games in a row, including its two Serra League games. They had a bye last week and two weeks to prepare for Bishop Amat. But Notre Dame lost to Loyola, 27-14, in its last game. Bishop Amat is seeing its season spiral away too. The Lancers have lost two of their past three games and are 1-2 in league. Bishop Amat is coming off a 14-3 loss to Loyola last week.

No. 18 Chaminade (7-1) vs. Cathedral (3-5) , Friday (7 p.m.) – Chaminade is on a roll with a five-game winning streak including three straight Mission League games. The Eagles have outscored their Mission League opponents 117-19. They beat St. Francis, 31-13 last week. Cathedral has lost all three of its Mission League games and were shut out by Gardena Serra and St. Paul. The Phantoms lost to Harvard-Westlake, 34-26, last week.

Paraclete (7-1) vs. Sierra Canyon (8-0) at Granada Hills High School, Saturday (7 p.m.) – Paraclete is the reigning Southern Section East Valley Division champion and has won seven games in a row since losing, 7-6, to Serrano on opening night. Sierra Canyon is undefeated and coming off a 42-8 win over Brentwood. Paraclete is the No. 2 team in the East Valley Division poll after a 49-0 shutout over Calvary Chapel. Sierra Canyon is the top-ranked team in the East Valley Division. This game is about as big as it gets for small schools.
September, 22, 2011
9/22/11
7:17
AM PT
Highly touted junior quarterback prospect
Hayden Rettig
has a torn anterior cruciate ligament in his right knee and will sit out the rest of the season, Cathedral football coach
Kevin Pearson
confirmed to ESPN Los Angeles.
Rettig suffered the injury while running with the ball late in last Friday night's game against Pasadena. An MRI exam the next day revealed the tear.
"He's a hard, hard worker," Pearson said. "I'm confident he'll come back stronger and better than ever."
Rettig, one of the nation's top signal callers in the Class of 2013, had a monstrous opening performance this season, completing 30 of 47 passes for 508 yards and six touchdowns in Cathedral's 52-36 win against Banning. He had 294 passing yards Friday before the injury. The Phantoms (2-0) beat Pasadena, 21-13.
On Friday, Cathedral plays at West Adams at 7 p.m. The loss of Rettig certainly will hamper the Phantoms' chances of competing in the tough Mission League, which has four teams -- No. 1 Chaminade, No. 2 St. Paul, No. 4 Serra and No. 5 St. Francis -- ranked in the top 10 of this week's CIF-SS Western Division poll. Cathedral received votes in this week's poll but did not crack the top 10.
Last year, the 6-foot-3, 200-pound Rettig was selected by ESPN RISE as the state's top sophomore quarterback. He threw for 2,217 yards and 17 touchdowns. Rettig currently has offers from Arizona, Arizona State, Boston College, Purdue and Vanderbilt. His older brother
Chase Rettig
, who played at Pasadena La Salle and San Clemente, is a sophomore quarterback at Boston College.
Pearson now must scramble to fill the massive void, with freshmen
M.C. Poe
and
Tuli-Lefefe Wily-Matagi
expected to compete for the gig.
"Hayden is an outstanding leader," Pearson said. "There's no doubt in my mind that he'll be fine when he comes back."
Blair Angulo covers preps for ESPN Los Angeles. Follow him on Twitter.
October, 29, 2010
10/29/10
11:47
PM PT
By
Sean Ceglinsky
| ESPNLosAngeles.com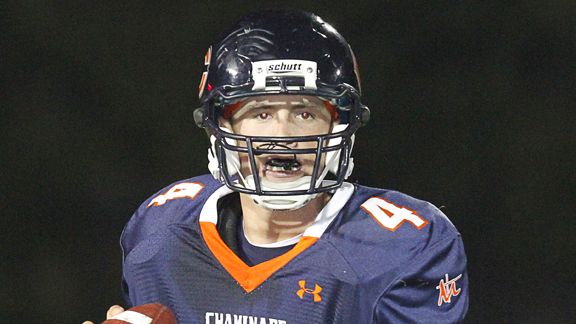 John Lazar/Special to ESPNLA.com
Chaminade quarterback Logan Scott looks to pass during Friday's game against Cathedral.
WEST HILLS -- Not many observers could have imagined the Chaminade High football team would still be undefeated at this stage of the season. But low and behold, the Eagles are, fully equipped with an unblemished record to boot.
Chaminade dominated visiting Los Angeles Cathedral from start to finish on Friday night. The end result was 30-6 Mission Legue victory, but perhaps more important, the win sets up a showdown with Gardena Serra next week in a game where the league title could very well be decided and the mettle of the Eagles will surely be tested.
"We've had a great season, but it's far from over, far, far from over,'' Chaminade coach
Ed Croson
said. "Everyone around here knows what's on the horizon, but we couldn't beat Cathedral if we were worried about Serra. We were focused on the task at hand this week, no talk about Serra, no film on Serra. The only thing on our mind was Cathedral. Tomorrow we'll worry about Serra.''
Chaminade (8-0, 3-0) made its first appearance of the season in ESPNLosAngeles.com's Top 25 rankings this week, coming in at No. 25. And after Friday's effort against the Phantoms (5-3, 1-2), one in which they didn't overlook the opponent, it appears as if the selection was worthy.
"We'll celebrate this win tonight, and be happy about being undefeated, but then it's time to go to work getting ready for Serra in the morning,'' Chaminade's
Terrell Newby
said. "We'll be focused and ready next week for the biggest game of the season.''
Cathedral narrowly avoided the shutout when
Hayden Rettig
found
Ryan
Longoria
on 35-yard touchdown pass with 2:15 left. The damage, however, had already been done as Chaminade built what proved to be an insurmountable 30-0 advantage heading into the fourth quarter.
October, 14, 2010
10/14/10
6:49
PM PT
No. 9 Encino Crespi (5-1) at No. 6 Bishop Amat (6-0), Friday, 7 p.m.
Amat looks to slow down Crespi quarterback Kenny Stenhouse, who has made breaking school records a weekly habit. The Lancers also have a solid signal caller in junior Rio Ruiz.

Locke (3-2) at No. 18 Dorsey (5-0), Friday, 7 p.m.
The Dons, coming off a close call against visiting Mira Mesa of San Diego, get a chance at redemption in the Coliseum League opener. Dorsey lost to Locke, 24-20, last year.

St. Paul (4-1) at Cathedral (4-1), Friday, 7 p.m.
This Mission League opener promises to be a doozy. St. Paul's lone loss came by a three-point margin, while Cathedral dropped its game to highly ranked Bishop Amat. The teams are ranked No. 7 and No. 8, respectively, in the Western Division in the latest CIF-Southern Section poll.

Rowland (4-2) vs. Diamond Ranch (3-3) at Ganesha HS, Saturday, 7 p.m.
Another week, another intriguing Hacienda League contest. Diamond Ranch, ranked fifth in the Southeast Division, is coming off three straight wins. Rowland, ranked eighth, lost to West Covina last week.
September, 30, 2010
9/30/10
12:51
PM PT
Narbonne doesn't want its game against high-powered Serra to turn into a shootout Friday night. No other team in the state would, either.

But if it does -- and the likelihood of that happening is high -- Narbonne's top gun, tailback Noel Rankins, might need a bit of help. With the way No. 5 Serra (4-0) has been slinging it this season, the Gauchos hope quarterback Troy Williams plays his best game.

And then they hope the defense steps up against the likes of George Farmer, Marqise Lee and Conner Preston.

Rankins carried the ball 14 times last week for a net of minus-5 yards. He had posted 200-plus against Long Beach Poly a week before. Give Mira Costa credit: The Mustangs sniffed out Narbonne's plan and loaded the box to win 7-6.

Expect Serra to do the same until Williams proves he can hurt them.

Four more to see:

* No. 8 Bishop Amat (4-0) at Cathedral (3-0), Friday -- Cathedral is one of four undefeated Mission League teams (Serra, Chaminade and St. Francis being the others).

* Culver City (3-0) at No. 14 Crenshaw (2-2), Friday -- Crenshaw faces stiffer competition for the first time since its loss at Norco.

* Diamond Bar (4-0) vs. Diamond Ranch (1-3) at Ganesha, Friday -- The Hacienda League opener carries great ramifications for these crosstown rivals.

* La Habra (2-2) at St. John Bosco (3-1), Friday -- The Braves' success hinges on Raymond Medina's consistency throwing the ball.