Los Angeles Preps:

Centennial
January, 4, 2012
1/04/12
3:27
PM PT
By
Dan Arritt
| ESPNLosAngeles.com
BIG VIII LEAGUE

Where they stand: Each team played a league game in mid-December. They resume play tonight with the following schedule: J.W. North @ Corona Centennial; Corona Santiago @ Norco; Corona @ Riverside King; Roosevelt @ Riverside Poly.

Last year's finish: Centennial (14-0); Roosevelt (12-2); Corona (8-6); J.W. North (7-7); Santiago (6-8); Poly (5-9); King (3-11); Norco (1-13).

Players to watch: Aaron Peck (J.W. North), 6-4, Sr., F; Dorian Butler (J.W. North), 6-5, Jr., F; Marcus Baugh (J.W. North), 6-5, Jr., F; Deshon Taylor (J.W. North), 6-0, So., G; Sam Finley (Centennial), 6-2, Jr., G; Sedrick Barefield (Centennial), 6-0, Fr., G; Dorion Barnett (Santiago), 6-3, Jr., F; Alex Blumenfeld (Santiago), 6-0, Sr., G; Marcos Hazelwood (Corona), 6-1, Sr., F; Jeremiah Abdelmeesh (Norco), 6-2, Sr., F; Kendall Brown (Roosevelt), 6-4, Sr., G; Jalen Young (Roosevelt), 6-5, Sr., G; Shawn Joseph (Roosevelt), 6-3, Sr., G; Noah Prouse (Poly), 6-6, Sr., F; Jeff Gonzalez (Poly), 6-6, Sr., F; Brandon Pippenger (King), 6-8, Sr., C; Nikko Turner (King), 5-8, Sr., G; Mark Wilson (King), 6-0, Sr., G.

Predicted order of finish: J.W. North, King, Poly, Centennial, Corona, Roosevelt, Santiago, Norco.

MOJAVE RIVER LEAGUE

Where they stand: Already tightly bunched after a handful of MRL games in mid-December, league play resumes tonight with Oak Hills @ Hesperia and Apple Valley @ Sultana. Serrano plays Friday @ Hesperia.

Last year's finish: Sultana (10-2); Oak Hills (9-3); Hesperia (5-7); Serrano (6-7); Apple Valley (1-11).

Players to watch Daaron Flagg (Sultana), 6-4, Sr., G; Robmar Porter (Sultana), 6-4, Sr., F; Brian Enriquez (Sultana), 6-2, So., G; Chrishtian Buttler (Sultana), 5-9, Sr., G, Denzel McCloney (Serrano), 6-0, Sr., G; Timmall Thomas (Serrano), 5-10, Jr., G; Daniel Davis (Oak Hills), 6-4, Sr., F; J.T. Roach (Apple Valley), 6-3, Jr., F.

Predicted order of finish: Sultana, Oak Hills, Serrano, Apple Valley, Hesperia.

MT. BALDY LEAGUE

Where they stand: Half the teams got a head start on league play before the holidays. They all play Friday night, with Don Lugo @ Colony, Chino @ Chaffey and Garey @ Montclair.

Last year's finish: Colony (11-1); Montclair (10-2); Ontario (8-5); Don Lugo (7-5); Garey (4-8); Chino (1-11); Chaffey (1-11).

Players to watch: Miles Poullard (Colony), 6-2, Sr., G; Everett Turner (Colony), 6-0, Jr., G; Devyn Sampson (Montclair), 6-3, Sr., G; Bobby Talamantes (Montclair), 5-9, Sr., G; Jody Smith (Montclair), 6-1, Jr., G; Marciano Rogers (Ontario), 6-3, Sr., G; Devonte Turner (Ontario), 6-3, Sr., G; Eric Ortiz (Ontario), 6-1, Sr., G; Josh Thompson (Don Lugo), 6-4, Sr., G; Jon Garnica (Chino), 6-1, Sr., G.

Predicted order of finish: Colony, Montclair, Ontario, Don Lugo, Chino, Garey, Chaffey.

Up next: Baseline, Mountain Pass and Southwestern leagues.
February, 8, 2011
2/08/11
6:39
PM PT
By
Sean Ceglinsky
| ESPNLosAngeles.com
If there is one thing to be learned from last week it is this: Expect the unexpected from the Southland's top boys' basketball teams.

More than a few programs ranked among the ESPNLosAngeles.com top 20 lost recently, most notably top-ranked Long Beach Poly. The Jackrabbits, however, maintain the top spot in the poll based upon their body of work.

Four other teams in the top 10 suffered setbacks, so do not be surprised to see some new faces in some new places this time around.

1. (1) Long Beach Poly (22-1): A surprising five-point upset at the hands of Las Vegas (NV) Bishop Gorman on Saturday hurt. It is not the end of the world. Far from it, in fact.

2. (2) Mater Dei (22-2): Victories over JSerra on Tuesday night and Santa Margarita on Thursday are the only obstacles left in the way of a Trinity League title.

3. (3) Corona Centennial (21-3): The Huskies have been without senior point guard Michael Caffey for a while now, yet the wins continue to mount at an alarming rate.

4. (4) Taft (21-2): Concord De La Salle posed as somewhat of threat over the weekend. And while the showdown went into overtime, the Toreadors found a way to prevail.

5. (8) Loyola (19-5): Everyone has been talking about how the Cubs have played one of the more difficult schedules around. And apparently, that is proving to be true.

6. (6) Etiwanda (23-2): Not sure to how to explain last week's Baseline League loss against Upland. Nevertheless, few programs possess as much upside as the Eagles.

7. (10) Orange Lutheran (19-6): Big test Tuesday night against Cezar Guerrero and St. John Bosco followed by a Trinity League finale with Servite on Thursday evening.

8. (5) Westchester (20-6): Can't knock the Comets for taking on Orange Lutheran and losing at the Nike Extravaganza. They will be better for the experience down the road.

9. (7) Harvard-Westlake (22-3): Lost to Loyola on Friday night. The Wolverines bounced back with a victory over Crespi on Monday though to clinch the Mission League title.

10. (9) Mission Viejo (23-1): Fell from the ranks of the unbeaten with a two-point setback to Tesoro. Up next is El Toro on Tuesday and Capistrano Valley on Thursday.


February, 1, 2011
2/01/11
7:34
PM PT
By
Sean Ceglinsky
| ESPNLosAngeles.com
There are only two undefeated teams left in the ESPNLosAngeles.com top 20 boys' basketball rankings after Etiwanda was upset by Loyola Los Angeles, 70-64, Saturday night at the Fairfax State Preview Classic.

True to form, Long Beach Poly has a firm grasp on the top spot once again. And surprisingly enough, it appears as if Mission Viejo is poised to continue its winning ways. The Diablos, after all, have made a remarkable regular-season run thus far.

So, without further adieu, it is time to get down to business and check out how some of the Southland's premier programs stack up against one other.

1. (1) Long Beach Poly (19-0): The only thing standing between the Jackrabbits and an unblemished regular season record is Las Vegas (NV) Bishop Gorman on Saturday.

2. (3) Mater Dei (20-2): Stanley Johnson might be a freshman, but the 6-foot-5, 190-pound forward has surely not played like a wide-eyed youngster for the Monarchs.

3. (4) Corona Centennial (18-3): Challenges in the Big VIII League have been nonexistent thus far. Plenty of tests, however, await in the Southern Section Division 1AA playoffs.

4. (5) Taft (17-2): All signs point to the Toreadors being hyped and ready for their showdown against Concord De La Salle in the Nike Extravaganza this weekend.

5. (6) Westchester (19-5): The Comets essentially wrapped up a Western League championship with a 22-point victory over second-place University on Monday night.

6. (2) Etiwanda (21-1): Seemingly no one saw the loss to Loyola coming. Hey Eagles fans, fear not, your team figures to rebound in Baseline League play this week.

7. (8) Harvard-Westlake (20-2): A pair of important Mission League games on the road loom large. First up, Chaminade on Wednesday followed by Loyola on Friday.

8. (11) Loyola (17-5): On a roster with a number of relatively unknown commodities, Julian Harrell has emerged as one of those names to definitely remember.

9. (9) Mission Viejo (23-0): James Cramer's stats are not particularly spectacular: 10 points, 4.6 assists, and 2.7 rebounds per game: Nevertheless, the senior gets the job done.

10. (10) Orange Lutheran (17-6): The Lancers are hanging onto a spot in the top 10 by a thread. They could made a statement Saturday though with a win against Westchester.


January, 25, 2011
1/25/11
10:46
PM PT
By
Sean Ceglinsky
| ESPNLosAngeles.com
There are no significant changes at the top of the ESPNLosAngeles.com top 20 boys' basketball rankings this week. A shakeup toward the bottom half of the top 10, however, was in order after one team was dealt a surprising setback.

Also worth mentioning is the fact that a pair of programs are making their first appearance in the rankings following the exits of Murrieta Valley and Los Angeles Fairfax, a pair of schools that could be back in the mix sooner rather than later.

Some other teams to keep a close eye on are Aliso Niguel, Compton and La Verne Damien, along with Pasadena, Ventura and Los Angeles Washington. A couple of quality victories over the next couple of days figure to go a long way.

1. (1) Long Beach Poly (18-0): Winning Moore League games by an average of 42 points. Are you kidding me? Running the table appears to be entirely possible.

2. (2) Etiwanda (20-0): Jordan Daniels doesn't receive enough credit. All of that, however, could end up changing if the senior point guard keeps the Eagles flying high.

3. (3) Mater Dei (18-2): There are no easy games in the tough Trinity League. St. John Bosco looms on Wednesday followed by a showdown with Orange Lutheran on Friday.

4. (4) Centennial (16-3): Big VIII League games against Riverside King on Tuesday evening and Riverside Poly on Thursday night figure to offer little, or no, resistance.

5. (5) Taft (15-2): Kevin Johnson has been focused on the task at hand recently. And make no mistake, when the senior is motivated, the Toreadors are seemingly unstoppable.

6. (7) Westchester (18-5): With a showdown against rival Fairfax on Thursday, perhaps the Comets are primed for an upset loss Wednesday against Hamilton. Perhaps not.

7. (8) Canyon (19-2): Chris Anderson might be a tad bit undersized. He is, after all, 5-foot-7. Thing is, no one plays a bigger role tor the Comanches than the senior point guard.

8. (9) Harvard-Westlake (17-2): Damiene Cain and Zena Edosomwan are a potent one-two punch down in the post and they work the high-low game to near perfection.

9. (10) Mission Viejo (22-0): At 6-10, Issac Neilson is proving to be a force on both ends of the floor. Aliso Niguel will attempt to stop the BYU-bound senior on Friday night.

10. (6) Orange Lutheran (16-5): Suffered a setback with loss to Cezar Guerrero and St. John Bosco. Now, it is time to see how the Lancers respond to some adversity.


January, 23, 2011
1/23/11
1:05
AM PT
By
Sean Ceglinsky
| ESPNLosAngeles.com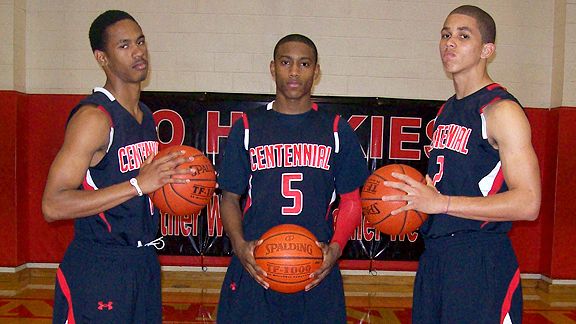 Courtesy of Veronica GomezGelaun Wheelwright, left, Michael Caffey, center, and Dominique Dunning have led Centennial to a 16-3 record so far this season.
CORONA -- With his head seemingly on a swivel, Centennial's
Michael Caffey
dribbles the basketball up the court, his eyes constantly surveying the floor in front of him as a pesky opponent attempts to make things difficult.
A one-bounce dribble to the left and a quick crossover move back to the right side frees up some much-needed additional space. Seconds later, Caffey is driving down the lane, into the heart of a defense quickly collapsing around him.
Amid all of the confusion, somehow, some way, he collects himself with a jump stop at the free-throw line and a short jumper presents itself.
Out on the wing stands a teammate,
Gelaun Wheelwright
, who is positioned just beyond the 3-point arc, patiently waiting for the kick-out pass. But out of the corner of his eye, Caffey catches a fleeting glimpse of a cutter,
Dominique Dunning
, diving to the basket and a well-placed bounce pass leads to an uncontested layup.
The scenario has played many a time.
Caffey runs the show from his point guard position. As the shooting guard, Wheelwright makes himself available on the perimeter, where he is as consistent as they come burying jumpers, open or not. Dunning is the slasher, of course, a resourceful wing who is always on the move and looking for ways to exploit the defense.
Three seniors. All of them guards. Each equally talented. For anyone facing the Huskies, it is one of those proverbial match-up nightmares.
Stopping one of the trio is entirely possible. It has happened on numerous occasions. Eventually, however, either Caffey, Wheelwright or Dunning is going to make you pay. And perhaps that best explains why Centennial is considered one of the top teams in the Southland and one of the premier programs in the nation, for that matter.
January, 18, 2011
1/18/11
11:47
PM PT
By
Sean Ceglinsky
| ESPNLosAngeles.com
The boys' basketball season has been fast-paced throughout the Southland to this point and it doesn't appear as if things will be slowing down any time soon.

That said, let's get down to business and check out who's who and find out how some of Southern California's premier programs stack up against one another in the ESPNLosAngeles.com top 20.

1. Long Beach Poly (15-0): Jackrabbits are cream of the crop and rise to the top.

2. Etiwanda (16-0): Does not appear as if anyone can stop Byron Wesley & Co.

3. Mater Dei (16-2): Two Trinity League games on deck this week for the Monarchs.

4. Centennial (13-3): Pick your poison, Michael Caffey or Dominique Dunning.

5. Taft (13-2): Coming off a big victory at HoopHall Classic in Massachusetts.

6. Orange Lutheran (14-4): Tandem of James Douglas and Gabe York is tough.

7. Westchester (14-5): No superstars, but the Comets are still getting the job done.

8. Canyon (16-2): There's no shame in losing twice to Mater Dei. Enough said.

9. Harvard-Westlake (16-2): Wolverines on a mission in Mission League play.

10. Mission Viejo (19-0): South Coast clash Wednesday against Capistrano Valley.


December, 15, 2010
12/15/10
11:48
PM PT
By
Dan Arritt
| ESPNLosAngeles.com
The boys' basketball season is two weeks old and the Inland Empire
preseason rankings
are holding strong, for the most part.
In a matchup of the I.E.'s top two teams, Etiwanda knocked off Corona Centennial, 68-64, on Dec. 4 in the championship of the Rose City Classic in Pasadena.
Here's an updated top 10, with some key results and upcoming matchups.
1. Etiwanda, 7-0 (1)
– In addition to the Eagles' win against Centennial, they also knocked off tournament host Pasadena, 71-56, in a semifinal. Next up: Thursday vs. A.B. Miller at the Inland Empire Challenge.
2. Centennial, 6-2 (2)
– The Huskies' other loss was by four points to San Diego Lincoln,
ranked 46th
in the nation by ESPN RISE in the final of the Santa Monica tournament Saturday. Etiwanda is ranked No. 49 by the same publication. Centennial beat a talented Compton team, 81-76, in a semifinal. Next up: Thursday vs. Riverside King at Centennial.
3. Murrieta Valley, 8-0 (3)
– Knocked off some decent competition, including Moreno Valley Rancho Verde (59-41), Elsinore (69-47) and Rancho Cucamonga Los Osos (68-57). Next up: Tuesday vs. Elsinore at Murrieta Valley.
4. Upland, 6-1 (5)
– Fell to tournament host Mission Viejo in final of the Diablo Inferno tournament on Dec. 4. Earlier in the tournament, the Highlanders posted wins against Orange County mid-sized powers San Juan Hills and Corona del Mar. Up next: Thursday vs. Redlands East Valley at the Inland Empire Challenge.
5. Rancho Verde, 8-1 (7)
– Beat Riverside Arlington, 57-44, on Saturday in the final of the Riverside Poly tournament. Also knocked off Redlands and Moreno Valley Canyon Springs en route to the title. Next up: Thursday vs. Moreno Valley Vista del Lago at Rancho Verde.
September, 17, 2010
9/17/10
11:40
PM PT
By
Sean Ceglinsky
| ESPNLosAngeles.com
CORONA -- For those high school football fans who haven't heard of the name
Michael Eubank
, consider this as a formal introduction.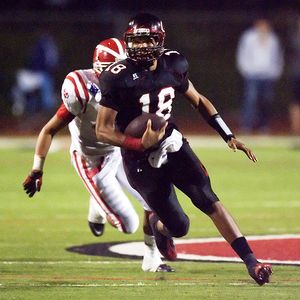 Larry Goren/For ESPNLA.com
Centennial quarterback accounted for 380 yards of offense in his team's rout of Mater Dei.
The 6-foot-5 and 220-pound senior quarterback from Corona Centennial did a little bit of everything on Friday evening, most of it extremely well. And as a result, the host Huskies had little trouble thoroughly defeating Santa Ana Mater Dei, 44-13, in a nonleague game.
"My goal was to come out and make a big statement tonight in front of everyone,'' said Eubank, who completed 11-of-17 passes for 200 yards passing with a pair of touchdown passes. He also carried the ball 13 times for 180 yards on the ground and scored three touchdowns.
Entering the game, Mater Dei quarterback
Max Wittek
was thought to be the main attraction. The USC commit struggled from start to finish though and ended up 11-of-25 for 176 yards with two interceptions.
Turns out, Wittek was overshadowed by his counterpart. And keep in mind Eubank has one scholarship offer thus far, Northern Colorado. Others figure to follow suit after his performance Friday.
"I wanted to prove that I can hang with a USC boy,'' Eubank said. "When people underestimate me, it only motivates me more. I'm hungry. I hope this is an eye-opener for Division I coaches. I'm a dual-threat, I can pass it or run it, you saw that out there. I did what I had to do.''
September, 15, 2010
9/15/10
8:53
PM PT
By
Sean Ceglinsky
| ESPNLosAngeles.com
Nonleague football games early in the season don't get much bigger than Friday night's showdown between traditional Southern California powerhouse Santa Ana Mater Dei and Corona Centennial, ranked No. 7 by ESPNLosAngeles.com. Thing is, the game might not live up to all the hype surrounding it if the Monarchs are without Victor Blackwell.

The standout senior receiver injured his left shoulder in a 14-10 loss to Carson on Sept. 4 and his status is unclear. Over the past couple of days, Blackwell was limited in practice. Without the USC commit in the lineup, Mater Dei (0-1) could be in trouble against the Huskies (1-0), who are coming off a 48-8 victory over Lake Balboa Birmingham.

"Victor is injured, yes, but he's made some progress this week,'' Monarchs coach Bruce Rollinson said after practice Wednesday afternoon. "We're not going to rush him back before he's ready and risk further injury, so he'll be a game-time decision for us.''

Blackwell is a game-changer, no doubt about it. As a junior, he finished with 52 receptions for 1,044 yards and 11 touchdowns for Mater Dei. That probably best explains why ESPNU ranks him as the nation's No. 9 player at his position and No. 55 overall.

If Blackwell isn't at full strength, it makes sense for the coaching staff to let him fully recover considering the Monarchs have a series of difficult nonleague games on the horizon before Trinity League play begins on Oct. 14 against Bellflower St. John Bosco.

"My injury happened on one of those freak kind of plays, and believe me, I know that this game against Centennial is big, I want to be out there to help my teammates more than anything,'' Blackwell said. "But, I have to be careful, it's a long season.''

Whether Blackwell plays in Friday's road game, beginning at 7:30 p.m., remains to be seen. One thing is certain: The Monarchs desperately need the 6-foot-1, 190-pound wideout in uniform against the Huskies to keep things close.
March, 20, 2010
3/20/10
3:28
PM PT
By
Pedro Moura
| ESPNLosAngeles.com
After losing 74-50 to Serra in Saturday's Division-III Regional final, Compton Centennial coach Vadim Malikin didn't shy away from revealing the reason he felt his Apaches lost — poor shooting. Centennial shot just 39 percent for the game. Malikin also lamented the Apaches' 36 percent free-throw shooting for the game:



Meanwhile, Serra coach Dwan Hurt said the Apaches' game plan was simply to do their best to slow down Centennial stars Kevin Smith and Deonte Burton — and they were successful. Smith and Burton combined to make just nine of 22 shots for a total of 25 points. Hurt also saw his floor leader, Keith Shamburger, get doubled early and often Saturday. But Hurt said he was impressed by Shamburger's willingness to distribute the ball:



Serra guard Vaughn Autry's father, Stephen, died last month at 42, just before the start of postseason play. The senior, a Montana signee, discussed how his late father affects his play on and off the court and how an assistant coach's idea to use black jerseys during the Cavaliers' victory proved emotional:


March, 7, 2010
3/07/10
9:36
PM PT
By
Tim Haddock
| ESPNLosAngeles.com
The L.A. North region is well-represented in the CIF Division III state boys basketball championships.

Verdugo Hills opens against Hoover of Fresno in the first round. Verdugo Hills in the fifth-seeded team in the Southern California bracket and is 24-7. The Dons won the City Section Division III championship game, 60-50, over El Camino Real.

Hoover (20-10) lost to Ridgeview in the championship game of the Central Section Division III playoffs.

El Camino Real of Woodland Hills (16-14) plays Centennial, the No. 3-seeded team in the Southern California bracket.

Alemany of Mission Hills (11-17) is in the state playoffs after reaching the championship game of the Southern Section Division 4A playoffs.

Alemany lost to Crespi, 50-43, in the Division 4A championship game. It won't get any easier in state. Alemany plays Orange Lutheran (23-8), which lost to Price in the championship game of the Southern Section Division 4AA playoffs.