Los Angeles Preps:

Chaffey
January, 4, 2012
1/04/12
3:27
PM PT
By
Dan Arritt
| ESPNLosAngeles.com
BIG VIII LEAGUE

Where they stand: Each team played a league game in mid-December. They resume play tonight with the following schedule: J.W. North @ Corona Centennial; Corona Santiago @ Norco; Corona @ Riverside King; Roosevelt @ Riverside Poly.

Last year's finish: Centennial (14-0); Roosevelt (12-2); Corona (8-6); J.W. North (7-7); Santiago (6-8); Poly (5-9); King (3-11); Norco (1-13).

Players to watch: Aaron Peck (J.W. North), 6-4, Sr., F; Dorian Butler (J.W. North), 6-5, Jr., F; Marcus Baugh (J.W. North), 6-5, Jr., F; Deshon Taylor (J.W. North), 6-0, So., G; Sam Finley (Centennial), 6-2, Jr., G; Sedrick Barefield (Centennial), 6-0, Fr., G; Dorion Barnett (Santiago), 6-3, Jr., F; Alex Blumenfeld (Santiago), 6-0, Sr., G; Marcos Hazelwood (Corona), 6-1, Sr., F; Jeremiah Abdelmeesh (Norco), 6-2, Sr., F; Kendall Brown (Roosevelt), 6-4, Sr., G; Jalen Young (Roosevelt), 6-5, Sr., G; Shawn Joseph (Roosevelt), 6-3, Sr., G; Noah Prouse (Poly), 6-6, Sr., F; Jeff Gonzalez (Poly), 6-6, Sr., F; Brandon Pippenger (King), 6-8, Sr., C; Nikko Turner (King), 5-8, Sr., G; Mark Wilson (King), 6-0, Sr., G.

Predicted order of finish: J.W. North, King, Poly, Centennial, Corona, Roosevelt, Santiago, Norco.

MOJAVE RIVER LEAGUE

Where they stand: Already tightly bunched after a handful of MRL games in mid-December, league play resumes tonight with Oak Hills @ Hesperia and Apple Valley @ Sultana. Serrano plays Friday @ Hesperia.

Last year's finish: Sultana (10-2); Oak Hills (9-3); Hesperia (5-7); Serrano (6-7); Apple Valley (1-11).

Players to watch Daaron Flagg (Sultana), 6-4, Sr., G; Robmar Porter (Sultana), 6-4, Sr., F; Brian Enriquez (Sultana), 6-2, So., G; Chrishtian Buttler (Sultana), 5-9, Sr., G, Denzel McCloney (Serrano), 6-0, Sr., G; Timmall Thomas (Serrano), 5-10, Jr., G; Daniel Davis (Oak Hills), 6-4, Sr., F; J.T. Roach (Apple Valley), 6-3, Jr., F.

Predicted order of finish: Sultana, Oak Hills, Serrano, Apple Valley, Hesperia.

MT. BALDY LEAGUE

Where they stand: Half the teams got a head start on league play before the holidays. They all play Friday night, with Don Lugo @ Colony, Chino @ Chaffey and Garey @ Montclair.

Last year's finish: Colony (11-1); Montclair (10-2); Ontario (8-5); Don Lugo (7-5); Garey (4-8); Chino (1-11); Chaffey (1-11).

Players to watch: Miles Poullard (Colony), 6-2, Sr., G; Everett Turner (Colony), 6-0, Jr., G; Devyn Sampson (Montclair), 6-3, Sr., G; Bobby Talamantes (Montclair), 5-9, Sr., G; Jody Smith (Montclair), 6-1, Jr., G; Marciano Rogers (Ontario), 6-3, Sr., G; Devonte Turner (Ontario), 6-3, Sr., G; Eric Ortiz (Ontario), 6-1, Sr., G; Josh Thompson (Don Lugo), 6-4, Sr., G; Jon Garnica (Chino), 6-1, Sr., G.

Predicted order of finish: Colony, Montclair, Ontario, Don Lugo, Chino, Garey, Chaffey.

Up next: Baseline, Mountain Pass and Southwestern leagues.
November, 13, 2011
11/13/11
1:01
PM PT
By
Dan Arritt
| ESPNLosAngeles.com
CIF-SS playoffs:
Central Division
This group might not carry the hoopla of the Inland Division, but it certainly has some quality teams and superb athletes. Rancho Verde hasn't lost a regular-season game since 2007, yet hasn't won a section title in that stretch either. Not so for Palm Springs and Colony. Palm Springs won the Eastern Division title in 2009, and the Titans won Central Division titles in 2006 and 2007. Here's a breakdown of the division:
The seeds
: No. 1 Rancho Verde, No. 2 Palm Springs, No. 3 La Sierra, No. 4 Colony.
Best first-round matchup
: Palm Desert (5-4) at Carter (9-1) -- Carter had a chance to clinch the program's first outright San Andreas League title Thursday night against Cajon but lost, 24-7. That missed opportunity could spill over to the playoffs. Carter will have its hands full trying to stop Palm Desert running back
Tim Santa Maria
, who rushed for 333 yards in 33 carries and scored four touchdowns in a 38-35 loss Friday against La Quinta, dropping the Aztecs into third place in the Desert Valley League and setting up this matchup.
Toughest road
: Palm Springs (10-0) -- The Indians' unblemished record might be a bit misleading because they really haven't played any quality opponents this season, though they did blow out everyone except Palm Desert in the season opener. They open against a Rialto team that has a big-time victory against Cajon this season, one that likely cost the Cowboys a top four seeding. Waiting in the wings would be a matchup against Chino or Arlington, two other programs that could pose a problem with their potent run games.
Potential shocker
: Valley View at Colony, first round -- Valley View had a bye in Week 10 to give them extra time to prepare for the playoffs and provide running back
Michael Harrison
a chance to rest up for the heavy workload he's likely to encounter. Harrison, who has rushed for 1,373 and 16 touchdowns this season, is the type of power runner that has given Colony fits this season. The Titans have already allowed 100-yard rushing performances to
Xavier Browne
of Chino,
Devon Samuels
of Chaffey,
Jamel Hart
of South Hills,
Jordan Robinson
of Ayala and
Corey Victoria
of Glendora.
Darkhorse
: Cajon (9-1) -- As mentioned above, Cajon would likely be one of the top three seeds if not for its loss against Rialto three weeks ago. The Cowboys have the athletes to make a run at any team in this division, and seem to have found a quality replacement for quarterback
Edwin Martinez
, who went down with a knee injury two weeks ago.
De Juan Brooks
stepped up from the junior varsity and threw for 241 yards and three touchdowns in the victory against Carter, locking up a share of the San Andreas League title.
Final analysis
: This division is Rancho Verde's to lose but that's exactly what the Mustangs did last season, cruising to the championship game before getting stunned by Colton, the third-place team from the San Andreas League. They certainly didn't catch any breaks in the brackets, getting stuck on the same side as Cajon and Colony, both of which feature Division 1-bound athletes who can change the course of a game.
Championship prediction
: Palm Springs vs. Rancho Verde – These two programs appear to be in a class by themselves, though neither has really proved themselves against quality opponents during the regular season. Look for both teams to build momentum during some challenging early games and meet head on for the section title. Rancho Verde 27, Palm Springs 21.
Link to the Central Division bracket on CalPreps.com
August, 15, 2011
8/15/11
11:32
PM PT
By
Dan Arritt
| ESPNLosAngeles.com
MT. BALDY LEAGUE

Last season's results: Chino (11-1, 6-0); Ontario Colony (7-4, 5-1); Montclair (5-6, 3-3); Pomona Garey (5-6, 2-4); Ontario (4-6, 2-4); Chino Don Lugo (3-7, 2-4); Ontario Chaffey (2-8, 1-5).

Players to watch: Hard to imagine it was just two years ago that Chino finished 0-10. The Cowboys rebounded last season in their first year in the Mt. Baldy League and appear even more stacked this season. Chino returns six first-team all-league players, led by senior quarterback Sean Molles, a three-year starter who passed for 2,343 yards and 29 touchdowns last season. He had at least one touchdown pass in every game and was intercepted just six times. Chino should also be well balanced with the return of the league's leading running back, senior Xavier Browne, who totaled 1,275 rushing yards and 20 touchdowns as a junior. Matt Pantell is a returning two-way lineman for the Cowboys, and Ronnie Velarde, Anthony Adamo and Isaiah Brenes provide valuable experience on defense. Colony's chances of dethroning Chino increased twofold with the addition of offseason transfer Bryan Harper, who played quarterback and defensive back during his injury-shortened junior year at Fontana Carter. Harper, ranked the 94th-best recruit in the state by Rivals.com, has committed to Washington as a cornerback. He played just four games last season before breaking a collarbone but still led Carter with 427 passing yards and four touchdowns. As a sophomore, he threw for 1,302 yards and combined for 15 touchdowns through the air and on the ground. Harper will have the league's top returning receiver in his sights, senior Chaz Nelson, who also had three interceptions as a defensive back. Also returning on defense is first-team all-league linebacker Eddie Martinez, who led the Titans with 86 tackles, and linebacker/tight end Robert Wagner, another first-team all-leaguer. Don Lugo might have the Inland Empire's best-kept secret in linebacker Milton Williams III, a 6-1, 210-pound senior. With his 4.7 speed and 30.5-inch vertical leap, Williams is drawing interest from USC and a handful of other Pac-12 schools. Chaffey hopes to improve on last season's results with the return of running back Carnell Spencer, who averaged 119 yards in his last four games, and leading tackler Matthew Boice, a junior linebacker.

Projected order of finish: Chino, Colony, Don Lugo, Chaffey, Garey, Montclair, Ontario.

Key games: Sept. 1 – Colony @ West Covina South Hills; Sept. 9 – Fontana Carter @ Chaffey; Sept. 16 – Chino @ Oak Park; Sept. 23 – Azusa @ Don Lugo; Sept. 30 – Chino @ Don Lugo; Oct. 7 – Don Lugo @ Colony; Oct. 21 – Colony @ Chaffey; Oct. 28 – Chino @ Colony; Nov. 4 – Chaffey @ Don Lugo.

Alumni in the NFL: Sedrick Ellis, New Orleans Saints (Chino '03); Greg Salas, St. Louis Rams (Chino '06); Jarron Gilbert, New York Jets (Chino '05); R.J. Stanford, Carolina Panthers (Chino '06).

Fast fact: Ontario said good-bye to coach Steve Randall in the offseason. In just five years, Randall compiled more wins than any other coach in school history, but couldn't pass up an assistant coaching offer at Citrus College in Glendora. Randall was replaced by Ronald Stocking, Jr., who spent the last two seasons as linebackers coach at Mira Loma Alta Loma High and prior to that was an assistant coach at Colony for five years.

On the clock: San Andreas League.
November, 15, 2010
11/15/10
4:02
PM PT
By
Dan Arritt
| ESPNLosAngeles.com
1. The best Inland Empire team not to make the playoffs is Rancho Cucamonga Los Osos. The Grizzlies were officially eliminated Friday when they lost to second-place Upland, 41-38, on a 29-yard field goal by Jake Van Ginkel with 3.9 second remaining. Earlier this season, Los Osos lost in overtime, 29-28, against league champion Rancho Cucamonga. It's the third consecutive season that Upland has ended the Grizzlies' season. The Highlanders beat Los Osos in the Central Division championship game last season and in a semifinal the year before.

2. Temecula Great Oak had a 14-point halftime lead and its playoff future in hand Friday night, but then Temecula Valley turned the tables in the Southwestern League finale and scored 27 unanswered points to win, 34-21, spoiling the Wolfpack's postseason hopes. Great Oak's loss was Murrieta Valley's gain, however, as the Nighthawks got a second life after blowing a chance to control their own playoff destiny the night before in a 27-20 loss to Temecula Chaparral.

3. Coming into the season, Victorville Victor Valley had been a combined 5-23 the last seven seasons in the Desert Sky League, earning one trip to the playoffs in that span. Last season, the Jackrabbits finished 7-3 overall but failed to make the playoffs after losing to Ridgecrest Burroughs in the regular-season finale. On Friday, the Jackrabbits had a chance to win the league title with a victory against Burroughs and this time they pulled it off, 25-24, thanks to a 26-yard field goal by Isaiah Kepley with 1:14 left.


October, 11, 2010
10/11/10
8:00
AM PT
By
Dan Arritt
| ESPNLosAngeles.com
1. After an upset-filled weekend in the Big VIII League, only two of the eight teams remain unbeaten in league play. Corona Centennial and Corona are each 2-0, followed by Norco, Eastvale Roosevelt, Corona Santiago and Riverside King at 1-1. With only four teams receiving automatic qualifying berths into the Inland Division playoffs, the four teams tied for third are quickly facing must-win situations this week. The same goes for the eight-team San Andreas League, which is part of the Central Division. Colton and San Bernardino Cajon are 2-0, followed by four teams at 1-1.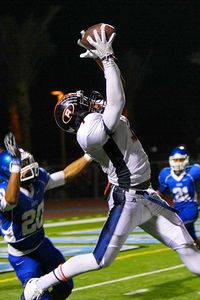 Courtesy of Paul Moureaux
Eastvale Roosevelt receiver Sam Boyd goes up for a catch Friday night during a 24-21 upset against host Norco in a Big VIII League game.
2. Payback was the theme in the Mt. Baldy League. Ontario ended a six-game losing streak against host Ontario Chaffey with a resounding 38-14 victory Thursday night in what is dubbed the annual Cat Bowl.
Joseph Davis
returned the opening kickoff for a touchdown and later caught a 72-yard scoring pass to lead the way for Ontario. The following night, Montclair ended a three-game losing streak to Chino Don Lugo with a 17-13 victory at Don Lugo.
3. Defensive effort of the week goes to Menifee Paloma Valley, which limited high-scoring Bloomington to just 151 total yards in a 38-14 victory Friday night at Bloomington, including only eight yards in the second half. The Bruins came in averaging 266 yards and 30 points a game.
Fahad Al-waiely
, a 5-foot-6, 190-pound linebacker, led Paloma Valley with 11 tackles and linebacker
Caleb Ennis
had seven tackles and 1 ½ sacks.
October, 7, 2010
10/07/10
5:24
PM PT
By
Dan Arritt
| ESPNLosAngeles.com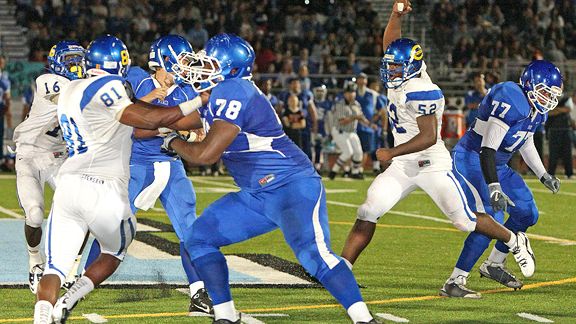 Courtesy of Rob Helfman
Norco lineman Brent Walker (78) has been a key to the Cougars' success on the ground this season.
In just its fourth varsity season, Eastvale Roosevelt has quickly become Norco's rival.
Two years ago, Roosevelt scored the game's first 21 points and held on to upset Norco, 21-13, in their first Big VIII League meeting. A year ago, the Cougars stopped Roosevelt on the two-yard line as time expired to preserve a 30-27 victory.
The matchup moves to Norco High for the first time, where the Cougars have won seven straight games. Norco (4-0) is ranked No. 2 in the Inland Empire by ESPNLA.com, Roosevelt (3-1) is No. 10.
Roosevelt junior quarterback
Aaron Crone
has been solid this season, throwing eight touchdowns with just one interception.
Sam Boyd
, a rugged 6-foot-3, 230-pound tight end, has been his favorite target, snaring 14 passes for 340 yards and five touchdowns.
Norco will continue to lean on Stanford-bound running back
Kelsey Young
, who is regaining his step after playing on a sore ankle the last two weeks. Offensive lineman
Brent Walker
, who is reportedly leaning toward accepting a UCLA scholarship offer, usually leads the way.
Kickoff is set for 7 p.m.
Three more to see:
Colton (3-1) at San Bernardino Arroyo Valley (2-2), Friday – Arroyo Valley is hoping to get quarterback
Michael Yearwood
back on the field for this key San Andreas League game. He sat out the first two games waiting for his transfer from Los Angeles University to be approved, then injured his knee in his first offensive series back against Rialto Eisenhower and was forced to sit last week. Before transferring from Arroyo Valley to University last spring, Yearwood accounted for 3,433 total yards and 36 touchdowns last season. ESPNLA.com's pick: Colton 35, Arroyo Valley 24.
Riverside Norte Vista (2-2) at Lake Elsinore Temescal Canyon (2-2), Friday – Get ready for two teams that rely heavily on the run game. Temescal Canyon is led by running back
Michael Shepherd
, who was handed the ball 48 times last week and totaled 237 yards and two touchdowns in a 28-14 victory against Chula Vista Otay Ranch. Norte Vista running back
Ryan Ruiz
rushed for 124 yards in 33 carries last week and scored three touchdowns in a 38-35 victory against Hemet West Valley. ESPNLA.com's pick: Temescal Canyon 30, Norte Vista 28.
Ontario (2-2) at Ontario Chaffey (1-4) – Ontario has lost six straight Mt. Baldy League games to Chaffey, but this might be its chance to end that skid in a few years. The Jaguars have already doubled their win total from a year ago. Chaffey has lost four straight games to quality opponents, but still has a formidable offensive line that averages 268 pounds. ESPNLA.com's pick: Chaffey 27, Ontario 16.
September, 13, 2010
9/13/10
5:47
PM PT
By
Dan Arritt
| ESPNLosAngeles.com
1. Riverside Poly defensive back
Matt Peck
intercepted four passes in a 31-7 victory Friday night against Riverside Ramona. Peck, a 5-foot-10, 185-pound junior, picked off two passes in the second quarter and two more in the fourth. It's the most interceptions in a Southern Section game since
Martin Ciccolini
of Encino Crespi had four in 2004. The section record is five, held by six players.
2. Summit of Fontana was without two key players Friday night against Redlands, a game that ended in a 24-24 tie.
Devon Blackmon
, a heavily recruited all-purpose player for the SkyHawks, sat out because of an ankle injury he sustained in the first quarter of the season opener Sept. 2 against Etiwanda. Summit was also without running back
Montigo Alford
, who had a mild concussion. Another player, defensive back
Dante Jackson
, tore his rotator cuff against Etiwanda and is lost for the season.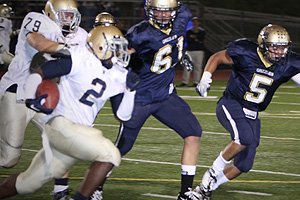 Courtesy of Charlene Bradley
Denzel Foster of J.W. North rushes for yardage against Los Osos.
3.
Mark Paredes
returned to the sidelines at J.W. North in Riverside on Friday night, a place from where he guided the Huskies to two Southern Section titles during an eight-year stint. He left North in 2001 to become an assistant at Riverside College. North sophomore running back
Denzel Foster
welcomed him back with a 92-yard touchdown run in the opening quarter against Los Osos of Rancho Cucamonga but was stopped on fourth down in the game's final minutes, spoiling Paredes' return in the 26-21 loss.
4. Upland looked more like a contender for the Baseline League title Friday night, getting three touchdown passes from quarterback
Justin Nunes
and turning three fumble recoveries into touchdowns in a 42-21 victory against visiting Tustin. A week earlier, the Highlanders returned two fourth-quarter fumbles for touchdowns to escape with a 21-16 victory against A.B. Miller of Fontana.
5. Roosevelt of Eastvale became just the fifth 11-man team from Riverside County to score at least 80 points in a game when it defeated host Torrance, 80-27 on Friday night. The Mustangs scored on every offensive possession in the first half while building a 41-13 lead.
September, 8, 2010
9/08/10
9:29
PM PT
By
Dan Arritt
| ESPNLosAngeles.com
One of the most memorable games of 2009 was the Week 1 intersectional clash between Norco and Crenshaw of Los Angeles.
Are you ready for Round 2?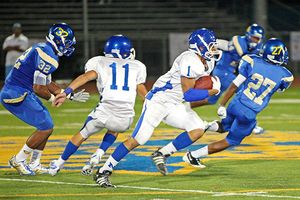 Courtesy of Rob Helfman
Norco running back Kelsey Young had 245 yards against Crenshaw last season.
If the rematch Friday night is anything like the original meeting, fans should plan to arrive early and stay until the final horn.
A year ago, Crenshaw stopped the visiting Cougars on a crucial fourth down late in the fourth quarter and then held on for a 47-44 victory.
This time, the backdrop switches from L.A. to the Inland Empire, but many of the characters return.
Norco running back
Kelsey Young
, who accounted for 245 of his team's 487 rushing yards last season, is back – having accepted a scholarship offer from Stanford in the meantime.
September, 6, 2010
9/06/10
10:16
PM PT
By
Dan Arritt
| ESPNLosAngeles.com
1. Temecula Chaparral (Southwestern League), 0-0
The Pumas open their season Friday night against visiting Oceanside, the two-time defending Division I state bowl champion which is coming off a 31-7 drubbing at the hands of Servite last Thursday, ending its 39-game winning streak.

2. Vista Murrieta (Southwestern League), 0-0
The Broncos also had the luxury of scouting their first opponent in person last week. Etiwanda, which is scheduled to travel to Vista Murrieta on Friday, allowed 42 points in a seven-point loss Thurday against Summit High of Fontana. Summit doesn't have a bonafide quarterback, but Vista Murrieta surely does in three-year starter Derrick Brown.

3. Corona Centennial (Big VIII League), 0-0
Centennial has been chomping at the bit to get started this season and first up is an intersectional game at Birmingham High of Lake Balboa, which is coming off a 16-7 victory Friday against West Adams of Los Angeles, its first victory in a season opener since 2001.

4. Norco (Big VIII League), 0-0
One of the more intriguing intersectional matchups of the season will happen Friday when Norco hosts Crenshaw of Los Angeles. Crenshaw is led by running back De'Anthony Thomas, who has verbally committed to USC. Norco will lean on running back Kelsey Young, who has pledged to Stanford.

5. Riverside Arlington (Inland Valley League), 0-0
Arlington will open its season Friday against host El Camino of Oceanside, which scored on a blocked punt, a fumble return and a kickoff return in a 36-7 victory Saturday against Gardena. The Wildcats best defender is ophomore linebacker Justin Williams, who had three sacks against Gardena and scored on the fumble return.