Los Angeles Preps:

Chaiyse Hales
October, 16, 2011
10/16/11
10:14
PM PT
Tough losses by Bishop Amat and Lakewood paved the way for some changes in our south Los Angeles County top 10 rankings heading into Week 7. (Note: Last week's rankings are in parentheses.)

1. (1) Long Beach Poly (6-1)
It wouldn't be Poly without a little controversy, but the two-quarterback system seems to be working for coach Raul Lara. Starter Chaiyse Hales and backup Nick Pope combined for 219 passing yards in an important Moore League win. Last week: Beat Lakewood, 38-21. Next: at Millikan, Oct. 28.

2. (3) Loyola (5-1)
No game for the Cubs last week, but they move up a spot thanks to Bishop Amat's loss to Alemany in the Serra League opener. Loyola begins the Serra against Notre Dame, which is coming off a stinging loss to Crespi. Last week: Idle. Next: vs. Sherman Oaks Notre Dame at L.A. Valley College, Friday.

3. (4) St. John Bosco (5-1)
Four more touchdown passes for Rene Medina, who is the top statistical quarterback in the Trinity League. The electrifying Bryce Treggs had a 90-yard touchdown catch and returned a punt for another score. Last week: Beat JSerra, 48-14. Next: vs. Mater Dei, Friday.

4. (2) Bishop Amat (5-2)
The troubled defense couldn't come up with a stop late in Friday's game and time simply ran out on the Lancers. Workhorse Jalen Moore had 112 yards rushing but there weren't enough big plays in important moments. Last week: Lost to Alemany, 26-21. Next: at Crespi, Friday.

5. (6) Charter Oak (5-1)
OK, who's controlling the joystick? Quarterback Travis Santiago passed for 325 yards, ran for 54 more and had five total touchdowns to open Sierra League play in fine fashion. Try doing that in a video game. Last week: Beat South Hills, 63-28. Next: vs. Ayala, Friday.


October, 15, 2011
10/15/11
12:05
AM PT


LONG BEACH -- A second straight Moore League championship appears to be heading Long Beach Poly's way.

The Jackrabbits reached the end zone on three consecutive possessions to start the second half, erasing a four-point deficit and beating rival Lakewood, 38-21, Friday night at Veterans Stadium. Backup quarterback Nick Pope put Poly in front with a 29-yard touchdown pass to Arizona State-bound Richard Smith and, after the defense came up with an interception, Gerard Wicks found a gaping hole for a 19-yard scoring scamper. A few minutes later, Chaiyse Hales sneaked in from a yard out to basically seal it.

"We were playing lackadaisical, like we're not here," Poly coach Raul Lara said. "It seemed like guys were afraid to make plays. We had a nice little speech for our offense at halftime."

The Lancers pulled to within 10 with 4:52 remaining but John Smith returned the ensuing onside kick for a touchdown.

Lakewood's upset bid looked promising early. Jaleel Wadood bullied Hales, stripping him of the football and returning it 64 yards for the score. A sophomore taking the ball from a senior? Clearly, there were no rivalry jitters for Wadood, who, in the second quarter, also saved a sure touchdown by nearly intercepting a pass intended for the much taller Josiah Blandin.

A 47-yard field goal by Hayden Hunt put Poly (6-1, 3-0 Moore) on the board and the Jackrabbits took the lead, 10-7, after Jaylen Massengill recovered a blocked punt in the end zone.

But stellar plays on special teams were followed by blunders.


October, 12, 2011
10/12/11
4:19
PM PT
League play kicks off with a bang. As part of our running feature, here are five of this week's must-see games in south Los Angeles County:
[+] Enlarge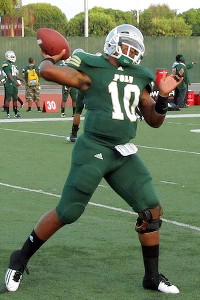 Blair Angulo/For ESPNLA.comPoly QB Chaiyse Hales hopes to repeat his performance of a year ago against Lakewood.
No. 19 Lakewood vs. No. 6 Long Beach Poly at Veterans Stadium, Friday, 7 p.m.
: When the final whistle blew last year, the Long Beach Poly Jackrabbits gave coach Raul Lara the celebratory, icy Gatorade bath. He probably wouldn't mind a good soaking Friday night. The scoreboard keeper at the Vet might be busy. Poly (5-1, 2-0 Moore League) finally found its offensive rhythm last week, hanging 67 points on Jordan, and the Lakewood Lancers (5-1, 2-0) are averaging 45 points per game under first-year offensive coordinator Zach LaMonda, a former assistant coach at Servite. Jackrabbits senior quarterback Chaiyse Hales was the standout in last year's rivalry game, throwing for 189 yards and two touchdowns, and running for another score.
No. 22 Alemany at No. 7 Bishop Amat, Friday, 7 p.m.
: Poor defensive play is Bishop Amat coach Steve Hagerty's biggest concern heading into this one -- and for good reason. The Lancers (5-1) have allowed the most points (111) among Serra League teams this year. These two met for the league title in last season's finale -- Alemany (4-1) claimed the championship with a 38-30 win -- so you know the Lancers will be plenty motivated. "It's going to be a fight," Lancers senior running back Jalen Moore said after last week's 38-35 win at Venice. "The league is going to come down to the end, but I feel like we should be able to take it all way." The game will stream live on
FOXSportsWest.com
as part of the website's
Prep Zone platform
.
Charter Oak vs. South Hills at Covina District Field, Friday, 7 p.m.
: For now, the Sierra League appears to be a four-team race and these two are a part of that group. The Charter Oak Chargers are the favorites (4-1) but Friday's road game could get tricky given that the South Hills Huskies (3-2) aren't strangers to tight games. Four of their five contests have been decided by four points or less. Chargers defensive coordinator Roger Lehigh would like to contain tailback Jamel Hart, who has hit triple-digit rushing yards in every game this season. It all adds up to an intriguing league opener.
Damien at Claremont, Friday, 7 p.m.:
This is the
other
marquee Sierra League matchup, though it could have been a headliner any other week. The Damien Spartans (4-1) are fresh off a win against a Pac-5 Division opponent, JSerra, and their only loss this season was to Bishop Amat, which entered the week ranked No. 7 by ESPN Los Angeles. Meanwhile, the Claremont Wolfpack (4-1) are looking to avenge last year's loss. Quarterback Gabe Schaper looks to rebound after throwing two costly interceptions last week.
West Covina at Bonita, Friday, 7 p.m.
: Will spectators be in for another epic? These two met twice in 2010. West Covina thumped Bonita in the first game, basically securing the Hacienda League championship behind Chris Solomon's spectacular running. They saw each other again in the Southeast Division title game, which the West Covina Bulldogs (5-1) won on a thrilling last-minute drive. The Bonita Bearcats (2-3), coming off a bye week, will have redemption on their minds.
Blair Angulo covers preps for ESPN Los Angeles. Follow him on Twitter.
September, 21, 2011
9/21/11
9:36
AM PT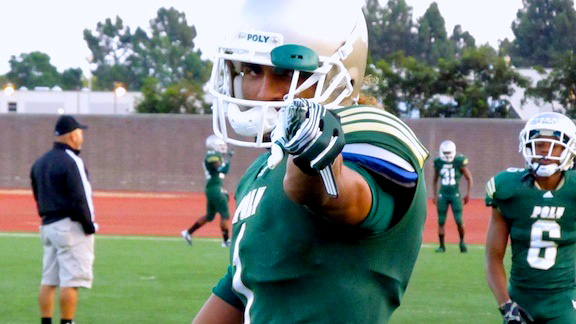 Blair Angulo for ESPNLA.comJosiah Blandin and the Long Beach Poly Jackrabbits still maintain their swagger despite some tough seasons by their standards.
Arrive at Veterans Stadium early enough and you'll hear rapper
Snoop Dogg
's ode to Long Beach Poly, his alma mater, loud and clear. It blares through the speakers as players, wearing brand-new uniforms provided by Snoop, bounce around the field in pregame warmups. The chorus is simple and catchy, to say the least:
Green and gold, together,
Lose to y'all? Never.
This eastside forever,
Long Beach Poly.
Some Poly players have the nearly five-minute-long track memorized, the others bob their heads as the beat builds between whistles and drills. Take one look around and you notice these Jackrabbits don't lack confidence. A pair of poor seasons in Long Beach -- a combined 15-8 record the last two years -- have done little to diminish their swagger.
"There's always something we've got to prove," senior receiver
Richard Smith
said.
Poly (3-0), the No. 2 team in the ESPN Los Angeles prep football Top 25 rankings, can make a loud statement Friday against powerhouse Mission Viejo, ranked No. 4. The Jackrabbits were dominated at home by the Diablos last season, 37-7, and coach
Raul Lara
hasn't let them forget it. He gathered his players after last week's 19-16 victory over visiting Narbonne, reminding them of last year's debacle.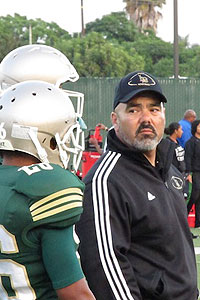 Blair Angulo/For ESPNLA.comPoly coach Raul Lara says his team is all about defense until the offense gets things going.
This squad's psyche isn't damaged, though, largely because its strong defense gives them a chance against
anyone
,
anytime
,
anywhere
.
"This is Poly High School," Lara said. "Poly's all about defense ... until our offense gets really clicking."
Balance makes Poly's unit difficult to scheme against. Looking to run between the tackles? You'll have to consider double-teaming senior defensive lineman
Alonzo Williams
, who is a handful up front. Planning to attack the edges? Physical linebackers
Salamo Fiso
and
Matthew Rowe
, both committed to Arizona State, are relentless in pursuit. Thinking about throwing the ball? Good luck against ASU-bound
Randall Goforth
, who has the speed and quickness to match up against the other team's best receiver.
Yet, in team sports especially, talent isn't enough.
Doubts about the Jackrabbits -- and whether or not they're truly back to elite status -- stem from their offensive struggles. And it isn't because of a shortage of weapons. Senior quarterback
Chaiyse Hales
had 18 touchdown passes last season and the ASU-bound tandem of Smith and
Josiah Blandin
are more-than-capable options at receiver. The ground attack has shown promise, too, with junior running backs
Manusamoa Luuga
and
Gerard Wicks
combining for more than 160 yards rushing per game so far.
For Lara, the challenge is getting the most from all facets in time for the Pac-5 Division playoffs. The defense appears be ready, the offense is a bit behind.
"Our defense goes really hard in practice," Smith said. "I expect them to stop teams all the time."
Friday night deep in Orange County, Lara and his 'Rabbits will get a better idea of how much they've improved. This much we do know: Poly has no troubles in the confidence department.
It's still green and gold, together.
Blair Angulo covers preps for ESPN Los Angeles. Follow him on Twitter.
September, 16, 2011
9/16/11
11:48
PM PT


LONG BEACH -- The Long Beach Poly Jackrabbits dodged a pair of bullets Friday night. Actually, they were more like missiles.

Narbonne quarterback Troy Williams' desperate, final-minute heaves fell incomplete and Poly, the No. 2 team in the ESPN Los Angeles Top 25 football rankings, escaped with a 19-16 intersectional victory at Veterans Stadium. The loss could have been disastrous for Poly's psyche heading into next week's highly anticipated meeting with Orange County powerhouse Mission Viejo.

"Obviously, when you're trying to win the game and it seems like the momentum has shifted on the other team's side, you always get a little worried," Poly coach Raul Lara said. "But I've been doing this now 21 years. I don't panic anymore. It's just like, 'Kids, c'mon, we've got to execute.' "

Narbonne nearly pulled off the shocker. With about 45 seconds remaining and facing a third and long, Williams rolled right and launched from midfield. Receiver Greg Clark got behind Randall Goforth, dove for the ball and, for a moment, had possession before it bounced out of his hands. Williams tried again on fourth down but it wasn't nearly as close.

"We could have easily won," Gauchos coach Manual Douglas said. "It would have been nice had it worked."

Poly (3-0) took a 19-14 lead on a two-yard touchdown pass from Chaiyse Hales to tight end Bradford Carter late in the third quarter. The Jackrabbits purposely took a safety with less than two minutes remaining to make it 19-16.

Poly zoned in on Williams, one of the top junior prospects in the area, and tried to contain him as much as possible. The strategy worked, as Williams threw for 162 yards on 11 of 23 passing to go along with only eight rushing yards. Williams was dropped for a loss nine times, this after torching Palos Verdes for 343 total yards and three touchdowns in a season-opening win for Narbonne (1-1) a week earlier.

"We just had a game plan against him," Poly linebacker Matthew Rowe said.


September, 9, 2011
9/09/11
10:37
PM PT
By
Sean Ceglinsky
| ESPNLosAngeles.com
LONG BEACH -- It was supposed to be an early season showdown between two of the premier programs the Southland had to offer. Carson and Long Beach Poly on Friday night at Veterans Stadium had all the makings of one of those classic nonleague encounters.

The hype, believe it or not, lived up to the advanced billing. For the better part of the first half, that is. The Jackrabbits proved to be far too talented thereafter. They imposed their will in the second half and ended up with a rather impressive 38-18 victory over a Colts.

"We made some adjustments at halftime and were a different team the rest of the game,'' Poly coach Raul Lara said. "We did what we needed to do to win this thing. That's what good teams do and I think we proved that we were the better team out there tonight.''

The biggest adjustment came on defensive for the Jackrabbits.

Darreus Rogers gave Poly (2-0), No. 4 in the ESPNLosAngeles.com rankings, problems throughout the first half. The senior receiver, who has committed to nearby USC, had 10 receptions for 192 yards and pair of touchdowns for in the opening 24 minutes of play.

As a result, the Colts (1-1), No. 8 in the ESPNLosAngeles.com poll, trailed by six points at the break. Carson, however, had difficulty to finding Rogers after that.

The Jackrabbits secondary, Randall Goforth in particular, did a good job of limiting Rogers the rest of the way. He had two catches for 18 yards in the third and fourth quarters.

All told, Rogers had 12 grabs for 210 yards and the two scores.


August, 31, 2011
8/31/11
9:39
PM PT
We catapult into the high school football season and bring you a preseason look at the top 10 teams in south Los Angeles County. Eight of the 10 were ranked in our final regional rankings last year -- St. John Bosco and Narbonne are the only newcomers. And although teams such as Lakewood, Serra, Crenshaw and West Covina graduated a ton of talent, they'll need to falter before they're bumped from the list. We'll release new rankings every Tuesday.
(Notes: Last season's records are in parentheses; this top 10 is independent of ESPNLA.com's prep football top 25 rankings).
1. Long Beach Poly (8-3)
Expectations are always high at Poly, but they're up near the moon this year. The Jackrabbits return a plethora of talent, including five players that are committed to Arizona State. Poly will go as far as senior quarterback
Chaiyse Hales
takes them. Up next: at Sacramento Grant, Friday.
2. Bishop Amat (9-2)
There might not be a team in the Southland more antsy to get on the field than Amat. The Lancers were a perfect 9-0 to start 2010 but faltered late, losing to Alemany in what amounted to a Serra League title game and stumbling against Tesoro in the first round of the Pac-5 playoffs. Up next: vs. Garfield, Friday.
3. St. John Bosco (5-5)
We present the best team that didn't make the postseason last season, an award coach Jason Negro would probably not be too happy with. On the bright side, the Braves are now a year wiser. The rest of the Trinity League should be on its toes. Up next: vs. Mission Hills, Friday.
4. Carson (11-3)
Someone might want to check Elijah Asante's sanity level. The second-year coach has lined up the area's most difficult nonleague schedule, undoubtedly trying to play the best to become the best. The Colts aren't shying away from anyone, that's for sure. Up next: vs. Mater Dei, Friday.
5. Dominguez (10-2)
A defense littered with college prospects, including cornerback
Brandon Beaver
and lineman
Damion Turpin
, promises to be this team's strength. The offense, meanwhile, will most likely run through top blocker
Lacy Westbrook
. Up next: vs. Crespi, Friday.
6. Lakewood (10-2)
New coach Vince Lobendahn takes over for the popular Thadd MacNeal with one clear objective: getting the ball to
Darius Powe
, the area's top uncommitted wideout. Big Red is rebuilding but Lobendahn thinks a Moore League title is within grasp. Up next: vs. Locke, Friday.
7. Serra (14-1)
The Cavaliers aren't as loaded as they have been recently, but they're still considered a contender in the Western Division. UCLA commit
Raymond Ford
has the tough task of filling George Farmer and Marqise Lee's big shoes. Up next: vs. Sherman Oaks Notre Dame, Friday.
8. Narbonne (6-6)
With junior Troy Williams, perhaps the top signal caller in the City Section, under center, the Gauchos have set their sights on making a trip to the Memorial Coliseum in December. The defense will be key. Up next: vs. Palos Verdes, Sept. 9.
9. Crenshaw (12-2)
Stud De'Anthony Thomas is
now in Eugene
, so the pizzazz might not be as high as it has been for the defending back-to-back City Section champs. Still, coach Robert Garrett figures to have his Cougars ready every week. Up next: vs. Alta (Utah) at Mission Viejo High, Saturday.
10. West Covina (13-1)
The Bulldogs are led by one of the better players you've never heard of, tailback/safety
Chris Solomon
. West Covina captured the Southeast Division crown last year and look like the early favorites again this fall. Up next: vs. Covina at Covina District Stadium, Saturday.
Five more to watch, in alphabetic order
: Charter Oak, Mira Costa, Monrovia, St. Paul, Venice.
Agree or disagree with the "L.A. South" preseason top 10? Did your favorite school get snubbed? Leave a comment on this post or contact ESPNLosAngeles.com preps writer Blair Angulo directly on his Twitter page.
August, 29, 2011
8/29/11
8:36
PM PT
By
Sean Ceglinsky
| ESPNLosAngeles.com
With regard to the No. 1 team in the ESPNLosAngeles.com rankings, plenty of consideration was given to Long Beach Poly. The roster, after all, is absolutely loaded with talent. This group is set up for success. You'll find a college-bound player at most every important position.
Then again, what else is new? The Jackrabbits are seemingly always stacked.
Looking good off the field, on paper as they sometimes say, and delivering a finished product on the field are two different stories. Nothing is given, Long Beach Poly must prove itself.
Here's a closer look at the Jackrabbits.
Team:
Long Beach Poly
Coach:
Raul Lara, 11th year.
2010 Record:
8-3, lost in first round of CIF-Southern Section Pac-5 Division playoffs.
Returning starters:
13 total. Seven on offense. Six on defense
Key players on offense:
WR Richard Smith (Arizona State), WR Josiah Blandin (Arizona State), WR Randall Goforth (Arizona State), QB Chaiyse Hales, TE Bradford Carter.
Key players on defense:
LB Matthew Rowe (Arizona State), Salamo Fiso (Arizona State), LB Jeremy Lutali, DL Jason Fao, DB Jeff Turley, DB David Price.
Difference maker:
All the pressure is on Hales, whether he likes it or not. The 5-foot-10, 200-plus pound senior has loads of talent surrounding him, namely three Division I caliber receivers to catch his passes. When it comes to getting the job done, there should not be any excuses here, especially if his offensive line holds up. Hales appears poised for a breakout effort.
Newcomers:
WR John Smith, WR Thomas Tucker.
Not to be missed:
at Mission Viejo, Friday, Sept. 23. This nonleague showdown with the Diablos, who figure to be ranked among the ESPNLosAngeles.com top 10 programs at the time, is the final tuneup for the Jackrabbits before the embark on Moore League play. A victory will provide a much-needed boost of momentum, perhaps enough to propel a prolonged postseason run.
Coach's comment:
"We started to re-evaluate things around here recently. It was something that needed to be done because we've had some of our seasons end earlier than we would have liked. We think we fixed the problems. We changed the atmosphere. Everyone is more committed now. The kids have responded and that's a good thing because we're setting the bar high.''
Final analysis:
It's difficult to imagine opponents being able to contain Smith, Blandin and Goforth for a sustained period of time. At some point, odds are, one of the wideouts is going to get loose and make a game-changing play. With that type of threat on the offensive side of the ball, the Jackrabbits figure to have a chance of winning each game they are in once the fourth quarter rolls around. If the defense holds up its end of the bargain, Long Beach Poly could contend for a title.
Sean Ceglinsky covers preps for ESPNLosAngeles.com. Follow him on
Twitter
.
October, 12, 2010
10/12/10
3:52
PM PT
Chaiyse Hales, Long Beach Poly, Jr.

Hales dinked and dunked his way to 189 yards passing, ran for a score and threw for two more to help Long Beach Poly pull off the upset against rival Lakewood, 27-14, at Veterans Stadium on Friday night. The senior quarterback completed 14 of 16 pass attempts, including two that put the game out reach in the second half. Hales, though, was quick to credit his coaching staff. "It's the coaches staying on us, not giving up on us," he said.
Marissa Scott, Bonita, So.

Scott ran the second-fastest time at the 41st Annual San Gabriel Valley One-on-One challenge at Mt. SAC on Saturday. The sophomore excelled racing in the invitational's format, which pins each team's No. 1 runner against other No. 1s, each No. 2 runner against other No. 2s, and so forth. Scott finished in 17 minutes 55 seconds.
October, 8, 2010
10/08/10
11:59
PM PT


LONG BEACH -- Proper order has been restored -- at least if you're from Long Beach Poly.

Long Beach Poly redeemed last year's loss to Lakewood -- its first Moore League loss in 15 seasons -- with a resounding 27-14 upset of the No. 4 Lancers at Veterans Stadium on Friday night. Quarterback Chaiyse Hales rushed for a score and threw for two more, helping the No. 22 Jackrabbits regain bragging rights.

"This is the best feeling in the world," Hales said. "They took the Moore League title away from us and we planned on taking it away from them. We got it."

While Hales threw for 189 yards, tailback Keltain Malveaux took it to the touted Lakewood front line, piling up 94 yards rushing on 23 carries. It was boom, boom, pass for the Poly offense, which has apparently forgotten about the ugly losses to St. Bonaventure and Mission Viejo.

"We came in here expecting a dog fight and that's what we got," Malveaux said. "Like they say, when you get a dog and you beat him until he can't be beat no more, they just give up. We did that -- Poly."

Poly coach Raul Lara received the customary Gatorade bath at the conclusion. For Lakewood's Thadd MacNeal, it was a different story.


September, 25, 2010
9/25/10
12:16
AM PT
By
Pedro Moura
| ESPNLosAngeles.com


LONG BEACH -- No Tre Madden, no problem.

No. 3-ranked Mission Viejo stormed into Veterans Stadium on Friday without its star player and flat-out dominated No. 16 Long Beach Poly behind a steady dose of power running from Dallas Kessman and Jahleel Pinner and an especially stout defense. The two backs -- often lining up together in a dual-threat I-formation -- combined to rush for 247 yards and five touchdowns as the Diablos rolled to a big nonleague victory, 37-7.

Mission Viejo forced five turnovers and blocked a punt early in the first quarter that pushed the momentum in its favor. Both Jackrabbits quarterbacks, juniors Chaiyse Hales and Emmanuel Lara, struggled mightily to get passes off against a fierce Diablos pass rush, and Mission safety Max Redfield seized the opportunity with two first-half interceptions.

"We played real well tonight," Mission Viejo coach Bob Johnson said. "We had some good breaks early on and we made some of our own breaks too."

The Diablos (4-0) had sometimes started slowly early this season on offense, but Friday's game was a complete turnaround. Their first drive saw Kessman and Pinner run straight through Poly's defense and into the end zone, as the two totaled 89 yards on eight carries on the drive, capped off by a four-yard touchdown run from Kessman.

Three plays later, Mission Viejo had the ball again after Andrew McPeak jumped on a blocked punt at the Poly 31-yard line. Another four plays and the Diablos had a 14-0 lead, with Pinner taking it in for a 10-yard score.


September, 18, 2010
9/18/10
12:05
AM PT


HARBOR CITY -- He referred to himself as a "crazed animal."

Hair overflowing wildly out the back of his helmet, legs churning with rage, fists and chest meeting with loud thud after loud thud.

Long Beach Poly nose tackle Michael Teo was a crazed animal, alright. The senior sneaked into the backfield and sacked Narbonne quarterback Troy Williams on a fourth and eight with just over a minute to play, securing a 23-20 road victory for the Jackrabbits.

"That's how it's going to be all year," Long Beach Poly coach Raul Lara told his team following the win. "That's because everybody wants to beat you."

Another loss for No. 17 Long Beach Poly (2-1) -- which fell 32-7 to No. 16 St. Bonaventure last week -- would have been disastrous.

One Gaucho nearly pulled it off.

Narbonne's Noel Rankins was his own sort of animal, rushing for 217 yards and two touchdowns on 20 carries. He also passed for a score on a gutsy halfback pass that broke a scoreless tie in the second quarter.


September, 9, 2010
9/09/10
12:03
PM PT
A player's jersey number says a lot about who he is. Sometimes it says a lot about what he wants to become.

Forget about filling someone's shoes, Dorsey's Marvin Hall wants to fill someone's jersey.

He wears No. 13 because it's the same number former Dons star Stafon Johnson wore. Johnson gave opponents headaches from 2002-05, rushing for a City Section record 5,777 yards and 58 touchdowns before moving on to USC.

Teams studied No. 13 on film, coaches drew up plans to stop him. But in the end all they got was a good view of No. 13's backside, chasing him up the field.

"I wear my number because Stafon wore it," Hall said. "I look up to him because of all the great things he has accomplished."