Los Angeles Preps:

Chance Murray
March, 22, 2012
3/22/12
5:54
PM PT
By
Sean Ceglinsky
| ESPNLosAngeles.com
LOS ANGELES -- There was no shortage of high-profile post players in the Southland this season. The position, in fact, was seemingly the deepest it has been in recent years.
Attempting to determine who the best of the bunch was could prove to be a difficult task given the long list of candidates. A case can certainly be made for
Skylar Spencer
, considering the 6-foot-9, 220-pound senior from Los Angeles Price senior is the last man standing.
[+] Enlarge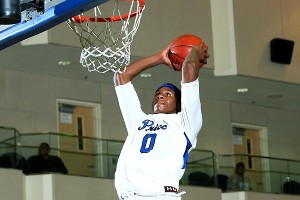 Courtesy of Nick KozaSkyler Spencer has been consistent in his play and that is a big reason Price finds itself in the state title game.
While most of his highly regarded peers sit at home on Friday afternoon and wonder about what could have been, Spencer will suit up for the Knights (26-8 overall) and likely be the difference between winning and losing in the CIF state championship game against Richmond Salesian (33-2). The opening tip is at 1:30 p.m. in Sacramento at Power Balance Arena.
"I wouldn't trade Skylar for anybody out here,'' Price coach
Michael Lynch
said. "He's our captain, our leader on the team, we've been on his back so many times this year.''
If given the chance, many would choose
Grant Jerrett
from La Verne Lutheran as the premier player in the greater Los Angeles area. The senior and Arizona commit, after all, was recently named the Gatorade State Boys' Basketball Player of the Year.
North Hollywood Harvard-Westlake's
Zena Edosomwan
deserves consideration with regard to being mentioned in the same sentence as some of the Southland's best bigs. Also worth mentioning is Woodland Hills Taft's
Anthony January
. Gardena Serra's
Daddy Ugbede
and La Verne Damien's
Chris Reyes
round out the well-rounded group.
Spencer can't be overlooked if winning is a criteria used in the conversation. The Knights were among the top programs in the ESPNLosAngeles Top 20 rankings this season with Spencer leading the way. Remember, Price played one of the more competitive schedules around.
"We did not back down from anyone, we'll play anyone, anytime, anywhere,'' Spencer said. "To be the best, you have to play the best. That's the way you have to think.''
January, 28, 2012
1/28/12
6:53
PM PT
LOS ANGELES -- A shift in gameplan was the key in Price's 65-41 win against Windward on Saturday afternoon at the Fairfax State Preview Classic.

The Knights played a smothering style of basketball after halftime, outscoring the Wildcats 26-5 in the third quarter. Junior guard Chance Murray netted a game-high 14 points and Price (17-5) had three others score in double digits.

"Coach [Michael] Lynch put an emphasis on us getting to the basket," Murray said.

Price has won six straight since losing at the Brandon Jennings Invitational in Milwaukee, an experience that, according to Murray, was valuable.

"Now we don't want to lose any more games," he said.

Windward has lost three of its last four. Point guard Charles Dawson had 12 points. The Wildcats actually held a 26-23 lead at the break, but they couldn't keep up with the Knights' run-and-gun tempo.

"That's the game we like to play," said Skylar Spencer, who had 10 points and altered a number of shots on the defensive end.
January, 15, 2012
1/15/12
9:33
PM PT
The headliner from Saturday's Johnnie L. Cochran Classic at LACES more than lived up to its billing, but it appears as if folks were robbed of overtime basketball.
Gardena Serra seemed to send its game against Los Angeles Price into overtime with a tying shot at the buzzer. Or at least it looks like it in
this Los Angeles Times highlight video
.
Emmanual Ndumanya
's shot was waved off, and Price escaped with a 49-47 victory.
It was a dizzying affair between a pair of legitimate CIF-Southern Section Division 4AA contenders. Serra (15-2) fell behind 22-4 before storming back with a 25-2 run to assume a five-point lead at the half.
Price (12-5) didn't score again until late in the third quarter, allowing Serra to go up by as many as 13. But the Knights responded with an 11-0 spurt to start the fourth quarter, and it was a seesaw battle from there.
Chance Murray
had 22 points to lead Price, while San Diego State-bound big man
Skylar Spencer
had double-digit blocks.
Daddy Ugbede
led Serra with 15 points and 16 rebounds.
Both teams return to action Monday at the MLK Day Hoops Showdown, hosted by Price. The Knights play Palm Springs (10-5) at 5 p.m., while Serra meets Santa Monica (11-5) at 8 p.m.
Blair Angulo covers preps for ESPN Los Angeles. Follow him on Twitter.
January, 15, 2012
1/15/12
9:21
PM PT
The south Los Angeles County boys' basketball top 10 power rankings:
1. Long Beach Poly (12-1)
The Jackrabbits showed no rustiness following a three-week layoff, blowing out Lakewood, 74-30, behind 25 points from standout junior Roschon Prince. This week: vs. Rainer Beach (Seattle, Wash.) in King Holiday Hoop Fest at Univ. of Washington, Mon.; at Long Beach Wilson, Wed.; vs. Millikan, Fri.
2. Loyola (14-2)
The Cubs got back on track with three convincing Mission League wins against Chaminade, Harvard-Westlake and Notre Dame. This week: at St. Francis, Sat.
3. La Verne Lutheran (14-4)
Arizona-bound forward Grant Jerrett scored 30 points in an overtime win against Elizabeth (N.J.) St. Patrick at the Hoophall Classic in Springfield, Mass. This week: at Orange Lutheran in Tony Matson Memorial Classic, Mon.
4. Price (12-5)
Guard Chance Murray led the way with 22 points in a thrilling victory against Serra in Saturday's Cochran Classic at LACES. This week: vs. Palm Springs, Mon.; vs. Leuzinger at Gardena Serra, Sat.
5. Gardena Serra (15-2)
An up and down week for the Cavaliers, who got an important league win against Bishop Montgomery before losing to L.A. Price on a controversial last-second call. This week: vs. Santa Monica at L.A. Price, Mon.; at Bishop Amat, Wed.; vs. La Salle, Fri.; vs. San Diego Hoover, Sat.
6. St. John Bosco (13-2)
The Braves have started 3-0 in the Trinity League and now get a tough test against Orange Lutheran. The Hamilton brothers -- junior Isaac and sophomore Daniel -- have Bosco in great shape. This week: vs. Orange Lutheran, Wed.; at Allstate National Prep Classic in New Orleans, weekend.
7. Bishop Montgomery (14-3)
The Knights could never get over the hump against Serra and lost for the first time in nearly a month. This week: at Cathedral, Wed.
8. Compton (10-7)
Forward Victor Robbins might be the top unsigned senior in the Southland. He proved it Saturday with 25 points and 16 rebounds in a big win against Windward. This week: at Long Beach Jordan, Wed.
9. Windward (13-6)
A win against Alpha League foe Brentwood followed by a blowout loss to Compton made for mixed results last week. This week: Idle.
10. Damien (15-1)
The Spartans have won 11 straight since losing in the title game of the Concord De La Salle tournament. St. Mary's-bound big man Chris Reyes and Co. can gain a stranglehold of the Sierra League. This week: vs. Ventura at Los Osos, Mon.; vs. Chino Hills, Wed.; at Charter Oak, Fri.
Ten more, in alphabetic order
: Brentwood (12-4), Dorsey (15-5), Downey (16-4), Leuzinger (12-4), Muir (16-1), Pacific Hills (15-3), Pasadena (12-5), Peninsula (12-5), Santa Monica (11-5), Westchester (10-4)
Blair Angulo covers preps for ESPN Los Angeles. Following him on Twitter.
December, 6, 2011
12/06/11
6:20
PM PT
Loyola, Long Beach Poly and La Verne Lutheran are ranked in
the preseason POWERADE ESPNHS Fab 50 national rankings
, and they lead the way in our opening edition of the south Los Angeles County boys' basketball top 10:
1. Loyola (4-0)
Key players:
PG Parker Jackson-Cartwright, SG Justin Childress, SG Jacob Hazzard, SF Julian Harrell (Penn)
Last season:
The Cubs went 25-6 and won the CIF-Southern Section Div. I-A championship before losing by two to eventual state champion Mater Dei in regionals.
Why they're here:
Jackson-Cartwright, only a sophomore, is already considered the top point guard in the state. Mix in the shooting of Childress and Hazzard -- as well as the versatility of Harrell -- and the Cubs have a lineup that few can match.
2. Long Beach Poly (3-1)
Key players:
SF Roschon Prince, PF Jordan Bell, PG Chris Croom, SG Reuben Strickland
Last season:
The Jackrabbits posted a 30-2 record and captured the Division 1AA title in Anaheim before losing to eventual state champion Mater Dei in regionals.
Why they're here:
Poly coach Sharrief Metoyer lost his top two to graduation -- state player of the year Ryan Anderson (Boston College) and Alexis Moore (USC) -- but there's more than enough talent left. Prince and Bell might be the best one-two combination in the county.
3. La Verne Lutheran (4-0)
Key players:
PF Grant Jerrett (Arizona), SG Eric Cooper Jr. (Arizona), SF McKay Anderson, SG Cameron Osorno
Last season:
The Trojans overcame off-the-court adversity, finishing with a 25-5 mark and a second consecutive state championship.
Why they're here:
Jerrett, a long and lean power forward, is arguably the top prospect on the West Coast. Coach Eric Cooper Sr. returns nine letter-winners from last year's team, including son Eric Cooper Jr., a sharp-shooting junior who makes teams pay for double-teaming Jerrett down low.
4. St. John Bosco (4-0)
Key players:
SG Isaac Hamilton, PF Anthony January (UTEP), SF Darryl Matthews, SG Daniel Hamilton
Last season:
The Braves finished 21-9 and were eliminated in the quarterfinals of the CIF-SS Division 4AA playoffs.
Why they're here:
New coach Derrick Taylor, who built Woodland Hills Taft into a City Section power, has the Braves thinking about the Trinity League crown. Getting past defending state champion Mater Dei won't be easy, but Bosco has Isaac Hamilton, a transfer from Crenshaw who is one of the nation's top juniors.
5. Price (3-1)
Key players:
PF Skylar Spencer (San Diego State), PG Chance Murray, SG Chris Sandifer
Last season:
The high-flying Knights went 24-8 and fell just short against La Caņada in the CIF-SS Division 3AA championship game.
Why they're here:
Yes, Price lost guard Askia Booker (Colorado) and ultra athletic forward Norvel Pelle to graduation but don't dismiss coach Michael Lynch's bunch. Spencer is another high-soaring scorer who's lethal in fast break opportunities, and Murray, a junior, already has a scholarship offer from UCLA.