Los Angeles Preps:

Chase Favreau
November, 18, 2011
11/18/11
8:00
AM PT
Tesoro (6-4) vs. Edison (8-2) at Orange Coast College, Friday, 7 p.m.
If the team that showed up two weeks ago against Mission Viejo shows up against Edison, then Tesoro might deliver one of the upsets of the night against the Sunset League champion. If the team that showed up last week against San Clemente shows up against Edison, it could be a long night for the South Coast League's third-place team. Running back Nate Tago (12 TDs, 110 yards/game) and quarterback Matt Adam (7 TDs, 5 int.) have to find a way against an Edison defense that doesn't get the recognition it deserves: it has allowed more than 14 points only twice this season, a 22-20 loss to Mater Dei on the last play of the game, and a 27-14 setback to top-seeded Servite. The offense is led by quarterback Chase Favreau (15 TDs, 5 int., 169 yards/game), who is a serious running threat; he averaged 81 yards against four of Edison's five best opponents, Mater Dei, Huntington Beach, Newport Harbor and Los Alamitos. But he gained only one yard against Servite. That might be the kind of effort necessary for Tesoro, which has 16 underclassmen in the starting lineup, to advance past the first round of the Pac-5 Division.

Huntington Beach (8-2) vs. Loyola (8-2) at L.A. Valley College, Friday, 7 p.m.
Huntington Beach hasn't had a football team this formidable since Tony Gonzalez was an Oiler in the early 1990s. The question is, in this battle of second-place teams, can the public school knock out the private one? Michael Chislock (23 TDs, 5 int., 195 yards/game) will have something to say about it. Chislock leads an HB offense that's averaging 35 points, and the defense held opponents to two touchdowns or less six times. No matter how good Chislock is, he will likely need significant support from running back Nolan Biegel in order to keep Loyola's defense honest. Even though Loyola is averaging nine points fewer, the Cubs have played a significantly tougher schedule heading into the Pac-5 playoffs. They beat Newport Harbor by 27 points while HB won by 28. Also Loyola has a 28-14 victory over St. John Bosco, the kind of signature victory that Huntington Beach is hoping to pick up.

Lakewood (7-3) at San Clemente (9-1), Friday, 7:30 p.m.
Can Lakewood go deep into Orange County and emerge victorious? Any team that can hang with St. John Bosco -- as the Lancers did in a 35-31 loss -- should be able to represent in the Pac-5. Brock Dale (26 TDs, 5 int.) has averaged 189 yards passing and the offense has scored fewer than 31 points only once, a 38-21 loss to fourth-seeded Long Beach Poly (9-1). This may be San Clemente's best team ever, which means this is the year to make some playoff noise. They have the quarterback in Utah-bound Travis Wilson (16 TDs, 6 int., 159 yards/game), running back in Mike Elespuru (12 TDs, 120 yards/game), and a first-rate offensive line led by one of the nation's top prospects, Kyle Murphy. The defense is allowing less than two touchdowns per game. Both teams have a common opponent in Long Beach Cabrillo; San Clemente won its opener, 35-6, and Lakewood won three weeks ago, 31-6. One of Lakewood's losses was a forfeit to Compton (3-7), a team that it beat 54-0.

Esperanza (7-3) vs. El Toro (9-1) at Trabuco Hills HS, Friday, 7 p.m.
Only three players in Orange County have rushed for more yardage than Troy Poole's 1,584 -- which he did in only nine games. That's what makes this the game of the night in the Southwest Division, the clash of styles. Esperanza's running game against El Toro's passing game led by Conner Manning (26 TDs, 4 int.), whose 271.1 yards per game is second to Northwood's Ricky Bautista (283.5). Jacob Funari has also rushed for 1,002 yards and 15 TDs. Esperanza has its own passing threat in Mike Tumlinson (21 TDs, 11 int., 191.1 yards/game), who is completing 66 percent of his passes during the regular season. Espy averages 36 points and El Toro 41; this has shootout written all over it.

Laguna Hills (7-2) vs. Cypress (8-2) at Western HS, Friday, 7 p.m.
Laguna Hills was undefeated before losing its last two games heading into the Southwest Division playoffs. The Hawks -- selected as an at-large team -- have something to prove. Wanting to do it, and doing it, are different things and Vincent "Bug" Rivera may have something to say about it. The running back for fourth-seeded Cypress is a difference maker; his 31 touchdowns are second only to Saddleback Valley Christian's John Curran (38), and Rivera is averaging 9.0 yards per carry. Believe it or not, both teams have only one victory over an opponent with a winning record.

Woodbridge (5-5) vs. Rancho Alamitos (9-1) at Bolsa Grande HS, Friday, 7 p.m.
For winning the Garden Grove League, Rancho Alamitos was rewarded with the third-place team from the Southern Division's best league, one that lost to second-seeded Corona del Mar, 31-30, three weeks ago. Derek Calderon (13 TDs) leads Woodbridge with 136.6 yards/game, while Brett Hurley (21 TDs) paces Rancho Alamitos at 131.9. This could go to the wire, which would be familiar territory for Woodbridge: two of its last three games have been decided by one point.
November, 10, 2011
11/10/11
10:07
PM PT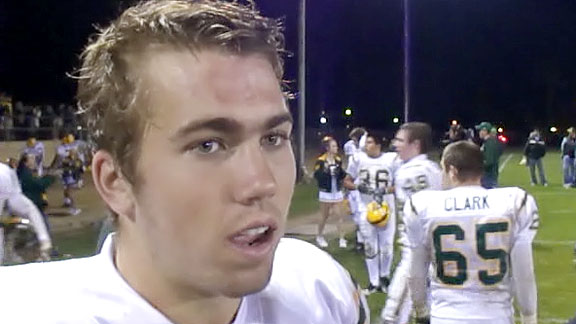 Martin Henderson/For ESPNLA.comEdison quarterback Chase Favreau rushed for two TDs and passed for two more in Thursday's victory.
NEWPORT BEACH -- Having won three of its four Sunset League games by six points or fewer, nothing had come easy this season for Edison. But with a chance to win a fifth league title in six years, Edison made the most of its opportunity Thursday against upset-minded Newport Harbor.
Behind the running of quarterback
Chase Favreau
, Edison scored a 35-7 victory over Newport Harbor, guaranteeing the Chargers a first-round home game when the Southern Section Pac-5 playoffs begin next week.
Edison (9-1, 5-0) finished ahead of Huntington Beach (8-2, 4-1) and Newport (5-5, 3-2). Huntington Beach beat Fountain Valley, 30-12.
Had Newport been able to win, it would have created a three-way tie for first place.
Favreau scored on runs of 28 and 17 yards in the first half, and also connected on TD passes of 34 to
Curren Provost
and 37 to
Sedric Hill
-- again, all in the first half -- as the Chargers opened a 28-7 lead and took all the mystery out of the league title game.
"Chase makes things happen," said Edison coach Dave White, who is two victories from reaching 200 in his career. "He can run, he has a cannon, he's a competitor. The whole team, we did a lot of good things tonight."
Favreau said it was an important win going into the playoffs.
October, 27, 2011
10/27/11
11:35
PM PT
Edison's 20-14 victory over Huntington Beach on Thursday gave the Chargers full control of the Sunset League, virtually assuring them of the league title and the league's all-important No. 1 berth into the football playoffs.

That's important because first-place Edison will likely play a third-place team in the first round of the Southern Section Pac-5 playoffs. The playoffs begin in three weeks.

When the season began, the Sunset League had figured to be a two-team race between Edison (6-2, 3-0) and Los Alamitos (5-2, 1-1); Edison won that game, 10-7. Third place figured to be between Huntington Beach (6-2, 2-1) and Newport Harbor (3-4, 1-1); Huntington Beach won that game, 35-7. But when Edison played at Huntington Beach on Thursday, first place was on the line.

No more.

Elijah Herrera rushed for two touchdowns and Chase Favreau passed for 165 yards, including a 48-yard score to Connor Mase, to lead Edison as both teams scored all their points in the first half.

Bryce Campbell intercepted a pass by HB's Michael Chislock in the last 2 1/2 minutes to seal the deal for Edison, which hasn't lost on the field to the Oilers since 1993. Last week, Huntington Beach's win over Newport was the first since 1991, so the Oilers were in a streak-busting mode.

Los Alamitos plays at Newport Harbor on Friday night, and then next week Huntington Beach plays Los Alamitos, and Edison plays Fountain Valley in its big rivalry game. A victory by Huntington Beach would be epic, and after its performance Thursday, might not be so far-fetched. Not only will second place be on the line, but the third-place team will get matched with a first-place opponent in the first round of the playoffs -- and neither team will want that.
October, 13, 2011
10/13/11
11:54
PM PT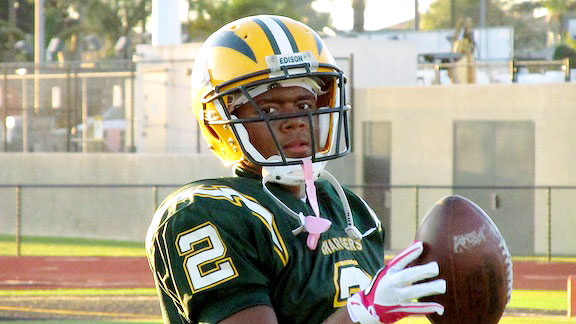 Blair Angulo/ESPNLosAngeles.comEdison senior Sedric Hill had a 100-yard interception return for a TD that gave Edison a 7-0 lead in the second quarter.
HUNTINGTON BEACH -- It wasn't complete self-destruction because, well, time ran out.
The Edison Chargers survived a hectic final minute Friday night, escaping Sheue Field with a 10-7 win over Los Alamitos in the Sunset League opener. Edison nearly lost a fumble, had a punt blocked and was flagged for roughing the kicker on the potential game-tying field goal -- all with under a minute remaining.
Los Alamitos got new life after the missed 37-yard field goal and, with 13 seconds left, had the ball at the Chargers 10. The Griffins, without timeouts, handed the ball off to shifty back
Cody Paul
on a draw up the middle. He was tackled at the five and the seconds ticked off, one by one. Appearing dazed, Los Alamitos didn't even line up for another play.
Afterward, Edison coach
Dave White
could joke about it.
"We tried to give it away," White said, grinning.
The win improved the Chargers' chances of taking back the Sunset League crown from defending champ Los Alamitos. Edison (4-2) avoided its third straight loss and second straight heartbreak.
"The finish was nerve-racking," said Edison quarterback
Chase Favreau
, who had 80 yards rushing on 16 carries.
With the rush attack working, Favreau was credited with only three pass attempts, which he was perfect on for 58 yards. Tailback
Elijah Herrera
added 80 yards on the ground but eight penalties slowed the offense at inopportune times.
Edison's touchdown came in the second quarter, courtesy of the defense. Los Alamitos quarterback
Dylan Lagarde
's lob to top target
Kyle Roberts
was picked off at the goal line by
Sedric Hill
.
"Once I caught the ball I had to run for my life," Hill said. "It was a big play."
Hill, with a convoy in front of him, returned the interception 100 yards for the score.
The Griffins (4-2) had their chances. They took the opening drive 64 yards to the Edison 16 but stalled, failing to convert on a fake field goal pass. They took the ball 75 yards on their second drive but turned the ball over on downs. Really, it could have been far worse for Los Al had Edison taken care of the football. The Chargers ran it 15 consecutive times on their first possession, and it appeared as if the strategy might work. They were a yard away from scoring when Herrera coughed up his first-down carry and the Griffins recovered. Favreau lost a fumble on the very next drive.
Paul, who finished with 145 yards rushing in 28 carries, capped a 68-yard drive with a five-yard touchdown to tie it at 7-7 late in the third quarter. But the Chargers regained the lead, 10-7, on a 32-yard field goal by
Aleksander Torgersen
, setting up the craziness that was the fourth quarter.
"We had lost a lot of confidence," White said. "We needed this one badly."
November, 11, 2010
11/11/10
11:12
PM PT
By
Martin Henderson
| ESPNLosAngeles.com
LONG BEACH -- It should have been a throwaway play. Los Alamitos had driven 50 yards, but a fumble and personal foul moved the ball back 31 yards. Facing a third-and-37, Los Alamitos quarterback Dylan Lagarde handed off to the in-motion Nick Richardson, who swept his way to the left sideline and cut back on the diagonal, through the Edison linebackers and the secondary and finally into the end zone.

Richardson went 57 yards on a snap that should have set up a punt, should have been an incidental in the stat book. Instead, it foretold what was to come.

Big plays.

Richardson, who had gained fewer than 57 yards in the two games since returning to the lineup from a toe injury, rushed for 158 yards as No. 23 Los Alamitos scored a 26-21 victory Thursday over No. 21 Edison to win the Sunset League title at Veterans Stadium. It is the 16th title in coach John Barnes' 32 seasons at Los Alamitos.

Richardson's dash wasn't the only long score of the first quarter. Richard Turner caught a medium-range pass from Lagarde and, as two Edison defenders bounced into each other, Turner bolted to the end zone for a 78-yard score and a 13-7 lead. It was the first of three touchdowns scored by Turner, who also added a four-yard carry in the second quarter and 69-yard dagger in the third to go up 26-14.

"The big plays happened because everyone did their jobs," said Turner, a senior who had his first three TD game of his career. "In the past we haven't done our jobs."


October, 1, 2010
10/01/10
11:45
PM PT
By
Martin Henderson
| ESPNLosAngeles.com
COSTA MESA – The defense, Mater Dei coach Bruce Rollinson said earlier this week, would have to carry his team this season. On Friday night, the Monarchs put their backs into it. Led by Miguel Sandoval, Joseph Schmidt and two turnovers in the first three minutes that led to quick touchdowns, Mater Dei won for the second week in a row against an ESPNLA.com top 25 opponent.

This time the Monarchs defeated No. 15 Edison, 27-7, in a nonleague contest that was never in doubt. Not after the start that the Mater Dei got.

"They're going to talk about Max Wittek and Victor Blackwell, and deservedly so, but we were rocking on defense,"Rollinson said. "The interception was huge, we had a bunch of sacks, put pressure on Chase (Favreau) the whole night -- he never got comfortable, and I commend him for going, the word is he didn't practice all week (because of a sprained ankle).

"I challenged both fronts, and I challenged the defensive line right before we came out to make something happen and they did. . . . You hold them to seven points, that's a heck of a defensive effort."

There were two sacks, but three other plays in which Favreau -- who transferred from Mater Dei (2-2) to Edison (3-2) -- was tackled for a loss. After the interception, the defense forced a Favreau fumble that also set up a short score, and it limited the potent Edison offense to 120 yards -- 33 came on the final series as it ran out the clock.


October, 1, 2010
10/01/10
9:38
AM PT
By
Martin Henderson
| ESPNLosAngeles.com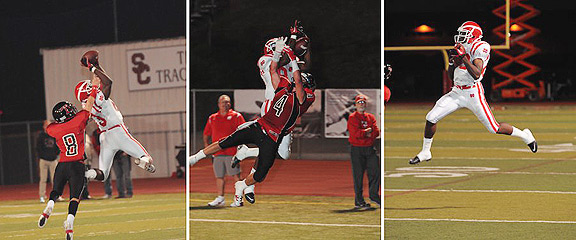 Luis Collazo
Mater Dei receiver Victor Blackwell was incredible in a win over San Clemente last week.
The magic of the three stripes returned to the Mater Dei sidelines a week ago, but if it's a command performance that fans want, it's probably going to take an even greater effort than last week by Monarchs players .
Its annual nonleague game against No. 15 Edison (3-1) tonight at Orange Coast College provides another test for Mater Dei (1-2). It took a monumental step forward last week in a
42-14 upset
of previously unbeaten San Clemente in which receiver
Victor Blackwell
was amazing. He had six catches for 183 yards and two touchdowns, he was faster than a speeding locomotive and he was leaping ... well, just take a look at the photos above. All receivers, if not all players, who turn in description-defying performances this season should henceforth be called Blackwellian. One of the keys this week for the Monarchs is to give the USC-bound Blackwell the opportunity to earn his adjective.
Apart from getting the ball into Blackwell's hands, Mater Dei must also play with the emotion it did a week ago. It all goes back to the Corona Centennial game, a 44-13 loss. Even though Centennial could embarrass a lot of teams by such a score, Mater Dei coach
Bruce Rollinson
called it "a rude wakeup call and reality check as to where our mental preparation was. I felt that mentally we weren't dialed into the game. Physically we were overmatched. If you bring some emotion and some fight – we should have represented the program better."
So that's what Edison has to be wary of. A fired up Monarchs team that is playing for the pride of its past against a very real threat to its present. That cornered animal that San Clemente faced a week ago still has its teeth.
That doesn't mean Edison doesn't come loaded for bear. Defensive linemen
Charles Burks
and
Robert Mase
– playing against Mater Dei's work-in-progress offensive line – are a very real threat to Mater Dei QB
Max Wittek
, and that can impact Blackwell. The Monarchs can't be one-dimensional, either.
Corbin Anderson
(meniscus) is still out, so RB
Josh Valdivia
must still pick up the yards to keep Edison's pass rush honest.
September, 24, 2010
9/24/10
11:53
PM PT
By
Martin Henderson
| ESPNLosAngeles.com
NORWALK -- With three minutes left in the first half of Servite's 16-9 nonleague victory Friday over Edison, Servite fans began chanting "Defense! Defense!" They might have saved themselves a syllable had they chanted "Butch! Butch!" The two are synonymous.

Butch Pauu, who's last name is pronounced "Pow! Oooh!" – it's the same sound one hears in a stadium when he makes contact with a ball carrier and the crowd responds – had himself a game. He had already had himself a season – he intercepted a pass last week against La Habra and returned it for a touchdown – after calling his shot in practice.

"I was defending it with another player, and he came to me and said, 'I got it, you don't need to put the defensive end on the shovel," coach Troy Thomas recalled. "I said that's his read, that's how we're going to play it. Then he had two opportunities at the shovel pass. One he had a tackle for a loss and the other he intercepts. I guess he did have it. He is a player. He is really playing well."

Pauu continued his reign of terror on opposing offenses Friday, and in those moments that Servite fans were exhorting their defense to make a stand, the junior linebacker had been marking his territory. In the nine plays that Edison ran, Pauu had three tackles in which Edison ball-carriers were held to 1, 0 and 0 yards, the latter on a pass that preceded the chants. On another play, Troy Baljeu caught a pass over the middle for a seven-yard gain but Pauu dropped him like a lead balloon.


September, 23, 2010
9/23/10
6:53
AM PT
By
Martin Henderson
| ESPNLosAngeles.com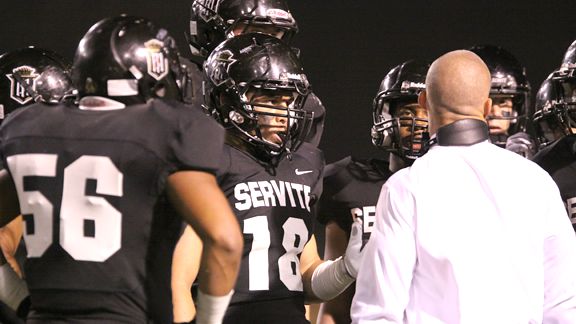 Courtesy of Laurence Martinez
Butch Pauu (18) and the Servite defense listen to coach and defensive coordinator Troy Thomas during the Friars' 23-0 victory over La Habra. Pauu returned an interception for a touchdown for the Friars, whose first-team defense has yet to allow a point.
The last time Edison and Servite faced each other, it was in a downpour with the Pac-5 title on the line, and Servite emerged from the marsh at Angel Stadium with a 16-6 victory over the previously unbeaten Chargers. The next week, Servite won the Division II State Bowl championship.
It was a different story when the teams met during the regular season on a dry field. Edison scored a 23-9 victory and the Servite offense failed to score a touchdown. Don't expect that to happen this year.
Servite (3-0), ranked No. 1 by ESPNLA, and No. 13 Edison (3-0) continue their annual rivalry on Friday at Cerritos College.
Edison has only one starter back on offense and on defense, and only one of those – defensive end
Charles Burks
– is playing the same position. But Edison looks like it's on the cusp of being very good with junior quarterback
Chase Favreau
. He's got a great arm and is a good runner, and top-ranked Servite knows well that's a potent combination – the Friars utilized
Cody Fajardo
that way last season and
Cody Pittman
that way this season.
Edison comes into the game as Orange County's third-leading scoring offense with 44.7 points, and Servite enters as the second-leading defense (4.7 points). That Chargers offense hasn't seen anything like Servite's defense yet. Then again, Servite's defense hasn't seen anything like Edison's offense.
September, 17, 2010
9/17/10
7:25
AM PT
By
Martin Henderson
| ESPNLosAngeles.com
HUNTINGTON BEACH -- After a couple of easy victories, Edison stepped in with a top 25 opponent on Thursday and escaped with a 27-21 victory. How did the Chargers look, even though No. 25 Dana Hills had a chance to win at the end?

Edison, with only one returning starter on offense and defense, looked like it was on the verge of being very good even though Coach Dave White lamented that "we must have had 150 yards in penalties." The truth is that it only seemed like it. However, Edison did commit a lot of penalties – 15 for 100 yards – way too many to beat Servite next week or (we think) Mater Dei the week after that. By comparison, Dana Hills committed two penalties for 15 yards.

It was obvious that Chase Favreau has a terrific arm and is a good runner. He's a definite threat. When he and his receivers get in sync, Edison could be a Pac-5 championship contender. He ran for 80 yards and passed for 154 and scored doing both. Against Dana Hills, the junior quarterback who transferred from Mater Dei and his receivers were just a step off – or Favreau was throwing the ball too hard to catch. Receivers couldn't hold on to several passes.

Right now, the kid has a touch problem.

"I play baseball, a pitcher, I'm used to throwing a hard ball,"Favreau said. "That's something I have to work on, getting the touch of the ball. We should've (scored 35 or 40 points). This game shouldn't have been close. They're a good team. They're a good program. But it shouldn't have been that close. We're much better than that."

Once Edison gets in sync – and it will at some point – the Chargers are going to be really good on offense. All Favreau needs to do is learn to throw a changeup.

By the way, Favreau said his uncle is John Favreau, but is not related to the actor Jon Favreau.
September, 16, 2010
9/16/10
11:38
PM PT
By
Martin Henderson
| ESPNLosAngeles.com
HUNTINGTON BEACH -- Edison coach Dave White put off the media for a moment. He went looking for Trent Mason, the Dana Hills quarterback. He finally found him at the end of the line as the two teams shook hands.

"You're one of the best players we've played against, and I've been doing this 32 years," White told the quarterback.

Then, with tape recorders rolling, White called Mason "a one-man wrecking crew."

A wrecking crew that wasn't enough to spur Dana Hills to victory. That belonged to Edison, which scored a 27-21 defeat of the No. 25 Dolphins (2-1). But enough of a wrecking crew that the 21-0 lead by Edison (3-0) was in serious jeopardy as the minutes wound down.

Mason, a safety as well as a quarterback, had a chance to lead the Dolphins to an improbable victory after their first four possessions of the game ended with a fumble, an interception, a sack on fourth down, and another fumble.


September, 15, 2010
9/15/10
8:43
PM PT
By
Martin Henderson
| ESPNLosAngeles.com
There is no reason to not be excited about the impending duel Thursday between Dana Hills and Edison. Trent Mason is a dual threat who last week passed for 221 yards, ran for 97 and had a hand in five touchdowns for the No. 25 Dolphins (2-0) against Aliso Niguel.

It's also a chance for Chase Favreau, the transfer from Mater Dei, to show off what all the fuss was about. He had been denied eligibility until that decision was reversed a little more than a week ago. He saw blitzes all night but still passed for four touchdowns and no interceptions in his varsity debut against Long Beach Wilson.

Dana Hills is averaging 50 points per game, which is impressive. Edison is averaging 53.5.


August, 31, 2010
8/31/10
1:35
PM PT
By
Martin Henderson
| ESPNLosAngeles.com
Edson lost only once last season, but the Pac-5 runner-up has already suffered two big losses this season.

Chase Favreau, who transferred from Mater Dei to Edison in January, has been ruled ineligible. Favreau, a junior quarterback, would have been the starter for the Chargers, who were 13-1 last season and lost to Servite in the title game.

The CIF-Southern Section ruled that Favreau's move was athletically motivated. Paperwork was submitted to the section office recently, which is why the ruling came now instead of earlier in the year.

Coach Dave White, who begins his 25th season as head coach, said Edison will appeal the decision.