Los Angeles Preps:

Chris Harper
February, 1, 2012
2/01/12
10:49
AM PT
By
Tim Haddock
| ESPNLosAngeles.com


ENCINO -- Wide receiver Chris Harper is going to Cal in the fall. He caught 37 passes for 846 yards and 13 touchdowns in his senior season at Crespi.

UCLA made a late push for Harper, but he said his commitment to Cal was never in doubt.

"I went up there during the summer," Harper said. "I like the campus and I liked the interaction with the coaches. I just fell in love with the campus as soon as I got there."

Cal lost several commitments, including Oaks Christians wide receiver Jordan Payton to Washington, in recent weeks. Harper said going to Washington or another school never entered his mind.

"I was fully committed since they offered me," Harper said. "It was a done deal from there."
January, 16, 2012
1/16/12
7:19
PM PT
By
Tim Haddock
| ESPNLosAngeles.com
The El Camino Real boys soccer team played on Friday night two days after goalie Francisco Rodriguez Jr. was shot and killed outside his home in Winnetka. El Camino Real shut out Reseda Cleveland, 2-0, in an emotional game that not only was played in tribute to Rodriguez, but in celebration of his love of soccer.

"We talked about the emotional roller coaster we were going to be on," El Camino Real coach David Hussey said after the game. "We talked about that we are all going to be crying at times. We are all going to be laughing at times. I think they were prepared for it."

El Camino took a 1-0 lead on a goal by Lucas Ladek in the first half. The Conquistadores were going to be tough to beat on Friday night. The players maintained an energy level throughout the game that any team would be challenged to match.

"Lukas is the Energizer Bunny for our team," Hussey said. "I think today everybody had just a little more energy. There wasn't really a dropoff for some of the guys. If our team can match Lukas' intensity and energy, then I don't think we would lose many games. He just flies all over the field. He has no regard for his body. At times we're just cringing back there. He's feisty."

The El Camino Real soccer team will be back on the field on Wednesday at Birmingham in Lake Balboa.
The East All Stars won the 16th annual Daily News All-Star Game at College of the Canyons, 31-7, over the West. Highland quarterback Christian Tago was the MVP of the game. The San Jose State commit passed for 94 yards and two touchdowns in addition to rushing for 31 yards. Arleta's De'Jon Coleman was the East team MVP. He rushed for 64 yards on eight carries and scored a touchdown. Crespi receiver Chris Harper was the West team MVP. He caught nine passes for 115 yards.
Alemany freshman Nia Britt won the shot put at a track and field meet at Oaks Christian and qualified for the California state indoor invitational next week in Fresno. Her throw of 42 feet, 10 inches with an 8.8-pound shot put earned her a spot in the state meet at the Save Mart Center. All three of her throws at the meet at Oaks Christian were beyond 41 feet. She set the AAU national record with a 6-pound shot put at 51 feet, 6 ¼ inches in August. After the meet at Oaks Christian, Britt scored two points for the Alemany girls baksetball team in a 57-49 win over Etiwanda at St. Bernard High.
The Oaks Christian boys basketball team beat Village Christian, 73-61, and snapped the Crusaders' 16-game winning streak on Saturday. Chass Bryant scored 29 points and dished out six assists for Oaks Christian. The last time Village Christian before Saturday night was on Nov. 30, 60-44, to Renaissance Academy in the Burbank Tournament. One of Village Christian's super sophomore transfers, Bryan Alberts, did not play against Oaks Christian because he had food poisoning. Marsalis Johnson, the other sophomore transfer, had a big game for Village Christian with 21 points and 11 rebounds.
The Saugus girls soccer team has an impressive streak of its own. The Saugus girls have lost a Foothill League match in nearly two seasons. The Centurions beat Hart, 2-1, on Friday and have won 16 league games in a row. The last time Saugus lost a Foothill League game was a Feb. 2,2010, against Hart. Angie Weiner, who was the kicker on the Saugus football team, scored the game-winner in the 43rd minute. Monica Allen had two assists, including a header to Weiner that produced the second goal for Saugus.
October, 29, 2011
10/29/11
12:16
AM PT
By
Sean Ceglinsky
| ESPNLosAngeles.com


MISSION HILLS -- When Devon Dunn plays well, so does Alemany. And on Friday night, the junior quarterback played about as well as he has all season.

Dunn completed 18-of-25 passes for 259 yards with a touchdown. Wait, there's more. He also carried the ball 14 times and gained 75 yards on the ground with another two scores. The end result: A 30-28 Serra League victory over visiting Encino Crespi.

"How Devon goes is how we go, most times,'' Warriors coach Dean Herrington said. "He played some darned near perfect football for us tonight. He is getting better and better every week. I think that bodes well for this team the rest of the season.

It was an important win for the Warriors (6-2, 2-0), No. 13 in the ESPNLosAngeles.com rankings. They remain in the hunt for the league title with two games left in regular season. Crespi (7-2, 1-2), No. 18 in most recent poll, could be in trouble.

"This was big, Crespi is our rival, we played our buts off, gave it 150 percent,'' Dunn said. "There was no way we were going to lose at home.''

Following a penalty in the fourth quarter, John Sanchez booted a 41-yard field goal to give Alemany a 30-28 lead with 7:37 remaining in the game.

Chris Harper made a diving catch, a 37-yarder, to move the ball into Alemany territory. On the next play, in the wildcat formation, Mike Davison took the snap and scored on a 27-yard run to give Crespi a 28-27 lead with 1:10 left in the third quarter.


October, 21, 2011
10/21/11
11:01
PM PT
By
Sean Ceglinsky
| ESPNLosAngeles.com
ENCINO -- Rio Ruiz is known as a baseball player, first and foremost. More than a few scouts project him as a first-round draft pick in the 2012 MLB Draft.

Friday night, however, the senior from La Puente Bishop Amat played the part of football player. And then some. Ruiz completed 19-of-25 passes for 236 yards and pair of touchdowns to guide the visiting Lancers to a 28-14 Serra League victory over Crespi.

"Every week, this is what we get from Rio, he's a gamer,'' Bishop Amat coach Steve Hagerty said. "We know baseball is his first priority, we have no problems with that. We're just happy to have him around during football season. We'll go as far as he takes us.''

That was apparent from start to finish against the Celts (6-2, 1-1), no. 14 in the ESPNLosAngeles.com rankings. Ruiz was on point for the No. 14 Lancers (6-2, 1-1).

"Baseball is my first love, but I'm a competitor, that's why I play football,'' Ruiz said. "Tonight, I would not have been able to do anything without my offensive line. They rewarded me with time, I rewarded them with touchdowns. Things worked out good for all us.''

The fact the Celts had four turnovers didn't help their cause.

Crespi's Corey Peoples suffered what appeared to be a stinger at the 5:49 mark of the fourth quarter. A 30-minute delay followed because of the injury. He had use of his lower extremities, but was taken in an ambulance to a nearby hospital as a precautionary measure.

Once play resumed, Bishop Amat scored again. Jalen Moore took off on an 18-yard touchdown run to extend the advantage to 28-14 with 5:14 remaining in the game.

When all was said and done, Moore had 157 total offensive yards.


October, 18, 2011
10/18/11
7:03
PM PT
By
Sean Ceglinsky
| ESPNLosAngeles.com
ENCINO -- It appears to be a typical afternoon of football practice at Crespi. The first player to emerge from the locker room is
Chris Harper
. The senior receiver makes a beeline to the adjacent field. Right then and there, you get the sense that things are far from normal.
There is work to be done, and apparently, Harper is intent on being first in line for reps.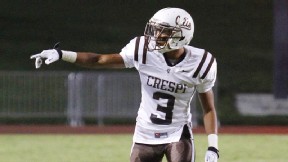 Courtesy of Angela MeansCrespi's Chris Harper has 10 touchdown receptions this season, ranking among the state's top 10.
A few teammates walk and talk on their way to practice. Some individuals lightly jog. However, there does not seem to be a sense of urgency. That is, until Harper decides it's time to speed up the process. Some choice words of encouragement follow. He is ready to get started.
A grueling session ensues. The drills seemingly are never-ending -- too many to count.
More than three hours later, the sun is beginning to set. Practice has been finished for the better part of 30 minutes. Most of his teammates are long gone at this point. Nevertheless, Harper is at midfield, fine tuning his skill set with a group of Celts' assistant coaches.
His work ethic is relentless. Unwavering. On a different level from everyone else.
The resolve Harper exhibits during the week in preparation for game day separates him from his peers. That type of sheer determination is paying off underneath the Friday night lights, of course, and has Harper on the verge of adding his name to the Southland's list of premier prospects.
"I let my actions speak for themselves, there is always ways to get better, to improve, that's why I never take a day off, or a play off,'' Harper said. "Nothing in life comes for free. I was always taught that if you want something bad enough, you half to work for it. That's just the way I am.''
The strategy has worked out particularly well for Harper so far. Full steam ahead.
He has been largely, although not solely responsible for the fast start at Crespi (6-1 overall) this season. The Celts are No. 14 in the ESPNLosAngeles.com Top 25 rankings as they head into Friday's Serra League showdown against No. 16 La Puente Bishop Amat (5-2).
"You can see it in his eyes, Chris is a different person once he steps on the field,'' Crespi coach
Jon Mack
said. "He has bought it to what we're doing here. He's a leader, in every sense.
"What people might not know about him is, he's great student with a GPA well over 3.0. He has no issues in the classroom. There are no roadblocks in his future. When you think about what it means to be a student-athlete at Crespi, Chris Harper if one of the first kids that comes to mind.
October, 17, 2011
10/17/11
6:32
PM PT
By
Tim Haddock
| ESPNLosAngeles.com
Even though Sherman Oaks Notre Dame lost its Serra League opener, 28-26, to Crespi, the Knights can look to some positives from the game. First off, Notre Dame outgained Crespi in total offense, 212 yards to 164 yards. Neither team was able to move the ball much on offense, but Notre Dame running back Khalfani Muhammad made his presence felt. He rushed for 92 yards in 26 carries but didn't find the end zone. Secondly, Notre Dame picked off two passes and turned them into touchdowns. Kevin Carrasco's interception return in the second quarter gave Notre Dame a 10-point lead, 17-7. Nick Holland's pick six in the fourth quarter put Notre Dame up 24-21. Finally, Notre Dame's Sam Robinson matched Crespi's Chris Harper for most acrobatic touchdown catch of the game. Robinson made a diving catch for a touchdown that tied the score, 7-7, in the second quarter. Unfortunately, Notre Dame doesn't win games with style points. Now, the Knights find themselves in a must-win situation against Loyola on Friday night at L.A. Valley College. Notre Dame needs a win to get back in the Serra League championship hunt. Loyola is playing its Serra League opener after having a bye last week. It will be another tough one for Notre Dame. Crespi, meanwhile, plays Bishop Amat, which lost its Serra League opener to Alemany.
Two school passing records were broken over the weekend. Canyon quarterback Jonathan Jerozal set the school mark for career touchdown passes in the Foothill League opener against Saugus. Oaks Christian quarterback Brandon Dawkins broke the school record for passing yards in a game in a 50-0 shutout against Royal. Jerozal threw three touchdown passes in his team's 51-28 win over Saugus. He has 62 career touchdown passes and broke the record set by Nate Longshore, who went on to play at Cal. Dawkins passed for 387 yards against Royal and broke the record set by Jimmy Clausen, who passed for 367 yards against Santa Paula in 2006, and went on to play in college at Tennessee. It might be the first of many school records for Dawkins, who is only a sophomore.
Some of the biggest rushing games on Friday night came out of the City Section. Kawan Rally from El Camino Real rushed for 319 yards and four touchdowns in his team's 48-7 win over Woodland Hills Taft. It wasn't only a huge night for Rally, but for the El Camino Real program. The Conquistadores beat Taft for the first time since 1991. Birmingham's Isaiah Hastings rushed for 248 yards and two touchdowns in his team's 35-16 win over Chatsworth. Both his touchdowns came in the second half, one on an 86-yard run in the third quarter. Arleta's Dejon Coleman didn't have eye-popping numbers on the ground, but he scored four touchdowns in his team's 49-6 win over Poly. He scored two rushing touchdowns, caught a touchdown pass and intercepted a pass for a touchdown. Coleman gained 91 yards on nine carries and caught five passes for 75 yards. Brian Sanchez from Granada Hills rushed for 213 yards and scored three touchdowns in his team's 38-13 win over Cleveland of Reseda.
Another game, another rushing record for Zander Anding from Burroughs of Burbank. He rushed for 394 yards and scored six touchdowns in his team's 70-34 win over Glendale. It was Anding's third 300-yard rushing game in a row and the third time he has broken his own school record for rushing yards in a game. He scored on runs of 39, 75, 5, 47 and 41 yards and caught a touchdown pass. Way out in the high desert, Quartz Hill's Osirus Burke rushed for 242 yards and scored four touchdowns in the Rebels' 27-21 win over Palmdale. Burke scored on runs of 6, 1, 13 and 11 yards.
Pasadena Poly won the Oxnard water polo tournament, beating Rio Mesa, 15-7, in the championship match. Rio Mesa reached the final of the Oxnard tournament for the third year in a row. The Spartans won the tournament in 2009 by beating Pasadena Poly. Rio Mesa lost to Crescenta Valley in last year's championship match. Rio Mesa beat Malibu, 13-9, in the semifinals. Rio Mesa's Joe Yamamoto scored five goals against Malibu and had four goals in the championship match against Pasadena Poly.
October, 15, 2011
10/15/11
12:34
AM PT
By
Tim Haddock
| ESPNLosAngeles.com


ENCINO -- An hour after the football game between Encino Crespi and Sherman Oaks Notre Dame, Celts coach Jon Mack was asked to sum up his team's performance.

"I still haven't recovered," Mack said.

The Crespi players gave their coach and their fans several heart-stopping moments in their 28-26 win over Notre Dame in the Serra League opener for both teams Friday night.

Crespi scored touchdowns on a kickoff return and a blocked field-goal attempt. Notre Dame returned two interceptions for touchdowns and scored 17 unanswered points in the second quarter.

In the end though, Crespi came up with three huge plays on special teams and escaped with a narrow victory over its Serra League and San Fernando Valley rival.

"Special teams helped keep us alive in the first half," Mack said. "We found a way in the end."

Crespi's Nate Walker returned the opening kickoff 99 yards for a touchdown and gave the Celts an early 7-0 lead.

But Notre Dame battled back scoring two touchdowns in the last four minutes of the second quarter. Sam Robinson caught a five-yard touchdown pass from Kelly Hilinski to tie the score, 7-7, with 3:58 to play in the first half.

Kevin Carrasco gave Notre Dame a 10-point lead when he intercepted a pass from Crespi quarterback Cody Cordell and returned in 30 yards for a touchdown with 1:16 left in the first half.


September, 30, 2011
9/30/11
10:35
PM PT
By
Sean Ceglinsky
| ESPNLosAngeles.com
ENCINO -- The unthinkable nearly happened to Vista Murrieta in the first quarter of Friday's game at Encino Crespi. The Broncos star player, Su'a Cravens, went down with what appeared to be a sternum injury. Turned out, it was only a scare.

The highly-touted junior returned in the second quarter. Returned in a big way, mind you. Cravens had an interception and scored a pair of touchdowns, one rushing and the other receiving, to guide Vista Murrieta to an impressive 38-20 victory.

"I wasn't coming out, no way, this one was too big of a game,'' Cravens said. "I got popped pretty good and the hit stung. I played through the pain though. If the coaches told me that I couldn't have returned, I would've jumped in the lineup somehow.''

Indeed it was a big game. Crespi (4-1) entered the showdown as the odd-on favorite with a No. 4 spot in the ESPNLA.com rankings.

The Broncos (4-0) were not considered a slouch. They boasted a No. 17 ranking in the ESPNLA poll and will likely move up next week.


September, 2, 2011
9/02/11
11:53
PM PT


COMPTON -- Crespi finally got redemption Friday night ... and then some.

A year after stumbling out of the gate by losing their opener to Dominguez, the Celts made sure a repeat wasn't in store, pummeling the Dons, 48-6, behind a 34-point first half. Officials used a running clock for the fourth quarter and both teams emptied their benches.

"It was great coming into their house and beating them by more than 40 points," Crespi senior Mike Davison said. "Last year they came out with a lucky win but we came here, executed and came out victorious."

Davison, a speedy, shifty, 5-foot-2 receiver, scored two touchdowns and probably caused more headaches. He had a 21-yard scoring run on an end-around hand-off that made it 14-0, then reached the end zone in the third quarter following a dizzying sequence from seven yards out that left Dominguez defenders catching their breath.

"I was just thinking touchdown," Davison said.

Fellow receiver Chris Harper had 140 yards receiving and two touchdowns, while tailback Terry Williams ran for 64 yards and a score prior to sitting out most of the second half.

"Any time you can come back and beat a team that beat you last year it's always a good thing," Harper said.


August, 26, 2011
8/26/11
1:25
PM PT
By
Sean Ceglinsky
| ESPNLosAngeles.com
Encino Crespi lost several key players from a season ago. Then again, the Celts are no different from any other team in the Southland. Perhaps the thing separating them from other programs is the fact this group returns a solid foundation as coach
Jon Mack
enters his second year at the helm.
Senior
Chris Harper
takes over as the No. 1 option at receiver in the high-powered Crespi offense following the departure of
Devin Lucien
, who is playing at UCLA. Fellow wideout
Mike Davison
, also an upperclassman, figures to assume a larger role as well.
Here's a closer look at the Celts:
Team:
Encino Crespi.
Coach:
Jon Mack, second season.
2010 Record:
8-4, lost in quarterfinals of CIF Southern Section Pac-5 Division playoffs.
Returning starters:
15 total. Eight on offense. Seven on defense.
Key players on offense:
OL Jordan Simmons, WR Chris Harper, WR Mike Davison, TE Trevon Callahan, TE Jack Vonarb, RB Terry Williams.
Key players on defense:
DB Noah Ciccel, DB Nathan Walker, LB Sebastian Edwards, LB Corey Peoples, LB LJ Wilkerson, DL Khorey Gabriel, DL Sean Lomoto.
Difference maker:
Simmons, no question about it. The 6-foot-5, 325-pound senior is a superb pass-protector. He is is also a force in the rushing attack, agile enough to get out in space and make a clear path. Accordingly, Simmons is being recruited by most every powerhouse program in the country. He keeps Paul Rawate, Crespi's director of marketing and public relations, busy week in and week out with phone calls from prospective schools. Where Simmons ends up is anyone's guess. One thing is certain: He will be playing on Saturdays in the very near future.
Newcomers:
OL Jacob Speer (Granada Hills transfer), OL Colin Prestesater (Glendora transfer), OL Wes Hewitt (Humbolt transfer), QB Cody Cordell (Oaks Christian transfer), LB Sklyer Stone (Westlake transfer), QB Brad Kaaya, WR Jabarian Blackwell.
Not to be missed:
at Mission Hills Alemany, Friday, Oct. 28. The host Warriors figure to be ranked among the top 10 teams in the ESPNLosAngeles.com poll at this stage of the season. Crespi might be as well. This game should be for all the marbles, a showdown with Serra League title implications. Clear your schedules now, this one could be a classic.
Coach's comment:
"What a difference a year makes. This time last year we were struggling to teach the language, the fundamentals and the techniques of the game. Now, we are working on perfecting things. I am very pleased with the attitude and effort of this team and cannot wait for fall ball to start."
Final analysis:
Once the Celts determine who the quarterback will be -- Cordell is currently leading Kaaya in the race for the starter's role -- they could possibly be on their way to big things. Harper, Davison and Callahan are reliable targets. And with Simmons in the mix, watch out. Crespi will likely compete for a league title and appears poised for a deep postseason run.
Sean Ceglinsky covers preps for ESPNLosAngeles.com. Follow him on
Twitter
.
November, 3, 2010
11/03/10
10:06
PM PT
By
Sean Ceglinsky
| ESPNLosAngeles.com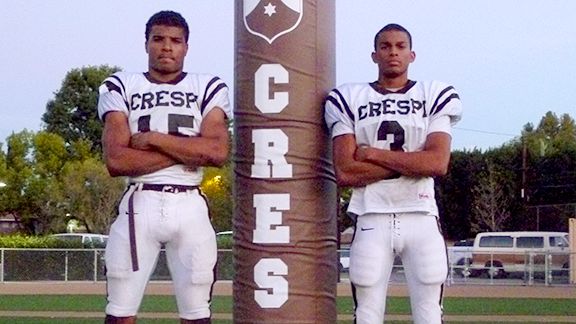 Sean Ceglinsky/Special to ESPNLA.com
Devin Lucien, left, and Chris Harper form one of the most potent receiving duos in the Southern Section.
Pick your poison,
Devin Lucien
or
Chris Harper
. But before making the decision about which Encino Crespi High receiver to double-team on the football field, know this, there's no good answer. More than a few opposing coaches can attest after having made the wrong choice this season.
Week in and week out, Lucien and Harper have combined to play about as well as any other wideout tandem in the Southland. And as a result, the Celts are still alive and well in the postseason playoff picture heading into Friday night's Serra League game against visiting Los Angeles Loyola at 7 p.m.
"Devin and Chris bring so much to the table, it's crazy. Those guys make my job a whole lot easier,'' Crespi quarterback
Kenny Stenhouse
said. "Lucien is big, fast and athletic, he's the total package, no doubt. Harper runs great routes and catches everything thrown his way, he's a handful to deal with.''
Lucien and Harper compare rather favorably to some of the more talented pass-catching teammates residing in Southern California. Of course, Gardena Serra's
George Farmer
and
Marqise Lee
instantly come to mind. And there's also Santa Ana Mater Dei's
Victor Blackwell
and
Sedric Hill
.
For all intents and purposes, Lucien is the more polished of the two outside threats for the Celts. He is, after all, an experienced senior. The 6-foot-1, 190-pounder has scholarship offers from several NCAA Division I programs and leads Crespi with 45 receptions for 860 yards and 12 touchdowns.