Los Angeles Preps:

Chris Nordstrom
March, 3, 2012
3/03/12
11:22
PM PT


ANAHEIM -- Orange Lutheran coach Chris Nordstrom kind of smiles every time an opposing group of fans begins chanting "Overrated" when Gabe York steps to the free-throw line.

Note to opposing fans: Stop chanting "Overrated."

York proved once again on Saturday that he's anything but overrated. The Arizona commit scored 28 points and led third-seeded OLu to a 64-58 victory over top-seeded Mission Viejo to win the Southern Section Division 1A championship.

The difference between Mission (27-4), which was more physical and even took a 50-49 lead in the opening minute of the fourth quarter at Anaheim Convention Center Arena, was simple: "York," said Mission Viejo coach Troy Roelen, whose team was spirited, but could not overcome the force that is No. 32.

Mission led for 72 seconds, at which point York made a three-point play for OLu (21-10). After giving up the lead, York scored seven of his team's final 15 points, including a free throw with a two-point lead with 1:32 left to go up 59-56, and another to give the Lancers a four-point lead with 9.7 seconds remaining, 62-58.

York also had five steals, but he wasn't the only one who had a big night. With Payton Banks held to only seven points, Jared Carver stepped up with 11 points and three steals, and Darien Williams had 10 points and 13 rebounds. Antwon Johnson was held scoreless, but had four of OLu's 16 steals.

Mission Viejo, which lost for the second year in a row in the finals, was emotional afterward. Michael Cramer, whose three-point basket gave Mission the 50-49 lead with 7:04 remaining, scored a team-high 16 points. Max Redfield added 14 and Evan Zeller 13. Redfield had 11 rebounds, and Mission held a 44-33 edge over Lutheran in that department.

But Mission fell behind in the first quarter, 22-14 -- Roelen said he expected his team to be better after having played in this game a year ago -- and the rest of the night was spent just trying to catch up.

But even when they caught up, the still had York to contend with.

As overrated as he may be.
December, 28, 2011
12/28/11
6:47
PM PT
By
Sean Ceglinsky
| ESPNLosAngeles.com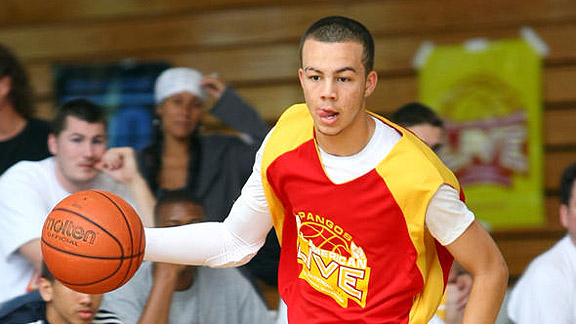 Nick KozaGabe York had to bide his time at Orange Lutheran, but now he's a mainstay and averaging 27 points.
LOS ANGELES -- As
Gabe York
dribbles across halfcourt, his head is up, eyes constantly scanning the floor on the lookout for an open teammate. The ball appears on to be on a tightly-wound yo-yo string attached to the right hand of the senior from Orange Lutheran.
A split second later, York effortlessly switches things up and heads directly toward the basket with his left. Forget about the two undersized guards tugging on his jersey in an effort to keep pace. The small forward charging straight at him offers little, or no, resistance.
A jump-stop at the free-throw line draws the attention of a pair of post players, essentially freezing the tandem in their tracks. With the focus on him, York passes up a tough jumper in the lane and tosses a well-placed bounce pass that leads to an uncontested layup.
The scenario has played out on more than a few occasions.
Nevertheless, his decision-making process has rarely wavered despite the fact opponents have regularly designed game plans around stopping York. Suppose that best explains why the Arizona-bound guard is considered one of the nation's premier players in his class.
"Teams are all over Gabe, and as a high school kid, that's tough to deal. Give him credit though, he has handled things well,'' Orange Lutheran coach
Chris Nordstrom
said. "I think we have seen every kind of defense. Double-teams and triple-teams. Box-and-one. Triangle-and-two. You name it, opponents have thrown it at us. I'm not sure what they will think of next.
"Gabe has a knack for making the difficult play look easy. He understands the game, he gets it. I can't tell you the number of big plays he's made for us in the biggest moments of games. He has a calmness about him. We want the ball in his hands as much as possible.''
York figures to have plenty of chances to make plays this season for the Lancers (8-2 overall), who figure to be a mainstay in the ESPNLosAngeles.com Top 20 rankings.
January, 28, 2011
1/28/11
9:58
PM PT
By
Martin Henderson
| ESPNLosAngeles.com
SANTA ANA -- Gary McKnight doesn't subscribe to the notion that a loss can help his team. His star player doesn't agree. And since Xavier Johnson scored 23 points and helped Mater Dei avenge its loss earlier this season to Orange Lutheran, the kid might have a point.

The Monarchs — ranked No. 3 in the ESPNLA top 20 — scored the first nine points of game, opened up a 19-point lead and then rode it to an 84-61 victory over the 10th-ranked Lancers. The game was, in all likelihood, for the outright Trinity League championship. The only reason it wasn't for a share of the title is because Lutheran was upset 68-65 by St. John Bosco last week.

The victory almost assures Mater Dei (20-2, 6-1) will win its 23rd consecutive league title. Second-place Lutheran fell to 17-6, 5-2.

Lutheran's loss to Bosco may have taken some of the shine off the matchup, but the game was still played before a crowd that required the upper level of the Meruelo Athletic Center to be opened, and if they got inside for the first quarter, they saw all they needed to see.

"They kicked our tails," Lutheran coach Chris Nordstrom said. "I warned them. The fire that Mater Dei came out with in the first quarter is the fire that we played with the last game. We couldn't match it."

Lutheran committed nine turnovers in the first quarter and didn't get an offensive rebound until the second. Gabe York and James Douglas, who combined for 49 points in Lutheran's 59-56 victory over Mater Dei on Jan. 7 —the first league loss by Mater Dei since 2005 — combined for 28, and 13 of those came in the fourth quarter after the outcome was eminent. Both scored 14.