Los Angeles Preps:

Christian Tober
February, 1, 2012
2/01/12
7:07
PM PT
SAN CLEMENTE -- The Kyle Murphy Show has finally come to an end, unless the Southland's top college recruit lives up to his hype, in which case the show may just be beginning.

Murphy unburdened himself Wednesday afternoon when he announced that he would attend Stanford instead of USC to continue his football career. The 6-foot-7, 275-pound offensive tackle signed his national letter of intent at 1:54 p.m., inside a temporary building on campus with his mother, Keri, sitting at his side.

Keri and Gary Murphy have an older son, Kevin Murphy, who is a left tackle for Harvard; he is 6-8, 310.

Murphy was one of the last major players still undecided. Actually, he was with his parents Tuesday evening when he finalized his decision, then told his parents after telling a couple of close friends.

The announcement came in front of a couple of hundred students, and a horde of cameras, with about two dozen classmates who were recognized for their signings or commitments to colleges to attend their athletic careers.

"I had to make my own decision," Murphy said afterward, when it was mentioned that teammate Christian Tober was trying to recruit him to USC to the end. Tober, a receiver and defensive back, will attend USC as a preferred walk-on.

"I just felt I connected with the people better at Stanford, I know the incoming class pretty well -- a lot of kids," said Murphy, who carries a 3.97 grade-point average is unsure of his major but will consider an engineering or economics degree.


December, 6, 2011
12/06/11
6:55
AM PT
1. You can't say that Conner Manning's performance against La Habra in which he finally eclipsed Matt Barkley's county single-season passing record came cheap. Manning completed 32 of 49 passes for 465 yards and two touchdowns as El Toro upset second-seeded La Habra, 47-41, in the Southwest Division semifinal. Manning needed 88 yards to match Barkley's 3,560 set in his junior season in 2007. Manning, a junior, now has 3,946 and leads the Chargers into the finals for the first time since 1995 when they defeated Servite for the Division V championship. Manning wasn't the only offense: Jacob Furnari carried 36 times for 231 yards and four touchdowns. Cody White and Blake Murphy both had nine receptions, for 109 and 103 yards, respectively.

2. Kudos to La Habra for going out like a champion. Trying to win its fifth consecutive title,a first for an Orange County team, the Highlanders set a standard for other teams in the division and gained considerable respect among higher division teams for playing opponents such as Servite, Orange Lutheran and St. John Bosco. Trailing 41-13 with 1:07 left in the third quarter, La Habra pulled to 47-41 behind Aaron Porter's three touchdowns; had it recovered its third consecutive onside kick with 3:31 left in the game (the ball went out of bounds) it might have been a different outcome. Instead, Manning had possession and El Toro ran out the clock -- and ended La Habra's drive for five.

3. Reporters at Santa Margarita's 21-20 victory over Mission Viejo in the Pac-5 semifinal began discussing the Orange County player of the year. Although Servite's Cody Pittman and Santa Margarita's Johnny Stanton appeared to be frontrunners early in the season (Pittman losing in the second round almost certainly destroyed his chances) and there has been talk that a lineman such as San Clemente's Kyle Murphy might be a deserving choice, El Toro's Manning was bandied about after his big night against La Habra.


October, 25, 2010
10/25/10
5:36
PM PT
By
Martin Henderson
| ESPNLosAngeles.com
1. Servite trailed, 14-12, after St. John Bosco scored with 1:42 left in the second quarter. It's the deepest into a game that the Friars have trailed all season, though they drove 80 yards and retook the lead by halftime. They fell behind JSerra a week earlier, 7-0, after fumbling the opening kickoff at the 22. Are the Friars falling off their game? Not hardly. Bosco is that good, and whether the Braves make the playoffs or not – only three teams from the Trinity League will – they have made huge strides under first-year coach
Jason Negro
.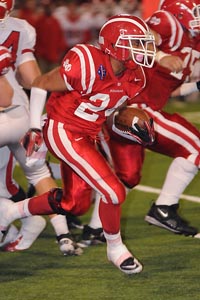 Courtesy of Lou Colazzo
Corbin Anderson has added another dimension to Mater Dei's offense.
A week earlier they led Mater Dei in the fourth quarter and were on their way to a potential game-winning touchdown when an errant snap doomed them. As for Servite,
Malik Felton
had the kind of breakout game I had expected much earlier. Playing the same position as
Chris Nicholls
, a central cog in last season's Pac-5 and State Division II Bowl championship team, Felton put up Nicholls-like numbers: He rushed 24 times for 199 yards and two 11-yard touchdowns in a 32-24 victory over St. John Bosco. Expect Servite to get even better over the next three weeks, and with Mater Dei and Santa Margarita still ahead of them, the Friars will need to be.
2.
Corbin Anderson
played for the first time this season for Mater Dei, and he definitely makes the Monarchs better. He rushed for 113 yards in 18 carries in his debut, a 28-14 victory over an Orange Lutheran team that's a lot tougher than most people think. Coupled with fullback
Todd Hunt
, the emergence of
Sedric Hill
as an excellent complementary receiver to
Victor Blackwell
, and ever-present QB
Max Wittek
, it's going to make for some long nights for Servite leading up to their game on Friday at Angel Stadium.
October, 22, 2010
10/22/10
11:57
PM PT
By
Martin Henderson
| ESPNLosAngeles.com
DANA POINT – It was a stunning moment, one in which Christian Tober turned around a game with a gutsy move and blurring speed.

Tober's 69-yard punt return in the third quarter paved the way for San Clemente to post a crucial 42-28 victory over host Dana Hills. It ruined the Dolphins' homecoming, and didn't do much for their playoff chances either. The Dolphins (3-5, 0-2) now need to win out against Tesoro and Trabuco Hills to get one of three guaranteed playoff berths from the South Coast League.

It was just the opposite for San Clemente (7-1, 2-0); two victories – including one against a playoff contender such as Dana Hills – should be enough to get into the playoffs. Next week, the Tritons take on undefeated defending league champion Mission Viejo (7-0, 1-0) with plenty of confidence. Last week Mission beat Dana Hills, 52-26.

San Clemente's scoring drives were 73, 29, 51, 48, 20 and 48 yards.

San Clemente got a big defensive effort in the second half, but it was Tober's return that was the monster play.

The score was tied at 28-28 after a remarkable first half in which San Clemente fell behind, 21-7, but got back into the game by taking advantage of a short field. Dana Hills had to punt on its first possession of the second half, and though Chris Kearney booted a 50-yard punt, Tober's 69-yard return – to the 20-yard line – was the flashpoint necessary to complete the comeback.

"That killed us," said Dana Hills coach Brent Melbon of Tober's return. "We had the kid pinned in with three guys and he split two of them."