Los Angeles Preps:

CIF championships
December, 17, 2011
12/17/11
11:15
PM PT
CARSON -- Westlake coach
Jim Benkert
was putting the finishing touches on his postgame speech when, suddenly, one of his players shouted, "At least we got a ring!" Laughs followed, and even Benkert cracked a smile.
At last, a positive.
Previously undefeated Westlake, the CIF-Southern Section Northern Division champion, stumbled early and never recovered, losing to perennial power De La Salle, 35-0, Saturday night in the 2011 CIF State Football Championship Open Division Bowl game presented by Farmers. It was so ugly that a running clock was used at the start of the fourth quarter -- a state bowl game first -- and Warriors fans streamed out of Home Depot Center well before the final whistle blew.
"It was a big stage and our kids did their best," Benkert said. "We just made too many mistakes."
De La Salle (13-1), ranked No. 11 in the ESPN High School national poll, captured its third straight Open Division bowl championship. The Spartans recently won their 20th consecutive CIF section championship and were making their sixth straight appearance in a state bowl game.
Westlake got a taste of what Crenshaw and Servite experienced the last two years. The Warriors (14-1) didn't necessarily get manhandled, moving the chains 14 times in the first half. For proper perspective, the mighty Servite Friars didn't get a first down on De La Salle until midway through the third quarter in last year's 48-8 loss.
"De La Salle is a great football team," said Westlake's
Dashon Hunt
, who was held to only 48 rushing yards. "Our mistakes turned into touchdowns."
Another sour note for the Marmonte League champs: Westlake was the only Southern Section representative to lose during the bowl weekend. Sierra Canyon claimed the Division IV title with a 27-13 victory over Le Grand and Santa Margarita beat San Jose Bellarmine 42-37 for the Division I crown.
Warriors junior quarterback
Justin Moore
will have plenty to think about during the offseason. He had thrown only four interceptions heading into Saturday, but was picked off twice on Westlake's last two drives of the first half. Both throws were intercepted inside the end zone.
"We didn't make the plays when we needed to," Moore said. "If you do that it's going to come back to hurt you."
Spartans running back
Tiapepe Vitale
opened the second half with short touchdown run, making it 28-0. Loud chants of "D-L-S" echoed from the stands. Minutes later, it was Wisconsin-bound quarterback
Bart Houston
diving past the goal line to give De La Salle the 35-0 lead.
The Warriors had their chances early. A fumble recovery in the second quarter gave them new life, but a 27-yard touchdown pass from Houston to a wide-open
Michael Hutchings
-- on a fourth-and-11 call, for good measure -- had the Warriors cheerleaders looking the other way.
De La Salle showed its dominance in the blink of an eye, breaking the scoreless tie on Vitale's 37-yard touchdown scamper. Westlake was forced to punt on its first possession and, moments later, Houston followed with a sneak for the two-touchdown lead midway through the first quarter.
"That's a good football team over there," Benkert said as De La Salle players carried the trophy. "We didn't take them out of their game."
But, like the player pointed out after the game, at least Westlake got some bling this season.
Blair Angulo covers preps for ESPN Los Angeles. Follow him on Twitter.
December, 12, 2011
12/12/11
12:10
AM PT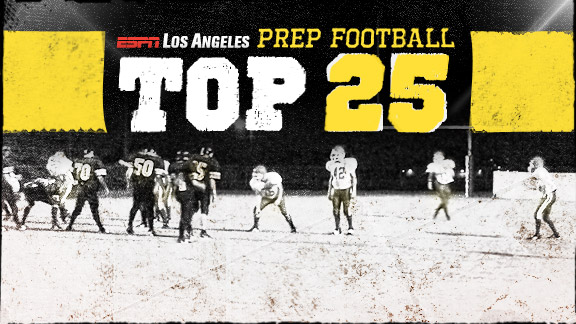 ESPN.com Illustration
Shiny trophies were handed out to sectional champions, led by state-bowl selections Westlake (Northern Division) and Santa Margarita (Pac-5 Division). Harbor City Narbonne claimed the City Section Division I title, moving up to the No. 4 spot in the ESPN Los Angeles prep football Top 25 rankings. Our list heading into the state bowl games:
1. Westlake (14-0)
The Warriors won their second Northern Division championship in three years behind Dashon Hunt's five touchdowns. Westlake is going bowling. Last week: Beat Oaks Christian, 49-42. Next: Open Division state championship game vs. Concord De La Salle at Home Depot Center, Saturday, 8 p.m.
2. Vista Murrieta (9-5)#*
Junior quarterback Nicholas Stephens scored the Inland Division championship-winning touchdown with 26 seconds remaining. They were undefeated on the field, but they didn't get the nod for the Division I state bowl. Last week: Beat Corona Centennial, 35-28.
3. Santa Margarita (12-2)
Coach Harry Welch won his ninth overall championship and first with the Eagles. Quarterback Johnny Stanton had 240 total yards. The Eagles are heading to state. Last week: Beat San Clemente, 27-13. Next: Division I state championship game vs. San Jose Bellarmine at Home Depot Center, Friday, 8 p.m.
4. Narbonne (11-3)*
Emotional leader Tray Boone usually talks the talk, but he backed it up Friday with six touchdown runs and 316 total yards to lead the Gauchos to the City Section Division I title. Last week: Beat Carson, 48-32.
5. Corona Centennial (12-2)*
Quarterback Hayden Gavett and running back Romello Goodman finally ran into the team that could keep up. Last week: Lost to Vista Murrieta, 35-28.
6. Oaks Christian (11-3)*
The Lions were closer to Westlake this time around, but it still wasn't enough in the Northern Division championship game. Last week: Lost to Westlake, 49-42.
7. San Clemente (12-2)*
The Tritons had to settle for a pair of first-half field goals, and it was the difference at Angel Stadium. The Tritons could have put the Eagles on their heels. Last week: Lost to Santa Margarita, 27-13.
8. Mission Viejo (10-3)*
The South Coast League champions have Max Redfield coming back next year. He's projected as one of the top safeties on the West Coast.
9. Upland (12-1)*
Quarterback Nate Romine returns next year for the Baseline League champs.
10. St. Bonaventure (10-3)*
The third-place Seraphs must replace departing seniors Shaun Wick and Marc Evans.
December, 11, 2011
12/11/11
12:00
AM PT


MONROVIA -- Marquise Bias swung the flag pole feverishly as the final seconds ticked off the scoreboard. Back and forth, back and forth he swayed until the flag wrapped around itself and became tangled, the large Monrovia logo no longer readable.

It was about the only thing Bias did wrong Saturday night.

The senior running back rushed for 260 yards and three touchdowns, propelling Monrovia to its second straight CIF-Southern Section Mid-Valley Division championship with a 53-14 drubbing of San Gabriel. After falling short in their previous eight finals appearances, the Wildcats have gone back to back.

"Marquise has done that all year," coach Ryan Maddox said. "He keeps his feet moving and doesn't stop."

Like at every Monrovia home game, ceramic fire pots aligned in the shape of the letter M flickered high on a hill adjacent to the renovated field. On this night, it could have very well stood for Marquise.

Bias' six-yard touchdown run on a gutsy fourth-and-1 call early in the second half was the go-ahead score. The fourth-seeded Wildcats (11-3) scored 39 unanswered after the break and capped their season by winning 10 in a row.

"Coach gave a little speech," Bias said. "He told us to pick it up and play the way we've been playing."

Versatile back De'Shawn Ramirez added 150 total yards and three touchdowns, including a 66-yard romp in the final minutes that was the exclamation point on a game that got out of hand quick.

Unseeded San Gabriel (9-5), which started the season 1-4, squeaked by to reach the final, beating its three opponents by a combined nine points. The Almont League champions beat Maranatha (9-3), second-seeded Arroyo (40-38) and third-seeded San Dimas (29-28). The Matadors, making only their second finals appearance in school history, were in it at halftime when receiver Alex Villalobos hauled in his second touchdown.

"They did not surprise us," Maddox said. "They did what they do well."


December, 10, 2011
12/10/11
1:14
AM PT


MONTEREY PARK -- The "Tray Way," as Narbonne folk have come to know it, was the only way Friday night.

Tray Boone, Narbonne's emotional leader, did all he could to make people proud, then did all he could to fight those pesky tears. In the end, it was far too much to take in.

Behind Boone's six rushing touchdowns, the Narbonne Gauchos beat neighboring rival Carson, 48-32, claiming the City Section Division I championship at Weingart Stadium on the campus of East Los Angeles College. Narbonne won its first title since sharing the throne with league foe San Pedro in 2008. Carson, which has 11 championships to its name, lost in the final for the second year in a row.

"This was my last high school game with these guys," said the glossy-eyed Boone. "To win the championship is amazing."

The game was a rematch of the Oct. 21 thriller in Harbor City, which Narbonne won, 38-37, when Carson botched a potential game-tying extra-point attempt in the final minute. Following last week's blowout of Coliseum League champion Dorsey, junior quarterback Troy Williams acknowledged how difficult it would be to beat a team twice during the same season.

Thanks to his dynamic tailback, Williams' worst fears never materialized.

Boone had 200 total yards and four touchdowns in the first half alone, and the senior finished with 316 yards, showing no ill effects from last week's head injury that knocked him out at halftime.

"That's the man right there," Williams said as Boone walked by with the championship plaque in hand.

Meanwhile, Williams -- the City Section's leading passer -- wasn't his usual self, visibly hobbling to his spot after every play. After passing for a season-low 75 yards, he admitted that he might have a fractured left leg. But Narbonne (11-3), making its third finals appearance in four years, still clicked offensively.

Among his six touchdowns, Boone had scoring runs of 36, 35 and 11 yards. He touched the ball 33 times, averaging nine and a half yards per touch.

"I never thought I'd run the ball so much in my life," Gauchos offensive coordinator Tim Kaub said. "I'd be stupid for not giving the ball to Tray Boone."

Fifth-seeded Carson (8-6) started the game the way it needed to. Safety Jerrod Moton intercepted Williams' second pass of the night to set the Colts up near midfield. On the very next play, tailback Roger Jones stormed into the end zone for the quick 7-0 lead.


December, 10, 2011
12/10/11
12:32
AM PT


MONTEREY PARK -- Derwin Henderson looked over his left shoulder, then over his right. The South East coach promptly pulled the hood of his sweatshirt over his head, knowing exactly what was coming next.

Nothing like an icy bath to kick off the celebration.

Henderson and top-seeded South East captured the City Section Division II championship Friday afternoon with a 51-34 victory against second-seeded Marshall at Weingart Stadium on the campus of East Los Angeles College. South East (13-1), in only its seventh year of existence, shattered its previous school record of eight wins.

The disbelief was evident on junior quarterback Jonathan Santos' face. He passed for 317 yards and five touchdowns, and added a season-high 135 rushing yards and another score to pace the explosive Jaguars attack.

"I wouldn't trade him for the world," Henderson said.

Highly regarded Robert Lewis, the Southern Methodist-bound tailback who had 2,004 rushing yards and 30 touchdowns heading into the game, had difficulty finding running lanes but made his presence felt in a different way. He caught a 24-yard touchdown and returned an interception 36 yards for a score in the second half to help Eastern League champion South East pull away.

"Back in February Robert could have left to any other school he wanted, but he stuck around, stuck with me," Henderson said.

Santos' 71-yard touchdown pass to Ramone Smith was the dagger, making it 38-20 early in the fourth quarter. In the stands, newspaper scraps fluttered in the air, serving as makeshift confetti.

"This is everything," said Santos, who fell just 31 yards short of 3,000 for the season. "Since I was little this is what I've been dreaming about. We never thought it'd be reality."