Los Angeles Preps:

Claremont
January, 17, 2012
1/17/12
1:08
AM PT
La Verne Lutheran beat Orange Lutheran, 61-58, in a matchup between two of the best teams in Southern California. Top senior Grant Jerrett of La Verne Lutheran dealt with early foul trouble but the Trojans earned a hard-fought road victory.

Elsewhere, Kajon Mack had a game-high 32 points to help Gardena Serra (16-2) beat Santa Monica, 63-56, in the finale of the MLK Day Hoops Showdown at Price High School. Daddy Ugbede added 12 points and eight rebounds. Santa Monica stormed back from a large deficit with a 28-point fourth quarter but by then it was too late. Los Angeles Price (13-5) held off Palm Springs, 62-57, thanks to 17 points and 13 rebounds from Skylar Spencer.

At the Los Osos Shootout in Rancho Cucamonga, Damien improved to 16-1 with a 52-47 victory against Ventura. Chris Reyes scored 18 points for Damien. Pacific Hills (16-3) beat Chino Hills, 69-55, behind Marcus Jackson's 22 points. Bishop Amat got past Chino, 51-42, while Glendora blew out Claremont, 68-48.

In another non-league game, Bishop Montgomery (15-3) defeated Valencia, 71-53.
January, 15, 2012
1/15/12
10:04
PM PT
Rancho Cucamonga Los Osos will host an all-day event on Martin Luther King Jr. Day, and it features an attractive matchup between Ventura (14-4) and La Verne Damien (15-1).

9:30 a.m. -- Twentynine Palms vs. Walnut
11 a.m. -- Miller vs. Irvine Northwood
12:30 p.m. -- Los Osos vs. Pomona
2 p.m. -- Chino vs. Bishop Amat
3:30 p.m. -- Pacific Hills vs. Chino Hills
5 p.m. -- Claremont vs. Glendora
6:30 p.m. -- Ventura vs. Damien
8 p.m. -- Chino Hills Ayala vs. Rialto Eisenhower
January, 10, 2012
1/10/12
4:04
PM PT
By
Dan Arritt
| ESPNLosAngeles.com
CITRUS BELT LEAGUE
League openers:
Wednesday night – Fontana @ Redlands; Yucaipa @ Eisenhower; A.B. Miller @ Redlands East Valley.
Last year's finish
: Eisenhower (10-0); Redlands East Valley (8-2), Redlands (6-4); Yucaipa (4-6); A.B. Miller (2-8); Fontana (0-10).
Players to watch:
Marvelle Harris (Eisenhower), 6-3, Sr. G; Terrance Sims (Eisenhower), 5-10, Sr., G; Toriano Harris (Eisenhower), 6-1, Sr., G; Evan Pea'Ches (Redlands), 6-7, Sr., F; Jamal Ellis (Redlands East Valley), 5-11, Sr., G; Daylin Billingsley (Yucaipa), 6-6, Sr., F; Adam Stanford (A.B. Miller), 6-3, Jr., F.
Predicted order of finish:
Eisenhower, Redlands, Redlands East Valley, Yucaipa, Fontana, A.B. Miller.
SIERRA LEAGUE
League openers:
Wednesday night – Ayala @ Chino Hills; Damien @ Claremont; Charter Oak @ South Hills.
Last year's finish
: Damien (9-1); Chino Hills (7-3); Ayala (7-3); Claremont (5-5); South Hills (1-9); Charter Oak (1-9).
Players to watch:
Chris Reyes (Damien), 6-7, Sr., F; Clayton White (Damien), 6-0, Sr., G; Jared Dizon (Damien), 6-3, Jr., G; Josh Ramirez (Ayala), 6-4, Sr., G; Jared Ponce (Ayala), 6-2, Sr., G; Matt Ponce (Ayala), 5-10, Sr., G; Tyler Ponce (Ayala), 6-2, Sr., G; Mike Navar (Chino Hills), 6-7, Sr., C; Deion Page (Chino Hills), 6-1, Sr., G; Deandre Page (Chino Hills), 6-1, Sr., G; Bishop Mency (Chino Hills), 6-4, So., F; Kyle Maloof (Claremont), 6-1, Sr., G; Korey Serna (South Hills), 6-9, Sr., C; Kody Brown (Charter Oak), 6-7, Sr., F.
Predicted order of finish:
Damien, Chino Hills, Ayala, Claremont, South Hills, Charter Oak.
SUNKIST LEAGUE
League openers:
Wednesday night – Jurupa Valley @ Summit, Patriot @ Bloomington; Norte Vista @ Kaiser.
Last year's finish
: Summit (10-0); Patriot (8-2); Jurupa Valley (5-5); Bloomington (3-7); Kaiser (2-8); Norte Vista (0-10).
Players to watch:
Devon Alexander (Summit), 6-1, Sr., G; Darrick Arnold (Summit), 6-3, Sr., F; Isaiah Taylor (Summit), 6-1, Sr., G; Thomas Folsom (Patriot), 6-10, Sr., C; Stephon Bryant (Jurupa Valley), 6-2, Jr., F; Sam Parks (Jurupa Valley), 6-1, So., F; Steven Avila (Jurupa Valley), 5-10, Jr., G; John Moss (Bloomington), 5-10, Sr., G
Predicted order of finish:
Summit, Jurupa Valley, Kaiser, Patriot, Bloomington, Norte Vista.
Previously:
Baseline, Mountain Pass, Southwestern and Sunbelt leagues
Big VIII, Mojave River and Mt. Baldy leagues
Desert Valley, Inland Valley and San Andreas leagues
October, 12, 2011
10/12/11
4:19
PM PT
League play kicks off with a bang. As part of our running feature, here are five of this week's must-see games in south Los Angeles County:
[+] Enlarge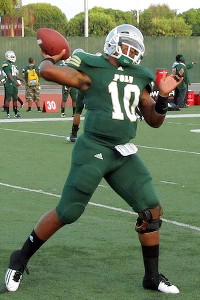 Blair Angulo/For ESPNLA.comPoly QB Chaiyse Hales hopes to repeat his performance of a year ago against Lakewood.
No. 19 Lakewood vs. No. 6 Long Beach Poly at Veterans Stadium, Friday, 7 p.m.
: When the final whistle blew last year, the Long Beach Poly Jackrabbits gave coach Raul Lara the celebratory, icy Gatorade bath. He probably wouldn't mind a good soaking Friday night. The scoreboard keeper at the Vet might be busy. Poly (5-1, 2-0 Moore League) finally found its offensive rhythm last week, hanging 67 points on Jordan, and the Lakewood Lancers (5-1, 2-0) are averaging 45 points per game under first-year offensive coordinator Zach LaMonda, a former assistant coach at Servite. Jackrabbits senior quarterback Chaiyse Hales was the standout in last year's rivalry game, throwing for 189 yards and two touchdowns, and running for another score.
No. 22 Alemany at No. 7 Bishop Amat, Friday, 7 p.m.
: Poor defensive play is Bishop Amat coach Steve Hagerty's biggest concern heading into this one -- and for good reason. The Lancers (5-1) have allowed the most points (111) among Serra League teams this year. These two met for the league title in last season's finale -- Alemany (4-1) claimed the championship with a 38-30 win -- so you know the Lancers will be plenty motivated. "It's going to be a fight," Lancers senior running back Jalen Moore said after last week's 38-35 win at Venice. "The league is going to come down to the end, but I feel like we should be able to take it all way." The game will stream live on
FOXSportsWest.com
as part of the website's
Prep Zone platform
.
Charter Oak vs. South Hills at Covina District Field, Friday, 7 p.m.
: For now, the Sierra League appears to be a four-team race and these two are a part of that group. The Charter Oak Chargers are the favorites (4-1) but Friday's road game could get tricky given that the South Hills Huskies (3-2) aren't strangers to tight games. Four of their five contests have been decided by four points or less. Chargers defensive coordinator Roger Lehigh would like to contain tailback Jamel Hart, who has hit triple-digit rushing yards in every game this season. It all adds up to an intriguing league opener.
Damien at Claremont, Friday, 7 p.m.:
This is the
other
marquee Sierra League matchup, though it could have been a headliner any other week. The Damien Spartans (4-1) are fresh off a win against a Pac-5 Division opponent, JSerra, and their only loss this season was to Bishop Amat, which entered the week ranked No. 7 by ESPN Los Angeles. Meanwhile, the Claremont Wolfpack (4-1) are looking to avenge last year's loss. Quarterback Gabe Schaper looks to rebound after throwing two costly interceptions last week.
West Covina at Bonita, Friday, 7 p.m.
: Will spectators be in for another epic? These two met twice in 2010. West Covina thumped Bonita in the first game, basically securing the Hacienda League championship behind Chris Solomon's spectacular running. They saw each other again in the Southeast Division title game, which the West Covina Bulldogs (5-1) won on a thrilling last-minute drive. The Bonita Bearcats (2-3), coming off a bye week, will have redemption on their minds.
Blair Angulo covers preps for ESPN Los Angeles. Follow him on Twitter.
November, 4, 2010
11/04/10
9:51
AM PT
Carson (6-2, 3-0 Marine) at San Pedro (6-2, 3-0 Marine), Friday, 7 p.m.

Both teams have won four straight, including three in a row to start Marine League play. Carson escaped with a 26-23 victory over Narbonne last week, while San Pedro clobbered Gardena. It's been relatively easy work for the San Pedro Pirates, who have outscored league opponents 125-15. The task is considerably tougher this week against Justin Alo and Co.

West Covina (7-1, 4-0 Hacienda) vs. Diamond Ranch (5-3, 4-0 Hacienda) at Ganesha High, Friday, 7 p.m.

West Covina gets its chance to claim the Hacienda League title after taking down previously unbeaten Bonita last week. Standing in their way is Diamond Ranch, a team known for its furious mid-season charges. West Covina (300-plus yards rushing per game) runs the ball like no other team in the area. Quarterback George Johnson has only 73 pass attempts this year.

Chino Hills (6-2, 2-1 Sierra) at Charter Oak (5-3, 2-1 Sierra), Friday, 7 p.m.

With leader Claremont all but assured the Sierra League championship, these two have a postseason berth to play for. The winner is in, the loser might still be in -- but neither team would like to take that chance. Two-time defending CIF champion Charter Oak finds itself in unfamiliar territory. The Chargers have as many losses this season as they had in the previous three combined.

Norwalk (5-3, 3-1 Suburban) at La Mirada (5-3, 4-0 Suburban), Friday, 7 p.m.

Although it's not the monstrous Southeast Division No. 1 vs. No. 3 scenario that West Covina at Diamond Ranch presents, this matchup is still intriguing. La Mirada is ranked No. 4 -- just behind Diamond Ranch -- while Norwalk comes into the game at No. 7. It should be close, entertaining battle: Calpreps.com projects a 31-22 La Mirada victory.
October, 21, 2010
10/21/10
8:37
AM PT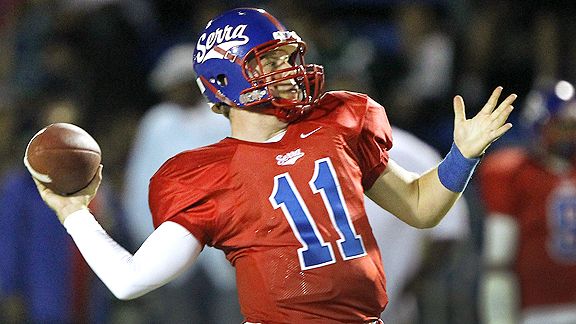 Alex Gallardo/Special to ESPNLA.com
Serra quarterback Conner Preston has plenty of weapons to choose from on offense.
St. Paul (5-1) at No. 5 Gardena Serra (6-0), Friday, 7 p.m.
With the electrifying pair of George Farmer and Marqise Lee on his side, Serra's Conner Preston may be the happiest quarterback in the region. Through six games, Preston has thrown for 1,640 yards and 17 touchdowns. St. Paul, the Western Division's No. 7-ranked squad, opened Mission League play with a dramatic 21-14 win at Cathedral.
No. 21 Compton Dominguez (5-1) at Gahr (3-3), Friday, 7 p.m.
D.J. Lopez (383 yards passing per game) leads a Gahr offense that is averaging 44.5 points. The big problem? Gahr can't seem to stop other teams from doing the same. Something should give. Dominguez allows less than 11 points per game and has won four straight since its six-point loss to highly ranked Bishop Amat.
Claremont (5-1) at Charter Oak (4-2), Friday, 7 p.m.
Claremont quarterback Daniel Kessler (20 touchdowns, 303 yards per game) has been a force for the No. 7-ranked team in the Inland Division. The Wolfpack is riding high following a one-point win against Chino Hills, while two-time CIF champion Charter Oak is seeking its first "good" win.
Mira Costa (3-3) at Palos Verdes (6-0), Friday, 2:30 p.m.
Hard to find a team with a more difficult non-league schedule than Mira Costa. The Mustangs hope that losses to Loyola, Serra and Chaminade pay off in Bay League play beginning Friday with Palos Verdes, which has not scored less than 27 points or given up more than 17 in any game this fall.