Los Angeles Preps:

Cody Clements
February, 1, 2011
2/01/11
4:38
PM PT
Servite, which won a second consecutive Pac-5 football championship this season behind a brick wall defense and a lightning quick running back, swept the top awards for the Southern Section's marquee division.
Hard-hitting linebacker
Matt Inman
was named the defensive player of the year in the division, and running back
Malik Felton
– who began the season as a slot receiver but moved to tailback after a series of injuries – was named the offensive player of the year.
Troy Thomas
, whose team won 25 in a row before losing badly to Concord De La Salle in the California Open Bowl Championship, was named the section's coach of the year.
Eight Servite players made the All-Pac 5 team, while there were seven from Mission Viejo—which was undefeated going into the Pac-5 title game—and four from Los Alamitos.
Others who received top awards in their respective sections were quarterback
Cody Clements
, junior linebacker
Aaron Porter
and Coach
Frank Mazzotta
of La Habra in the Southwest Division; and Garden Grove's
Josh Webb
– who played quarterback, receiver and running back – and Coach
Willy Puga
, and Corona del Mar linebacker
Preston Risser
in the Southern Division.
Here is a complete list of Orange County players who were selected. Click
here
for the list of all divisions.
December, 14, 2010
12/14/10
6:39
AM PT
By
Martin Henderson
| ESPNLosAngeles.com
1. Mission Viejo coach Bob Johnson said he wasn't trying to make excuses, but he recognized that the first half of the top-seeded Diablos' 41-27 loss to second-seeded Servite was "a disaster," as his team made too many mistakes and dropped too many passes. Servite coach Troy Thomas quipped, "We dropped a lot of their passes too."

2. All the respect in the world for Alex Bridgford, the Mission Viejo QB who finished 21 of 48 for 274 yards, a touchdown and an interception. Bridgford got crushed on the final play of the game and fumbled one yard from the end zone. In tears during the postgame award presentation, the junior showed the leadership mettle that will serve him well in the long run. He stood in and answered questions about the only loss his team suffered all season. That was in contrast to one of his senior teammates who refused to even acknowledge the reporter without so much as an "I'd rather not talk." From where I stand, Bridgford is the Man.

3. Helping top-seeded Garden Grove win its first-ever football title, Josh Webb's performance in a 31-30 Southern Division victory over Beckman might have been the single-most exciting football performance I've seen in 30 years of covering high school sports. I was there the night Santa Margarita quarterback Carson Palmer outdueled Tustin running back DeShaun Foster, and I've seen plenty of highlight reel footage from the pressboxand the sidelines. I'm not sure anything compared to the dynamic performance by Webb on the biggest stage Garden Grove can play; his five-yard touchdown run (with a somersault) after taking a backward pass and then his conversion run (with a 360-degree rotation across the top of two defenders) with 1:27 left in the game was the best set of back-to-back plays I've seen. Ever.


December, 11, 2010
12/11/10
11:48
PM PT
By
Martin Henderson
| ESPNLosAngeles.com
ANAHEIM – The tally on La Habra's fourth consecutive Southern Section championship will show that the Highlanders scored five touchdowns, including the decisive one midway through the fourth quarter.

But when the history of third-seeded La Habra's 35-26 Southwest Division victory over top-seeded Tustin is recalled, it will be the second and third ones that are talked about, and the fact that the Highlanders beat Tustin at its own game.

La Habra (11-3) matched St. Margaret's as the only team in Orange County to ever win four consecutive titles. The Highlanders' three losses were to Trinity League teams Servite, Orange Lutheran and St. John Bosco. Tustin finished 12-2 in front of 7,294 at Angel Stadium.

La Habra senior Drake Griffin carried 29 times for 317 yards and scored touchdowns on runs of 44, 11, four and nine yards. The Highlanders also salvaged the first half with a TD drive in the final minute, and they drove 93 yards on their first possession of the second half. That's where the title was won.


November, 29, 2010
11/29/10
7:21
PM PT
By
Martin Henderson
| ESPNLosAngeles.com
1. Mission Viejo is a better team when Tre Madden is on offense. The linebacker is no longer just a wildcat quarterback, but could be the quarterback, period. The Diablos like junior Alex Bridgford – and he's a terrific talent – but he doesn't make Mission's offense as dangerous as it is when Madden lines up at QB. He was three-for-three passing with all completions going for more than 20 yards, he squirmed away from would-be tacklers in the backfield and he threw on the run. Madden is a stud. Of course, the best thing about Mission is that it got duly tested and performed in the clutch. The Diablos fell behind in the fourth quarter, 20-17, the first time this season they have trailed that late in the game. After that, Mission attempted only one pass – by Madden, good for 27 yards to Frank Randal – which set up Dallas Kessman's one-yard run to retake the lead.

2. Really impressive that Servite scored so many points against Crespi. Most critics of the Friars point to their middling offense, so a 40-16 victory was definitely eye-opening. The Servite defense came through again with another strong performance as the Friars opened up a 33-0 lead in the third quarter before giving up a touchdown. And special teams continue to produce, this time London Lewis scoring a touchdown after Cameron Farrell blocked a punt. But the offensive production was stellar. Crespi had given up as many points only once this season, a 53-47 shootout over Taft. Two of Crespi's other three losses were by three points – to Compton Dominguez in the first game under newly hired coach Jon Mack's reign, and to Bishop Amat. The other was a 28-17 loss to third-seeded Alemany. In addition to Malik Felton's emergence as a game-changing back (he had 190 yards and TD runs of 20, 49 and 65 yards) junior quarterback Cody Pittman rushed for 77 yards and passed for 108.


September, 16, 2010
9/16/10
5:21
PM PT
By
Martin Henderson
| ESPNLosAngeles.com
Frank Mazzotta
hasn't returned my phone calls, but my guess is it's so he won't have to be coy about whether
Cody Clements
will play Friday against No. 1 Servite as it takes on Mazzotta's No. 15 La Habra squad.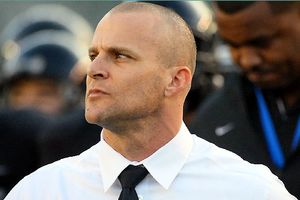 Courtesy of Laurence Martinez
Servite coach Troy Thomas says he hopes Cody Clements plays for La Habra on Friday.
Clements' right knee, which he had surgically repaired as a sophomore, was injured in the season opener against Orange Lutheran, and the dual-threat Washington State-bound quarterback has too bright a future to risk in a nonleague game against the most physical team the Highlanders (1-1) will play.
Naturally, it's to La Habra's benefit that Servite (2-0) not know whether Clements will be in or out of the lineup when the teams take the field Friday, 7:30 p.m., at Cerritos College.
"We hope he plays," said
Troy Thomas
, the Servite coach whose defense might be even better than it was a year ago when it won the Pac-5 and State Division II Bowl championship. "We want to play their best."
Even though Mazzotta has been able to keep Clements' status a secret, you can be sure of one thing: Servite is practicing as if Clements will play, and if he doesn't, it will be a tough night for
Matt Yackey
when he's not handing the ball off to
Ahmad Avery
and
Drake Griffin
-- which will probably be about 98 percent of the time.
September, 6, 2010
9/06/10
10:25
PM PT
By
Martin Henderson
| ESPNLosAngeles.com
Some observations from the first weekend of high school sports in Orange County.
1. Among the three teams in the Trinity League that I saw this weekend, Mater Dei was the least physical. Servite and Orange Lutheran were both more physical, and OLu particularly so in the first half when making a statement in its game against La Habra -- a team everyone had talked about
being so physical
.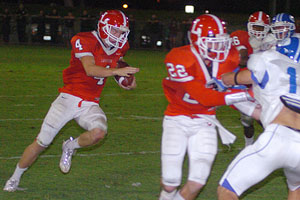 Courtesy of Scott Greenwood
Mike Markovsky (4) finds a hole in the La Habra defense in Orange Lutheran's 21-17 victory.
2. Santa Margarita put up 56 points against Diamond Ranch, which was in the Southeast Division finals the past two seasons. That's the most points since 1997 when Carson Palmer was the quarterback, and it's a lot of points against a two-time section finalist.
Adam Young
completed seven passes for 153 yards and two touchdowns (he also ran for two) and
Cory Thomson
rushed eight times for 110 yards and two TDs. Also impressive: Discounting a 62-0 victory over JSerra in 2007 during that school's first foray into the Trinity League, this was the first shutout since a 35-0 victory over Redlands in 2003. It was an eye-opening result all the way around in
Harry Welch's
debut as the coach.
September, 2, 2010
9/02/10
1:08
PM PT
By
Martin Henderson
| ESPNLosAngeles.com
For the last two years La Habra has been playing up in the nonleague portion of its schedule, taking on Los Alamitos and San Clemente, so that the medium division team might have its weaknesses exposed by higher division programs. That strategy allowed the Highlanders, who have won three consecutive section titles, to make corrections and get better. Yet only once has La Habra actually beaten a Division I opponent. Last year it beat San Clemente, 29-28, after losing to Los Alamitos, 28-13, during a 13-1 season. It dropped both games in 2008, 28-21.

That's why its nonleague games this season are so intriguing. La Habra, ranked 15th in the ESPNLA top 25, seems to be inviting disaster by playing three Trinity League opponents -- No. 17 Orange Lutheran, No. 1 Servite and St. John Bosco.