Los Angeles Preps:

Cody Cordell
November, 12, 2011
11/12/11
12:37
AM PT
By
Tim Haddock
| ESPNLosAngeles.com


VALLEY GLEN -- The Loyola football team erased a 15-point deficit and beat visiting Crespi, 36-35, in overtime in the Serra League season finale at L.A. Valley College on Friday night.

The win sealed second place in the Serra League for Loyola. Crespi's playoff fate was left in a three-way coin flip at Sherman Oaks Notre Dame High School.

Crespi, Notre Dame and Bishop Amat ended up in a three-way tie for third place in the Serra League with 1-3 records. The third and final spot from the Serra League in the Pac-5 Division playoffs was decided by coin flips. Bishop Amat, which had completed its regular season and did not play Friday night, won the flips and will advance.

Alemany beat Notre Dame, 21-14, to wrap up its second Serra League championship in a row and complete a 4-0 undefeated league run.

Even though Loyola didn't need to win its league finale to make the playoffs, the Cubs played as if it were an elimination game in the playoffs.

"That's who we are," Loyola receiver Chaz Anderson said. "That really displayed our personality out there."

Loyola's Kodi Whitfield caught a 25-yard touchdown pass from quarterback Nick Cotton in the first overtime period to tie the score, 35-35. Conrad Ukropina knocked through the all-important extra point to win the game.

"We kept battling," Loyola coach Mike Christensen said. "It was nice to see. We preach that stuff all year."

Crespi scored a touchdown on a one-yard quarterback sneak by Cody Cordell on the Celts first possession in overtime. But kicker Patrick Cassley missed the extra point. It was his third missed point-after try in the game.

When asked if the missed extra points were the difference in the game, Crespi coach Jon Mack could only say, "Who knows?"

Christensen pointed out that his kicker missed a field-goal try and that evened out the missed extra points. Either way, the game was decided by inches, be it on extra points or at the goal line.

Crespi took an early 10-0 lead in the first quarter and extended it to 22-7 in the second quarter. But Loyola battled back, tying the score in the third quarter and sending the game into overtime on a one-yard touchdown run by Wyatt Bradford with 3:31 to play in the fourth quarter.


October, 30, 2011
10/30/11
11:47
PM PT
By
Tim Haddock
| ESPNLosAngeles.com
Three teams in the L.A. North top 10 stayed undefeated. The Westlake football team made quick work of Newbury Park. Ventura and Sierra Canyon also rolled to easy victories to stay unbeaten.
Two teams in the L.A. North top 10 lost and it cost one of them a spot. Thousand Oaks was no match for St. Bonaventure. Just when it looked as if Valencia had things figured out, the Vikings lost to Foothill League rival Hart.
The Foothill League is a mess with four teams with 2-1 records and tied for first place. Valencia beat Canyon. Hart beat Valencia. Saugus beat Hart. Canyon clobbered Saugus to open league play.
Exit Valencia. Enter Highland, winners of three games in a row and tied for first place in the Golden League.
(1) Westlake (8-0) – Quarterback Justin Moore threw three touchdown passes and rushed for a touchdown in a 49-3 win over Newbury Park. Any chance the Warriors look past Agoura in preparation for St. Bonaventure in two weeks? Don't count on it.
(2) Alemany (6-2) – Alemany finally won a close game, 30-28, over Serra League rival Crespi. And it was an important Serra League win. Alemany improved to 2-0 in league. Crespi dropped to 1-2. Alemany coach Dean Herrington said quarterback Devon Dunn had his best game of the season. He passed for a touchdown, ran in two more and continually made plays to keep his team in the game.
(3) Chaminade (7-1) – The Eagles started slow, but came on strong in the end and beat St. Francis, 31-13. It was the second loss in a row for St. Francis, winner of its first six games. Chaminade has won five games in a row, including its first three Mission League games.
(5) St. Bonaventure (7-1) – Running backs Shaun Wick and Zack Green combined for four touchdowns and 256 rushing yards in a 50-8 win over Thousand Oaks. Any chance St. Bonaventure looks past Calabasas in preparation for Westlake in two weeks? See Westlake above.
(6) Oaks Christian (6-2) – The Lions easily disposed of Simi Valley, 38-7. The Oaks Christian defense forced and recovered four fumbles, returning one for a touchdown. Oaks Christian racked up 242 rushing yards led by Jordan Payton's 80-yard reverse for a touchdown. Chris Davis led the Lions with 65 yards on six carries.
October, 29, 2011
10/29/11
12:16
AM PT
By
Sean Ceglinsky
| ESPNLosAngeles.com


MISSION HILLS -- When Devon Dunn plays well, so does Alemany. And on Friday night, the junior quarterback played about as well as he has all season.

Dunn completed 18-of-25 passes for 259 yards with a touchdown. Wait, there's more. He also carried the ball 14 times and gained 75 yards on the ground with another two scores. The end result: A 30-28 Serra League victory over visiting Encino Crespi.

"How Devon goes is how we go, most times,'' Warriors coach Dean Herrington said. "He played some darned near perfect football for us tonight. He is getting better and better every week. I think that bodes well for this team the rest of the season.

It was an important win for the Warriors (6-2, 2-0), No. 13 in the ESPNLosAngeles.com rankings. They remain in the hunt for the league title with two games left in regular season. Crespi (7-2, 1-2), No. 18 in most recent poll, could be in trouble.

"This was big, Crespi is our rival, we played our buts off, gave it 150 percent,'' Dunn said. "There was no way we were going to lose at home.''

Following a penalty in the fourth quarter, John Sanchez booted a 41-yard field goal to give Alemany a 30-28 lead with 7:37 remaining in the game.

Chris Harper made a diving catch, a 37-yarder, to move the ball into Alemany territory. On the next play, in the wildcat formation, Mike Davison took the snap and scored on a 27-yard run to give Crespi a 28-27 lead with 1:10 left in the third quarter.


October, 21, 2011
10/21/11
11:01
PM PT
By
Sean Ceglinsky
| ESPNLosAngeles.com
ENCINO -- Rio Ruiz is known as a baseball player, first and foremost. More than a few scouts project him as a first-round draft pick in the 2012 MLB Draft.

Friday night, however, the senior from La Puente Bishop Amat played the part of football player. And then some. Ruiz completed 19-of-25 passes for 236 yards and pair of touchdowns to guide the visiting Lancers to a 28-14 Serra League victory over Crespi.

"Every week, this is what we get from Rio, he's a gamer,'' Bishop Amat coach Steve Hagerty said. "We know baseball is his first priority, we have no problems with that. We're just happy to have him around during football season. We'll go as far as he takes us.''

That was apparent from start to finish against the Celts (6-2, 1-1), no. 14 in the ESPNLosAngeles.com rankings. Ruiz was on point for the No. 14 Lancers (6-2, 1-1).

"Baseball is my first love, but I'm a competitor, that's why I play football,'' Ruiz said. "Tonight, I would not have been able to do anything without my offensive line. They rewarded me with time, I rewarded them with touchdowns. Things worked out good for all us.''

The fact the Celts had four turnovers didn't help their cause.

Crespi's Corey Peoples suffered what appeared to be a stinger at the 5:49 mark of the fourth quarter. A 30-minute delay followed because of the injury. He had use of his lower extremities, but was taken in an ambulance to a nearby hospital as a precautionary measure.

Once play resumed, Bishop Amat scored again. Jalen Moore took off on an 18-yard touchdown run to extend the advantage to 28-14 with 5:14 remaining in the game.

When all was said and done, Moore had 157 total offensive yards.


October, 15, 2011
10/15/11
12:34
AM PT
By
Tim Haddock
| ESPNLosAngeles.com


ENCINO -- An hour after the football game between Encino Crespi and Sherman Oaks Notre Dame, Celts coach Jon Mack was asked to sum up his team's performance.

"I still haven't recovered," Mack said.

The Crespi players gave their coach and their fans several heart-stopping moments in their 28-26 win over Notre Dame in the Serra League opener for both teams Friday night.

Crespi scored touchdowns on a kickoff return and a blocked field-goal attempt. Notre Dame returned two interceptions for touchdowns and scored 17 unanswered points in the second quarter.

In the end though, Crespi came up with three huge plays on special teams and escaped with a narrow victory over its Serra League and San Fernando Valley rival.

"Special teams helped keep us alive in the first half," Mack said. "We found a way in the end."

Crespi's Nate Walker returned the opening kickoff 99 yards for a touchdown and gave the Celts an early 7-0 lead.

But Notre Dame battled back scoring two touchdowns in the last four minutes of the second quarter. Sam Robinson caught a five-yard touchdown pass from Kelly Hilinski to tie the score, 7-7, with 3:58 to play in the first half.

Kevin Carrasco gave Notre Dame a 10-point lead when he intercepted a pass from Crespi quarterback Cody Cordell and returned in 30 yards for a touchdown with 1:16 left in the first half.


October, 12, 2011
10/12/11
3:51
PM PT
By
Tim Haddock
| ESPNLosAngeles.com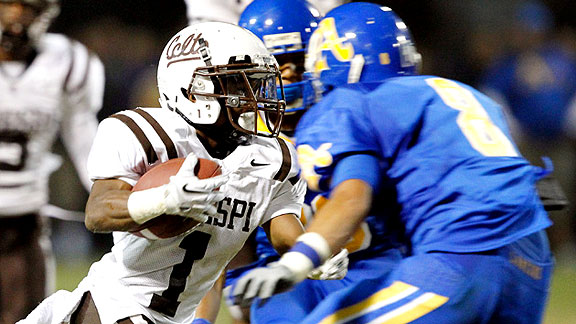 Alex Gallardo for ESPNLosAngeles.comCrespi's Mike Davidson is one of several players Notre Dame will need to contain in their Serra League opener Friday.
Sherman Oaks Notre Dame coach
Kevin Rooney
used an odd word choice to describe his team's game against Crespi of Encino on Friday night.
The two teams open Serra League play with championship aspirations. All five teams in the Serra League appear in the ESPNLA top-25 prep football rankings. Rooney takes his No. 24 Notre Dame team on the road to play No. 16 Crespi and said it will be a "fun" way to open Serra League play.
"In our league, every game is critical," Rooney said. "Crespi is a top team and our rival. It will be a tremendous challenge. It's kind of fun it starts this way. It's critical that each team wins every game they can."
Notre Dame (4-1) lost its first game of the season to Chaminade, 36-32, last week. The Knights erased an 18-point, first-half deficit and took an 11-point lead in the fourth quarter. But Chaminade scored 14 points in the final two minutes to win it.
The winning drive started when Chaminade recovered an onside kick. Running back
Terrell Newby
scored the winning touchdown with 15 seconds left.
"It was a tough loss," Rooney said. "There were a lot of good things we did in the game. We're past that and getting ready for Crespi."
Notre Dame running back
Khalfani Muhammad
has emerged as one of the top running backs in the San Fernando Valley. He rushed for 84 yards and scored two touchdowns against Chaminade.
Quarterback
Kelly Hilinski
threw for 225 yards, completing 14 of 18 passes, and scored on a one-yard run in the second half.
Crespi (5-1) is coming off a 56-7 drubbing of Woodland Hills Taft. Quarterback
Cody Cordell
threw for three touchdowns and 155 yards in limited action. Receiver
Christopher Harper
caught two touchdown passes and finished the game with three catches for 64 yards.
Crespi won its first four games of the season and had outscored its opponents, 194-34. The Celts' only loss came against Vista Murrieta, 38-20, two weeks ago.
"You always learn more from a loss. I feel they outprepared us," Crespi coach Jon Mack said. "The boys are playing well. We're pleased how the season is going."
Notre Dame went 2-8 and won only one league game last year. The team has made quite a turnaround, winning its first five games of the 2011 season and entering Serra League play as a championship contender.
"They're a year older," Rooney said. "Most of them played last year. Experience helps keep them on the right path. We're trying to learn from everything that has happened."
Here's a look at some of the other top games in the L.A. North:
September, 30, 2011
9/30/11
10:35
PM PT
By
Sean Ceglinsky
| ESPNLosAngeles.com
ENCINO -- The unthinkable nearly happened to Vista Murrieta in the first quarter of Friday's game at Encino Crespi. The Broncos star player, Su'a Cravens, went down with what appeared to be a sternum injury. Turned out, it was only a scare.

The highly-touted junior returned in the second quarter. Returned in a big way, mind you. Cravens had an interception and scored a pair of touchdowns, one rushing and the other receiving, to guide Vista Murrieta to an impressive 38-20 victory.

"I wasn't coming out, no way, this one was too big of a game,'' Cravens said. "I got popped pretty good and the hit stung. I played through the pain though. If the coaches told me that I couldn't have returned, I would've jumped in the lineup somehow.''

Indeed it was a big game. Crespi (4-1) entered the showdown as the odd-on favorite with a No. 4 spot in the ESPNLA.com rankings.

The Broncos (4-0) were not considered a slouch. They boasted a No. 17 ranking in the ESPNLA poll and will likely move up next week.


September, 28, 2011
9/28/11
4:33
PM PT
By
Dan Arritt
| ESPNLosAngeles.com
Grudge week arrives with a couple of heavy-hitting cross-section matchups and one long-awaited Big VIII League opener. The
Calpreps.com
computer is also looking to rebound from another tough loss last week to the human brain from ESPNLA.
A-Game
(ESPNLA top 25 rankings included)
No. 15 Loyola (4-0) at No. 21 Upland (4-0), Friday (7 p.m.)
– Upland has been a nightmare for defensive coordinators this season, averaging 46 points a game. The Highlanders exploded for 54 last week against Norco, led by by
USC-bound
inside linebacker
Scott Starr
. Upland will need to be even better this week. Against four quality offenses, Loyola is giving up an average of just under nine points a game. Keep an eye on
Chaz Anderson
of Loyola, a wide receiver/defensive back who has
committed
to Boise State. He caught two touchdown passes last week in a
28-14
victory against St. John Bosco and helped limit Bosco's talented passing game, led by
Cal-bound
wide receiver
Bryce Treggs
, to just 121 yards through the air.
Cameron Walker
also stepped into a two-way role last week following the ankle injury to starting running back
Wyatt Bradford
. Walker responded with 76 yards rushing and a touchdown and helped form the blanket in the secondary. The Cubs will be up against another Pac 12-bound receiver in
Kenny Lawler
(
Arizona State
), but they'll also need to keep an eye on shifty running back
Donta Abron
, who's plenty capable of inflicting damage of his own.
Calpreps.com computerized projection: Loyola 35, Upland 28
ESPNLA: Loyola 31, Upland 30
B-List
No. 17 Vista Murrieta (3-0) at No. 4 Crespi (4-0), Friday (7 p.m.)
– Vista Murrieta was coasting along this time last year, then the Broncos hosted Crespi and their defense suddenly turned into a wet paper bag and they lost, 45-31. Now it's Vista Murrieta's turn to make the long commute to Encino and face a team with 15 returning starters and a couple of high-profile transfers, including quarterback
Cody Cordell
(Oaks Christian). Crespi's most heavily recruited player is offensive lineman
Jordan Simmons
, ranked as the
No. 5 guard
in the nation by ESPN. He's part of an offensive line that averages 280 pounds. They'll get a nice push from Vista Murrieta's defensive front, led by
Washington-commit
Jeremy Castro
, who had 11 sacks in 14 games last season and two so far this year.
Calpreps.com: Vista Murrieta, 24, Crespi 21
ESPNLA: Crespi 27, Vista Murrieta 17
Norco (2-1) at Roosevelt (1-2), Friday (7 p.m.)
– Get ready for the longest-awaited payback in the Big VIII this season. Roosevelt toppled the Cougars,
24-21
, on Norco's home field last season, stopping them on fourth down with about 4 1/2 minutes remaining and putting a huge dent in their league title hopes. Roosevelt quarterback
Aaron Crone
threw for a league-leading 23 touchdown passes as a junior but hasn't played this season because of an injured throwing shoulder suffered in a preseason game. If he's still not ready to go, it could be a long night for the Mustangs.
Calpreps.com: Norco 35, Roosevelt 22
ESPNLA: Norco 42, Roosevelt 21
No. 23 Redlands East Valley (3-0) at Chino Hills (2-2), Friday (7 p.m.)
– Redlands East Valley might be looking to exact a bit of revenge as well. A year ago against Chino Hills, the Wildcats were dismal on offense, managing only one field goal in a
14-3
loss. The biggest hope for Chino Hills is that REV gets caught looking ahead to next week's game against No. 3 Mission Viejo. Chino Hills can move the ball with one of the I.E.'s top junior receivers in
Jack Austin
, and boasts a defense that held Pomona running back
Sir Darius Yarbrough
, a 600-yard rusher heading into the game, to 12 yards last week in a 37-6 victory. REV had a bit of a wakeup call the same night against Dorsey, hanging on for a 14-12 victory. The Wildcats dropped 10 passes in the last two weeks and can't afford those mistakes if they want to avoid getting embarrassed by Chino Hills again.
Calpreps.com: Redlands East Valley 26, Chino Hills 10
ESPNLA: Chino Hills 14, Redlands East Valley 13
Last week's picks:
Calpreps.com: 4-1.
ESPNLA: 5-0.
Overall:
Calpreps.com: 6-3.
ESPNLA: 8-1.
September, 21, 2011
9/21/11
7:08
PM PT
By
Tim Haddock
| ESPNLosAngeles.com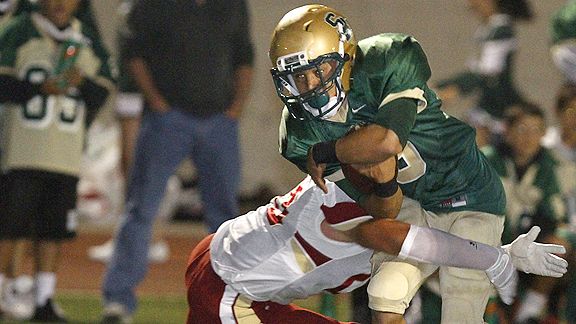 John Lazar/Special to ESPNLosAngeles.comShaun Wick was a key component for St. Bonaventure in 2010 and now he's back for his senior year.
Two days before the biggest game of the year for Oaks Christian, coach
Bill Redell
is still evaluating who he will start at quarterback against St. Bonaventure on Friday night.
St. Bonaventure (2-0) comes in as the No. 5-ranked team in the ESPN Los Angeles prep football rankings with an impressive win over Corona Centennial to open the season.
Oaks Christian (1-1) is the No. 8 team according to ESPNLA and the reigning CIF Southern Section Northern Division champion. The winner of this game will have the early edge for the Marmonte League title.
Luke Falk
started the season opener for Oaks Christian against Bellevue (Wash.) and passed for 235 yards and a touchdown in a 31-21 loss.
Oaks Christian sophomore
Brandon Dawkins
played well against Agoura, going 6-for-6 passing for 121 yards and three touchdowns, in a 50-11 blowout in the league opener last week.
Falk started the game against Agoura but was replaced by Dawkins in the first quarter. Dawkins engineered four touchdown drives in a row to give the Lions a 29-3 lead in the second quarter.
"Both are very talented," Redell said. "It's a tough decision."
St. Bonaventure coach
Todd Therrien
, meanwhile, is using last year's 33-32 overtime loss to Oaks Christian as motivation to prepare his team for Friday night's game.
St. Bonaventure had a 19-0 lead in the third quarter before Oaks Christian rallied back and scored two touchdowns in the final 1:30 to tie the game and send it into overtime.
"We made a crazy amount of mistakes," Therrien said. "When you get someone down, you need to step on their throat and pull their heart out. We didn't do that last year."
Redell said of all the games he has won over the years, last year's win over St. Bonaventure is one that his team didn't deserve.
"(St. Bonaventure) gave it away," Redell said. "They dropped three or four interceptions. They should've won the football game. I told Todd after the game that I should have lost. I'm sure Todd is using that as motivation. I'm using it."
The game is scheduled to start at 7 p.m. at Oaks Christian High School.
Here's a look at some of the other top games in the LA North:
September, 19, 2011
9/19/11
4:18
PM PT
Alemany and Mater Dei were the only ranked teams to lose last week, so there aren't any newcomers to the latest ESPN Los Angeles prep football 25. There are six matchups between ranked teams this week, making for an intriguing slate of games as nonleague action winds down across the Southland. Here are our rankings heading into Week 3:

1. Servite (3-0)
Cody Pittman had 230 passing yards -- 147 going to favorite target Sam Hunt. But not all went well for the Friars, who will be without running back Charlie Etiaki (collarbone) for over a month. Last week: Beat La Habra, 24-16. Next: vs. Edison at Huntington Beach HS, Fri., 7 p.m.

2. Long Beach Poly (3-0)
The crowd's exhale at Veterans Stadium was clearly audible after the Jackrabbits survived a late charge by a City Section favorite Friday night. Coach Raul Lara had his defense to thank. Last week: Beat Narbonne, 19-16. Next: at Mission Viejo, Fri., 7:30 p.m.

3. Santa Margarita (3-0)
Ryan Wolpin carried 20 times for 133 yards and scored four touchdowns, and the Eagles picked off four passes to beat a neighboring school for the second straight week. Last week: Beat Trabuco Hills, 35-14. Next: at Carson, Fri., 7 p.m.

4. Mission Viejo (2-1)
The Diablos were obviously glad to be back in town following their humbling trip to New Jersey. Alex Bridgford, Jahleel Pinner and D.J. Wilson got the explosive offense back on track. Last week: Beat La Quinta, 47-21. Next: vs. Long Beach Poly, Fri., 7:30 p.m.

5. St. Bonaventure (2-0)
Give the Seraphs credit for not lollygagging through their Marmonte League opener. They could have easily overlooked Royal, instead setting their sights on this week's highly anticipated game. Last week: Beat Royal, 59-0. Next: at Oaks Christian, Fri., 7 p.m.

6. Corona Centennial (1-1)
There's no questioning the Huskies' heart, that's for sure. Hayden Gavett led a late charge to erase two-touchdown deficit, helping Centennial avoid what would have been a demoralizing 0-2 start. Last week: Beat Mater Dei, 28-20. Next: vs. Chaparral, Fri., 7 p.m.

7. Crespi (3-0)
Serra League coaches might have been jumping for joy after the graduation of Kenny Stenhouse, but Cody Cordell might cause some headaches this fall. The junior threw for five touchdowns in Fresno. Last week: Beat Clovis West, 42-28. Next: at Palisades, Fri., 7 p.m.

8. Oaks Christian (1-1)
Sophomore Brandon Dawkins threw the ball only six times in his varsity debut but half went for scores. Ishmael Adams added 121 rushing yards to help the Lions bounce back from their season-opening loss. Last week: Beat Agoura, 50-11. Next: vs. St. Bonaventure, Fri., 7 p.m.

9. St. John Bosco (3-0)
As expected, the Braves are spreading the ball around on offense, averaging nearly 38 points through three games. Cal-bound Bryce Treggs either beats defenses by himself or serves as a decoy. Last week: Beat Santa Fe, 51-0. Next: vs. Loyola at L.A. Valley College, Fri., 7 p.m.

10. Alemany (2-1)
In the biggest shocker so far, the Warriors blew a 14-point lead on the road Friday and lost, snapping their 15-game regular-season winning streak. The schedule doesn't get easier, either. Last week: Lost to J.W. North, 36-35. Next: at Chaminade, Fri., 7:30 p.m.


September, 19, 2011
9/19/11
3:42
PM PT
By
Tim Haddock
| ESPNLosAngeles.com
Alemany blew a 14-point lead in the second half and lost a tough road game to J.W. North in Riverside. As a result, the Warriors dropped a couple of spots in the area top 10 rankings.
Westlake and Crespi posted impressive wins and moved up a couple of notches.
Thousand Oaks pulled out a thrilling, 27-24, last-second win over Moorpark and knocked the Musketeers out of the top 10.
Quartz Hill is barely hanging on to a top-10 spot after an embarrassing, 35-7, loss on the road to Bakersfield.
Here's a look at the LA North top 10:
(1) Oaks Christian (1-1) – The Lions won their first game in a big way. Oaks Christian beat Agoura, 50-11, in the Marmonte League opener. Running back Ishmael Adams rushed for 121 yards and two touchdowns.
(2) St. Bonaventure (2-0) – The Seraphs shut out Royal, 59-0, behind quarterback Marc Evans. He threw for 330 yards and four touchdowns in the Marmonte League opener for both teams. Next up for St. Bonaventure is Oaks Christian on Friday night. Oaks Christian beat St. Bonaventure, 33-32, last season.
(4) Crespi (2-0) – The Celts traveled to Fresno for a tough game against Clovis West and won, 42-28. Quarterback Cody Cordell threw five touchdown passes for Crespi.
(5) Westlake (2-0) – The Warriors shut out Calabasas, 63-0, in their Marmonte League opener. Justin Moore threw three touchdown passes and ran for a fourth touchdown.
(3) Alemany (2-1) – The Warriors lost for the first time this season, a surprising, 36-35, setback to J.W. North in Riverside. Alemany had its 15-game regular-season winning streak snapped.
(6) Chaminade (2-0) – The Eagles beat Valencia, 14-10, but had to rally with two touchdowns in the second half to do it. Terrell Newby scored both touchdowns but was held to 73 yards in 24 carries.
(7) Canyon (2-0) – The Cowboys showed no mercy against Knight in a 56-7 win. Quarterback Joanathan Jerozal threw four touchdown passes, three to receiver Drew Wolitarsky.
(10) Sheman Oaks Notre Dame (3-0) – The Knights had little trouble against Woodland Hills Taft, 35-0. Running back Khalfani Muhammad rushed for 128 yards and a touchdown.
(NR) Thousand Oaks (2-0) – Jamie Sutcliffe hit a 40-yard field goal with no time left in regulation to give Thousand Oaks a 27-24 win over Moorpark. Sutcliffe was 2-for-5 in field-goal attempts, but hit the game-winner.
(9) Quartz Hill (1-1) – The Rebels lost, 35-7, to Bakersfield. Quartz Hill gave up three second-half touchdowns. Osirius Burke scored the only touchdown for Quartz Hill in the second quarter.
September, 2, 2011
9/02/11
11:53
PM PT


COMPTON -- Crespi finally got redemption Friday night ... and then some.

A year after stumbling out of the gate by losing their opener to Dominguez, the Celts made sure a repeat wasn't in store, pummeling the Dons, 48-6, behind a 34-point first half. Officials used a running clock for the fourth quarter and both teams emptied their benches.

"It was great coming into their house and beating them by more than 40 points," Crespi senior Mike Davison said. "Last year they came out with a lucky win but we came here, executed and came out victorious."

Davison, a speedy, shifty, 5-foot-2 receiver, scored two touchdowns and probably caused more headaches. He had a 21-yard scoring run on an end-around hand-off that made it 14-0, then reached the end zone in the third quarter following a dizzying sequence from seven yards out that left Dominguez defenders catching their breath.

"I was just thinking touchdown," Davison said.

Fellow receiver Chris Harper had 140 yards receiving and two touchdowns, while tailback Terry Williams ran for 64 yards and a score prior to sitting out most of the second half.

"Any time you can come back and beat a team that beat you last year it's always a good thing," Harper said.


August, 26, 2011
8/26/11
1:25
PM PT
By
Sean Ceglinsky
| ESPNLosAngeles.com
Encino Crespi lost several key players from a season ago. Then again, the Celts are no different from any other team in the Southland. Perhaps the thing separating them from other programs is the fact this group returns a solid foundation as coach
Jon Mack
enters his second year at the helm.
Senior
Chris Harper
takes over as the No. 1 option at receiver in the high-powered Crespi offense following the departure of
Devin Lucien
, who is playing at UCLA. Fellow wideout
Mike Davison
, also an upperclassman, figures to assume a larger role as well.
Here's a closer look at the Celts:
Team:
Encino Crespi.
Coach:
Jon Mack, second season.
2010 Record:
8-4, lost in quarterfinals of CIF Southern Section Pac-5 Division playoffs.
Returning starters:
15 total. Eight on offense. Seven on defense.
Key players on offense:
OL Jordan Simmons, WR Chris Harper, WR Mike Davison, TE Trevon Callahan, TE Jack Vonarb, RB Terry Williams.
Key players on defense:
DB Noah Ciccel, DB Nathan Walker, LB Sebastian Edwards, LB Corey Peoples, LB LJ Wilkerson, DL Khorey Gabriel, DL Sean Lomoto.
Difference maker:
Simmons, no question about it. The 6-foot-5, 325-pound senior is a superb pass-protector. He is is also a force in the rushing attack, agile enough to get out in space and make a clear path. Accordingly, Simmons is being recruited by most every powerhouse program in the country. He keeps Paul Rawate, Crespi's director of marketing and public relations, busy week in and week out with phone calls from prospective schools. Where Simmons ends up is anyone's guess. One thing is certain: He will be playing on Saturdays in the very near future.
Newcomers:
OL Jacob Speer (Granada Hills transfer), OL Colin Prestesater (Glendora transfer), OL Wes Hewitt (Humbolt transfer), QB Cody Cordell (Oaks Christian transfer), LB Sklyer Stone (Westlake transfer), QB Brad Kaaya, WR Jabarian Blackwell.
Not to be missed:
at Mission Hills Alemany, Friday, Oct. 28. The host Warriors figure to be ranked among the top 10 teams in the ESPNLosAngeles.com poll at this stage of the season. Crespi might be as well. This game should be for all the marbles, a showdown with Serra League title implications. Clear your schedules now, this one could be a classic.
Coach's comment:
"What a difference a year makes. This time last year we were struggling to teach the language, the fundamentals and the techniques of the game. Now, we are working on perfecting things. I am very pleased with the attitude and effort of this team and cannot wait for fall ball to start."
Final analysis:
Once the Celts determine who the quarterback will be -- Cordell is currently leading Kaaya in the race for the starter's role -- they could possibly be on their way to big things. Harper, Davison and Callahan are reliable targets. And with Simmons in the mix, watch out. Crespi will likely compete for a league title and appears poised for a deep postseason run.
Sean Ceglinsky covers preps for ESPNLosAngeles.com. Follow him on
Twitter
.