Los Angeles Preps:

Cody Paul
October, 13, 2011
10/13/11
11:54
PM PT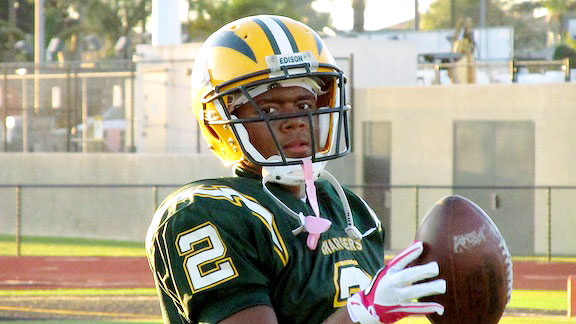 Blair Angulo/ESPNLosAngeles.comEdison senior Sedric Hill had a 100-yard interception return for a TD that gave Edison a 7-0 lead in the second quarter.
HUNTINGTON BEACH -- It wasn't complete self-destruction because, well, time ran out.
The Edison Chargers survived a hectic final minute Friday night, escaping Sheue Field with a 10-7 win over Los Alamitos in the Sunset League opener. Edison nearly lost a fumble, had a punt blocked and was flagged for roughing the kicker on the potential game-tying field goal -- all with under a minute remaining.
Los Alamitos got new life after the missed 37-yard field goal and, with 13 seconds left, had the ball at the Chargers 10. The Griffins, without timeouts, handed the ball off to shifty back
Cody Paul
on a draw up the middle. He was tackled at the five and the seconds ticked off, one by one. Appearing dazed, Los Alamitos didn't even line up for another play.
Afterward, Edison coach
Dave White
could joke about it.
"We tried to give it away," White said, grinning.
The win improved the Chargers' chances of taking back the Sunset League crown from defending champ Los Alamitos. Edison (4-2) avoided its third straight loss and second straight heartbreak.
"The finish was nerve-racking," said Edison quarterback
Chase Favreau
, who had 80 yards rushing on 16 carries.
With the rush attack working, Favreau was credited with only three pass attempts, which he was perfect on for 58 yards. Tailback
Elijah Herrera
added 80 yards on the ground but eight penalties slowed the offense at inopportune times.
Edison's touchdown came in the second quarter, courtesy of the defense. Los Alamitos quarterback
Dylan Lagarde
's lob to top target
Kyle Roberts
was picked off at the goal line by
Sedric Hill
.
"Once I caught the ball I had to run for my life," Hill said. "It was a big play."
Hill, with a convoy in front of him, returned the interception 100 yards for the score.
The Griffins (4-2) had their chances. They took the opening drive 64 yards to the Edison 16 but stalled, failing to convert on a fake field goal pass. They took the ball 75 yards on their second drive but turned the ball over on downs. Really, it could have been far worse for Los Al had Edison taken care of the football. The Chargers ran it 15 consecutive times on their first possession, and it appeared as if the strategy might work. They were a yard away from scoring when Herrera coughed up his first-down carry and the Griffins recovered. Favreau lost a fumble on the very next drive.
Paul, who finished with 145 yards rushing in 28 carries, capped a 68-yard drive with a five-yard touchdown to tie it at 7-7 late in the third quarter. But the Chargers regained the lead, 10-7, on a 32-yard field goal by
Aleksander Torgersen
, setting up the craziness that was the fourth quarter.
"We had lost a lot of confidence," White said. "We needed this one badly."
October, 25, 2010
10/25/10
5:36
PM PT
By
Martin Henderson
| ESPNLosAngeles.com
1. Servite trailed, 14-12, after St. John Bosco scored with 1:42 left in the second quarter. It's the deepest into a game that the Friars have trailed all season, though they drove 80 yards and retook the lead by halftime. They fell behind JSerra a week earlier, 7-0, after fumbling the opening kickoff at the 22. Are the Friars falling off their game? Not hardly. Bosco is that good, and whether the Braves make the playoffs or not – only three teams from the Trinity League will – they have made huge strides under first-year coach
Jason Negro
.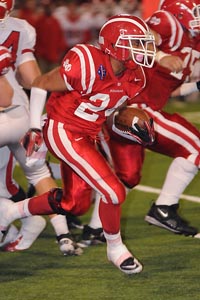 Courtesy of Lou Colazzo
Corbin Anderson has added another dimension to Mater Dei's offense.
A week earlier they led Mater Dei in the fourth quarter and were on their way to a potential game-winning touchdown when an errant snap doomed them. As for Servite,
Malik Felton
had the kind of breakout game I had expected much earlier. Playing the same position as
Chris Nicholls
, a central cog in last season's Pac-5 and State Division II Bowl championship team, Felton put up Nicholls-like numbers: He rushed 24 times for 199 yards and two 11-yard touchdowns in a 32-24 victory over St. John Bosco. Expect Servite to get even better over the next three weeks, and with Mater Dei and Santa Margarita still ahead of them, the Friars will need to be.
2.
Corbin Anderson
played for the first time this season for Mater Dei, and he definitely makes the Monarchs better. He rushed for 113 yards in 18 carries in his debut, a 28-14 victory over an Orange Lutheran team that's a lot tougher than most people think. Coupled with fullback
Todd Hunt
, the emergence of
Sedric Hill
as an excellent complementary receiver to
Victor Blackwell
, and ever-present QB
Max Wittek
, it's going to make for some long nights for Servite leading up to their game on Friday at Angel Stadium.