Los Angeles Preps:

Coley Candaele
March, 13, 2012
3/13/12
4:28
PM PT
By
Sean Ceglinsky
| ESPNLosAngeles.com
LOS ANGELES -- The football season ended for Su'a Cravens from Murrieta (Calif.) Vista Murrieta in early December. That, however, does not mean the gridiron goings on for the highly-touted 2013 prospect have come to a complete standstill.

The buzz is just getting started, in fact.

The recruiting process had not subsided for Cravens since the beginning of the new calendar year as Division I colleges from all over the country remain in constant contact with the 6-foot-1, 205-plus pound junior safety who has more than 25 offers.

"In some cases the hype can be bad, but overall, I think Su'a has a good problem on his hands with the whole recruiting process,'' Vista Murrieta coach Coley Candaele said. "There are times when he has to turn his phone off because of all the calls he receives on a weekly and daily basis. When it comes to talking to people, he's on a strict schedule now.''

Powerhouse programs such as Alabama, Florida, Notre Dame, Michigan, Ohio State and Oklahoma are among those interested in his services. To somewhat of a lesser extent, Arkansas, Clemson, Nebraska and Wisconsin are in the hunt for a Cravens' pledge.

A bit closer to home, seemingly every Pac-12 Conference school around has put a scholarship offer on the table for him. Nearby UCLA and USC would like nothing more than for Cravens to offer up an all-important, yet elusive to this point commitment.

"I don't have any top teams right now, there is no team ahead of any other one,'' Cravens said. "Really, I'm not worried about making a decision soon.''


December, 19, 2011
12/19/11
11:34
AM PT
By
Dan Arritt
| ESPNLosAngeles.com
With the season officially over for Inland Empire football teams, it proved to be a memorable year with the parity that enveloped the area this season and a number of top players are expected back again next year. Here's a look at the top players in the I.E. from the 2011 season.

MVP

Su'a Cravens, Vista Murrieta, Jr., 6-2, 205 – Cravens was a game-changer on both sides of the ball for the Broncos and a big reason for their first Southern Section title this season. He scored touchdowns when the offense needed them most, and on defense took turns making plays in both the backfield and secondary. Cravens touched the ball 95 times on offense, averaged 10.5 yards a touch and scored 19 touchdowns. On defense, he had 11 sacks and three interceptions, one for a game-clinching touchdown against Chaparral.

OFFENSIVE MVP

Romello Goodman, Corona Centennial, Sr., 5-5, 165 – Goodman took advantage of the talent around him and rushed for 2,758 yards and a state-leading 44 touchdowns. He was at his best in the postseason, rushing for 1,170 yards and 17 touchdowns in four games.

DEFENSIVE MVP

Christian Powell, Upland, Sr., 5-10, 240 – Powell was a force on both sides of the ball but he was especially dangerous on defense, recording an Inland Division-leading 15 sacks. Nebraska, Texas A&M and Washington are among the colleges in pursuit of his services.

SPECIAL TEAMS MVP

Tyler Rausa, Vista Murrieta, Sr., 5-8, 170 – Rausa booted a Southern Section-leading 19 field goals in 14 games, an Inland Empire record for a single season. The Broncos were setting Rausa up for a game-winning kick in the Inland Division final against Centennial last week, but instead scored on 30-yard run in the 35-28 victory.

COACH OF THE YEAR

Coley Candaele, Vista Murrieta – Coming into the season, it didn't appear Candaele had much in the cupboard on offense, but he found ways to move the chains and get it into the end zone, most notably giving Cravens a chance to run and catch the ball. Junior quarterback Nicholas Stevens also appeared to gain comfort with Candaele's system as the season rolled along and, like Cravens, will be back next season for another run at the section title.


November, 15, 2011
11/15/11
5:20
PM PT
By
Dan Arritt
| ESPNLosAngeles.com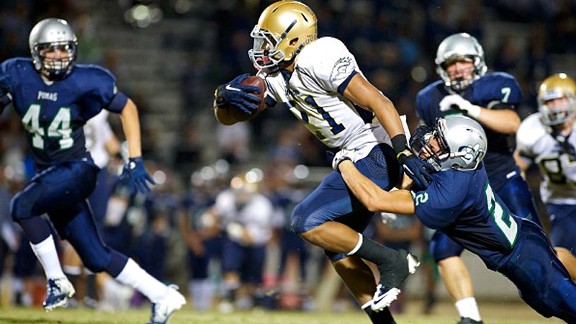 Vista Murrieta High SchoolSu'a Cravens has an advantage in the recruiting process by coming from a family with so many good athletes.
MURRIETA -- USC wants him as a halfback, Oklahoma hopes to slot him at linebacker or strong safety. Notre Dame, UCLA, Stanford or Boise State? They might feel lucky just to lure
Su'a Cravens
on campus for a visit.
These are just a few of the options for the nation's hottest recruit in the class of 2013.
Cravens, a 6-foot-2, 205-pound junior for Vista Murrieta High School in Southwest Riverside County, already claims 17 scholarship offers from major colleges across the country.
[+] Enlarge
Vista Murrieta High SchoolSu'a Cravens is probably more known for his defense, but he has shown this season what he can do on offense too.
Over the next 12 to 15 months, likely right up until National Signing Day, Cravens will certainly hear from a lot more. Weekly phone calls, in-house visits, on-campus meet-and greets. A lucky few might even earn one of those five official visits.
Talk about a lot to digest for a kid who won't turn 17 until next summer.
Fortunately for Cravens, who will lead the Broncos into the first round of the SS-Inland Division playoffs Friday night against visiting La Verne Damien, there's no shortage of trusted advice.
His family tree is filled with athletes who've been through the recruiting process, listened to the promises and witnessed how scenarios can quickly change once a college career begins.
Look no further than his grandfather,
Jack Cravens
, who was convinced to turn down a scholarship offer to play for legendary UCLA basketball coach
John Wooden
.
"I have a lot of helpful information around me," Su'a Cravens said. "And I'm always listening."
His two closest advisers are his father,
Kevin Cravens
, and older brother,
Siaki
, a junior defensive lineman for the University of Hawaii.
Siaki's recruiting experience began when he was one of the top tight ends in the Inland Empire during his senior season at Temecula Valley High in 2007. One of the schools that showed interest was Utah, coached by
Kyle Whittingham
, whose sister is married to Kevin Cravens' younger brother,
Ryan
.
Siaki committed to the Utes as a slot receiver, but the coaching staff switched him to middle linebacker the first day of practice.
"For a kid who had never played defense before, that was a total shock to him," Kevin Cravens said.
September, 30, 2011
9/30/11
10:35
PM PT
By
Sean Ceglinsky
| ESPNLosAngeles.com
ENCINO -- The unthinkable nearly happened to Vista Murrieta in the first quarter of Friday's game at Encino Crespi. The Broncos star player, Su'a Cravens, went down with what appeared to be a sternum injury. Turned out, it was only a scare.

The highly-touted junior returned in the second quarter. Returned in a big way, mind you. Cravens had an interception and scored a pair of touchdowns, one rushing and the other receiving, to guide Vista Murrieta to an impressive 38-20 victory.

"I wasn't coming out, no way, this one was too big of a game,'' Cravens said. "I got popped pretty good and the hit stung. I played through the pain though. If the coaches told me that I couldn't have returned, I would've jumped in the lineup somehow.''

Indeed it was a big game. Crespi (4-1) entered the showdown as the odd-on favorite with a No. 4 spot in the ESPNLA.com rankings.

The Broncos (4-0) were not considered a slouch. They boasted a No. 17 ranking in the ESPNLA poll and will likely move up next week.


September, 19, 2011
9/19/11
4:18
PM PT
Alemany and Mater Dei were the only ranked teams to lose last week, so there aren't any newcomers to the latest ESPN Los Angeles prep football 25. There are six matchups between ranked teams this week, making for an intriguing slate of games as nonleague action winds down across the Southland. Here are our rankings heading into Week 3:

1. Servite (3-0)
Cody Pittman had 230 passing yards -- 147 going to favorite target Sam Hunt. But not all went well for the Friars, who will be without running back Charlie Etiaki (collarbone) for over a month. Last week: Beat La Habra, 24-16. Next: vs. Edison at Huntington Beach HS, Fri., 7 p.m.

2. Long Beach Poly (3-0)
The crowd's exhale at Veterans Stadium was clearly audible after the Jackrabbits survived a late charge by a City Section favorite Friday night. Coach Raul Lara had his defense to thank. Last week: Beat Narbonne, 19-16. Next: at Mission Viejo, Fri., 7:30 p.m.

3. Santa Margarita (3-0)
Ryan Wolpin carried 20 times for 133 yards and scored four touchdowns, and the Eagles picked off four passes to beat a neighboring school for the second straight week. Last week: Beat Trabuco Hills, 35-14. Next: at Carson, Fri., 7 p.m.

4. Mission Viejo (2-1)
The Diablos were obviously glad to be back in town following their humbling trip to New Jersey. Alex Bridgford, Jahleel Pinner and D.J. Wilson got the explosive offense back on track. Last week: Beat La Quinta, 47-21. Next: vs. Long Beach Poly, Fri., 7:30 p.m.

5. St. Bonaventure (2-0)
Give the Seraphs credit for not lollygagging through their Marmonte League opener. They could have easily overlooked Royal, instead setting their sights on this week's highly anticipated game. Last week: Beat Royal, 59-0. Next: at Oaks Christian, Fri., 7 p.m.

6. Corona Centennial (1-1)
There's no questioning the Huskies' heart, that's for sure. Hayden Gavett led a late charge to erase two-touchdown deficit, helping Centennial avoid what would have been a demoralizing 0-2 start. Last week: Beat Mater Dei, 28-20. Next: vs. Chaparral, Fri., 7 p.m.

7. Crespi (3-0)
Serra League coaches might have been jumping for joy after the graduation of Kenny Stenhouse, but Cody Cordell might cause some headaches this fall. The junior threw for five touchdowns in Fresno. Last week: Beat Clovis West, 42-28. Next: at Palisades, Fri., 7 p.m.

8. Oaks Christian (1-1)
Sophomore Brandon Dawkins threw the ball only six times in his varsity debut but half went for scores. Ishmael Adams added 121 rushing yards to help the Lions bounce back from their season-opening loss. Last week: Beat Agoura, 50-11. Next: vs. St. Bonaventure, Fri., 7 p.m.

9. St. John Bosco (3-0)
As expected, the Braves are spreading the ball around on offense, averaging nearly 38 points through three games. Cal-bound Bryce Treggs either beats defenses by himself or serves as a decoy. Last week: Beat Santa Fe, 51-0. Next: vs. Loyola at L.A. Valley College, Fri., 7 p.m.

10. Alemany (2-1)
In the biggest shocker so far, the Warriors blew a 14-point lead on the road Friday and lost, snapping their 15-game regular-season winning streak. The schedule doesn't get easier, either. Last week: Lost to J.W. North, 36-35. Next: at Chaminade, Fri., 7:30 p.m.


August, 20, 2011
8/20/11
12:04
PM PT
By
Dan Arritt
| ESPNLosAngeles.com
Few teams in the Southland have put their imprint on a region as quickly as Vista Murrieta. The Broncos emerged as the class of Southwest Riverside County just three years after the school opened in the fall of 2003 and have remained the team to beat in the area.

Vista Murrieta has won 24 of its last 25 Southwestern League games, secured four outright league titles in the last five years and advanced to the Inland Division championship game the last two seasons. The Broncos feature another star-studded team this season, particularly on the defensive side of the ball.

Here's a closer look at the Broncos:

Team: Vista Murrieta.

Coach: Coley Candaele, ninth season.

2010 Record: 12-2, lost to Corona Centennial in the Inland Division final.

Returning starters: 13 total. Six on offense, seven on defense.

Key players on offense: OL Corey Whitaker, RB Aaron Piecukonis, WR Cody Piecukonis, K Tyler Rausa.

Key players on defense: SS Su'a Cravens, DL Jeremy Castro, LB Randy Perez, DB Darion Williams.

Difference maker: Cravens is expected to be one of the top recruits in the nation for the class of 2013. He plays a disruptive style of defense, similar to what Troy Polamalu provides for the Pittsburgh Steelers. The 6-foot-1, 205 pounder accounted for eight sacks last season, three caused fumbles and five fumble recoveries. He has already been offered athletic scholarships by about a dozen schools, including UCLA.

Newcomers: QB Austin Mowatt, WR Esteban Ortuno, LB Jason Gardner.

Not to be missed: at Chaparral, Oct. 14. One of these teams has won the Southwestern League title each of the last five seasons and this year should be no exception. Both teams have plenty of returning talent on defense but the difference might be at quarterback, Chaparral has a returning starter and the Broncos do not.

Coach's comment: "We have two new wide receivers and a new quarterback and how that's going to affect our output, I don't know yet. In the wonderful world of high school football, you're just one injury away from going from contender to a guy just struggling to get by."

Final analysis: With plenty of talent on the defensive side of the ball, the key to Vista Murrieta's success this season will be putting enough points on the board. The Broncos averaged 37.5 points a game last season, but with quarterback Derrick Brown now at Washington, they might have to survive with half that average. A good indication of where Vista Murrieta stands will come in Week 1, when the Broncos play a much-improved Etiwanda team at Ontario Colony High.