Los Angeles Preps:

Colorado
May, 9, 2012
5/09/12
7:30
PM PT
The receiver position was a loaded one last fall, with St. John Bosco's Bryce Treggs (Cal), Inglewood's Derrick Woods (Oklahoma), Oaks Christian's Jordan Payton (UCLA) and Lakewood's Darius Powe (Cal) leading the way.

Another deep class appears to be taking shape as we head into the summer, with Rancho Verde's Demorea Stringfellow, Alemany's Steven Mitchell, Santa Monica's Sebastian Larue and Oaks Christian's Francis Owusu pacing the group.

Lakewood's X'avier Shepherd might be close to joining the region's elite. He has scholarship offers from five Pac-12 schools -- UCLA, Utah, Arizona, Oregon State and Colorado -- as well as Fresno State.

Shepherd averaged over 15 yards per catch and hauled in six touchdowns last season despite sharing the ball with two seniors: Powe and Malik Gilmore (Oregon State).

"Both of them have had a very big impact on my game," Shepherd said. "They've given me a lot of information on the recruiting process and have never steered me wrong before, so I'm sure that everything will work out smoothly."
February, 1, 2012
2/01/12
7:24
PM PT
By
Sean Ceglinsky
| ESPNLosAngeles.com
The college destination of
Seth Jacobs
from Arroyo Grande was a hot topic on Wednesday morning and well into the afternoon, for that matter. The senior linebacker answered the lingering questions later in evening, however, when he picked Oklahoma State.
Jacobs announced his plans for the next level by choosing the hat of the Cowboys. Tough luck for both Arkansas and Colorado, the other programs in the final three for the 6-foot-1, 205-pounder. Signs point to playing the next four years in Stillwater as being the best fit.
"I picked Oklahoma State, my decision was tough, I'm glad it's over now,'' Jacobs said. "I had a great visit to the campus recently, liked all of the coaches and the facilities. I feel like it's a good place for me to be. I think I can come in and make an impact right away.''
The trip to Oklahoma State took place earlier this month. Before that, Jacobs visited Colorado and Arkansas. Another program in the mix appeared to be nearby UCLA. The Bruins, however, entered the picture too late. Jacobs' list had already been narrowed down.
"I thought about UCLA, and there were some things I liked. In the end, I didn't think it was a good fit,'' Jacobs said. "I appreciate the fact the Bruins recruited me though.''
Turns out, UCLA coach
Jim Mora
could not contend with the Cowboys. Once his mind was made up, there was no turning back for Jacobs. At least now, there will be no more questions about where he'll be playing. Oklahoma State was the answer people were looking for.
Sean Ceglinsky covers preps for ESPNLosAngeles.com. Follow him on
Twitter
.
January, 30, 2012
1/30/12
5:06
PM PT
Two-star defensive back Raymond Ford of Gardena Serra has narrowed his list to three, according to a source at the school. The former UCLA commit will pick between Cal, Colorado and Nebraska, and will sign his letter of intent at Serra's signing ceremony on Wednesday.

Ford committed to UCLA last summer but reopened his recruitment after Rick Neuheisel was fired. He took official visits to Southern Methodist, Nebraska, Utah, Washington State and, most recently, Cal.

Ford wasn't completely healthy his senior season, but he played on both sides of the ball for the Cavaliers.
January, 24, 2012
1/24/12
7:18
PM PT
By
Sean Ceglinsky
| ESPNLosAngeles.com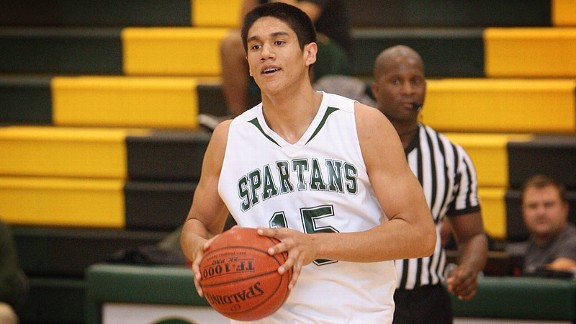 Courtesy of Justin RadDamien's Chris Reyes is accustomed to teams taken him lightly, and he's just fine with that.
LA VERNE -- When discussions take place about some of the Southland's premier post players, the name
Chris Reyes
is not always included in the conversation.
The lack of recognition, however, does not bother the 6-foot-6, 205-pound senior from Damien. The perceived snub has served as plenty of motivation this season. Accordingly, Reyes is playing as well, if not better than most his peers in the greater Los Angeles area.
"Chris may not be ranked as high as the other guys, but he is just as good in my book,'' Damien coach
Matt Dunn
said. "He affects the game in so many ways, on both ends of the floor. Honestly, I think when people underestimate him, it's a mistake. I've seen Chris make opponents pay for taking him lightly in the past. He plays with this uncanny fire.''
As Reyes has gone, so have the Spartans (18-1 overall), No. 17 in the ESPNLosAngeles.com top 20 rankings. They have a test Wednesday in a showdown with visiting Chino Hills Ayala. The winner will be in the driver's seat in the Sierra League standings.
The St. Mary's-bound Reyes is shooting 62 percent from the field and is averaging a double-double per game with 18 points and 12 rebounds. Never one to back down from a challenge, he has also blocked an average of five shots on a nightly basis.
"I'd like to be be compared to the best big guys around. Do I think about it all the time? No, not really,'' Reyes said. "Honestly, I kind of like being unknown.''
He is far from an unknown, rest assured. Thing is: La Verne Lutheran's
Grant Jerrett
, North Hollywood Harvard-Westlake's
Zena Edosomwan
, Woodland Hills Taft's
Anthony January
and Gardena Serra's
Daddy Ugbede
typically grab most of the headlines.
January, 23, 2012
1/23/12
1:05
PM PT
By
Sean Ceglinsky
| ESPNLosAngeles.com
LOS ANGELES -- With football national signing day right around the corner, on Feb. 1, Seth Jacobs from Arroyo Grande (Calif.) has been about as busy as they come. Then again, the hectic schedule is something that simply comes along with territory when you are considered one of the country's top unsigned prospects.

The 6-foot-1, 205-pound senior has recently made his rounds and visited multiple colleges. Jacobs, of course, was able to gain a better understanding of what each program had to offer, and it appears as if the trips helped him narrow down his list to three schools, and perhaps a fourth.

"Right now, Arkansas, Colorado and Oklahoma State are in the lead and about even,'' Jacobs said. "I feel good about how the recruiting process has gone so far. I'm really glad I took my time and did not commit to anyone early. Rushing into a quick decision was not an option for me.''

While Jacobs maintains his final decision is in the works, one has to wonder if UCLA has a chance to make a late run for his services. The Bruins, after all, have made a strong push and he plans on making a visit to Westwood this weekend to meet with new coach Jim Mora and his staff.

"I like Coach Mora, he has a great resume and some great assistants around him. I've been talking with some of the people at UCLA for a few weeks now,'' Jacobs said. "I look forward to checking out the campus and meeting everyone from there. The Bruins could pop into my top three.''

Last weekend, Jacobs visited Colorado. The fact the Buffaloes are still a player in the grand scheme of things is somewhat puzzling considering the high-profile options he has to choose from. Staying close to home and playing in the Pac-12 Conference is something he considers important.

Oklahoma State hosted Jacobs two weeks ago. At the time, all signs pointed to the Cowboys emerging as his leader. But the talk about that whole scenario has subsided since then.

Shortly before that, Jacobs visited Arkansas, on Nov. 5.


December, 13, 2011
12/13/11
9:18
PM PT
By
Sean Ceglinsky
| ESPNLosAngeles.com


WESTLAKE VILLAGE -- Line up Dashon Hunt at running back, put the football in his trusty hands, and he is more than capable of gaining the necessary yardage on the ground to keep the chains moving. Straight up the middle, or to the outside, it doesn't matter.

Slot the junior from Westlake at receiver and Hunt might run by the defense en route to the end zone. Position him in the slot and he is not afraid to risk his body going over the crowded middle to make the difficult catch against teams geared toward stopping him.

Hunt's effectiveness isn't merely limited to life on the offensive side of the ball. Stick him on an island at cornerback, and odds are, he will lock down the opponents top pass-catcher. Allow him to roam free in the secondary at safety and don't be surprised to see Hunt deliver a game-changing hit. Forcing a fumble is always a distinct possibility.

He is a jack-of-all-trades, Hunt plays a number of positions, each of them equally well. And we haven't started to discuss the special teams impact he makes.

His versatility and ability to excel in most any situation, of course, is what separates Hunt from most his underclassmen peers. Furthermore, the well-rounded skill set he possesses has been instrumental in helping guide the Warriors into Saturday night's CIF State Bowl game, an Open Division showdown against Concord De Le Salle at the Home Depot Center.

"Dashon is a darn good football player, a force to be reckon with, and we're glad he is on our side,'' Westlake coach Jim Benkert said. "He is an individual who can change the complexion of a game with one play, at any time and from any spot on the field.''

Hunt proved as much in the Southern Section Northern Division championship game last week against rival Westlake Village Oaks Christian. The 5-foot-9, 175-plus pound UCLA commit rushed for a team-high 154 yards in 24 carries and scored four times.

As if that weren't enough, Hunt was assigned to shadow Lions' senior receiver Jordan Payton, one of the premier prospects the Southland has to offer. Hunt finished with four tackles and an interception return for a touchdown in an all-important 49-42 victory for Westlake (14-0 overall), which has held the No. 1 spot in the ESPNLosAngeles.com rankings for several weeks.

"I'm always up for a challenge. Always have been. Always will be,'' Hunt said. "I've seen all kinds of things this season, on offense and on defense. Coaches and players know that I'm a good athlete. I'm not sure if they are intimidated by my play-making ability or what.''

"When I'm running the ball, most teams blitz or try to stack the box with seven or eight guys. I've seen some double teams when I'm running pass routes too. On defense, teams don't usually throw to my side of the field. All that stuff is a respect thing, I think.''


October, 4, 2011
10/04/11
5:18
PM PT
By
Sean Ceglinsky
| ESPNLosAngeles.com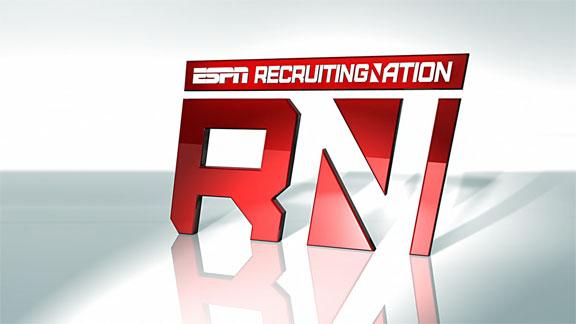 SOUTH GATE -- Make no mistake, South East High has never been known as a hotbed for recruiting high-profile prep football prospects from the Southland.
That is, until now. Thanks in large part to
Robert Lewis
.
The senior running back is one of the nation's premier players. Lewis is so highly thought of, in fact, scouts from all over the country traveling to the West Coast these days schedule a pit-stop at once relatively obscure South East in an effort to keep tabs on him.
"I'm a Jaguar for life, the school is close to my house, in my neighborhood and 10 minutes away, this is where I belong,'' Lewis said. "It doesn't matter where you're from, if you stay focused and work hard, people will come and find you. That's the way I was raised.''
Division I college coaches normally travel to nearby Los Angeles City Sections schools such as Carson, Crenshaw and Narbonne in search of talent. In terms of discovering the next potential star at the next level, other must-stops along the way typically tend to be Southern Section programs Gardena Serra, Long Beach Poly and Los Angeles Cathedral, to name a few.
Lewis, however, has successfully put the Jaguars (5-0 overall) on the map heading into Friday night's Eastern League game against visiting L.A. Roosevelt (2-2)
The school, mind you, is in only its sixth year of existence.
"The thing about Robert is, he's as loyal as they come,'' said
Derwin Henderson
, in his first year as South East coach. "When I got the job, he called right away and told me that we were going to win a championship here. This coming from a teenager, I was impressed.
"I'm sure Robert had his pick of high school schools to play for, kids switch programs all the time. He wanted to break the mold though. Robert started at South East with his friends and he wanted to finish at South East with his friends. In this day and age, with everything that goes on, I have to say that his decision to stay put is refreshing to see. It doesn't happen often.''
February, 1, 2011
2/01/11
2:31
PM PT
By
Tim Haddock
| ESPNLosAngeles.com
Here's the next round of football recruits and where they have committed ahead of Wednesday's signing day. A couple of Crespi kids are headed to Fresno State. The LA North produced quite a number of talented wide receivers. Nelson Spruce from Westlake is headed to Colorado. Blair Holliday from Oaks Christian is going to Duke.

Colorado

Will Oliver, K, Harvard-Westlake

Nelson Spruce, WR, Westlake

Cornell

Curtis Arndt, OL, Moorpark

Duke

Blair Holliday, wide receiver, Oaks Christian

Fresno State

Charles Washington DB, Crespi

Ronald Ussery DL, OL, Crespi