Los Angeles Preps:

Compton Dominguez
September, 7, 2011
9/07/11
9:55
PM PT
By
Dan Arritt
| ESPNLosAngeles.com
Welcome to Week 1 of the high school football season. Some big games on the docket Friday, several featuring inter-section and inter-county matchups that could go a long way toward determining regional bragging rights.
Let's take a look at some of the best.
A-Game
No. 9 Ventura St. Bonaventure (0-0) at No. 2 Corona Centennial (0-0), Friday (7:30 p.m)
– Back in January, when this game was officially put to ink, folks were already talking about a clash of potential state bowl contenders. St. Bonaventure returns 13 starters from a team that reached the Northern Division semifinals, including 2,400-yard passer
Marc Evans
and 1,200-yard rusher
Shaun Wick
, but it's the player who didn't start last season that might have the biggest impact. Backup quarterback
Nick Arbuckle
drew immense praise while attending eight football camps across the country over the summer and he has been pushing Evans for the starting job. If he doesn't start at quarterback, you can bet Arbuckle will be in the mix somewhere on offense. The Huskies, meanwhile, could be vulnerable at quarterback early on, as
Hayden Gavett
is scheduled make his varsity debut. Until he gets his feet wet, the defending Inland Division champions will have to depend on their experienced defense to keep the score close.
Prediction: Centennial 21, St. Bonaventure 20.
B-List
L.A. Crenshaw (0-1) at No. 18 Norco (0-0), Friday (7:30 p.m.)
– Some would say the advantage in this type of evenly matched game would go to the team that has already played. Normally that would be true, but Crenshaw's confidence may have taken a step back in its 45-14 loss to Alta (Utah) last weekend, the Cougars worst defeat since a 36-point drubbing against Lake Balboa Birmingham in the 2007 City Section semifinals. Not only that, but Crenshaw was humbled by the Cougars last season, losing
25-21
on the same field. Throw in the bright lights of regional television coverage and this could be another long night for the Cougars.
Prediction: Norco 30, Crenshaw 18.
No. 21 Vista Murrieta (0-0) vs. Etiwanda (1-0) at Colony HS, Friday (7 p.m.)
– Etiwanda had one of the more impressive victories last week, at least on paper, knocking off the Eastern Division's top-ranked team heading into the season, Fontana Summit. The truth is, the Eagles really didn't play all that great in the 49-36 victory. Etiwanda quarterback
Larry Cutbirth
managed to avoid the sticky fingers of Boise State-bound cornerback
Donte Deayon
, let's see how he does dodging the pass rush of junior strong safety
Su'a Cravens
and defensive lineman
Jeremy Castro
(Washington).
Prediction: Vista Murrieta 31, Etiwanda 24.
Compton Dominguez (0-1) vs. Redlands East Valley (0-0) at Citrus Valley HS, Friday (7 p.m.)
– Another LA-area team that's licking its wounds after a Week 0 thrashing. Dominguez couldn't keep up with Encino Crespi on defense and couldn't move the ball on offense, adding up to a
48-6
romp. The big question now is, which Dominguez team is this, the one that finished 10-2 last season or 2-8 in 2008? Redlands East Valley, meanwhile, has some lofty predictions to live up to. Some publications have
anointed
the Wildcats as the second-best team in the Inland Empire, even though they've yet to prove they can win a big game outside of Citrus Belt League play.
Predication: Dominguez 27, Redlands East Valley 21.
April, 4, 2011
4/04/11
4:19
PM PT
1. The Mira Costa boys volleyball team beat rival Loyola 23-25, 25-18, 23-25, 25-21, 15-12 at Loyola Marymount University on Friday night. It was a revenge of sorts for the Mustangs, who fell to Loyola in last year's CIF Southern Section Division I championship. Heading into Friday's match, Mira Costa (12-0) was the top-ranked team in the CIF-SS top 10 poll; Loyola (11-2) was ranked third.
2. Cerritos Gahr wide receiver
Delshawn McClellon
registered the fastest 40-yard dash time at the Nike SPARQ Combine, running a 4.37 on Saturday at Veterans Memorial Stadium in Long Beach. The rising senior figures to draw plenty of attention from recruiters in the fall.
3. Defensive back
Lavell Sanders
of Compton Dominguez had the fastest 20-yard shuttle at 3.98. Sanders will team up with highly touted cornerbacks
Brandon Beaver
and
Alphonso Marsh
to give Dominguez one of the top defenses in the region.
Click here
for a recap of the Nike SPARQ results from ESPN Rise.
4. Long Beach Poly forward
Ryan Anderson
had five points, four rebounds and two assists for the West team in the All-American Championship in Houston on Sunday. The West squad beat the East, 107-104. Anderson was named the Gatorade California Player of the Year last month after leading Poly to the CIF-SS Division 1AA basketball championship.
5. In baseball: Bonita, the top-ranked team in the CIF-SS Division 3 poll, has won eight of its last nine. The Bearcats can continue to make noise in the Arcadia Tournament this week. Long Beach Wilson took over the top spot in the Moore League standings with 3-1 wins against Millikan and Lakewood, the fourth-ranked team in the Division 1 poll.
February, 4, 2011
2/04/11
3:45
PM PT
By
Sean Ceglinsky
| ESPNLosAngeles.com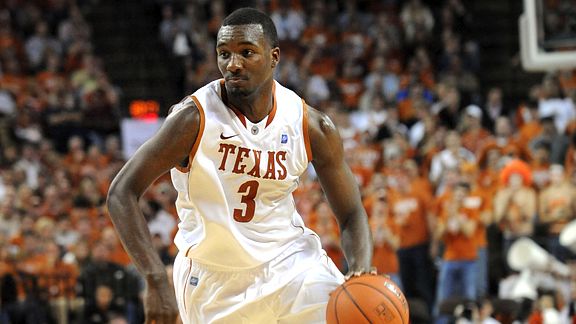 Brendan Maloney/US PresswireJordan Hamilton, a former Compton Dominguez High standout, is averaging 19 points and 7.5 rebounds for Texas.
For as long as most can remember, the Southland has been one of those must-stop destinations on the West Coast for Division I college basketball coaches and scouts in search of the next potential big thing at the next level.
So imagine what was going on in the minds of the powers that be once they all had an opportunity to set their eyes on
Jordan Hamilton
during his high school days at Los Angeles Dorsey before an eventual transfer to nearby Compton Dominguez.
After speaking with numerous individuals who were around back then, from 2005 to 2009, the consensus seemed to be that Hamilton was always destined to succeed and become yet another local product to move on and make a name for himself nationally.
Sure enough, Hamilton has lived up to the hype. A starter for Texas nowadays, the 6-foot-7 sophomore small forward is averaging a team-high 19 points and 7.5 rebounds per game for the Longhorns (19-3 overall), who are No. 3 in the ESPN/USA Today Coaches Poll and No. 3 in the Associated Press rankings.
Hamilton and Co. next play host to Texas Tech for a Big 12 Conference game on Saturday night.
It seems not so long ago, Hamilton was a senior at Dominguez. At the time, ESPNU ranked him as the No. 1 small forward in the country and No. 8 recruit overall.
"Yeah, I know about Jordan Hamilton, know him well,'' said
Joel Francisco
, a recruiting analyst for ESPN. "In high school, he was one of the best out West. He was one of the top scorers in the nation. I had a feeling that he had the type of game that was ready for the next level. I always thought he was capable of making an immediate impact somewhere.''
November, 14, 2010
11/14/10
4:46
PM PT
Seeded teams: 1. Serra (10-0, Mission 1); 2. Compton Dominguez (9-1, San Gabriel Valley 1); 3. West Hills Chaminade (9-1, Mission 2); 4. Paso Robles (8-2, Pac-7 1)

At-large selections: Arroyo Grande, Beverly Hills, Oxnard, St. Francis

Best first-round game: Oxnard (8-2) at No. 4 Paso Robles (8-2) -- Pac-7 League champion Paso Robles bounced back nicely after not making the playoffs last year. But in order to fight off Oxnard's upset bid, Paso Robles must shut down an offense that puts up 38.6 points a game.

Best potential second-round game: Atascadero (8-2) at No. 3 West Hills Chaminade (9-1) –- Let's assume Atascadero takes care of business at home against Ventura. The Greyhounds have a good defense (13 or fewer points in eight of their games); and don't let Chaminade's 9-1 mark fool you -- four of the Eagles' wins were by a one-possession margin.

Prediction: It all starts with George Farmer, Marqise Lee, Conner Preston, Jason Gibson and Shaquille Richard, but the list goes on and on for No. 1 Serra. There's too much talent for this team not to win it all.
November, 9, 2010
11/09/10
8:00
AM PT
1. (1) Serra (9-0)
Oh, the luxury of having the offensive weapons to easily erase fourth-quarter deficits. Last week: Beat West Hills Chaminade, 35-21. Next: at Cathedral, Friday.

2. (2) Bishop Amat (9-0)
A bye week offered a chance to rest -- but did it come at the wrong time for a streaking team? Last week: Idle. Next: at Alemany, Friday.

3. (3) Crenshaw (7-2)
The Cougars can compensate for their two early-season losses with a Coliseum League title on Friday. Last week: Beat Locke, 43-0. Next: at Dorsey, Friday.

4. (4) Long Beach Poly (7-2)
Looking like Poly of old, the Jackrabbits hope to build momentum heading into the Pac-5 playoffs. Last week: Beat Cabrillo, 54-2. Next: vs. Compton, Friday.

5. (5) Lakewood (8-1)
Senior quarterback Tyler Schultz has been a consistent passer since the demoralizing loss to Poly. Last week: Idle. Next: vs. Long Beach Wilson, Friday.


October, 26, 2010
10/26/10
5:14
PM PT
No drastic changes again this week, as all but one team (St. John Bosco) earned victories. The Braves performed well enough to win and might have done so were it not for the second-half surge of Servite's Malik Felton. Bosco -- which fell from No. 8 to No. 10 -- might be 4-3 but is too good to be left out.

1. (1) Serra (7-0)
Make it 22 straight wins for the Cavaliers. There were contributions from all angles: Conner Preston threw for three touchdowns, two of them to George Farmer (131 yards receiving), the other to Marqise Lee; Shaquille Richard posted 164 yards of total offense. Last week: Beat St. Paul, 34-7. Next: vs. Harvard-Westlake, Friday.

2. (2) Bishop Amat (8-0)
How about this for an encore: Junior tailback Jalen Moore followed a rugged 270-yard output against Crespi with 278 yards and four scores Friday, as the Lancers earned their first road league win since coach Steve Hagerty took the reins in 2008. Last week: Beat Loyola, 41-31. Next: vs. Sherman Oaks Notre Dame, Friday.

3. (3) Crenshaw (5-2)
Call it the Cougar Counter. Our designated "Best Two-loss Team in the State" is on a mind-numbing 247-17 scoring streak since falling at Norco in Week 1. It's smooth sailing ahead -- at least until the Nov. 12 showdown at rival Dorsey. Last week: Beat Manual Arts, 55-0. Next: vs. Fremont, Friday.

4. (4) Long Beach Poly (5-2)
Another of those two-loss wonders. It might have been a head-scratcher at the time, but Poly's loss to St. Bonaventure doesn't look as bad now. Poly cruised Friday behind 450 yards of total offense, 204 coming from the arm of Chaiyse Hales. Last week: Beat Millikan, 59-0. Next: vs. Long Beach Wilson, Friday.

5. (5) Lakewood (7-1)
Maybe the Lancers' loss to Poly was a good thing. The 82 points Lakewood's offense has generated in two games since suggest Big Red has benefited. Quarterback Tyler Schultz led the way Friday, tossing four touchdowns on 272 yards passing. Last week: Beat Long Beach Jordan, 42-28. Next: at Millikan, Friday.


October, 21, 2010
10/21/10
8:37
AM PT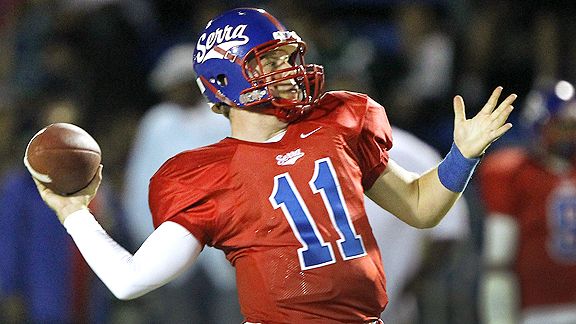 Alex Gallardo/Special to ESPNLA.com
Serra quarterback Conner Preston has plenty of weapons to choose from on offense.
St. Paul (5-1) at No. 5 Gardena Serra (6-0), Friday, 7 p.m.
With the electrifying pair of George Farmer and Marqise Lee on his side, Serra's Conner Preston may be the happiest quarterback in the region. Through six games, Preston has thrown for 1,640 yards and 17 touchdowns. St. Paul, the Western Division's No. 7-ranked squad, opened Mission League play with a dramatic 21-14 win at Cathedral.
No. 21 Compton Dominguez (5-1) at Gahr (3-3), Friday, 7 p.m.
D.J. Lopez (383 yards passing per game) leads a Gahr offense that is averaging 44.5 points. The big problem? Gahr can't seem to stop other teams from doing the same. Something should give. Dominguez allows less than 11 points per game and has won four straight since its six-point loss to highly ranked Bishop Amat.
Claremont (5-1) at Charter Oak (4-2), Friday, 7 p.m.
Claremont quarterback Daniel Kessler (20 touchdowns, 303 yards per game) has been a force for the No. 7-ranked team in the Inland Division. The Wolfpack is riding high following a one-point win against Chino Hills, while two-time CIF champion Charter Oak is seeking its first "good" win.
Mira Costa (3-3) at Palos Verdes (6-0), Friday, 2:30 p.m.
Hard to find a team with a more difficult non-league schedule than Mira Costa. The Mustangs hope that losses to Loyola, Serra and Chaminade pay off in Bay League play beginning Friday with Palos Verdes, which has not scored less than 27 points or given up more than 17 in any game this fall.
October, 18, 2010
10/18/10
12:01
PM PT
1. You didn't get the sense that Bishop Amat's
Jalen Moore
expected to talk to reporters following his team's come-from-behind win against No. 9 Crespi on Friday. After the playing of the school's alma mater, the junior tailback jogged toward the locker room with the rest of his teammates until he was nabbed. It's weird, given he had rushed for 270 yards and a pair of fourth-quarter touchdowns. It's one thing for a player to say, "It was a team effort, the offensive line really helped us out, etc." It's another thing to show it, which Moore did. Or perhaps he's just camera shy.
2. How about the performance of Dorsey quarterback
Joseph Gray
, who basically played on one ankle Friday? The Washington-bound slinger
threw for seven touchdowns
in the Dons' rout of Locke. If Gray keeps this up, Dorsey (6-0) and Crenshaw (4-2) appear headed for a clash on Nov. 12. Save the date.
3. Serra's
George Farmer
was back at full strength Saturday, which only meant pain for St. Francis defensive backs. The stud wideout, who sat out the second half of the Narbonne game two weeks ago due to an injured hip, had three touchdowns and 217 yards receiving in
a 41-14 road win
.
4. After seeing Crespi's high-powered offense Friday at Bishop Amat, it's hard to imagine any team having success against
Kenny Stenhouse
and Co. But that's exactly what Compton Dominguez did a month back, riding out of Encino with a 14-11 win. Hold Crespi to a mere 11 points? On the road? That's mind-boggling. Dominguez (5-1) was at it again Friday, winning a defensive struggle at Warren, 21-16. The five-point victory followed one of four points, which followed a pair of shutouts. Clump that together with a now-impressive six-point loss to Bishop Amat and you've got a sleeper in Compton.
5. Lakewood took a big blow in its loss to Long Beach Poly last week, but
got off the mat on Friday
to return to its winning ways. Poly was idle, but will resume its Moore League title redemption tour Friday against Millikan.
October, 12, 2010
10/12/10
3:39
PM PT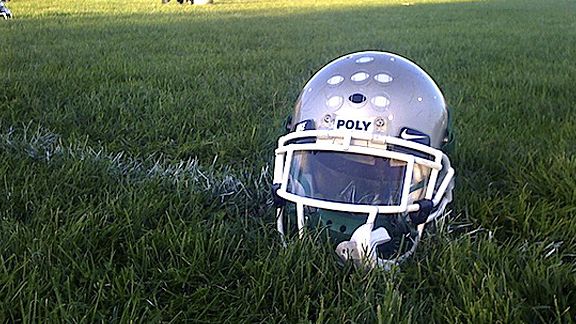 Blair Angulo/Special to ESPNLA.com
Long Beach Poly made the biggest jump this week after its win over Lakewood.
We have a new No. 1 after Lakewood's loss to Long Beach Poly. As a result, the Jackrabbits made the biggest jump this week -- from No. 6 to No. 3. Bishop Amat has an opportunity to make a statement when it hosts Crespi this weekend. The bottom half remained steady for the second straight week.
1. (2) Serra (5-0)
No one needed the extra week of rest more than star wideout George Farmer (hip), who transforms Serra from good to great when he's on the field. Last week: Bye. Next: at St. Francis, Saturday.
2. (3) Bishop Amat (6-0)
The Lancers have a chance to silence their critics in what promises to be a shootout on Friday. Will the doubters persist if it's a close one in La Puente? Last week: Beat Venice, 42-20. Next: vs. Crespi, Friday.
3. (6) Long Beach Poly (4-2)
Apparently, the Jackrabbits needed to see red -- Lakewood red -- in order to wake up. Poly controls its own destiny in the Moore League. Last week: Beat Lakewood, 27-14. Next: vs. Millikan, Oct. 22.
4. (1) Lakewood (5-1)
There may be trouble on the offensive side. The Lancers were unable to figure out a revamped Poly defense Friday, something others had done relatively easy. Last week: Lost to Long Beach Poly, 27-14. Next: vs. Cabrillo, Friday.
5. (4) Crenshaw (3-2)
The Cougars appear to be back in business following the poor start. Crenshaw has outscored its opponents 146-10 in the last three games. Last week: Bye. Next: West Adams Prep, Friday.
October, 5, 2010
10/05/10
11:17
AM PT
No changes this week. None. The eight active teams emerged victorious, while Dorsey and Bonita were idle. There should be some movement as league play intensifies.

1. (1) Lakewood (5-0)
We'll find out how the Lancers respond to their biggest roadblock of the season. Rivalry games work in mysterious ways. Last week: Beat Compton, 37-0. Next: vs. Long Beach Poly at Veterans Stadium, Friday.

2. (2) Serra (5-0)
Even with highly touted George Farmer banged up last week, the well-rounded Cavaliers blew past a strong opponent. Last week: Beat Narbonne, 48-22. Next: at St. Francis, Oct. 16.

3. (3) Bishop Amat (5-0)
Junior Rio Ruiz threw for over 200 yards in the first half against Cathedral, then put it in cruise control. Amat is a serious Pac-5 threat. Last week: Beat L.A. Cathedral, 53-6. Next: vs. Venice, Friday.

4. (4) Crenshaw (3-2)
We might be looking at a 5-0 team had the Cougars benefited from a break here or there in Georgia or at Norco. Still a dangerous squad. Last week: Beat Culver City, 50-7. Next: West Adams Prep, Oct. 15.

5. (5) Dorsey (4-0)
The Dons play an exciting brand of football, but might be susceptible to a letdown if teams contain quarterback Joseph Gray. Last week: Bye. Next: San Diego Mira Mesa, Friday.


September, 28, 2010
9/28/10
2:28
PM PT
Another bad loss is the reason Long Beach Poly fell a few spots this week. Narbonne, Carson and Glendora fell out completely, while rankings newcomer West Covina checks in at No. 8 after three impressive victories. St. John Bosco, which returns to No. 9 after a pair of unranked weeks, has bounced back well from its home loss to Lakewood.

1. (1) Lakewood (4-0)
A duel against Long Beach Poly appears to be the only remaining roadblock for the streaking Lancers.
Last week: Beat Leuzinger, 44-0. Next: at Compton, Friday.

2. (2) Serra (4-0)
The Cavaliers have been winning big. Problem for future opponents? There doesn't seem to be an end in sight.
Last week: Beat Palos Verdes Peninsula, 48-7. Next: vs. Narbonne, Friday.

3. (3) Bishop Amat (4-0)
This tested squad has answered all the calls. Another challenge awaits this week in a battle of unbeatens.
Last week: Beat Damien, 42-7. Next: at Los Angeles Cathedral, Friday.

4. (5) Crenshaw (2-2)
The City Section favorites could easily be 4-0, but have become somewhat of an afterthought.
Last week: Beat Riverside J.W. North, 50-3. Next: vs. Culver City, Friday.

5. (6) Dorsey (4-0)
Coach Paul Knox couldn't have asked for a better start. The Dons' spread offense is fun to watch, too.
Last week: Beat Compton, 40-7. Next: vs. Mira Mesa, Oct. 8.


September, 21, 2010
9/21/10
9:14
AM PT
No major changes in this week's rankings, as the top six teams took care of business. South Hills dropped out after losing to rival West Covina and Carson fell three spots after a weak showing against Santa Margarita.

1. (1) Lakewood (3-0)
The Lancers had their hands full with Mayfair's Dominique Small, but did enough in other areas to claim the Milk Bucket trophy. Last week: Beat Mayfair, 24-14. Next: at Leuzinger, Friday.

2. (2) Serra (3-0)
Anything but an undefeated season would be a major disappointment for this talented squad. There may be too much balance for it not to happen. Last week: Beat Mira Costa, 35-13. Next: at Peninsula, Friday.

3. (3) Bishop Amat (3-0)
No one has questioned Amat's non-league strength of schedule. More challenges await the Lancers as they prepare for Serra League play. Last week: Beat Muir, 34-14. Next: vs. Damien, Friday.

4. (4) Long Beach Poly (2-1)
A gritty effort by the defense and strong special teams play helped the Jackrabbits avoid a losing streak. Quarterback Chaiyse Hales can air it out, but needs to be more consistent. Last week: Beat Narbonne, 23-20. Next: vs. Mission Viejo, Friday at Veterans Stadium.

5. (5) Crenshaw (1-2)
It took three weeks, but the Cougars finally managed to tally one up in the win column. It should be smooth sailing from here on out. Last week: Beat Banning, 46-0. Next: vs. Riverside North, Friday.


September, 9, 2010
9/09/10
12:03
PM PT
A player's jersey number says a lot about who he is. Sometimes it says a lot about what he wants to become.

Forget about filling someone's shoes, Dorsey's Marvin Hall wants to fill someone's jersey.

He wears No. 13 because it's the same number former Dons star Stafon Johnson wore. Johnson gave opponents headaches from 2002-05, rushing for a City Section record 5,777 yards and 58 touchdowns before moving on to USC.

Teams studied No. 13 on film, coaches drew up plans to stop him. But in the end all they got was a good view of No. 13's backside, chasing him up the field.

"I wear my number because Stafon wore it," Hall said. "I look up to him because of all the great things he has accomplished."