Los Angeles Preps:

Conner Sullivan
May, 15, 2012
5/15/12
8:26
PM PT
While many teams played wild card games on Tuesday, Orange Lutheran and Mater Dei had the luxury of biding their time. The Trinity League rivals ended the regular season ranked 1-2 in the Southern Section Division 1 baseball rankings as well as
1-2 in the state,
and 1-2 in the nation
by some accounts
.
Lutheran (21-4), led by
Conner Sullivan
and left-handed pitcher
Art Vidrio
, and Mater Dei (21-5), led by
Ty Moore
, open the first round of the section playoffs on Friday at home.
The Trinity League title is the third for OLu in even-numbered years; the Lancers also won in 2008 and 2010, so you have to figure the program is looking forward to 2014.
But not before finishing 2012 in style.
The section released the baseball pairings on Monday, and while some schools were left scrambling for buses to play wild card games, OLu and Mater Dei could rest easy. The Lancers are the top-seeded team by virtue of winning the league title by taking two of three from Mater Dei and will open the playoffs against Long Beach Millikan (11-17) or host Moorpark (15-12), which will be playing to get into the first round.
October, 15, 2011
10/15/11
12:18
AM PT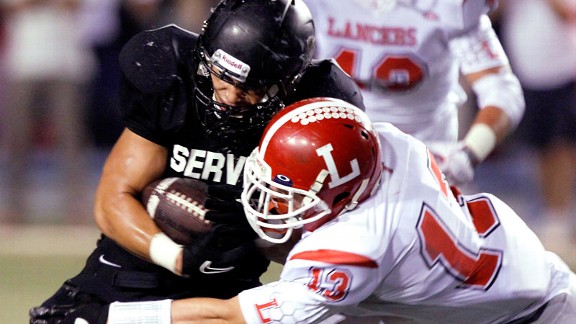 Alex Gallardo for ESPNLA.comMana Pauu picks up some of his hard-earned 77 rushing yards in Servite's victory Friday.
NORWALK -- Six games into the season,
Troy Thomas
finally had a reason to smile. After five games of failing to play "Servite football," the Friars did just that Friday in their Trinity League opener against Orange Lutheran.
The result ESPNLA's top-ranked team scoring a 21-8 victory over the eighth-ranked Lancers at Cerritos College.
Servite (5-1, 1-0), which has won at least a share of six consecutive league titles, defeated Lutheran (5-1, 0-1) for the seventh consecutive season. All eyes are on the Friars, who have won the last two Pac-5 championships. This was their 30th victory in 32 games, but the first since losing two weeks ago in Las Vegas to Bishop Gorman, 31-28, on a last-minute field goal.
"This is a huge win," Thomas, the Servite coach, said. "Any win is huge in this league. OLu is a very talented team watching them on film. They do a lot of great things. To get this one is huge for us, especially after last week. We didn't feel like we played Servite football. Tonight we played Servite football."
Cody Pittman
found wide-open
Ainslie Johnson
for 53- and 82-yard touchdowns, and a junior running back who was on the scout team two weeks ago seemed to galvanize his place in the lineup.
Mana Pauu
rushed 16 times for 77 yards against a tough Lutheran defense, including a four-yard score with three seconds left in the first half that gave Servite a 7-2 lead.
But the star of the night was the Servite defense led by
Butch Pauu
, who had an interception as well as several commanding tackles. The Friars were more physical than they had been all season. They shut out the Lutheran offense until the final minute, when the Lancers drove 98 yards and scored on a 14-yard pass from
Conner Sullivan
to
Brady Roelofs
with 25 seconds remaining.
"That's the way we can play defense," Thomas said afterward. "Finally.
Finally!
"
September, 16, 2011
9/16/11
11:08
PM PT
By
Martin Henderson
| ESPNLosAngeles.com


COSTA MESA -- Tustin is one of those teams that, for whatever reason, seems to have a history of giving Orange Lutheran trouble. There was the time in 2005 when Tustin scored a first-round upset against the second-ranked Lancers that wasn't even close.

And last year, Tustin scored another victory over the Pac-5 Division team while rushing for more than 450 yards.

But nothing like that was going to happen Friday. Jabari Wilson scored three touchdowns, quarterback Conner Sullivan was dead-on efficient and the defense shut down Tustin in a 45-6 nonleague victory for the No. 16 Lancers.

"I think they answered the bell," Coach Jim Kunau said of his 3-0 team. "Last year Tustin hammered us pretty good, and that was a big thing to us to come back and make sure that didn't happen again. ... It was important for us to come out and play physical and tough tonight."

The Lutheran defense faced last year's leading rusher in Orange County, Tyler Siudzinski, and the defense handled Siudzinski — mostly. Down 21-0, Siudzinski scored from 57 yards on a fourth-and-2 situation, which accounted for nearly half his 124 yards rushing on 20 carries. Tustin (1-2) finished with 138 yards rushing, 23 passing against a defense that sacked quarterback Quinton Roberson three times and recovered three fumbles, one at the OLu 3-yard line.

"We can play as a team and when we're united, the 91 of us, we can do anything, we can beat anyone," said Grant Gunnison, who had a sack and a fumble recovery. "We struggled a little bit with some penalties, but overall, we got it done."


September, 3, 2011
9/03/11
9:07
PM PT


MISSION VIEJO -- Make no mistake, this was a huge win for Orange Lutheran and for the state of California. The Lancers, who are the consensus pick to finish fifth in the Trinity League, scored a 42-7 victory over Bingham South Jordan (Utah) Bingham, the state's No. 1 team, in the Mission Viejo Football Classic.

In doing so, the Lancers — ranked No. 17 in the ESPNLA top 25 — snapped Bingham's 26-game unbeaten streak, and matched the physical play of a team that was very much reminiscent of Trinity League opponents Servite, Mater Dei and Santa Margarita.

Lutheran intercepted two passes, and recovered three fumbles. The Lancers turned the ball over twice in their season debut but, impressively, committed only one penalty — a pass interference in the fourth quarter.

Senior quarterback Conner Sullivan was, in Coach Jim Kunau's word, "superb."

"He played like he practices," Kunau said. "He's a super-hard worker, ultra conscientious, works hard all the time. "
Sullivan completed 13 of 17 passes for 106 yards and three touchdowns, of 25, eight and three yards. He also peeled off a 50-yard run for a 7-0 lead on Lutheran's sixth offensive play.

Twice in the first half the Lutheran defense made big plays while Bingham (2-1) -- playing its third game to Lutheran's first -- was driving. Jordan Greenwood intercepted a pass in the end zone and returned it 33 yards to set up a 10-play, 68-yard drive that ended in Miles Willis' circus catch of a 25-yard pass from Sullivan with 8:12 left in the half.

Bingham, a bruising, physical team, drove from its 36 to the OLu 36 when Willie Fletcher returned an interception 41 yards to the Bingham 37 with 3:51 left. Lutheran covered the distance in nine plays, the last eight when Sullivan lobbed over the middle to wide open Brady Roelofs with 12 seconds remaining in the half. That gave Lutheran a 21-7 lead.

"I'm very proud of the defense, them being opportunistic and creating and forcing turnovers," Kunau said. "We bent a little bit but our guys did a great job of creating turnovers."

One of those fumbles was forced, and recovered, at the six-yard line, by Willis. That ended with Sullivan's three-yard TD pass to Demetrius Palmer for a 28-7 lead.

Graeme Fraser carried 11 times for 69 yards and scores of four and 40 yards. Jabari Wilson carried 15 for 71.

Bingham's last loss came in 2009 when it lost to Euliss (TX) Trinity at the new Cowboys Stadium, 42-21. The Salt Lake City Tribune called Bingham the most highly regarded high school football team in state history. In the last 10 years, the Miners won two state titles.

That didn't matter to OLu, which has to get ready for its own juggernaut, Servite, in the Trinity League opener on Oct. 14.