Los Angeles Preps:

Connor Cook
December, 15, 2011
12/15/11
8:52
PM PT
By
Tim Haddock
| ESPNLosAngeles.com
The Westlake football team will be a man down for the CIF State Open Division bowl game against Concord De La Salle at the Home Depot Center on Saturday night.
Kicker
Alex Ball
, who has 19 field goals and produces touchbacks on 93 percent of his kickoffs, has a torn ACL in his left leg and won't be able to play. He broke the state record with 36 field goals in his career and is tied for second in the Southern Section record book with
Kai Forbath
of Sherman Oaks Notre Dame with 19 field goals in a single season.
Ball injured his leg in the CIF-Southern Section Northern Division championship game against Oaks Christian on Friday night. The torn ACL is in his non-kicking leg, but he can't plant his left foot to kick.
It takes away a dangerous weapon for Westlake (14-0) against one of the best teams in the country. De La Salle (12-1) is ranked
No. 11 in the ESPNHS national poll
.
Sophomore
Jonathan Weilbacher
took over the kicking duties for Ball in the Northern Division championship game and made five extra-points attempts. Ball was injured in the second quarter of the game covering a punt.
Weilbacher was a playoff call-up from the junior varsity team. While he filled in admirably for Ball on the extra-point attempts, Weilbacher does not have the leg to produce touchbacks or long field goals on a consistent basis.
"Hold on to your hats," Westlake coach
Jim Benkert
said. "He's a youngster. He's going to learn and try to make it happen. He can do some of the things we need."
December, 7, 2011
12/07/11
10:16
PM PT
By
Tim Haddock
| ESPNLosAngeles.com


The sequels are never quite as good as the originals. There are exceptions: "The Empire Strikes Back" and "The Godfather II" come to mind.

The CIF-Southern Section Northern Division championship game between Oaks Christian and Westlake is a rematch of last year's title game. It will be hard to exceed the hype, drama and outcome of the original.

The cast of players for Westlake has changed dramatically. Quarterback Justin Moore took over for Nick Isham, who started for Lousiana Tech this season as a freshman. Running back Dashon Hunt has taken over admirably for Tavior Mowry. Connor Cook has emerged as a big-play receiver in place of the reliable Nelson Spruce from last year's Westlake team.

The Oaks Christian roster has some familiar names, including Arizona State-bound linebacker Carlos Mendoza, highly recruited receiver Jordan Payton and a double-threat at corner back and running back in Ishmael Adams.

These two teams know each other well. This championship game on Friday night at Oaks Christian will be the fourth meeting in the past two seasons.

Westlake (13-0) comes in as the overwhelming favorite and the No. 1-ranked team in the ESPN Los Angeles prep football Top 25. Several outlets have Westlake ranked as the No. 1 team in the state. The Warriors are 39-2 over the past three seasons and won the Northern Division championship in 2009.

Oaks Christian (11-2) is the reigning Northern Division champion, ranked fifth by ESPN Los Angeles and is making its ninth straight CIF championship game appearance. The Lions moved up to the Northern Division last year after competing in the Northwest Division. Oaks Christian is 6-2 in CIF championship games and playing for its seventh CIF football championship in the past nine years.


November, 28, 2011
11/28/11
4:44
PM PT
By
Tim Haddock
| ESPNLosAngeles.com


1. After a shaky first-round playoff game against Redondo, St. Bonaventure left no doubt in the quarterfinals against Canyon. The Seraphs, the third-seeded team in the Southern Section Northern Division playoffs, eliminated Canyon from the playoffs for the second year in a row and will face Oaks Christian, the reigning Northern Division champion, in the semifinals. The last time St. Bonaventure and Oaks Christian met was in the second week of Marmonte League play. Oaks Christian won 36-24, but the game was not without controversy. The lights went out at the Oaks Christian football stadium during a punt in the second half. St. Bonaventure was rallying and was about to take over possession. The lights went out at the stadium while the punt was in the air and the ball was downed on the St. Bonaventure one-yard line. Not only did St. Bonaventure have terrible field position to start its next drive, the game was delayed for nearly 30 minutes to restore the lights. St. Bonaventure's Montre Lee and Patrick Kenney, who each scored key touchdowns against Canyon, said a rematch with Oaks Christian has been a motivating factor for the team. But St. Bonaventure might not be at 100 percent. Running back Shaun Wick has been limited because of a calf injury in the two playoff games. He was the team's leading rusher after the first 10 games but has only carried the ball four times in the last two games. He did not have a carry against Redondo and gained 57 yards, including a 45-yard touchdown, in four carries against Canyon. While Wick has been sidelined, freshman Marcus Chambers has emerged as an effective back in the playoffs. He rushed for 47 yards and scored a touchdown against Redondo. He had 41 yards in eight carries against Canyon. He's also a player that Oaks Christian hasn't seen, so St. Bonaventure might have a bit of a surprise factor in the rematch.

2. On the other side of the Northern Division playoff bracket is Westlake, the newly dubbed No. 1 team in the ESPN Los Angeles Top 25 rankings, against a depleted Thousand Oaks team. It's an all-Marmonte League final four. Westlake is undefeated and has outscored its two playoff opponents, Eastside and Hart, 101-26. Thousand Oaks coach Mike Leibin said only 38 players dressed for last week's playoff game against Moorpark. The Lancers have won three games in a row, but the two playoff games have been challenging. Thousand Oaks traveled to Quartz Hill in the first round and beat the Rebels, 20-7. Against Moorpark, the Lancers needed two fourth-quarter touchdowns to beat the Musketeers, 21-14. If Thousand Oaks is to have any chance of pulling an upset over Westlake, the team will need big games out of Blake Howell and Nathan DeBeikes. Howell caught four passes for 133 yards and two touchdowns against Moorpark. DeBeikes rushed for 106 yards, taking all 26 carries for Thousand Oaks, and scored a touuchdown. Westlake, on the other hand, has a multitude of offensive weapons. The Warriors scored 28 points in the second quarter against Hart en route to a 42-14 win. Running back Dashon Hunt scored three touchdowns against Hart. Receiver Connor Cook caught two touchdown passes. Jarius Bishop scored a touchdown and rushed for 30 yards.


November, 27, 2011
11/27/11
10:42
PM PT
By
Tim Haddock
| ESPNLosAngeles.com
It's that time of year when only the strong survive. Westlake has been the strongest of the strong and continued its undefeated season. The Sierra Canyon football team moved another step closer to its first CIF championship and also stayed undefeated.
Ventura picked the wrong time to lose its first game and was eliminated from the Western Division playoffs.
Highland, Moorpark and Canyon, all ranked in the L.A. North top 10 last week, lost and were eliminated from the Northern Division playoffs.
Here's a look at how this week's L.A. North top 10 and how they fared:
(1) Westlake (12-0) – The Westlake scoring machine keeps rolling, this time to the tune of 42-14 against an overmatched Hart team in the Northern Division quarterfinals. Receiver Connor Cook caught two touchdown passes from quarterback Justin Moore. The junior quarterback also rushed for 125 yards in five carries. Running back Dashon Hunt scored three touchdowns and gained 99 yards in nine carries.
(2) Oaks Christian (10-2) – The Lions trounced Highland, 55-21, behind a record-breaking night from sophomore quarterback Brandon Dawkins. He threw a school record seven touchdowns against Highland. That's a pretty impressive record considering Jimmy Clausen and Nick Montana were quarterbacks at Oaks Christian.
(4) St. Bonaventure (9-3) – The Seraphs ended Canyon's playoff run for the second year in a row, 38-17, at Ventura High School. St. Bonaventure won impressively, but there are two areas of concern. Quarterback Marc Evans threw three interceptions against Canyon and running back Shaun Wick had only four carries. Wick, the team's leading rusher for the first 10 games of the season, is nursing a calf injury from the Marmonte League season finale against Westlake.
(5) Chaminade (10-2) – If the Eagles want to win the Western Division championship, they'll have to play like road warriors. Chaminade has its second tough road game in the playoffs against second-seeded Arroyo Grande on Friday night. Chaminade had to rally by scoring a touchdown in the final two minutes of the game to beat San Luis Obispo on the road in the quarterfinals. Running back Terrell Newby is putting on his best Mad Max impersonation, carrying the ball 28 times for 251 yards and three touchdowns against San Luis Obispo.
November, 11, 2011
11/11/11
12:02
AM PT
By
Tim Haddock
| ESPNLosAngeles.com


MOORPARK -- In the battle of Marmonte League heavyweights, Westlake delivered the knockout blow early and rolled to a 35-14 win over St. Bonaventure at Moorpark College on Thursday night.

Westlake running back Dashon Hunt scored on a 70-yard run in the first quarter to give his team a 7-0 lead. He finished with 180 yards rushing and two touchdowns, but his first touchdown set the tone for the night.

Westlake (10-0, 9-0), the No. 2 team in the ESPN Los Angeles prep football Top 25 rankings, capped an undefeated regular season and won the Marmonte League championship.

St. Bonaventure (8-2), the No. 3 team in the ESPNLA rankings, dropped to third place in the Marmonte League standings, behind Oaks Christian, which beat Newbury Park, 42-7, in their league finale, and earlier this season defeated St. Bonaventure.

Westlake took a 14-0 lead on a seven-yard touchdown pass from quarterback Justin Moore to Connor Cook in the second quarter and pulled away in the second half.

"We kept waiting for the counter-punch," Westlake coach Jim Benkert said. "They were going to come back. We never felt comfortable with the lead until the end."

The game started out looking like a defensive battle. Westlake held St. Bonaventure to a three-and-out on the first possession. Westlake drove down to the St. Bonaventure 13-yard line, but the Seraphs came up with a big interception. Paul Thompson picked off Moore and ended Westlake's first scoring threat of the game.

St. Bonaventure marched down the field, but facing fourth-and nine from the Westlake 30, the Seraphs turned the ball over on downs. It was the first of three failed fourth-down conversions for St. Bonaventure in the game.


November, 9, 2011
11/09/11
7:05
PM PT
By
Tim Haddock
| ESPNLosAngeles.com
Westlake coach Jim Benkert didn't know quite what to do with Connor Cook when he arrived on campus.

Over the summer, the senior wide receiver and defensive back transferred from the posh, private confines of Oaks Christian to the public powerhouse of Westlake. He was small and skinny, listed at 5 feet 10 and 165 pounds. For the first game of the season against Del Oro in Loomis in Northern California, Benkert had Cook on the field for one play.

"He has gone from there to really being a two-way guy," Benkert said. "On the field, on offense and defense, and being a special guy on special teams, too."

Cook, the son of Toi Cook, who played in the NFL for 11 seasons mostly with the New Orleans Saints, leads the team in receiving yards and touchdowns, despite playing in only six of Westlake's nine games on offense. He has 318 receiving yards and seven touchdown catches. He also returned two kickoffs for touchdowns in the same game.

"He has worked his way into a position where he is a big part of the game plan on both sides of the ball," Benkert said. "What he brings is some outstanding speed. His speed really sets himself apart. He's also a really good athlete. He's not overly big, but he really can stretch a defense."

His best game of the season came against Royal. He scored five touchdowns, three on touchdown catches and two on kick-off returns. He leads the team with nine touchdowns. But his contributions to the team extend far beyond the offense and special teams.

"On defense, in the cover corner, he has a lot of confidence in his abilities that allow him to play with reckless abandon," Benkert said. "He's really helped us a great deal."

When Westlake plays St. Bonaventure in the Marmonte League season finale on Thursday night at Ventura High School, Benkert and his coaching staff will fully utilize the skills of Cook.


October, 5, 2011
10/05/11
4:58
PM PT
By
Tim Haddock
| ESPNLosAngeles.com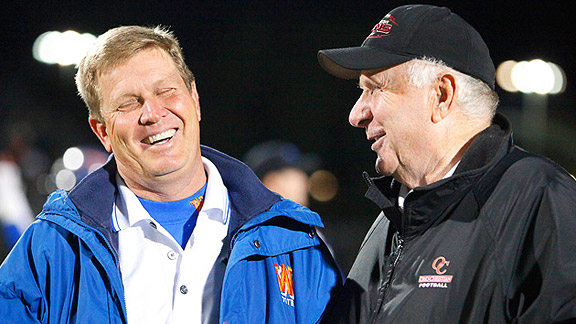 John Lazar/For ESPNLA.comWestlake coach Jim Benkert, left, and Oaks Christian coach Bill Redell have established a competitive rivalry between their teams in Westlake Village.
The Oaks Christian and Westlake football teams met twice last season. Westlake won the first game convincingly, 31-12, during Marmonte League play in Week 4.
But Oaks Christian won the second meeting in dramatic fashion, 29-28, in the CIF-Southern Section Northern Division championship game.
The two teams meet again Thursday night at Westlake High School and the winner will have an undefeated record in the Marmonte League.
Both teams are coming off impressive wins last week. Oaks Christian (3-1), the No. 4 team in the ESPNLA prep football Top 25 rankings, rolled over Calabasas, 56-7, resting most of its starters in the second half.
Westlake (4-0), the No. 9 team in the ESPNLA rankings, scored 10 touchdowns in a 73-28 win over Royal.
Connor Cook
scored five of those touchdowns, two on kickoff returns and three on receptions. He caught four passes for 77 yards and had kickoff returns of 85 and 82 yards for touchdowns.
Oaks Christian coach
Bill Redell
said his team, coaches, cheerleaders and members of the band will march from their school to Westlake for the game.
"It's seven-tenths of a mile," Redell said. "We want to make it a tradition."
The Stanford football team used to walk from campus to its football field for games. But Redell said he got the idea from Westlake coach
Jim Benkert
. Benkert was going to have his team walk from their school to Oaks Christian last year but changed his mind at the last minute.
The two teams are separated by two blocks in Westlake Village. Oaks Christian and Westlake established a competitive rivalry after last year's two meetings.
"It's a healthy rivalry," Redell said. "We have a lot of respect for Westlake."
In the Northern Division championship game, Oaks Christian took the lead in the fourth quarter on a two-point conversion run by
Blair Holliday
. Westlake had enough time to drive down the field on the ensuing possession and set up a 41-yard field-goal attempt.
Westlake kicker
Alex Ball
, one of the best kickers in Southern California, hit the right upright and the football bounced back onto the field, giving Oaks Christian a one-point win.
Ball was 10-for-10 on extra-point attempts and made a 51-yard field goal against Royal last week.
Oaks Christian sophomore quarterback
Brandon Dawkins
has been nearly perfect since taking over the starting role two weeks ago. He has completed 28-of-32 of his passes, 88.5 percent, for 460 yards and seven touchdowns.
"He has been a pleasant surprise," Redell said. "He's gotten a lot better a lot sooner than I thought he would."
Here's a look at some of the other top games of the week in the L.A. North region: