Los Angeles Preps:

Conrad Ukropina
January, 4, 2012
1/04/12
3:26
PM PT
Los Angeles Dorsey athlete
Jaydon Mickens
was named the most valuable player of the inaugural U.S. Marine Corps Semper Fidelis All-American Bowl on Tuesday night. Mickens led the West squad to a 17-14 win against the East at Chase Field in Phoenix, Ariz.
Mickens
had some company from local standouts. The south Los Angeles County region had four other representatives in the all-star game: linebacker
Jeremiah Allison
(Dorsey), receivers
Malik Gilmore
(Lakewood) and
Bryce Treggs
(St. John Bosco), and punter
Conrad Ukropina
(Loyola).
Mickens caught the game-tying touchdown in the first half and also added an electrifying 33-yard run. The former USC commit was explosive as kick returner, too.
Treggs
, a Cal commit, and
Gilmore
, an Oregon State commit, had a pair of catches for the East team. Treggs added a 37-yard kickoff return to set up his team near midfield with less than five minutes left but the West came up with a game-clinching turnover.
Ukropina, a Stanford commit, had a 64-yard punt.
Blair Angulo covers preps for ESPN Los Angeles. Follow him on Twitter.
December, 30, 2011
12/30/11
2:17
PM PT
Here's a list of the south Los Angeles County senior football players participating in All-American bowl games.

THE U.S. MARINE CORPS SEMPER FIDELIS ALL-AMERICAN BOWL GAME
Chase Field in Phoenix, Ariz.
Tuesday, Jan. 3 at 3 p.m. PT

LB Jeremiah Allison (Dorsey)
WR Malik Gilmore (Lakewood/verbal to Oregon State)
WR Jaydon Mickens (Dorsey)
WR Bryce Treggs (St. John Bosco/verbal to Cal)
K/P Conrad Ukropina (Loyola)

UNDER ARMOUR ALL-AMERICAN GAME
Tropicana Field in St. Petersburg, Fla.
Thursday, Jan. 5 at 4:30 p.m. PT
TV: ESPN

WR Darius Powe (Lakewood/verbal to Cal)

U.S. ARMY ALL-AMERICAN BOWL
The Alamodome in San Antonio, Texas
Saturday, Jan. 7 at 10 a.m. PT
TV: NBC

DB Brandon Beaver (Dominguez)
DT Ellis McCarthy (Monrovia)
LB Jabari Ruffin (Downey/verbal to USC)
DB Kevon Seymour (Muir)
WR Derrick Woods (Inglewood/verbal to Oklahoma)
December, 20, 2011
12/20/11
5:55
PM PT
Here's an all-encompassing look at the top performers in south Los Angeles County for the 2011 prep football season.

MOST VALUABLE PLAYER

Troy Williams, Narbonne, Junior -– Williams was superb in managing Narbonne's no-huddle spread attack. He did it with his arm (3,247 passing yards, 34 touchdowns), he did it with his legs (587 yards, 11 scores), and he made the right decisions with the football. The junior quarterback guided the Gauchos to the City Section Division I title.

OFFENSIVE MVP

Robert Lewis, South East, Senior -– Opposing coaches schemed to stop Lewis but the electrifying tailback still averaged 10 yards per carry and amassed 2,023 yards and 30 touchdowns for the City Section Division II champs. Coach Derwin Henderson pegged him as the city's best all-around talent. Lewis has verbally committed to Southern Methodist.

DEFENSIVE MVP

Ellis McCarthy, Monrovia, Senior -– The mind-boggling numbers aren't quite there because the big guy faced double- and triple-teams on a weekly basis. Coach Ryan Maddox built his defense around the 305-pound defensive tackle and it paid off with Monrovia capturing its second straight Mid-Valley Division championship. McCarthy has offers from all over, including Cal, USC, Florida, Oregon and Washington.

SPECIAL TEAMS MVP

Jack Schneider, Charter Oak, Junior -– With 89 total points, Schneider was the region's top scorer among kickers. In 12 games he made 65 extra points for the Sierra League champions.

COACH OF THE YEAR

Manual Douglas, Narbonne –- By the end of the season, Douglas had his Gauchos playing as well as any team in the area. Narbonne finished 11-3 and reached its third City Section title game in the last four years. Douglas scheduled tough with games at Long Beach Poly and Tesoro, and the strategy paid dividends.

FIRST TEAM OFFENSE

QB – Steven Rivera, Arroyo, Sr. –- Rivera capped his stellar four-year stay at Arroyo by passing for 3,408 yards and 38 touchdowns, leading the Knights to the Mission Valley League title.

RB – Tray Boone, Narbonne, Sr. –- The shifty back rushed for six touchdowns in the City Section Division I title game to finish with 1,400 yards and 22 touchdowns. He did all of this in an offense that primarily throws the ball.

RB – Marquise Bias, Monrovia, Sr. -– The powerful Bias pounded his way to 260 yards and three touchdowns in the Mid-Valley Division title game, and finished with more than 1,500 yards for the season.

WR – Bryce Treggs, St. John Bosco, Sr. –- The Cal commit made Trinity League defenses look foolish, hauling in 11 touchdowns to go along with 1,377 receiving yards.

WR – Darreus Rogers, Carson, Sr. –- Rogers, a USC commit, was the City Section's leading receiver with 1,251 yards. He had a monster performance in the title game but it wasn't enough for the Colts.

WR – Alex Villalobos, San Gabriel, Sr. -– The slot-type Villalobos was the state leader with 2,001 receiving yards. He added 21 touchdowns for the Mid-Valley Division runner-up Matadors.

OL - Beau Leati, Narbonne, Sr. -- City Section coaches selected Leati as the lineman of the year and for good reason. He anchored a line that opened gaping holes for Boone and protected Williams.

OL – Lacy Westbrook, Dominguez, Sr. -– The UCLA commit was out when the Dons started the season with two losses, but his added a major spark to their ground attack.

OL – Beau Boyster, St. John Bosco, Sr. -– The Braves averaged more than 400 yards of offense per game and the Arizona commit was in the middle of it, with his protection of strong-armed Rene Medina.

OL – Gerrad Kough, Pomona, Sr. -– The Colorado commit spearheaded a Pomona running game that averaged more than 215 yards per game.

OL – George Castro, West Covina, Sr. -– West Covina was 25th in the state in rushing yards per game (332) and Castro was a big reason why.

PK – Mason Bryant, Monrovia, Jr. -– Bryant did it all for the back-to-back champion Wildcats as a receiver, defensive back and kicker, totaling 117 total points.

P - Conrad Ukropina, Loyola, Sr. –- Six of Ukropina's 25 punts were downed inside the 20-yard line, and he averaged 43 yards per punt, the best in the Pac-5 Division.

SECOND TEAM

QB – Travis Santiago, Charter Oak, Sr.
RB – Jimmy Frazier, West Covina, Sr.
RB – Kurt Scoby, Charter Oak, So.
WR – Richard Smith, Long Beach Poly, Sr.
WR - Antoine Anderson, Narbonne, Sr.
WR – Hunter Duran, Arroyo, Sr.
OL – Chase Eldredge, Palos Verdes, Sr.
OL – Chad Wheeler, Santa Monica, Sr.
OL – Justin Johnson, Dorsey, Sr.
OL – Alec Zenner, San Dimas, Sr.
OL – Nico Falah, St. John Bosco, Jr.
PK - Ret Tilman, Culver City, Sr.
P – Hayden Hunt, Long Beach Poly, Sr.

FIRST TEAM DEFENSE

DL – Demetric McKinney, West Adams, Sr. -– McKinney recorded a state-leading 26 sacks in only 12 games.

DL – Jeremiah Allison, Dorsey, Sr. -– Allison will be used as a linebacker in college but he was fierce coming off the three-point stance for Dorsey. Allison had 14 sacks for the Coliseum League champions, giving him 34 over his last two seasons.

DL – Jesse Ojeda, San Dimas, Sr. -– He only measures 5-feet, 7-inches but Ojeda was a force for the Saints, getting to the quarterback 17 times.

LB – Brett Walsh, Monrovia, Jr. -– Walsh was second in the entire Southern Section with 192 tackles, thriving behind McCarthy's havoc up front. He added eight sacks, and figures to garner attention during the offseason.

LB – Sergio Gonzalez, Ganesha, Jr. -– The outside linebacker led the Mid-Valley Division with 17 sacks.

LB – Nuoye Clemmons III, West Adams, Sr. -– Clemmons ranked second in the City Section with 146 tackles.

LB – Salamo Fiso, Long Beach Poly, Sr. -– The Arizona State commit spearheaded a strong Jackrabbits defense with 117 tackles.

DB – Kevin Page, Dorsey, Sr. -– Page intercepted six passes, including a big one on the road to clinch a victory at Alemany.

DB – Tyrone Taylor, Torrance, Sr. -– The Cal State Fullerton baseball signee had 190 tackles from the safety position.

DB – Shane Baumann, St. John Bosco, Sr. -– Baumann was in the middle of every defensive play, it seemed. He ranked fifth in the Pac-5 Division with 126 tackles and also had five interceptions.

DB – Mark Wright, Rolling Hills Prep, Sr. –- Wright had 10 interceptions in nine games, good for a tie for second place in the state.

SECOND TEAM

DL – Alonzo Williams, Long Beach Poly, Sr.
DL – Robbie Haines, Arcadia, Sr.
DL – Daniel Rios, Rosemead, Jr.
LB – Keishawn Haley, Culver City, Jr.
LB – Matt Rowe, Long Beach Poly, Sr.
LB – Jabari Ruffin, Downey, Sr.
LB – Thomas Brown, Gardena Serra, Sr.
DB – Trayvon Watson, West Adams, Sr.
DB – Gabriel Marks, Venice, Sr.
DB – Naijel Hale, Lakewood, So.
DB – Chris Solomon, West Covina, Sr.
November, 13, 2011
11/13/11
10:29
PM PT
The south Los Angeles County top 10 rankings heading into the playoffs:

1. (1) Long Beach Poly (9-1)
No problem for the Poly defense against Cabrillo's Derek Stewart, the leading passer in the entire Pac-5 Division. Linebacker Matthew Rowe and safety David Price each returned interceptions for touchdowns. Last week: Beat Cabrillo, 43-6. Next: first round vs. Newport Harbor, Friday.

2. (2) Loyola (8-2)
The resilient Cubs erased a 15-point deficit, blocked an extra-point attempt in overtime, and Conrad Ukropina made his PAT to clinch the Serra League's second automatic playoff berth Friday. Last week: Beat Crespi, 36-35 (OT). Next: first round vs. Huntington Beach, Friday.

3. (3) St. John Bosco (7-3)
A breakout performance by the lesser-known Royce Moore (178 rushing yards and four touchdowns) helped the Braves grab the third and final Trinity League playoff berth Friday. Last week: Beat Orange Lutheran, 48-28. Next: first round at Alemany, Friday.

4. (4) Charter Oak (9-1)
Hobbling and in pain, senior quarterback Travis Santiago barely warmed up before Thursday's Sierra League title game. He wasn't mobile but still passed for 288 yards and two touchdowns. Last week: Beat Chino Hills, 38-7. Next: first round vs. Santiago, Friday.

5. (5) San Pedro (10-0)
Same old, same old for the Pirates on Friday as they blew out another opponent. On Saturday they received the top seeding for the CIF Los Angeles City Section Division I playoffs. They're the favorites. Last week: Beat Banning, 37-0. Next: City Section first round vs. Gardena, Friday.


September, 20, 2011
9/20/11
4:44
PM PT
By
Sean Ceglinsky
| ESPNLosAngeles.com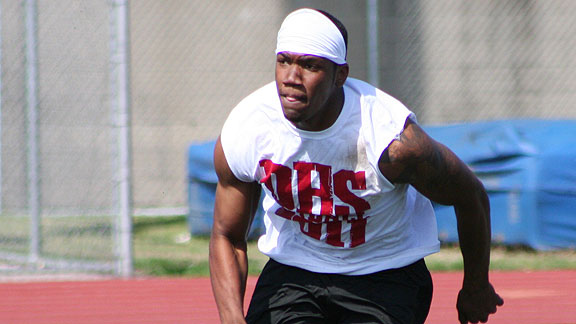 WeAreSC.comJabari Ruffin, who has committed to USC, is ranked the No. 4 prospect overall in California.
Defense, as the old adage states, wins championships. We've all heard it before.
If that's the case, the Southland appears to have more than enough talented players residing on the defensive side of the ball to make a decided difference for their respective teams.
With so many different individuals making crucial plays all over the field in the first two weeks of the season thus far, we figured that it might be a good idea to take an in-depth look at some of the premier prospects residing on the defensive side of the ball in the greater Los Angeles area.
That said, consider this as a who's who list of the more high-profile prospects around.
Defensive line: Monrovia's
Ellis McCarthy
. When it comes to the top recruits from these parts, few are better than the 6-foot-4, 305-pound senior. McCarthy is a force to be reckoned with every time he lines up. He's a run-stopping force. That's not to say the big man can't put pressure on the quarterback. McCarthy does it all, plain and simple. His top choices for college include USC, Cal, Florida, Washington and Oregon.
Defensive line: Westlake's
Justin Solis
. The top players in Ventura County typically do not receive nearly as much recognition as they deserve. Solis, however, is the exception to the rule. The 6-3, 285-pound senior was recruited by a handful of Pac-12 Conference programs. Ultimately, Colorado proved to be the best fit. Boise State, Georgia Tech and Iowa State also offered.
Defensive line: Irvine Woodbridge's
Kyle Kelly
. The 6-3, 225-plus pound senior is a pass-rushing specialist, a load to deal with from the edge. Kelly committed to Arizona despite having offers from Florida and Vanderbilt. Vista Murrieta's Jeremy Castro and Long Beach Poly's Alonzo Williams were also considered for this spot. In the end though, Kelly offers far too much upside.
Linebacker: Downey's
Jabari Ruffin
. ESPNU ranks him as one of Southern California's top recruits. Only San Clemente's Kyle Murphy is ahead of Ruffin. After watching the 6-3, 225-pound senior in action, it's blatantly obvious he is far more advanced than most of his peers. His game is tailor-made for the next level. USC landed a prized prospect when he committed in early March.
Linebacker: La Habra's
Aaron Porter
. Don't run the ball up the middle against this guy. And don't think your running back or tight end is going to break free in the middle of the defense when the 6-1, 230-pound senior is in uniform. Porter, heading to UCLA, is a jack-of-all trades. Opponents best know where he is on the field, at all times. Avoiding his general direction is recommended.
October, 8, 2010
10/08/10
11:32
PM PT
By
Sean Ceglinsky
| ESPNLosAngeles.com
VALENCIA, Calif. -- Jared Baker ran just about wherever he wanted Friday.

Up the middle and through the tackles of would-be defensive linemen and linebackers. To the outside and past the outstretched arms of opposing cornerbacks and safeties. It didn't matter who, or what, was in his way, it was Baker's night.

The senior running back was seemingly unstoppable, rushing for 240 yards on 20 carries and four touchdowns to help guide Los Angeles Loyola to a 39-24 nonleague upset over host Valencia, No. 8 in ESPNLosAngeles.com's Top 25 rankings.

"Valencia came into this game with the momentum, no one gave us much of a chance to win, everyone thought that we were going to lose,'' said Baker, who's committed to Arizona State. "We came out fired up. We were confident and wanted to prove that we can hang with some of the best teams out there."

The Cubs (3-3) did just that, opening up a 22-7 lead late in the first half and then holding off numerous comeback efforts from Valencia (4-1).

Trailing by 15 points midway through the fourth quarter, the Vikings attempted one last rally. They moved the ball with relative ease and Steven Manfro scored on a 2-yard touchdown run up the middle. All of a sudden, the Cubs advantage wasn't as decisive and Valencia trailed 32-24 with 7:23 left.


September, 10, 2010
9/10/10
10:47
PM PT
By
Sean Ceglinsky
| ESPNLosAngeles.com
It was supposed to be a matchup between two of ESPN Los Angeles.com's top football programs, but Friday night's showdown between Mission Viejo and Los Angeles Loyola turned out to be a one-sided affair as one team looked every bit the part, and the other, not so much.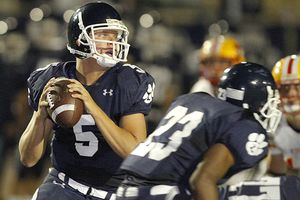 John Lazar/Special to ESPNLosAngeles.com
Loyola's QB Ryan Develle looks for a reciever in the first half of the varsity football game between Loyola and Mission Viejo played at L.A. Valley College on Friday, September 10, 2010.
Mission Viejo backed up its lofty No.3 ranking by dominating the No.15 Cubs from start to finish in a 42-7 victory at Valley College in Van Nuys. The effort was impressive, to be sure. Apparently, the Diablos wouldn't have had it any other way.
"We have a lot of pride and we wanted to come out here and make a big statement,'' said Mission Viejo senior
Tre Madden
, who is committed to USC. "We are for real, we proved that tonight and I think people will realize that when they see the final score of this game.''
All signs pointed to the Diablos (2-0) being disappointed with their 14-0 halftime lead given that they came out after intermission and promptly drove 80 yards in seven plays, with the drive capped on a 35-yard touchdown pass from
Alex Bridgford
to
Ryan Keller
. Before the Cubs (1-1) knew it, they trailed by three touchdowns midway through the third quarter.
Mission Viejo was just getting started too.