Los Angeles Preps:

Cory Harris
October, 7, 2011
10/07/11
11:42
PM PT
By
Sean Ceglinsky
| ESPNLosAngeles.com


WEST HILLS -- They will remember this one for a while.

Chaminade did seemingly everything in its power to blow what appeared to be an insurmountable lead at halftime Friday night against Sherman Oaks Notre Dame.

Questionable play calling. Countless mistakes on special teams. Unnecessary timeouts. You name it and the Eagles somehow, someway, committed the wrong doing.

In the end, however, Chaminade managed to figure things out.

Scoring a pair of touchdowns with less than two minutes left in the fourth quarter certainly helped out matters. And turning away one last-gasp effort by the visiting Knights as time expired enabled Chaminade to escape with a 36-32 nonleague victory

"There is no quit in this team, no way'' Chaminade coach Ed Croson said. "We gave Notre Dame plenty of chances to win this game. We almost self-destructed. We knew it was going to be a fight though and we weren't going to back down. This was a big, big win.''

Indeed it was a big win for Chaminade (4-1), ranked No. 25 in the ESPNLosAngeles.com rankings. Notre Dame (5-1) figures to fall from its No. 20 spot next week.

Chaminade's Logan Scott scored on a nine-yard touchdown to cut the Notre Dame lead to 32-29 with 1:56 left. And when Cory Harris and Isaiah Bernard recovered the subsequent onside kick, the Eagles were in business near midfield.

Chaminade handed the ball over to its workhorse, Terrell Newby, the rest of the way. He scored on a one-yard run with 15 seconds left for the game's final margin. All told, the 5-foot-10 junior had 141 yards rushing and three touchdowns.

"We never gave up hope in this one,'' Newby said. "This team has a lot of spirit, a lot of fight in it, and I think we proved that to everyone out there tonight.''

Notre Dame trailed 21-3 at intermission.

Lucas Alfonso kicked a 25-yard field goal, Kelly Hilinski scored on a one-yard touchdown run and Khalfani Muhammad found the end zone on a seven-yard run of his own to give Notre Dame its first lead of the game, 25-21, with 7:17 left.


October, 29, 2010
10/29/10
11:47
PM PT
By
Sean Ceglinsky
| ESPNLosAngeles.com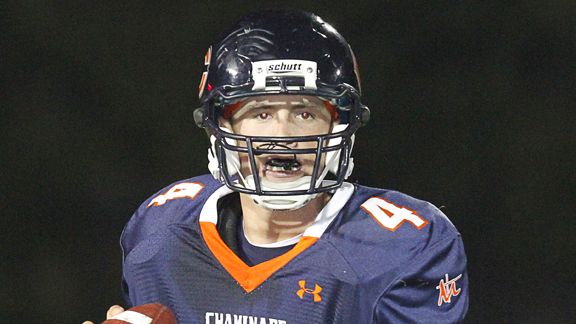 John Lazar/Special to ESPNLA.com
Chaminade quarterback Logan Scott looks to pass during Friday's game against Cathedral.
WEST HILLS -- Not many observers could have imagined the Chaminade High football team would still be undefeated at this stage of the season. But low and behold, the Eagles are, fully equipped with an unblemished record to boot.
Chaminade dominated visiting Los Angeles Cathedral from start to finish on Friday night. The end result was 30-6 Mission Legue victory, but perhaps more important, the win sets up a showdown with Gardena Serra next week in a game where the league title could very well be decided and the mettle of the Eagles will surely be tested.
"We've had a great season, but it's far from over, far, far from over,'' Chaminade coach
Ed Croson
said. "Everyone around here knows what's on the horizon, but we couldn't beat Cathedral if we were worried about Serra. We were focused on the task at hand this week, no talk about Serra, no film on Serra. The only thing on our mind was Cathedral. Tomorrow we'll worry about Serra.''
Chaminade (8-0, 3-0) made its first appearance of the season in ESPNLosAngeles.com's Top 25 rankings this week, coming in at No. 25. And after Friday's effort against the Phantoms (5-3, 1-2), one in which they didn't overlook the opponent, it appears as if the selection was worthy.
"We'll celebrate this win tonight, and be happy about being undefeated, but then it's time to go to work getting ready for Serra in the morning,'' Chaminade's
Terrell Newby
said. "We'll be focused and ready next week for the biggest game of the season.''
Cathedral narrowly avoided the shutout when
Hayden Rettig
found
Ryan
Longoria
on 35-yard touchdown pass with 2:15 left. The damage, however, had already been done as Chaminade built what proved to be an insurmountable 30-0 advantage heading into the fourth quarter.