Los Angeles Preps:

Dan Larson
March, 6, 2011
3/06/11
7:42
PM PT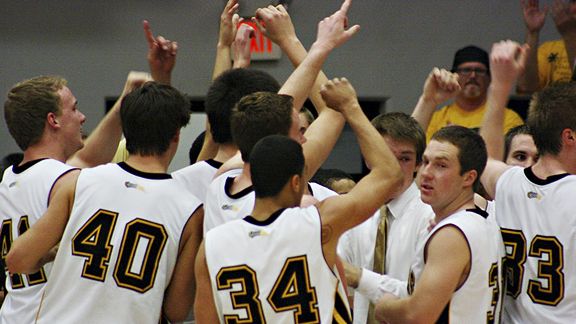 Tim Haddock/Special to ESPNLosAngeles.comThe Ventura High School boys basketball team celebrates its overtime win over Compton in the Southern Section Division 2AA semifinal game.
Ventura coach
Dan Larson
said he was happy to see his boys basketball team with a first-round bye in the CIF Division II state championship bracket for a couple reasons.
One, it showed that his team gained a degree of respect. Ventura is the second-seeded team in the Southern California regional. Lincoln from the San Diego Section earned the top seed in the Division II Southern California bracket.
Secondly, his team needs a break. Larson said his team's overtime win over Mission Viejo in the Southern Section Division 2AA championship game on Friday took its toll.
Jared Wilson
is nursing a sore back. A couple players have varying degrees of ankle injuries. At the pizza party celebration on Saturday night for the team, Larson said his players were tired and sore.
"We had a war with them," Larson said about playing Mission Viejo. "We're pretty banged up. It was very physical."
The war might not be over quite yet. Mission Viejo is the third-seeded team in the Southern California Regional, creating a potential rematch with Ventura in the semifinals. Mission Viejo plays Foothill from Tustin in the first round of the state playoffs.
Ventura awaits the winner of the Narbonne vs. Summit game on Tuesday night.
The
CIF state playoffs
begin on Tuesday. Here are some of the key games from the teams in the LA North region:
March, 5, 2011
3/05/11
3:54
PM PT
By
Sean Ceglinsky
| ESPNLosAngeles.com
ANAHEIM -- Jared Wilson lined up with his feet positioned just beyond the 3-point arc and waited. He hoped the ball would eventually swing his way. And when it did, there was no hesitation.

Given the all-important opportunity, the senior hoisted up a shot. It ended up dropping too, giving the Ventura High boys' basketball team a one-point lead with less than two minutes left in overtime of a Southern Section Division 2AA championship game against Mission Viejo.

The basket was indeed pivotal. It provided the Cougars all the momentum they would need en route to a 56-55 title-clinching victory at the Anaheim Convention Center.

"Jared has made some big shots for us and that was a big one,'' Ventura coach Dan Larson said. "This was a great game with both teams giving 100 percent till the very end.''

Top-seeded Ventura (29-2) and second-seeded Mission Viejo (29-2) went back and forth in the fourth quarter, with the lead exchanging hands several times.

Dylan Houck hit several timely free throws for Ventura.

James Cramer countered for the Diablos. He knocked down four consecutive free throws, each more important than the last, to send the game into overtime.

Houck and teammate Jon McMurry put the game out of reach by making a combined four straight free throws in the waning moments.


March, 2, 2011
3/02/11
7:22
PM PT
By
Sean Ceglinsky
| ESPNLosAngeles.com


VENTURA -- It was Dec. 12, 2009, Jon McMurry remembers the day well.

He was on the basketball court, practicing alongside his Ventura High teammates. It was one of those typical Saturday afternoon scrimmages, nothing too out of the ordinary.

Then, all of a sudden, McMurry ran into a teammate, seemingly at full speed. He went down hard, to be sure, much harder than normal. Things immediately became not so ordinary.

He was lying face down on the hardwood, writhing in pain with a left knee injury, far more serious than anyone could have possibly imagined at the time.

The scenario plays over and over in his mind. It is difficult to forget.

The road to recovery has been long and arduous. McMurry, however, has successfully battled back and will be in uniform for the Cougars on Saturday when they face Mission Viejo in the Southern Section Division 2AA championship game at the Anaheim Convention Center. Tip-off is scheduled for 12:45 p.m.

"I went through a rough time, for a while, it seemed like forever. My future was uncertain, I thought playing basketball again might not ever happen, '' McMurry said. "Right after my injury, I was in a wheelchair for four months and on crutches for five or six more months. The rehab was tough, my knee is still weak, painful. That wasn't going to stop from coming back.''

Rest assured, having McMurry in the lineup against the second-seeded Diablos (29-1) is a must if top-seeded Ventura (28-2) hopes to bring the title home.

Considering all of the damage that was initially done, it is difficult to believe he actually made a return to the rotation for the Cougars. McMurry did, after all, dislocate his kneecap less than two years ago during his junior season. Making matters worse, he tore his medial collateral ligament, partially tore his anterior cruciate ligament and broke the lateral condyle of his femur.

"It's a bad, bad memory, Jon's injury was as bad as any I've seen in all of my many years,'' Ventura coach Dan Larson said. "The pain he was in, getting the emergency people out here to our gym as quickly as possible and trying to keep him calm. After he hit the floor, one of our assistant coaches was holding what was left of his knee together. It was completely destroyed.

"We've had some bad ones here, but Jon's situation was one of the top five bad injuries of all time at the school. It was just a terribly bad knee injury, it was just gruesome.''


February, 22, 2011
2/22/11
11:43
PM PT
VILLA PARK -- The environment was just as dangerous as expected. The fight just as fierce as projected. The outcome, though, was true to form.

Showing the poise of a champion, top-seeded Ventura gave up the first nine points of the game, then roared back with a 67-53 quarterfinal victory at Villa Park.

The Cougars (27-2) won in a hostile environment against a game opponent. Had Villa Park (23-8) shot better from the field, it might have carried the momentum of the first 3-1/2 minutes to victory.

Instead, Villa Park was beaten by the team with 11 unflappable seniors—and not a single Division I college basketball recruit among them.

"It's a great win," said Dan Larson, whose team won a title in 2006 and reached the finals in 2009. "Villa Park is well-coached, very solid. A road win against a team like that is very valuable."

It's the only road game Ventura has played in the tournament, and it stands to be the only away game of the playoffs. The Cougars will host fourth-seeded Compton on Friday at Ventura College. A victory there will put them at the Anaheim Convention Center in the finals on a neutral floor.

Jared Wilson led Ventura with 20 points. Jon McMurry scored 14 and had 12 rebounds, and Dylan Houck scored 12 and had six assists.