Los Angeles Preps:

Darren Collison
January, 10, 2012
1/10/12
10:04
PM PT
GLENDORA --
Jordan McLaughlin
has grown a couple of inches since last year. His arms are more defined. He's not faster but, rather, quicker. He can dunk with two hands now.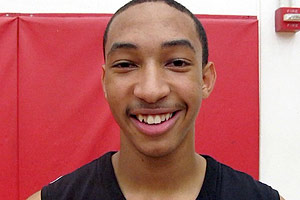 Blair Angulo/ESPN.comJordan McLaughlin has emerged as a top-flight PG and one of Cali's top recruits.
And the scary thing is, the sophomore figures to keep growing, keep adding muscle, keep sharpening his tools.
McLaughlin put on a versatile display Tuesday night, scoring a game-high 21 points in Etiwanda's 56-35 victory against Glendora in the Baseline League opener. He sank six 3-pointers, including three in a row that set the tone early. Later, the 5-foot-11 point guard put an exclamation point on it with a thunderous breakaway two-handed slam.
"Right now he's being overlooked," Etiwanda coach
Dave Kleckner
said. "People aren't aware of him, people don't know about him, but it's early. I'm sure once his name gets out there by the end of this year, I think people will be a lot more familiar with his name."
Etiwanda improved to 16-1, its only loss coming more than five weeks ago against highly regarded La Verne Lutheran. The Eagles used their suffocating defense to fluster Glendora (12-5), holding the home team to only five points in an ugly second quarter.
Glendora junior
Nick Colletta
, one of the region's top perimeter shooters, did not make a field goal, getting his five points at the charity stripe. Colletta missed seven weeks of full-contact play earlier this season, but longtime coach
Mike Leduc
didn't want to use that as an excuse.
"Tonight we didn't show up," Leduc said. "When that happens, we're going to have a tough time."
Sam Flemming
added 11 points for the Eagles, who are favored to claim their sixth consecutive league title. Glendora gets another shot at the defending champs on Jan. 27 at Etiwanda.
McLaughlin opened the game by nailing three long-range jump shots.
Brandon Townes
and
Dominique Walker
also hit from behind the arc, forcing the Tartans to extend their zone scheme and freeing up the paint. From there, McLaughlin captained a deliberate tempo.
"He did have some minutes where he had to be the floor general as a freshman," Kleckner said. "I think it was great for his development. Now in his sophomore year he just looks so natural at that position."
McLaughlin also was a beneficiary of the NBA lockout when former Etiwanda and UCLA standout
Darren Collison
, now the starting point guard for the Indiana Pacers, used his old gym to work on his game. McLaughlin took some pointers on foot speed and refined his jumper.
"I've grown a lot," McLaughlin said with a smirk, "and I hope to grow more."
Blair Angulo covers preps for ESPN Los Angeles. Follow him on Twitter.
December, 28, 2011
12/28/11
1:36
PM PT
By
Dan Arritt
| ESPNLosAngeles.com
Etiwanda sophomore point guard Jordan McLaughlin continues to play like the school's next gem, scoring 14 points in a 60-51 victory Tuesday against Morningside in an opening-round game at the Holiday Hardwood Classic at Oaks Christian High School.

McLaughlin has scored in double figures in 11 of 12 games this season, leading the Eagles in scoring in all but two. By the time he's finished at Etiwanda, he might surpass the achievements of Indiana Pacers point guard Darren Collison, who was ranked as the second-best point guard in the West during his senior year at Etiwanda in 2004-05.

The Eagles (11-1) will play Eisenhower, another traditionally strong Inland Empire team, in today's quarterfinals at 4 p.m. Etiwanda beat Ike, 77-56, in a nonleague game Dec. 21.

Upland (9-2) also reached the winner's bracket quarterfinals with a 52-49 victory against Inglewood and will play Cleveland tonight at 7.

Down south at the Holiday Classic, Chino Hills beat Villa Park, 68-65, in Tuesday's opener in the American Division, earning a date with tournament co-host La Costa Canyon in the featured quarterfinal tonight at 8:35 p.m.

Roosevelt was the other local winner in that division, toppling Douglas, (Nev.), 58-55. The Mustangs are scheduled to meet Santa Maria Righetti at 5:25 p.m. in the La Costa Canyon gym.

Over in the Mayor's Division, Murrieta Valley and Chaparral each won their openers on Tuesday. Chaparral plays Santa Margarita at 2:15 p.m. today at Rancho Bernardo High. Murrieta Valley plays Bingham (Utah) at 5:25.

Other updates from around the region:

*J.W. North beat Bishop Amat, 54-36, in the opener of the Covina Christmas Classic. The Huskies are scheduled to play tournament host Covina tonight at 8:30 p.m.

*Riverside King had no problem winning its opener in the Classic Division at the MaxPreps Holiday Classic in the Palm Springs area. The Wolves took a 59-13 halftime lead against Canoga Park on their way to a 91-31 victory. King plays its next pool-play game today at 5:30 p.m. against Las Vegas (Nev.) Silverado at Palm Valley High School.

*Montclair improved to 11-0 with a 71-55 victory Tuesday against Paso Robles in the opening round of the Atascadero tournament. The Cavaliers will meet Templeton out of the Central Section today at 5:45 p.m.

*Cajon and Summit were also among the winners during Tuesday's opening round at the San Bernardino Kiwanis tournament.
February, 19, 2011
2/19/11
6:57
PM PT
By
Sean Ceglinsky
| ESPNLosAngeles.com

RANCHO CUCAMONGA – With mere seconds remaining on the fourth-quarter clock, Byron Wesley takes the obligatory peek at the scoreboard and fully understands how much is at stake and what needs to be done in a matter of moments.

His Etiwanda High boys' basketball team trails by a point, and accordingly, the ball is in hands. The pressure is on, no doubt.

Nevertheless, Wesley is calm, cool, collected.

The senior makes his initial move, a one-bounce dribble to the right at the top of the key. A subtle head and shoulders fake follows and freezes his opponent.

Suddenly, Wesley is just inside the free-throw line. An open look appears to present itself, but the rest of the defense is quickly collapsing around him.

Tick-tock, tick-tock, tick-tock, 5, 4, 3, 2...

With ice seemingly in his veins, he elevates and releases a short jumper that slowly floats toward the rim and catches nothing but net as the buzzer sounds.

The shot is a game-winner, of course, and serves as another indication of how talented Wesley has been over the course of his decorated prep career thus far.

"I definitely want the ball in my hands when the game is on the line,'' said Wesley, a USC commit who ESPNU ranks as the Southland's No. 3 prospect.

"I feel like I can get to the basket, and if they double or anything, I'm a good enough passer to get the ball to my teammates. I don't think it's cocky at all. I think it's a certain confidence. You practice these shots all day in the gym when you're working out. If you feel good enough about it, you should want the ball in your hands. That's how I feel anyway.''


January, 8, 2011
1/08/11
1:04
AM PT
By
Dan Arritt
| ESPNLosAngeles.com


ETIWANDA -- Etiwanda has been churning out talented boys' basketball players for the last several years.

Darren Collison, the starting point guard for the Indiana Pacers, and Jeff Pendergraph, a back-up forward for the Portland Trail Blazers who is on injured reserve, are the school's most well known alumni.

The head of this season's class is Byron Wesley, a 6-foot-5 senior who can play both small forward and shooting guard. Wesley signed with USC in November, choosing the Trojans over UCLA, Wake Forest, Cal, Nevada Las Vegas and Pepperdine.

He has led Etiwanda to a 15-0 start this season, averaging a team-high 19 points. He matched his season high with 29 points Friday night in a 77-64 victory against Rancho Cucamonga in a Baseline League opener.

Here's some highlights from Wesley's game against the Cougars. Afterward, he spoke with ESPNLA about his season's goals, his decision to attend USC and which NBA player he enjoys watching the most. Etiwanda coach Dave Kleckner also provides some insight into his latest standout player.
March, 9, 2010
3/09/10
10:51
AM PT
By
Dan Arritt
| ESPNLosAngeles.com
Dave Kleckner is old-school when it comes to teaching boys' basketball. As coach at Etiwanda High in Rancho Cucamonga, he stresses defensive fundamentals, such as proper stance, footwork and side-to-side movement.

His philosophy might not lend itself to up-tempo, high-scoring, above-the-rim style of play, but it gets the job done. Heading into the Southern California Regional Division I first-round game Tuesday night against visiting El Camino of Oceanside, his teams are 183-40 since the coming-out 2003-04 season, reaching four Southern Section finals in that span.

His defense-minded coaching style also provides a solid base that benefits his players at the next level and, in a couple cases, the level after that.

Two of his star players from the 2003-04 season, point guard Darren Collison and center Jeff Pendergraph, now play in the NBA. By comparison, there's only one player on a current NBA roster who played high school basketball in Orange County, Austin Daye of the Detroit Pistons, who played at Woodbridge High in Irvine.

It was Collison, Pendergraph and a strong supporting cast that put the Eagles on the map after a successful run at the season-opening Tournament of Champions at Ocean View High in December 2003.

Just juniors at the time, Collison and Pendergraph went on to lead Etiwanda to the Southern Section Division 1A final, losing to Long Beach Poly. However, the Eagles rebounded in the Southern California Regionals and posted one of the biggest upsets of the season, knocking off top-seeded Taft of Woodland Hills and point guard Jordan Farmar in a semifinal.

Kleckner has the Eagles poised for a similar run. They lost by three points to Mater Dei in the Division I-AA final Saturday night. Mater Dei is seeded No. 1 in the regionals, Etiwanda is No. 3.

"Just like in 2004, our core guys this year are juniors," Kleckner said. "Our goal is to bounce back. I think we proved we're capable of playing with anybody."