Los Angeles Preps:

Dave Kleckner
March, 10, 2012
3/10/12
11:08
PM PT
By
Sean Ceglinsky
| ESPNLosAngeles.com


LOS ANGELES -- Sophomore sensation is not a term to be used loosely.

In the case of Parker Jackson-Cartwright from Los Angeles Loyola, the moniker is indeed fitting. Come to think of it, the same thing can be said about Etiwanda's Jordan McLaughlin.

The talented underclassmen went toe-to-toe Saturday night. In the end, however, Jackson-Cartwright got the better of the exchange by virtue of his Cubs defeating the McLaughlin-led Eagles, 48-35, in a Division I second-round game of the Southern California Regional playoffs.

"I can't imagine that there are two better sophomores in the state,'' Loyola coach Jamal Adams said. "We're talking about a pair of kids who are going to be high-major college-type of recruits when they're seniors. Both of them are getting a ton of looks already. I had a bunch of coaches and scouts call me this week about the game. Everyone wanted to see Parker and Jordan go at it.''

With the victory, Loyola (26-5) advances to the semifinals on Tuesday night against Santa Ana Mater Dei, a 78-66 winner over Mission Viejo on Saturday. The Monarchs, mind you, did not have standout guard Katin Reinhardt in the lineup. He has a hand injury and will be reevaluated this week.

Jackson-Cartwright was largely -- although not solely -- responsible for the Cubs success. He kept Loyola's stat guru, Andrew Figueras, busy throughout the game. The 5-foot-7 point guard scored a team-high 13 points. Jackson-Cartwright added six rebounds, four steals and a pair of assists.

His counterpart did not have his best game of the season. McLaughlin attempted to keep things close and finished with 10 points, three blocks and two rebounds. Problem was, the 6-foot floor general did not have much help. No other player scored in double digits for Etiwanda (30-3).

"At this stage, in the state tournament, in Division I, it's unique from a fan standpoint to see two players like Jordan and Parker play at such a high level because they are so young,'' Etwiwanda coach Dave Kleckner said. "This game was a preview of things to come for both players.''


February, 28, 2012
2/28/12
9:44
PM PT


ANAHEIM -- Make it four straight playoff wins for Long Beach Poly over familiar foe Etiwanda.

Defending CIF-Southern Section Division 1AA boys' basketball champion Long Beach Poly advanced to the title game once again Tuesday night, earning a semifinal victory over third-seeded Etiwanda, 56-47, at the Anaheim Convention Center Arena. After experiencing recent success against the Inland Empire power, Poly coach Sharrief Metoyer used a proven blueprint: Size.

"Another dogfight with Etiwanda," Metoyer said. "I think it was everything that everybody thought it would be. We played tough. Our goal was to dominate the paint."

The second-seeded Jackrabbits (27-1) did exactly that, holding a 43-23 rebounding edge behind the interior play of juniors Roschon Prince and Jordan Bell. Prince had 22 points and 10 boards; Bell had nine points, 12 boards and seven blocks.

Prince, coming off a career-high 40 points in the quarterfinals, was nearly uncontainable on drives to the basket and made 14 of 19 free throws, including 11 of 14 in the fourth quarter. Bell, meanwhile, made his presence felt on defense. His monstrous block on Jordan McLaughlin with just under two minutes left changed the momentum. Etiwanda could have pulled to within two but, instead, the Jackrabbits got two points at the other end and pulled away.

"It's a nice luxury when you've got a guy who can get off the floor and block shots," Metoyer said.


February, 21, 2012
2/21/12
10:55
PM PT
By
Dan Arritt
| ESPNLosAngeles.com


CERRITOS -- A 15-point halftime lead had been whittled to single digits early in the third quarter Tuesday night, and Etiwanda boys' basketball coach Dave Kleckner didn't waste any time yanking two starters from the game and giving both a sideline scolding for unacceptable play.

Kleckner then called timeout, brought his team into a tight huddle and shared his message with the rest of the Eagles. Either play his way or don't play at all. They responded by holding off Gahr, 60-52, in the second round of the Division 1AA playoffs.

Despite the victory, Kleckner was still clinching his teeth several minutes after the game.

"That was kind of frustrating, to tell you the truth," he said. "It all started unraveling in the second half there."

Since Kleckner took over at Etiwanda in 1996-97, the Eagles have never been eliminated in the second round or earlier. Gahr, the defending Division 2A champion, was playing in a tougher division this season, but also featured a starting front line of 6-foot-7 senior forward John Benson, 6-6 junior forward Kyle Benton and 6-6 senior center Davion Thomas, as well as 6-4 shooting guard Brian Nebo.

Etiwanda doesn't have a player in its rotation taller than 6-4.

Kleckner wanted his post defenders to front Gahr's big men and provide help on the backside. That's not what he saw to start the second half.

"First possession, they pound it right into the post and we're sitting behind the guy," Kleckner said.


February, 16, 2012
2/16/12
4:30
PM PT
By
Dan Arritt
| ESPNLosAngeles.com
With the best Inland Empire boys' basketball teams placed in the top four divisions of the Southern Section playoffs, here's a rundown of what to look for beginning with Friday's first-round games.

DIVISION 1AA

Background: The Inland Empire is well known in this division. The region has sent a representative to the championship game the last three years. Long Beach Poly beat Corona Centennial last season, Mater Dei toppled Etiwanda the year before and Riverside King upset Mater Dei in 2009.

Best Shot: If third-seeded Etiwanda is to continue that trend, the Eagles will likely need to find a way to beat second-seeded Long Beach Poly. They lost to the Jackrabbits in the Division 1AA semifinals last season and again nine days later in the second round of the SoCal Regional playoffs. There are few high school coaches who squeeze more out of their players than Dave Kleckner at Etiwanda, however.

Best first-round game: Highland at Silverado. A good old- fashioned high desert showdown as 11th-seeded Silverado brings a 16-game winning streak into the postseason. The Hawks will need to find a way to slow Highland senior guard Joseph Prince, who is averaging 23.4 points. Prince, who played the last two seasons at Glenbrook North High in Northbrook, Ill., scored a season-high 37 points in the regular-season finale last week against Lancaster.

Darkhorse: Rancho Verde didn't land on the same side of the bracket as top-seeded Mater Dei, so that can already be considered a victory. In the last three seasons, the Mustangs lost all four postseason meetings against Mater Dei, with three losses in the section playoffs and another in the SoCal Regionals. Rancho Verde is seeded 10th and drew a good challenge in the opener against visiting Montclair. A possible second-round game against seventh-seeded Eisenhower looms.

DIVISION 1A

Background: A team from the I.E. has qualified for the semifinals in this division the last three seasons, Redlands East Valley a year ago, Colony in 2010 and Chino Hills in 2009. In the last final appearance by an I.E. team, Riverside King beat Etiwanda in the 2008 championship game at Honda Center.

Best Shot: The I.E.'s streak of semifinalists could be in serious jeopardy. The highest-seeded teams in this division are No. 7 Chino Hills and No. 10 Vista Murrieta, and they would meet in the second round should they win their openers. The good thing is, one I.E. team would be guaranteed a trip to the quarterfinals.

Best first-round game: Corona at Arroyo Valley. Both these teams have held their own against good competition this season. Corona tied for fifth in the highly competitive Big VIII League and Arroyo Valley finished runner up in the San Andreas League, losing both games to league champion Cajon by a combined six points.

Darkhorse: Vista Murrieta has shown it can reach up and bite a good team if they're not paying attention. The Broncos beat Murrieta Valley by 13 points in a Southwestern League game last month and the Nighthawks are seeded third in Division 2A. Davin Guinn, a 6-5 senior forward for Vista Murrieta, is one of the top players in the division. He matched his season high with 32 points in the rematch against Murrieta Valley last week.


January, 10, 2012
1/10/12
10:04
PM PT
GLENDORA --
Jordan McLaughlin
has grown a couple of inches since last year. His arms are more defined. He's not faster but, rather, quicker. He can dunk with two hands now.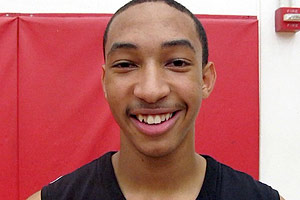 Blair Angulo/ESPN.comJordan McLaughlin has emerged as a top-flight PG and one of Cali's top recruits.
And the scary thing is, the sophomore figures to keep growing, keep adding muscle, keep sharpening his tools.
McLaughlin put on a versatile display Tuesday night, scoring a game-high 21 points in Etiwanda's 56-35 victory against Glendora in the Baseline League opener. He sank six 3-pointers, including three in a row that set the tone early. Later, the 5-foot-11 point guard put an exclamation point on it with a thunderous breakaway two-handed slam.
"Right now he's being overlooked," Etiwanda coach
Dave Kleckner
said. "People aren't aware of him, people don't know about him, but it's early. I'm sure once his name gets out there by the end of this year, I think people will be a lot more familiar with his name."
Etiwanda improved to 16-1, its only loss coming more than five weeks ago against highly regarded La Verne Lutheran. The Eagles used their suffocating defense to fluster Glendora (12-5), holding the home team to only five points in an ugly second quarter.
Glendora junior
Nick Colletta
, one of the region's top perimeter shooters, did not make a field goal, getting his five points at the charity stripe. Colletta missed seven weeks of full-contact play earlier this season, but longtime coach
Mike Leduc
didn't want to use that as an excuse.
"Tonight we didn't show up," Leduc said. "When that happens, we're going to have a tough time."
Sam Flemming
added 11 points for the Eagles, who are favored to claim their sixth consecutive league title. Glendora gets another shot at the defending champs on Jan. 27 at Etiwanda.
McLaughlin opened the game by nailing three long-range jump shots.
Brandon Townes
and
Dominique Walker
also hit from behind the arc, forcing the Tartans to extend their zone scheme and freeing up the paint. From there, McLaughlin captained a deliberate tempo.
"He did have some minutes where he had to be the floor general as a freshman," Kleckner said. "I think it was great for his development. Now in his sophomore year he just looks so natural at that position."
McLaughlin also was a beneficiary of the NBA lockout when former Etiwanda and UCLA standout
Darren Collison
, now the starting point guard for the Indiana Pacers, used his old gym to work on his game. McLaughlin took some pointers on foot speed and refined his jumper.
"I've grown a lot," McLaughlin said with a smirk, "and I hope to grow more."
Blair Angulo covers preps for ESPN Los Angeles. Follow him on Twitter.
March, 11, 2011
3/11/11
4:38
PM PT
By
Dan Arritt
| ESPNLosAngeles.com
Looking back, even the losses don't seem so bad anymore.

The Fontana Summit boys' basketball team never quite received the respect it deserved this season, mainly due to its lukewarm 10-6 start to the season.

The SkyHawks were seeded No. 6 in the Southern Section Division 2AA playoffs and marched into the semifinals. They were awarded an at-large berth into the Southern California Regional Division 2 playoffs and were seeded 10th.

After winning its opener in overtime, Summit scored its biggest upset of the season Thursday night, traveling to second-seeded Ventura and dominating from start to finish in the 66-45 victory. Ventura won the Division 2AA title last weekend.

Summit will meet Palos Verdes Peninsula in Saturday's semifinals. Thanks to a couple of other upsets on the same side of the bracket, the SkyHawks are seeded higher than the Panthers, giving them home-court advantage. After traveling to Harbor City for their first-round game Tuesday, then to Ventura less than 48 hours later, the SkyHawks should appreciate the opportunity to play in their own gym.

Summit hasn't lost at home this season. All of their defeats occurred during pre-league tournaments and showcases. Two defeats came against Etiwanda, a Southern Section Division 1AA semifinalist, another to Division 1AA finalist Corona Centennial and one to San Diego Section Division I champion Carlsbad La Costa Canyon.

Eagles can't get past Jackrabbits...again

Etiwanda coach Dave Kleckner will spend another offseason seeing everything in green and gold, but it won't be the good kind.

Those are the school colors of Long Beach Poly, which ended the Eagles' season for the second consecutive year with a 66-63 victory Thursday night in a Division 1 regional quarterfinal at Long Beach City College.

During the last two postseasons, Etiwanda has played the Jackrabbits four times and lost three. The Eagles made a valiant comeback from 14 points down at the start of the fourth quarter and had a chance to tie on Jordan Daniels' last-second 3-point attempt.

Byron Wesley scored 18 points in his last game for Etiwanda before heading off to USC. Tyler LaCour pitched in 17.

Long Beach Poly moves on to play Mater Dei on Saturday at Long Beach City College beginning at 7 p.m. In the other Division 1 semifinal, second-seeded Corona Centennial will host third-seeded Woodland Hills Taft at 5 p.m. at Eastvale Roosevelt High.

For the Eagles, it's back to the drawing board. They graduate their top five scorers in Wesley, Daniels, LaCour, Troy Fiawoo and Evan Jenkins. Look for them to rebuild around their next star, freshman guard Jordan McLaughlin.


March, 10, 2011
3/10/11
10:37
PM PT


LONG BEACH -- Alexis Moore called it a preview of next season.

Long Beach Poly minus him.

It was just a sneak peek, though, as the top-seeded Jackrabbits survived without their senior leader, fending off a furious charge to beat Etiwanda, 66-63, before a packed gym at Long Beach City College. Poly advanced to the semifinals of the CIF Southern California Regional state playoffs and will play host to fourth-seeded Mater Dei on Saturday night.

Ninth-seeded Etiwanda used an 11-2 run at the start of the fourth quarter to climb back from a 14-point deficit. The Eagles trailed by five with just under two minutes remaining.

Then things got a bit fuzzy.

Moore nailed a clutch 3-pointer to put Poly up eight and celebrated emphatically as he backpedaled to the other end.

"I didn't say anything to the other players," Moore said. "I didn't say anything to the fans. It was just one of those in-the-moment things."

He raised his arms twice and looked over to Poly's supporters, but then a whistle blew.

"He tried to get the crowd involved," Poly coach Sharrief Metoyer explained. "I always thought taunting was player-to-player. He was excited, he had just made a big shot."

Play was stopped and Moore was called for an unsportsmanlike conduct technical. It was his fifth personal foul, so he had to watch the final minutes from the bench.

After a few moments of chaos, the USC-bound Moore grabbed his replacement, junior guard Chris Croom, and revved him up.

"I told him this was a preview for his senior year," Moore said. "Next year they're going to be looking on him to fill my role."


February, 19, 2011
2/19/11
6:57
PM PT
By
Sean Ceglinsky
| ESPNLosAngeles.com

RANCHO CUCAMONGA – With mere seconds remaining on the fourth-quarter clock, Byron Wesley takes the obligatory peek at the scoreboard and fully understands how much is at stake and what needs to be done in a matter of moments.

His Etiwanda High boys' basketball team trails by a point, and accordingly, the ball is in hands. The pressure is on, no doubt.

Nevertheless, Wesley is calm, cool, collected.

The senior makes his initial move, a one-bounce dribble to the right at the top of the key. A subtle head and shoulders fake follows and freezes his opponent.

Suddenly, Wesley is just inside the free-throw line. An open look appears to present itself, but the rest of the defense is quickly collapsing around him.

Tick-tock, tick-tock, tick-tock, 5, 4, 3, 2...

With ice seemingly in his veins, he elevates and releases a short jumper that slowly floats toward the rim and catches nothing but net as the buzzer sounds.

The shot is a game-winner, of course, and serves as another indication of how talented Wesley has been over the course of his decorated prep career thus far.

"I definitely want the ball in my hands when the game is on the line,'' said Wesley, a USC commit who ESPNU ranks as the Southland's No. 3 prospect.

"I feel like I can get to the basket, and if they double or anything, I'm a good enough passer to get the ball to my teammates. I don't think it's cocky at all. I think it's a certain confidence. You practice these shots all day in the gym when you're working out. If you feel good enough about it, you should want the ball in your hands. That's how I feel anyway.''


February, 19, 2011
2/19/11
2:11
PM PT
By
Sean Ceglinsky
| ESPNLosAngeles.com
It's official,
Jordan Daniels
is off the board.
The 5-foot-8 senior for the Etiwanda High boys' basketball team made his decision about where he is going to spend the next four years of his life on Friday and committed to Boston College despite having scholarship offers from several other schools.
"Boston College was the right fit for me, I liked the coaches and how they treated me during the whole recruiting process, I got a good vibe from them,'' Daniels said. "I'm in a good place right now and am ready to continue my basketball career back East.''
The Eagles coaching staff has had some recent success in landing players from the Southland. Once Daniels arrives on campus at Chestnut Hill, he will join Long Beach Poly's
Ryan Anderson
, Brea Olinda's
Kyle Caudill
and Valencia's
Lonnie Jackson
.
The point guard is one of the Southland's premier players at his position and ranks right up there with Division I-bound peers such as Woodland Hills Taft's
Spencer Dinwiddie
, Los Angeles Price's
Askia Booker
and Corona Centennial's
Michael Caffey
.
With Daniels now seemingly set in terms his future at the next level, college coaches and scouts figure to turn their attention toward Bellflower St. John Bosco's
Cezar Guerrero
and Anaheim Canyon's
Chris Anderson
, a pair of unsigned floor generals.
"I can't speak too much about the other point guards, but I have no problems singing Jordan's praises,'' Etiwanda coach
Dave Kleckner
said. "He's a young man with a ton of talent and a ton of character. I've been doing this for 20 years and I can tell that he has what it takes to succeed and make it at the next level. We have not seen the best from Jordan Daniels yet.''
Sean Ceglinsky covers preps for ESPNLosAngeles.com. Follow him on
Twitter
.
February, 1, 2011
2/01/11
9:41
PM PT
GLENDORA -- Whatever you do, don't call it a bounce back. No, Etiwanda coach Dave Kleckner insisted that his team had long dismissed Saturday's loss, its first of the season.

Instead, refer to Etiwanda's 53-42 win at Glendora on Tuesday as a return to normalcy. This is what the Eagles (23-1, 7-0), ranked No. 6 in ESPNLA.com's latest rankings, expected all along. Saturday wasn't a bump on the road -- more like a traffic sign or lane marking. With the win, Etiwanda clinched a share of the Baseline League title and can take it outright Friday against Upland.

"It had nothing to do with our game on Saturday, that's over with and we're focused now on winning a league title," Kleckner said. "Heading into the season our goal was to be undefeated league champions and we've still got three games to go to accomplish that."

With USC-bound Byron Wesley on its side, Etiwanda might very well finish with the lone blemish -- a 70-64 loss to Loyola at the Fairfax State Preview Classic. Sensing that he needed to take control, Wesley had a team-high 19 points Tuesday. Eleven came after halftime and virtually offset the 20 super sophomore Nick Colletta dropped for Glendora (19-5, 4-3).

Etiwanda actually trailed, 24-22, at the half before revving its defensive intensity in the third quarter.


January, 8, 2011
1/08/11
1:04
AM PT
By
Dan Arritt
| ESPNLosAngeles.com


ETIWANDA -- Etiwanda has been churning out talented boys' basketball players for the last several years.

Darren Collison, the starting point guard for the Indiana Pacers, and Jeff Pendergraph, a back-up forward for the Portland Trail Blazers who is on injured reserve, are the school's most well known alumni.

The head of this season's class is Byron Wesley, a 6-foot-5 senior who can play both small forward and shooting guard. Wesley signed with USC in November, choosing the Trojans over UCLA, Wake Forest, Cal, Nevada Las Vegas and Pepperdine.

He has led Etiwanda to a 15-0 start this season, averaging a team-high 19 points. He matched his season high with 29 points Friday night in a 77-64 victory against Rancho Cucamonga in a Baseline League opener.

Here's some highlights from Wesley's game against the Cougars. Afterward, he spoke with ESPNLA about his season's goals, his decision to attend USC and which NBA player he enjoys watching the most. Etiwanda coach Dave Kleckner also provides some insight into his latest standout player.
March, 8, 2010
3/08/10
3:28
PM PT
By
Dan Arritt
| ESPNLosAngeles.com
For the high school basketball teams that lost in the section finals last weekend, the Southern California Regional playoffs is their sport's version of a mulligan.

As in, another chance to get it right.

Etiwanda certainly falls into that category. The Eagles will not only return to the court Tuesday after their loss three days earlier to Mater Dei in the Southern Section Division 1AA final, but they get to play the team that ended their season last year.

And this time, third-seeded Etiwanda will play El Camino of Oceanside on its home floor.

A year ago, Etiwanda was seeded fifth in the regional playoffs but had to travel to No. 15 El Camino because it was an at-large selection after losing to Mater Dei in the section semifinals.

After the Eagles lost, 63-60, there were no more second chances.

Even though El Camino has a new coach this season and several of its top players graduated last June, the Eagles welcome another opportunity to end the Wildcats' season.

"I think there's a bit of that payback kind of approach," said Etiwanda Coach Dave Kleckner. "This is not a team we're taking lightly."

Tip-off is scheduled for 7 p.m.